I couldn't see one for August so.....

busy:


Still playing with Gnome Wayland.
DWM today....

wondering how to patch ewmh patch to dwm-6.1. any idea ? the conky wmctrl doesnt identify dwm ! i had to manually edit

Basic & boring. Switched to XFCE.
Summary

[SUPERSEDED url=https://postimg.cc/7bGpqzKW][/url SUPERSEDED]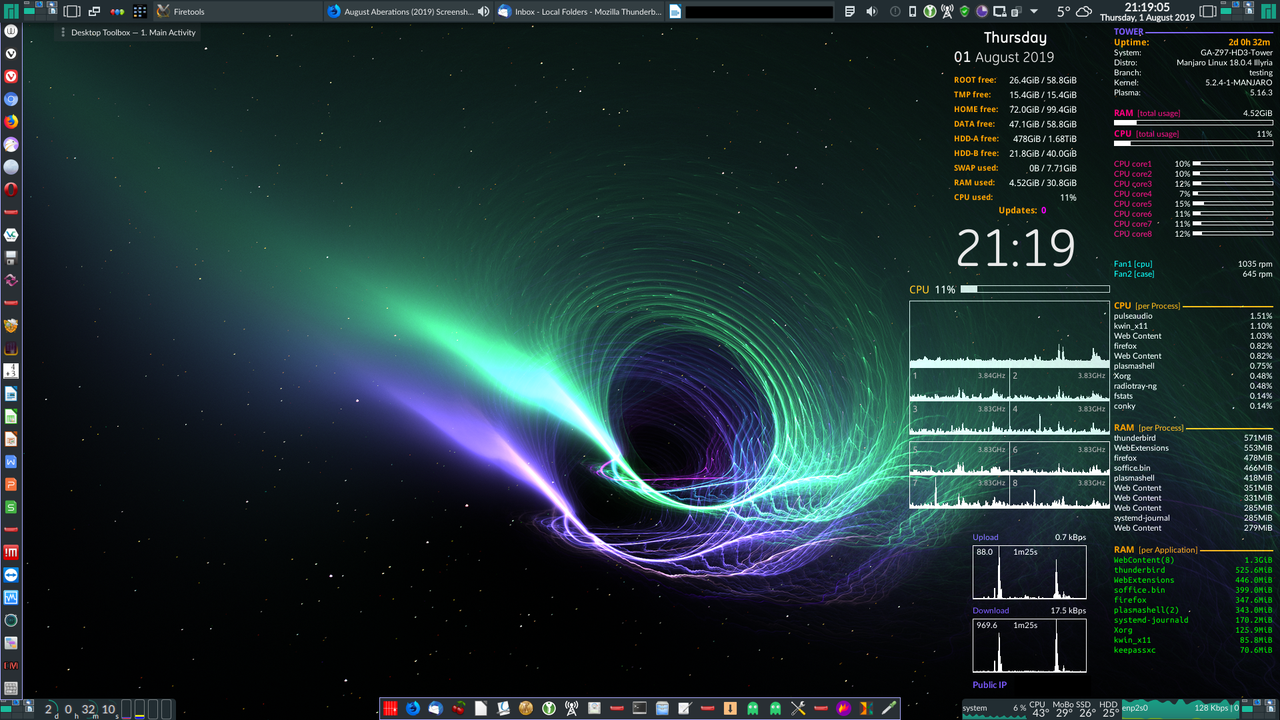 That's Activity1. My Activity2 is currently a bit chaotic & too messy to show here IMO. The LHS-side & centre-bottom
KSmoothDocks
are normally
"AutoHide"
, & the bottom LHS & RHS Plasma panels are
"Windows Can Cover"
.
---
EDIT: Better method...
Summary

Following the wise tuition of @realmain, here's my summary for the dark arts of this new pic-linking trick.

Step 1: upload the pic to Postimage.
Step 2: copy its "Direct link"
Step 3: In the forum post draft, paste in characters ![](_insert Postimage_Direct_Link_)
Step 4: Then replace [only] _insert Postimage_Direct_Link_ with clipboard contents per #2

Direct link [opens external pic by opening said external hosting site in new tab]:
https://i.postimg.cc/7bGpqzKW/Screenshot-20190801-211905.png

Thus, applying The Method [opens external pic as overlay in current tab, whilst remaining in forum]:


CONCLUSION: Now that i understand the recipe, @realmain's method is vastly superior to my old way, & is what i'll adopt in future. Thanks @realmain
---
18 days later...
This is Activity 2, at which a single glance will explain my earlier remark of "chaotic & too messy". I'd love to be able to have Conky be deactivated when i switch to A2, & reactivate each time i return to A1 [which is my primary A], coz self-evidently the overlap of Conky with the Plasma desktop widgets is very ugly & tasteless. However A2 is only my "administration" A, so most of the time its visual horror is hidden from me.
Summary
---
1 Sept 2019 -- tidied up my Admin Activity [Activity 2] a bit [resolved the hitherto plasmoid vs conky overlaps, harmonised the colours a little].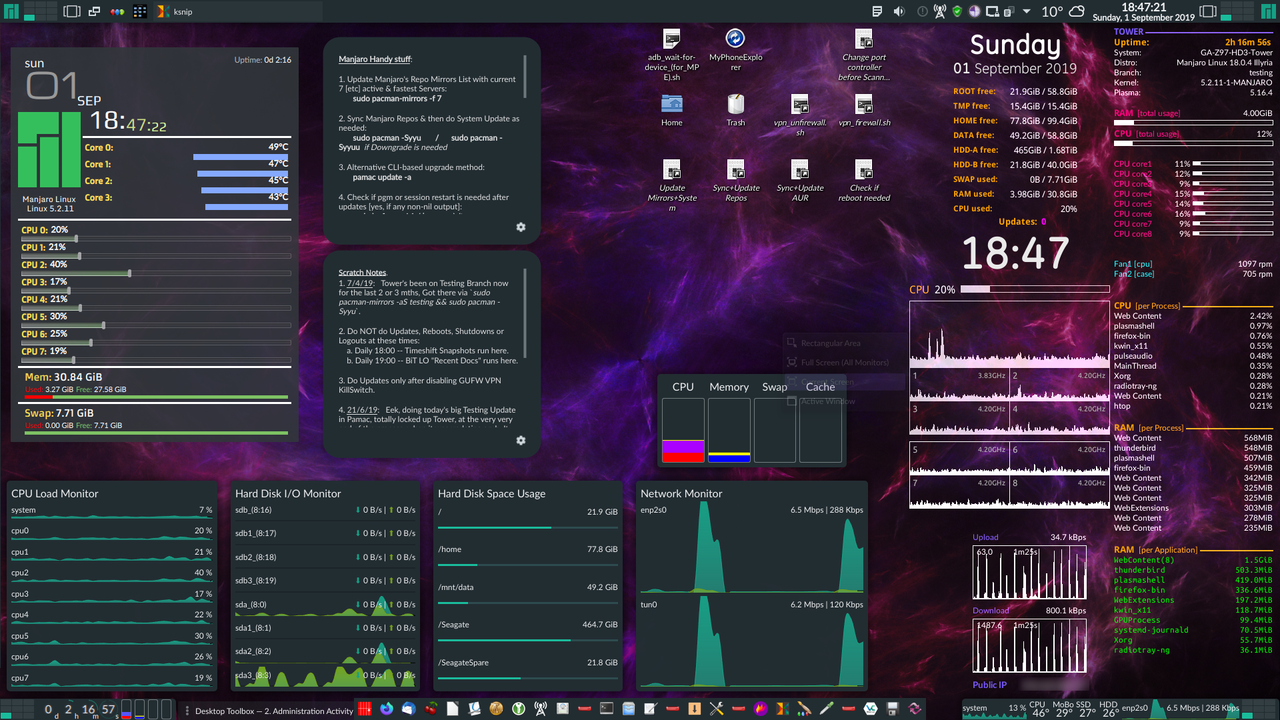 I love the spartan aesthetic.
Oh damnit, i was actually going for a Peloponnesian motif... i'd better start over.
I was wondering, do you get Voyager and Pioneer Telemetry too?
People say she is still stuck to the wall
What theme are you using?
XFCE....nobody likes Gnome Desk
Showing off continuing work on matcha (soon to be renamed 'matchama')
And 2 widgets - finally got a centered clock in plasma using @psifidotos's easily configurable 'latte spacer' which works in normal plasma panel as well as the small 'Digital Clock WL' which has a nice simpler calender (but isnt configurable)
Still working on it, but here is my current Openbox setup. Will post an updated shot tonight (or tomorrow) with a busy shot as well.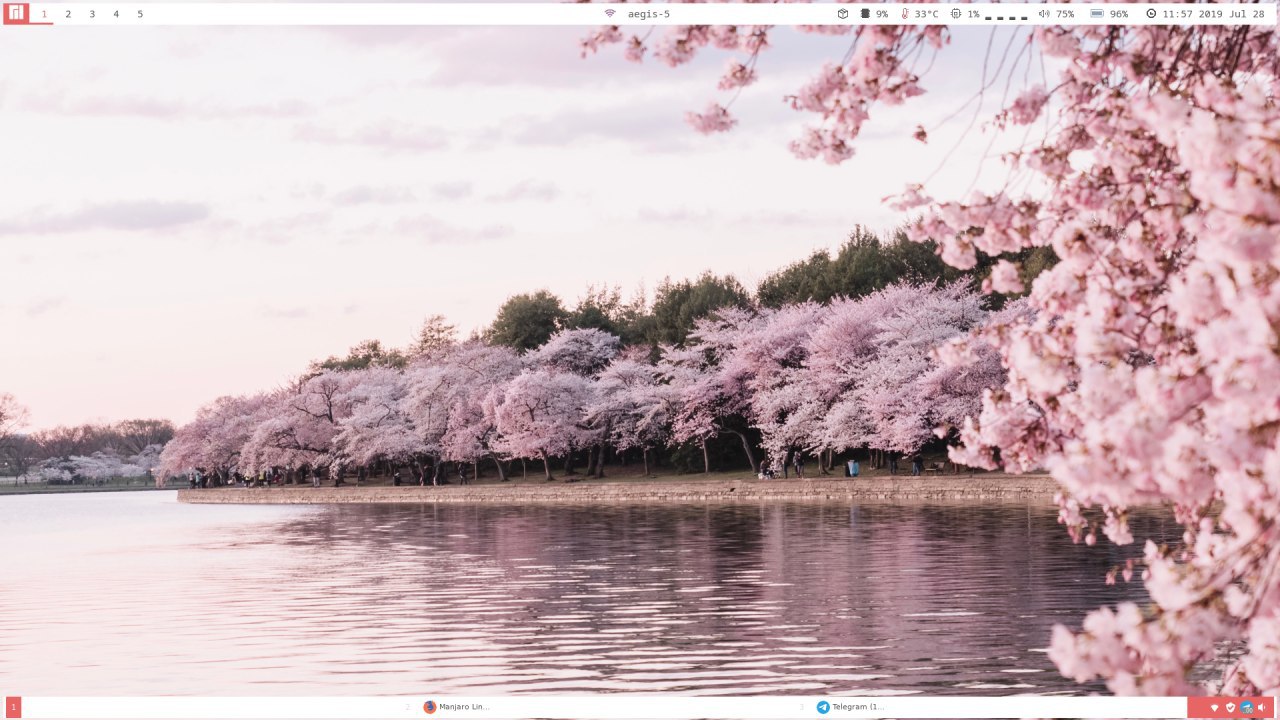 WOW! What file manager is this?! @xircon
@Kadee, you can input the actual picture here instead of just a thumbnail using
![](Link)
i.e. for you would be:
![](https://i.postimg.cc/L4NRBBL2/Screenshot-20190801-211905.png)
Nautilus (AKA Files).
This is my setup:

I already know how to do it, but i am exercising a modicum of deference to the many people who historically complained about my [& others'] use of pics directly into the forum. It's not been discussed [nor complained about] for many months, but there was a time when it seemed to annoy many people.
---
EDIT: IIRC one of the older complaints was apprehension about potentially/actually placing excessive storage demands on Manjaro servers. Personally, i much much prefer as a reader to see others' pics directly in their posts, rather than [as i did above] merely externally link them... AND as a poster i also prefer the ease/convenience of not having to faff about with using external sites. Soooooooo, if there is now an altered policy view, i shall happily revert to direct embedding... but someone official probably should advise on this... please?
Yes, I remember this conversation. But using something like
![](https://i.postimg.cc/L4NRBBL2/Screenshot-20190801-211905.png)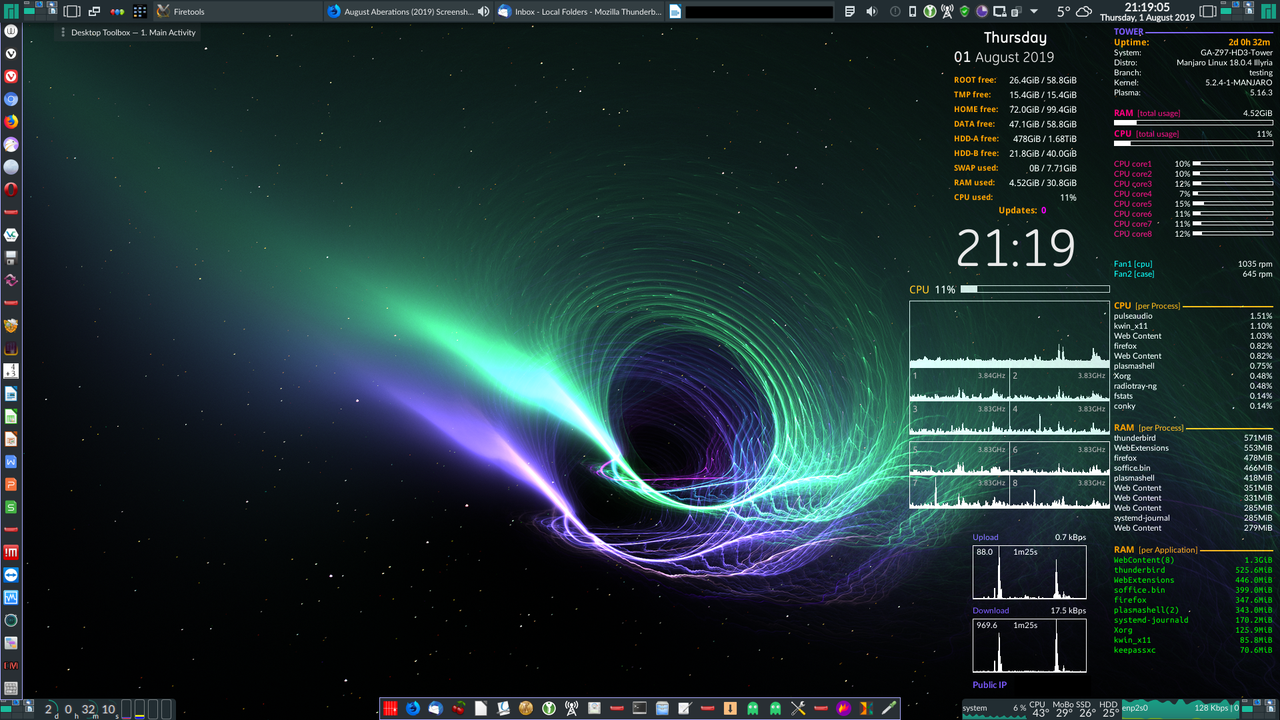 Doesn't actually take storage space because it's hosted on a different website (postimg.cc in this case). If you click on the photo, it'll send you to that url.
Mine up there for example is:
![](https://i.postimg.cc/NjXLppTt/photo5037781782925256770.jpg)
Oh! I CAN see Voyager telemetry! COOL!
That's @Kadee's image btw, not mines haha
Yep.