Proposed revisions below, still not perfect but better than it is now, also it would be better not to have german writing in the graphic for battery life, keep 12h only and it would work across both languages. The same goes for the CPU graphic, just have Intel Core i7:
The completely new developed InfinityBook Pro 15 has a chassis with aluminium cover and inner side. It is designed to be as small and thin as possible! Therefore it is equipped with a thin display bezel and a construction optimised to be as portable as possible. Nevertheless it has all connectors like bigger notebooks!
The illuminated keyboard with Manjaro super key in full DIN-A4 size is also a novelty in this class. Even touch typists can use it on the go without having to long for their stationary keyboard
Thanks to the RGB light, you're free to choose your favourite colour for the keyboard back-light!

The Pro version of our InfinityBook series is uncompromisingly designed for maximum performance and best features, paired with a battery life of up to 12 hours.
To live up to this claim, the 15,6-inch InfinityBook Pro contains Intel's strongest Ultrabook processor, a Core i7 with four cores (quad-core) and eight threads and up to 4.9 GHz per core!
Because of the low weight of only approx. 1.7kg and a height of only 19,9mm, the device is equipped with a M. 2 format SSD with SATA or NVME/PCIe drive. Of course, it is also comes with the obligatory WLAN/Bluetooth module to get you online.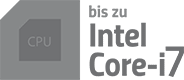 Efficient computing power paired with a lot of storage space, plus your choice of anything from 8GB up to 64GB DDR4 RAM can be installed.
The InfinityBook Pro 15 does not compromise on the connection front either:
A Mini-DisplayPort , an HDMI connection, a Gigabit LAN port, a USB type C with Thunderbolt 3 and several USB ports and connections for headphones and microphone are all present.
The USB type C is a further highlight, because besides USB 3.1 Gen2 (10Gb/s) it also delivers both Thunderbolt 3 and DisplayPort functionality. This means that you can use a Thunderbolt 3 Docking-station over USB C. Plus it can be used to charge the battery!
Of course, there are also an integrated webcam and a microphone, two loudspeakers, a touchpad with separate mouse buttons, a multi-card reader and the obligatory illuminated keyboard with Manjaro super key
(instead of the windows symbol).
The multicolour illuminated full-size keyboard is also a pleasure to use for those who type often. It has a clear and rather hard keystroke and enough key stroke to keep the tipper in a good mood even when writing for a long time. A keyboard that can only be found on bigger sized 15 and 17 inch devices! For the backlight you're free to configure your beloved colour lighting.
After removing the underside of the housing (= maintenance flap), all components are easy to maintain, clean or replace.
Manjaro Linux and TUXEDO Computers hand in hand
To give the best possible Manjaro experience, we have worked together to implement Manjaro Linux for TUXEDO InfinityBooks Pro Series. Under both flagship desktops, KDE Plasma and Xfce, all special features are 100% implemented and provide fun from the start.
Support the community
Besides the technical aspects, the work of the community is the most important aspect. In Manjaro TUXEDO Computers has found a partner that is both professional and committed. This partnership and with it the work of the Manjaro Community shall be supported. Therefore TUXEDO Computers is directly involved in the work of the Manjaro community, supporting developers with own resources.