Hi community,
Welcome to our seventh stable update for 2019. Theses are additional package needed to our last update. So what do we have with this one?
we updated systemd to v241 - we added 244 additional patches so far to v241 series. This also completes the needed parts to fix CVE-2019-6454
most of the kernels got renewed
latest brave, firefox and palemoon browsers got added
Plasma5 got updated to 5.15.1
the usual python and haskell updates
We hope with all these changes Manjaro to be more efficient for you all.
---
CLT19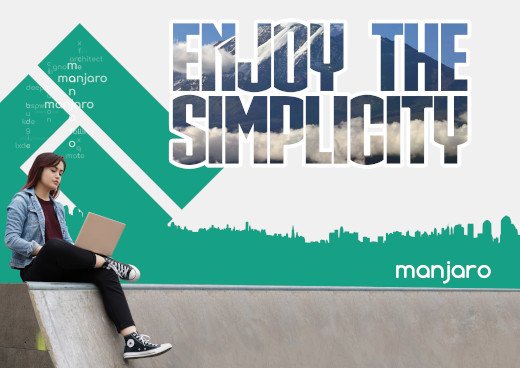 Manjaro will take part on the Chemnitz Linux Days in March this year. You may want to visit our booth with the latest Manjaro hardware and Core Developers present to answer your questions. Feel free to bring your devices if you want to have Manjaro installed on them or problems fixed from our experts.
Partnership with FCS Linux Aarhus
We are happy to announce a new partnership with FCS Linux Aarhus owned by @linux-aarhus. This enables us to offer you Laptops with Manjaro pre-installed and Manjaro Stickers you can use on your own hardware or gift them to a friend. For each sale FCS will donate a percentage to the Manjaro project.
Manjaro v18.0.3 released!
We updated our flagship ISOs of Manjaro Illyria with the latest packages. It comes with refreshed packages and updated tools. You may want to download our XFCE Edition with the latest 4.13 packages, aswell as our most recent styling efforts. Our KDE fans may try our KDE Edition with the latest KDE v5.15 instead. And our GNOME fans may try our Gnome Edition with the latest GNOME v3.30.
---
Current supported Kernels
linux316 3.16.62
linux318 3.18.135 [EOL]
linux44 4.4.167 [FZN]
linux49 4.9.159
linux414 4.14.102
linux419 4.19.24
linux420 4.20.11
linux414-rt 4.14.93_rt53
linux418-rt 4.18.16_rt9
Package Updates (Fri Feb 22 19:24:38 CET 2019)
stable community x86_64: 369 new and 377 removed package(s)
stable core x86_64: 19 new and 21 removed package(s)
stable extra x86_64: 218 new and 275 removed package(s)
stable multilib x86_64: 3 new and 3 removed package(s)


-------------------------------------------------------------------------------
                             PACKAGE           2019-02-19           2019-02-22
-------------------------------------------------------------------------------
                               brave            0.59.35-1            0.60.45-1
                          brave-beta            0.60.28-1            0.61.36-1
                       budgie-extras            0.7.0-1.1              0.8.1-1
                       deepin-daemon           3.22.0-1.3           3.22.0-1.5
               deepin-qt5dxcb-plugin             1.1.23-3                    -
                  deepin-screensaver              0.0.7-1                    -
                    lightdm-settings              1.2.0-1              1.2.5-1
               lightdm-slick-greeter              1.2.2-1              1.2.4-1
                        palemoon-bin             28.3.1-1             28.4.0-1
                    palemoon-i18n-ar             28.3.0-1             28.4.0-1
                    palemoon-i18n-bg             28.3.0-1             28.4.0-1
                    palemoon-i18n-cs             28.3.1-1             28.4.0-1
                    palemoon-i18n-da             28.3.1-1             28.4.0-1
                    palemoon-i18n-de             28.3.1-1             28.4.0-1
                    palemoon-i18n-el             28.3.1-1             28.4.0-1
                 palemoon-i18n-en-gb             28.3.1-1             28.4.0-1
                 palemoon-i18n-es-ar             28.3.1-1             28.4.0-1
                 palemoon-i18n-es-es             28.3.1-1             28.4.0-1
                 palemoon-i18n-es-mx             28.3.1-1             28.4.0-1
                    palemoon-i18n-fi             28.3.1-1             28.4.0-1
                    palemoon-i18n-fr             28.3.1-1             28.4.0-1
                    palemoon-i18n-gl             28.3.1-1             28.4.0-1
                    palemoon-i18n-hr             28.3.1-1             28.4.0-1
                    palemoon-i18n-hu             28.3.1-1             28.4.0-1
                    palemoon-i18n-id             28.3.1-1             28.4.0-1
                    palemoon-i18n-is             28.3.1-1             28.4.0-1
                    palemoon-i18n-it             28.3.1-1             28.4.0-1
                    palemoon-i18n-ja             28.3.1-1             28.4.0-1
                    palemoon-i18n-kn             28.3.1-1             28.4.0-1
                    palemoon-i18n-ko             28.3.1-1             28.4.0-1
                    palemoon-i18n-nl             28.3.1-1             28.4.0-1
                    palemoon-i18n-pl             28.3.1-1             28.4.0-1
                 palemoon-i18n-pt-br             28.3.1-1             28.4.0-1
                 palemoon-i18n-pt-pt             28.3.1-1             28.4.0-1
                    palemoon-i18n-ro             28.3.1-1             28.4.0-1
                    palemoon-i18n-ru             28.3.1-1             28.4.0-1
                    palemoon-i18n-sk             28.3.1-1             28.4.0-1
                    palemoon-i18n-sl             28.3.1-1             28.4.0-1
                    palemoon-i18n-sr             28.3.1-1             28.4.0-1
                 palemoon-i18n-sv-se             28.3.1-1             28.4.0-1
                    palemoon-i18n-tl             28.3.1-1             28.4.0-1
                    palemoon-i18n-tr             28.3.1-1             28.4.0-1
                    palemoon-i18n-uk             28.3.1-1             28.4.0-1
                    palemoon-i18n-vi             28.3.1-1             28.4.0-1
                 palemoon-i18n-zh-cn             28.3.1-1             28.4.0-1
                 palemoon-i18n-zh-tw             28.3.1-1             28.4.0-1
                           timeshift             18.9.1-4              19.01-1


:: Different sync package(s) in repository community x86_64

-------------------------------------------------------------------------------
                             PACKAGE           2019-02-19           2019-02-22
-------------------------------------------------------------------------------
                      acpi_call-dkms            1.1.0-192            1.1.0-193
                                  at             3.1.23-1             3.1.23-3
                           bettercap               2.14-1               2.17-1
                         bomberclone             0.11.9-6             0.11.9-7
                       cabal-install           2.4.0.0-46           2.4.0.0-49
                            calcurse              4.3.0-1              4.4.0-1
                                ccgo            0.3.6.5-4            0.3.6.5-5
                             chicken              5.0.0-1              5.0.0-2
                      cryptominisat5              5.6.6-2              5.6.8-1
                             cxxtest                4.4-5                4.4-6
                               darcs            2.14.2-11            2.14.2-15
                                dart              2.1.0-1              2.1.1-1
               deepin-qt5dxcb-plugin             1.1.23-2             1.1.23-3
                  deepin-screensaver              0.0.6-1              0.0.7-1
                          diffoscope                111-1                112-1
                              drupal              8.6.9-1             8.6.10-1
                       elasticsearch              6.6.0-1              6.6.1-1
                            electron              3.1.3-1              3.1.4-1
                              elyxer              1.2.5-3                    -
                          erlang-sdl              1.3.1-3              1.3.1-4
                           exploitdb           20190207-1           20190222-1
                          fcitx-mozc      2.23.2815.102-2      2.23.2815.102-3
           firefox-developer-edition             66.0b8-1             66.0b9-1
  firefox-developer-edition-i18n-ach             66.0b8-1             66.0b9-1
   firefox-developer-edition-i18n-af             66.0b8-1             66.0b9-1
   firefox-developer-edition-i18n-an             66.0b8-1             66.0b9-1
   firefox-developer-edition-i18n-ar             66.0b8-1             66.0b9-1
   firefox-developer-edition-i18n-as             66.0b8-1             66.0b9-1
  firefox-developer-edition-i18n-ast             66.0b8-1             66.0b9-1
   firefox-developer-edition-i18n-az             66.0b8-1             66.0b9-1
   firefox-developer-edition-i18n-be             66.0b8-1             66.0b9-1
   firefox-developer-edition-i18n-bg             66.0b8-1             66.0b9-1
firefox-developer-edition-i18n-bn-bd             66.0b8-1             66.0b9-1
firefox-developer-edition-i18n-bn-in             66.0b8-1             66.0b9-1
   firefox-developer-edition-i18n-br             66.0b8-1             66.0b9-1
   firefox-developer-edition-i18n-bs             66.0b8-1             66.0b9-1
   firefox-developer-edition-i18n-ca             66.0b8-1             66.0b9-1
  firefox-developer-edition-i18n-cak             66.0b8-1             66.0b9-1
   firefox-developer-edition-i18n-cs             66.0b8-1             66.0b9-1
   firefox-developer-edition-i18n-cy             66.0b8-1             66.0b9-1
   firefox-developer-edition-i18n-da             66.0b8-1             66.0b9-1
   firefox-developer-edition-i18n-de             66.0b8-1             66.0b9-1
  firefox-developer-edition-i18n-dsb             66.0b8-1             66.0b9-1
   firefox-developer-edition-i18n-el             66.0b8-1             66.0b9-1
firefox-developer-edition-i18n-en-gb             66.0b8-1             66.0b9-1
firefox-developer-edition-i18n-en-us             66.0b8-1             66.0b9-1
firefox-developer-edition-i18n-en-za             66.0b8-1             66.0b9-1
   firefox-developer-edition-i18n-eo             66.0b8-1             66.0b9-1
firefox-developer-edition-i18n-es-ar             66.0b8-1             66.0b9-1
firefox-developer-edition-i18n-es-cl             66.0b8-1             66.0b9-1
firefox-developer-edition-i18n-es-es             66.0b8-1             66.0b9-1
firefox-developer-edition-i18n-es-mx             66.0b8-1             66.0b9-1
   firefox-developer-edition-i18n-et             66.0b8-1             66.0b9-1
   firefox-developer-edition-i18n-eu             66.0b8-1             66.0b9-1
   firefox-developer-edition-i18n-fa             66.0b8-1             66.0b9-1
   firefox-developer-edition-i18n-ff             66.0b8-1             66.0b9-1
   firefox-developer-edition-i18n-fi             66.0b8-1             66.0b9-1
   firefox-developer-edition-i18n-fr             66.0b8-1             66.0b9-1
firefox-developer-edition-i18n-fy-nl             66.0b8-1             66.0b9-1
firefox-developer-edition-i18n-ga-ie             66.0b8-1             66.0b9-1
   firefox-developer-edition-i18n-gd             66.0b8-1             66.0b9-1
   firefox-developer-edition-i18n-gl             66.0b8-1             66.0b9-1
   firefox-developer-edition-i18n-gn             66.0b8-1             66.0b9-1
firefox-developer-edition-i18n-gu-in             66.0b8-1             66.0b9-1
   firefox-developer-edition-i18n-he             66.0b8-1             66.0b9-1
firefox-developer-edition-i18n-hi-in             66.0b8-1             66.0b9-1
   firefox-developer-edition-i18n-hr             66.0b8-1             66.0b9-1
  firefox-developer-edition-i18n-hsb             66.0b8-1             66.0b9-1
   firefox-developer-edition-i18n-hu             66.0b8-1             66.0b9-1
firefox-developer-edition-i18n-hy-am             66.0b8-1             66.0b9-1
   firefox-developer-edition-i18n-ia             66.0b8-1             66.0b9-1
   firefox-developer-edition-i18n-id             66.0b8-1             66.0b9-1
   firefox-developer-edition-i18n-is             66.0b8-1             66.0b9-1
   firefox-developer-edition-i18n-it             66.0b8-1             66.0b9-1
   firefox-developer-edition-i18n-ja             66.0b8-1             66.0b9-1
   firefox-developer-edition-i18n-ka             66.0b8-1             66.0b9-1
  firefox-developer-edition-i18n-kab             66.0b8-1             66.0b9-1
   firefox-developer-edition-i18n-kk             66.0b8-1             66.0b9-1
   firefox-developer-edition-i18n-km             66.0b8-1             66.0b9-1
   firefox-developer-edition-i18n-kn             66.0b8-1             66.0b9-1
   firefox-developer-edition-i18n-ko             66.0b8-1             66.0b9-1
  firefox-developer-edition-i18n-lij             66.0b8-1             66.0b9-1
   firefox-developer-edition-i18n-lt             66.0b8-1             66.0b9-1
   firefox-developer-edition-i18n-lv             66.0b8-1             66.0b9-1
  firefox-developer-edition-i18n-mai             66.0b8-1             66.0b9-1
   firefox-developer-edition-i18n-mk             66.0b8-1             66.0b9-1
   firefox-developer-edition-i18n-ml             66.0b8-1             66.0b9-1
   firefox-developer-edition-i18n-mr             66.0b8-1             66.0b9-1
   firefox-developer-edition-i18n-ms             66.0b8-1             66.0b9-1
   firefox-developer-edition-i18n-my             66.0b8-1             66.0b9-1
firefox-developer-edition-i18n-nb-no             66.0b8-1             66.0b9-1
firefox-developer-edition-i18n-ne-np             66.0b8-1             66.0b9-1
   firefox-developer-edition-i18n-nl             66.0b8-1             66.0b9-1
firefox-developer-edition-i18n-nn-no             66.0b8-1             66.0b9-1
   firefox-developer-edition-i18n-or             66.0b8-1             66.0b9-1
firefox-developer-edition-i18n-pa-in             66.0b8-1             66.0b9-1
   firefox-developer-edition-i18n-pl             66.0b8-1             66.0b9-1
firefox-developer-edition-i18n-pt-br             66.0b8-1             66.0b9-1
firefox-developer-edition-i18n-pt-pt             66.0b8-1             66.0b9-1
   firefox-developer-edition-i18n-rm             66.0b8-1             66.0b9-1
   firefox-developer-edition-i18n-ro             66.0b8-1             66.0b9-1
   firefox-developer-edition-i18n-ru             66.0b8-1             66.0b9-1
   firefox-developer-edition-i18n-si             66.0b8-1             66.0b9-1
   firefox-developer-edition-i18n-sk             66.0b8-1             66.0b9-1
   firefox-developer-edition-i18n-sl             66.0b8-1             66.0b9-1
  firefox-developer-edition-i18n-son             66.0b8-1             66.0b9-1
   firefox-developer-edition-i18n-sq             66.0b8-1             66.0b9-1
   firefox-developer-edition-i18n-sr             66.0b8-1             66.0b9-1
firefox-developer-edition-i18n-sv-se             66.0b8-1             66.0b9-1
   firefox-developer-edition-i18n-ta             66.0b8-1             66.0b9-1
   firefox-developer-edition-i18n-te             66.0b8-1             66.0b9-1
   firefox-developer-edition-i18n-th             66.0b8-1             66.0b9-1
   firefox-developer-edition-i18n-tr             66.0b8-1             66.0b9-1
   firefox-developer-edition-i18n-uk             66.0b8-1             66.0b9-1
   firefox-developer-edition-i18n-ur             66.0b8-1             66.0b9-1
   firefox-developer-edition-i18n-uz             66.0b8-1             66.0b9-1
   firefox-developer-edition-i18n-vi             66.0b8-1             66.0b9-1
   firefox-developer-edition-i18n-xh             66.0b8-1             66.0b9-1
firefox-developer-edition-i18n-zh-cn             66.0b8-1             66.0b9-1
firefox-developer-edition-i18n-zh-tw             66.0b8-1             66.0b9-1
     firefox-extension-privacybadger          2019.1.30-1          2019.2.19-1
              firefox-tree-style-tab             2.7.20-1             2.7.23-1
                           flameshot              0.6.0-2              0.6.0-3
                              fossil                2.7-1                2.8-1
                           freebasic             1.05.0-3             1.06.0-1
                               geary             0.12.4-1             0.13.1-1
                           git-annex        7.20190129-15         7.20190219-4
                         go-ethereum             1.8.22-1             1.8.23-1
                           gogglesmm              1.2.1-1              1.2.1-2
                              gradle                5.2-1              5.2.1-1
                          gradle-doc                5.2-1              5.2.1-1
                          gradle-src                5.2-1              5.2.1-1
                             granite              5.2.2-1              5.2.3-1
                               gsoap             2.8.78-1             2.8.80-1
                              harvid              0.8.2-2              0.8.3-1
                    haskell-aeson-qq             0.8.2-94             0.8.2-95
                haskell-authenticate            1.3.4-243            1.3.4-246
          haskell-authenticate-oauth               1.6-65               1.6-66
                 haskell-auto-update             0.1.4-11            0.1.4.1-1
                         haskell-aws              0.21-24              0.21-27
                  haskell-cheapskate           0.1.1.1-25           0.1.1.1-26
               haskell-conduit-extra             1.3.0-87              1.3.1-1
                   haskell-criterion            1.5.4.0-3            1.5.4.0-6
          haskell-cryptohash-conduit            0.1.1-250            0.1.1-251
          haskell-cryptonite-conduit            0.2.2-144            0.2.2-145
                         haskell-dav             1.3.3-23             1.3.3-25
                        haskell-dbus              1.2.4-1              1.2.4-2
                         haskell-dns             3.0.4-49             3.0.4-50
                   haskell-esqueleto              2.6.0-9             2.6.0-11
                 haskell-fast-logger             2.4.13-4             2.4.13-5
                  haskell-fdo-notify            0.3.1-132            0.3.1-133
                        haskell-feed           1.0.1.0-18           1.0.1.0-19
                     haskell-githash           0.1.3.1-14           0.1.3.1-16
                      haskell-hakyll          4.12.5.1-10          4.12.5.1-13
                        haskell-here            1.2.13-53            1.2.13-54
                 haskell-hjsonschema            1.9.0-165            1.9.0-168
                    haskell-hopenpgp           2.7.4.1-31           2.7.4.1-32
                       haskell-hpack            0.31.1-30            0.31.1-32
                   haskell-hspec-wai              0.9.2-6              0.9.2-7
              haskell-hspec-wai-json              0.9.2-7              0.9.2-9
                haskell-html-conduit             1.3.2-20             1.3.2-21
                        haskell-http        4000.3.12-117        4000.3.12-120
                 haskell-http-client              0.6.1-5            0.6.1.1-1
             haskell-http-client-tls           0.3.5.3-97           0.3.5.3-98
                haskell-http-conduit              2.3.5-9             2.3.5-12
                 haskell-interpolate             0.2.0-61             0.2.0-62
    haskell-interpolatedstring-perl6             1.0.1-11             1.0.1-12
                   haskell-js-jquery            3.3.1-187            3.3.1-190
                haskell-monad-logger            0.3.30-24            0.3.30-26
                    haskell-mustache            2.3.0-153            2.3.0-154
             haskell-optparse-simple            0.1.1.1-9           0.1.1.1-11
                  haskell-persistent              2.9.1-8             2.9.1-10
           haskell-persistent-sqlite              2.9.2-9             2.9.2-11
         haskell-persistent-template              2.6.0-5              2.6.0-7
                  haskell-pipes-http              1.0.6-3              1.0.6-4
            haskell-project-template          0.2.0.1-117          0.2.0.1-118
                       haskell-retry           0.7.7.0-23            0.8.0.0-1
                       haskell-sandi             0.4.3-18                0.5-1
              haskell-servant-server              0.15-16              0.15-19
                       haskell-shake             0.17.5-7             0.17.6-3
             haskell-simple-sendfile             0.2.28-5             0.2.28-6
                    haskell-src-meta           0.8.0.3-33              0.8.1-1
           haskell-tagstream-conduit          0.5.5.3-237          0.5.5.3-238
         haskell-tls-session-manager           0.0.0.2-86           0.0.0.2-87
              haskell-wai-app-static            3.1.6.3-1            3.1.6.3-4
                   haskell-wai-extra             3.0.25-6             3.0.25-7
          haskell-wai-handler-launch          3.0.2.4-128          3.0.2.4-131
                  haskell-wai-logger             2.3.4-11             2.3.4-12
                        haskell-warp             3.2.26-9            3.2.26-12
                    haskell-warp-tls          3.2.4.3-148          3.2.4.3-151
                        haskell-wreq           0.5.3.2-11           0.5.3.2-12
                 haskell-xml-conduit           1.8.0.1-33           1.8.0.1-34
                  haskell-xml-hamlet             0.5.0-96             0.5.0-97
                       haskell-yesod            1.6.0-218            1.6.0-221
                  haskell-yesod-auth              1.6.6-3              1.6.6-6
                  haskell-yesod-core             1.6.12-3             1.6.12-6
               haskell-yesod-default            1.2.0-478            1.2.0-481
                  haskell-yesod-form             1.6.4-13             1.6.4-16
            haskell-yesod-persistent           1.6.0.1-68           1.6.0.1-71
                haskell-yesod-static           1.6.0.1-67           1.6.0.1-70
                  haskell-yesod-test             1.6.6-26             1.6.6-29
                           hedgewars             0.9.25-8             0.9.25-9
                         hledger-api              1.13-11              1.13-14
                         hledger-web              1.13-13              1.13-16
                              hoogle           5.0.17.5-7          5.0.17.5-10
                      hopenpgp-tools             0.21.3-9            0.21.3-11
                                howl              0.5.3-1              0.5.3-2
                               idris             1.3.1-39             1.3.1-40
                          keepalived             2.0.12-1             2.0.13-1
                              kibana              6.6.0-2              6.6.1-1
                              libcss              0.8.0-1              0.8.0-2
                              libdom              0.3.3-2              0.3.3-3
                             libgiac           1.5.0.37-1           1.5.0.43-1
                            libnsbmp              0.1.5-1              0.1.5-2
                       libringclient         2:20190103-1         2:20190213-1
                            lollypop            0.9.916-1            0.9.921-1
                          lua-socket           20160311-2           20190219-1
                        lua51-socket           20160311-2           20190219-1
                        lua52-socket           20160311-2           20190219-1
                              marked              0.6.0-1              0.6.1-1
                          marked-man   0.3.0+2+gceb2249-1              0.4.2-1
                       mongodb-tools              4.0.5-2                    -
                                mpop              1.4.0-1              1.4.3-1
                                neko              2.2.0-5              2.2.0-6
                             notmuch               0.28-2             0.28.2-1
                        notmuch-mutt               0.28-2             0.28.2-1
                     notmuch-runtime               0.28-2             0.28.2-1
                         notmuch-vim               0.28-2             0.28.2-1
                              nuitka            0.6.1.1-1              0.6.2-1
                               opera       58.0.3135.65-1       58.0.3135.68-1
                              pandoc                2.6-7               2.6-10
                     pandoc-citeproc             0.16.1-1             0.16.1-4
                     pandoc-crossref           0.3.4.0-46           0.3.4.0-49
                     parity-ethereum              2.2.9-1             2.2.11-1
                            perlbrew               0.84-2               0.86-1
                                 pm2              3.3.0-1              3.3.1-1
                           postgrest              5.2.0-9             5.2.0-14
                              puppet              6.1.0-2              6.2.0-1
                    pyopencl-headers         1:2018.2.2-1         1:2018.2.4-1
                      python-aiorpcx             0.10.4-2             0.10.5-2
              python-apache-libcloud              2.4.0-1              2.4.0-2
                         python-args     0.1.0.20121116-3     0.1.0.20170708-1
                        python-arrow             0.12.1-4             0.13.1-1
                        python-astor              0.7.1-1              0.7.1-2
                        python-baron                0.8-1                0.9-1
                    python-bitvector              3.4.8-2              3.4.8-3
                    python-chameleon                3.5-1                3.6-1
                   python-cloudflare              2.1.0-3              2.1.0-4
                      python-etesync              0.7.0-1              0.8.1-1
                  python-flask-dance              1.3.0-1              1.4.0-1
                           python-fs              2.4.0-1              2.4.1-1
                  python-google-auth              1.6.2-1              1.6.3-1
                   python-hypothesis              4.6.0-1              4.7.3-1
              python-language-server             0.23.2-2             0.24.0-1
                     python-micawber              0.3.8-1              0.4.0-1
                    python-mongomock             3.14.0-1             3.15.0-1
                         python-mpd2              1.0.0-2              1.0.0-3
                      python-munkres             1.0.12-2              1.1.2-1
                       python-nbxmpp              0.6.9-1             0.6.10-1
                 python-nose-exclude              0.5.0-3              0.5.0-4
                         python-praw              6.1.1-1              6.1.1-2
                     python-pyopencl         1:2018.2.2-1         1:2018.2.4-1
                   python-pyrsistent            0.14.10-1            0.14.11-1
                     python-redbaron                0.8-1              0.9.1-1
                        python-redis              3.1.0-1              3.2.0-1
                 python-testfixtures              6.5.2-1              6.6.0-1
             python-websocket-client             0.54.0-1             0.54.0-2
                        python-wheel             0.33.0-1             0.33.1-1
                    python-wikipedia              1.4.0-5              1.4.0-6
                   python-wsgiproxy2              0.4.5-1              0.4.6-1
             python2-apache-libcloud              2.4.0-1                    -
                        python2-args     0.1.0.20121116-3                    -
                       python2-arrow             0.12.1-4             0.13.1-1
                       python2-astor              0.7.1-1                    -
                   python2-bitvector              3.4.8-2                    -
                   python2-chameleon                3.5-1                3.6-1
                  python2-cloudflare              2.1.0-3                    -
                          python2-fs              2.4.0-1              2.4.1-1
                 python2-google-auth              1.6.2-1              1.6.3-1
                  python2-hypothesis              4.6.0-1              4.7.3-1
                   python2-mongomock             3.14.0-1             3.15.0-1
                        python2-mpd2              1.0.0-2                    -
                     python2-munkres             1.0.12-2                    -
                python2-musicbrainz2              0.7.4-4                    -
                      python2-nbxmpp              0.6.9-1                    -
                python2-nose-exclude              0.5.0-3                    -
                        python2-praw              6.1.1-1                    -
                    python2-pyopencl         1:2018.2.2-1         1:2018.2.4-1
                  python2-pyrsistent            0.14.10-1            0.14.11-1
                       python2-redis              3.1.0-1              3.2.0-1
                     python2-rst2pdf               0.93-9                    -
                     python2-serpent               1.27-2                    -
                python2-testfixtures              6.5.2-1              6.6.0-1
            python2-websocket-client             0.54.0-1             0.54.0-2
                       python2-wheel             0.33.0-1             0.33.1-1
                   python2-wikipedia              1.4.0-5                    -
                  python2-wsgiproxy2              0.4.5-1              0.4.6-1
                        python2-zbar               0.20-3               0.21-2
                      quassel-client             0.13.0-1             0.13.1-1
                quassel-client-small             0.13.0-1             0.13.1-1
                        quassel-core             0.13.0-1             0.13.1-1
                  quassel-monolithic             0.13.0-1             0.13.1-1
                           quodlibet              4.2.1-1              4.2.1-2
                         ring-daemon         2:20190103-1         2:20190213-1
                          ring-gnome         3:20190103-1         3:20190215-1
                            sagemath                8.6-3                8.6-4
                    sagemath-jupyter                8.6-3                8.6-4
                             setconf              0.7.5-2              0.7.6-1
            shadowsocks-v2ray-plugin                1.0-1              1.1.0-1
                          shellcheck             0.6.0-43             0.6.0-46
                             shotgun              2.0.1-3              2.1.0-1
                                skim              0.5.2-4              0.5.4-1
                               stack             1.9.3-65             1.9.3-70
                                sxiv                 24-1                 25-1
                      tamarin-prover             1.4.1-25             1.4.1-28
                          typescript              3.3.3-1           3.3.3333-1
                      udp2raw-tunnel         20181113.0-1         20181113.0-2
                               units               2.18-2               2.18-3
                               v2ray             4.15.0-1             4.17.0-1
                                vice                3.3-2                3.3-3
                          volumeicon              0.5.1-3              0.5.1-4
                             weechat                2.3-2                2.4-1
                           wordpress              5.0.3-1                5.1-1
                         x42-plugins           20190105-2           20190206-1
                                xcas           1.5.0.37-1           1.5.0.43-1
                              xdebug           2.7.0RC1-1           2.7.0rc2-1
                           xlockmore               5.56-1               5.56-2
                              xmobar            0.29.4-22            0.29.4-25
                             you-get           0.4.1210-1           0.4.1256-1
             yubikey-personalization             1.19.0-2             1.19.2-1
                                zbar               0.20-3               0.21-2
                            zbar-gtk               0.20-3               0.21-2
                             zbar-qt               0.20-3               0.21-2
                      container-diff                    -             0.15.0-1
                 haskell-filepattern                    -              0.1.1-1
                             pythia8                    -             8.2.40-7
                  python-pysol_cards                    -              0.4.1-2
                      python-pythia8                    -             8.2.40-7
                     python2-pythia8                    -             8.2.40-7
                                root                    -            6.16.00-1
                           root-cuda                    -            6.16.00-1
                          timidity++                    -             2.15.0-1
                        wire-desktop                    -           3.6.2885-4


:: Different overlay package(s) in repository core x86_64

-------------------------------------------------------------------------------
                             PACKAGE           2019-02-19           2019-02-22
-------------------------------------------------------------------------------
                            linux318           3.18.134-1           3.18.135-1
                    linux318-headers           3.18.134-1           3.18.135-1
                            linux414           4.14.101-1           4.14.102-1
                    linux414-headers           4.14.101-1           4.14.102-1
                            linux419            4.19.23-1            4.19.24-1
                    linux419-headers            4.19.23-1            4.19.24-1
                            linux420            4.20.10-1            4.20.11-1
                    linux420-headers            4.20.10-1            4.20.11-1
                             linux49            4.9.158-1            4.9.159-1
                     linux49-headers            4.9.158-1            4.9.159-1
                             systemd            241.159-1            241.244-1
                        systemd-libs            241.159-1            241.244-1
                  systemd-resolvconf            241.159-1            241.244-1
                  systemd-sysvcompat            241.159-1            241.244-1


:: Different sync package(s) in repository core x86_64

-------------------------------------------------------------------------------
                             PACKAGE           2019-02-19           2019-02-22
-------------------------------------------------------------------------------
                                curl             7.64.0-7             7.64.0-9
                               gpgme             1.12.0-1             1.12.0-2
                             openvpn              2.4.6-1              2.4.7-1
                        python-gpgme             1.12.0-1             1.12.0-2
                       python2-gpgme             1.12.0-1                    -
                              qgpgme             1.12.0-1             1.12.0-2


:: Different overlay package(s) in repository extra x86_64

-------------------------------------------------------------------------------
                             PACKAGE           2019-02-19           2019-02-22
-------------------------------------------------------------------------------
                         kinfocenter             5.15.0-1             5.15.1-1
                  linux318-acpi_call             1.1.0-69             1.1.0-70
                   linux318-bbswitch               0.8-69               0.8-70
                linux318-broadcom-wl      6.30.223.271-45      6.30.223.271-46
                   linux318-catalyst     1:15.201.1151-59     1:15.201.1151-60
                linux318-ndiswrapper              1.61-45              1.61-46
                     linux318-nvidia           1:415.27-2           1:415.27-3
               linux318-nvidia-340xx           340.107-12           340.107-13
               linux318-nvidia-390xx             390.87-8             390.87-9
                   linux318-nvidiabl              0.88-59              0.88-60
                      linux318-r8168          8.045.08-24          8.045.08-25
                  linux318-rt3562sta        2.4.1.1_r4-45        2.4.1.1_r4-46
                        linux318-spl             0.7.12-2             0.7.12-3
                   linux318-tp_smapi              0.41-69              0.41-70
                linux318-vhba-module          20161009-45          20161009-46
   linux318-virtualbox-guest-modules              6.0.4-1              6.0.4-2
    linux318-virtualbox-host-modules              6.0.4-1              6.0.4-2
                        linux318-zfs             0.7.12-2             0.7.12-3
                  linux414-acpi_call             1.1.0-81             1.1.0-82
                   linux414-bbswitch               0.8-81               0.8-82
                linux414-broadcom-wl      6.30.223.271-81      6.30.223.271-82
                   linux414-catalyst     1:15.201.1151-81     1:15.201.1151-82
                linux414-ndiswrapper              1.61-81              1.61-82
                     linux414-nvidia           1:415.27-7           1:415.27-8
               linux414-nvidia-340xx           340.107-40           340.107-41
               linux414-nvidia-390xx            390.87-25            390.87-27
                   linux414-nvidiabl              0.88-81              0.88-82
                      linux414-r8168          8.045.08-69          8.045.08-70
                  linux414-rt3562sta        2.4.1.1_r4-81        2.4.1.1_r4-82
                        linux414-spl            0.7.12-10            0.7.12-11
                   linux414-tp_smapi              0.41-81              0.41-82
                linux414-vhba-module          20161009-81          20161009-82
   linux414-virtualbox-guest-modules              6.0.4-4              6.0.4-5
    linux414-virtualbox-host-modules              6.0.4-4              6.0.4-5
                        linux414-zfs            0.7.12-10            0.7.12-11
                  linux419-acpi_call             1.1.0-18             1.1.0-19
                   linux419-bbswitch               0.8-18               0.8-19
                linux419-broadcom-wl      6.30.223.271-18      6.30.223.271-19
                   linux419-catalyst     1:15.201.1151-18     1:15.201.1151-19
                linux419-ndiswrapper              1.61-18              1.61-19
                     linux419-nvidia           1:415.27-7           1:415.27-8
               linux419-nvidia-340xx           340.107-18           340.107-19
               linux419-nvidia-390xx            390.87-19            390.87-20
                   linux419-nvidiabl              0.88-18              0.88-19
                      linux419-r8168          8.045.08-18          8.045.08-19
                        linux419-spl            0.7.12-10            0.7.12-11
                   linux419-tp_smapi              0.41-18              0.41-19
                linux419-vhba-module          20161009-18          20161009-19
   linux419-virtualbox-guest-modules              6.0.4-5              6.0.4-6
    linux419-virtualbox-host-modules              6.0.4-5              6.0.4-6
                        linux419-zfs            0.7.12-10            0.7.12-11
                  linux420-acpi_call              1.1.0-8              1.1.0-9
                   linux420-bbswitch                0.8-8                0.8-9
                linux420-broadcom-wl       6.30.223.271-8       6.30.223.271-9
                   linux420-catalyst      1:15.201.1151-8      1:15.201.1151-9
                linux420-ndiswrapper               1.61-8               1.61-9
                     linux420-nvidia           1:415.27-7           1:415.27-8
               linux420-nvidia-340xx            340.107-8            340.107-9
               linux420-nvidia-390xx             390.87-8             390.87-9
                   linux420-nvidiabl               0.88-8               0.88-9
                      linux420-r8168           8.045.08-8           8.045.08-9
                        linux420-spl             0.7.12-8             0.7.12-9
                   linux420-tp_smapi               0.41-8               0.41-9
                linux420-vhba-module           20161009-8           20161009-9
   linux420-virtualbox-guest-modules              6.0.4-4              6.0.4-5
    linux420-virtualbox-host-modules              6.0.4-4              6.0.4-5
                        linux420-zfs             0.7.12-8             0.7.12-9
                   linux49-acpi_call            1.1.0-115            1.1.0-116
                    linux49-bbswitch              0.8-115              0.8-116
                 linux49-broadcom-wl     6.30.223.271-115     6.30.223.271-116
                    linux49-catalyst    1:15.201.1151-115    1:15.201.1151-116
                 linux49-ndiswrapper             1.61-113             1.61-114
                      linux49-nvidia           1:415.27-7           1:415.27-8
                linux49-nvidia-340xx           340.107-34           340.107-35
                linux49-nvidia-390xx            390.87-23            390.87-24
                    linux49-nvidiabl             0.88-115             0.88-116
                       linux49-r8168          8.045.08-55          8.045.08-56
                   linux49-rt3562sta       2.4.1.1_r4-113       2.4.1.1_r4-114
                         linux49-spl             0.7.12-8             0.7.12-9
                    linux49-tp_smapi             0.41-115             0.41-116
                 linux49-vhba-module         20161009-113         20161009-114
    linux49-virtualbox-guest-modules              6.0.4-4              6.0.4-5
     linux49-virtualbox-host-modules              6.0.4-4              6.0.4-5
                         linux49-zfs             0.7.12-8             0.7.12-9
                   manjaro-architect             0.9.20-1             0.9.21-1
          manjaro-architect-launcher             0.9.20-1             0.9.21-1
                         thunderbird             60.5.1-0                    -
                 thunderbird-i18n-ar             60.5.1-0                    -
                thunderbird-i18n-ast             60.5.1-0                    -
                 thunderbird-i18n-be             60.5.1-0                    -
                 thunderbird-i18n-bg             60.5.1-0                    -
                 thunderbird-i18n-br             60.5.1-0                    -
                 thunderbird-i18n-ca             60.5.1-0                    -
                 thunderbird-i18n-cs             60.5.1-0                    -
                 thunderbird-i18n-cy             60.5.1-0                    -
                 thunderbird-i18n-da             60.5.1-0                    -
                 thunderbird-i18n-de             60.5.1-0                    -
                thunderbird-i18n-dsb             60.5.1-0                    -
                 thunderbird-i18n-el             60.5.1-0                    -
              thunderbird-i18n-en-gb             60.5.1-0                    -
              thunderbird-i18n-en-us             60.5.1-0                    -
              thunderbird-i18n-es-ar             60.5.1-0                    -
              thunderbird-i18n-es-es             60.5.1-0                    -
                 thunderbird-i18n-et             60.5.1-0                    -
                 thunderbird-i18n-eu             60.5.1-0                    -
                 thunderbird-i18n-fi             60.5.1-0                    -
                 thunderbird-i18n-fr             60.5.1-0                    -
              thunderbird-i18n-fy-nl             60.5.1-0                    -
              thunderbird-i18n-ga-ie             60.5.1-0                    -
                 thunderbird-i18n-gd             60.5.1-0                    -
                 thunderbird-i18n-gl             60.5.1-0                    -
                 thunderbird-i18n-he             60.5.1-0                    -
                 thunderbird-i18n-hr             60.5.1-0                    -
                thunderbird-i18n-hsb             60.5.1-0                    -
                 thunderbird-i18n-hu             60.5.1-0                    -
              thunderbird-i18n-hy-am             60.5.1-0                    -
                 thunderbird-i18n-id             60.5.1-0                    -
                 thunderbird-i18n-is             60.5.1-0                    -
                 thunderbird-i18n-it             60.5.1-0                    -
                 thunderbird-i18n-ja             60.5.1-0                    -
                 thunderbird-i18n-ko             60.5.1-0                    -
                 thunderbird-i18n-lt             60.5.1-0                    -
              thunderbird-i18n-nb-no             60.5.1-0                    -
                 thunderbird-i18n-nl             60.5.1-0                    -
              thunderbird-i18n-nn-no             60.5.1-0                    -
                 thunderbird-i18n-pl             60.5.1-0                    -
              thunderbird-i18n-pt-br             60.5.1-0                    -
              thunderbird-i18n-pt-pt             60.5.1-0                    -
                 thunderbird-i18n-rm             60.5.1-0                    -
                 thunderbird-i18n-ro             60.5.1-0                    -
                 thunderbird-i18n-ru             60.5.1-0                    -
                 thunderbird-i18n-si             60.5.1-0                    -
                 thunderbird-i18n-sk             60.5.1-0                    -
                 thunderbird-i18n-sl             60.5.1-0                    -
                 thunderbird-i18n-sq             60.5.1-0                    -
                 thunderbird-i18n-sr             60.5.1-0                    -
              thunderbird-i18n-sv-se             60.5.1-0                    -
                 thunderbird-i18n-tr             60.5.1-0                    -
                 thunderbird-i18n-uk             60.5.1-0                    -
                 thunderbird-i18n-vi             60.5.1-0                    -
              thunderbird-i18n-zh-cn             60.5.1-0                    -
              thunderbird-i18n-zh-tw             60.5.1-0                    -


:: Different sync package(s) in repository extra x86_64

-------------------------------------------------------------------------------
                             PACKAGE           2019-02-19           2019-02-22
-------------------------------------------------------------------------------
                                bind             9.13.5-5             9.13.7-1
                          bind-tools             9.13.5-5             9.13.7-1
                           bluedevil           1:5.15.0-1           1:5.15.1-1
                              breeze             5.15.0-1             5.15.1-1
                         breeze-grub             5.15.0-1             5.15.1-1
                          breeze-gtk             5.15.0-1             5.15.1-1
                            chromium      72.0.3626.109-1      72.0.3626.119-1
                         dbus-broker                 17-1                 18-1
                            discover             5.15.0-2             5.15.1-1
                             drkonqi             5.15.0-1             5.15.1-1
                         foomatic-db         3:20190104-1         3:20190219-1
                 foomatic-db-nonfree         3:20190104-1         3:20190219-1
            foomatic-db-nonfree-ppds         3:20190104-1         3:20190219-1
                    foomatic-db-ppds         3:20190104-1         3:20190219-1
                     freecell-solver              5.0.0-1              5.2.0-1
                                 gdm             3.30.2-2 3.30.2+5+g57bf0dd7-1
                          irqbalance              1.3.0-2              1.5.0-1
                   kactivitymanagerd             5.15.0-1             5.15.1-1
                       kde-cli-tools             5.15.0-1             5.15.1-1
                      kde-gtk-config             5.15.0-1             5.15.1-1
                         kdecoration             5.15.0-1             5.15.1-1
                    kdeplasma-addons             5.15.0-1             5.15.1-1
                             kgamma5             5.15.0-1             5.15.1-1
                            khotkeys             5.15.0-1             5.15.1-1
                         kinfocenter             5.15.0-1             5.15.1-1
                           kmenuedit             5.15.0-1             5.15.1-1
                          knetattach             5.15.0-1             5.15.1-1
                             kscreen             5.15.0-1             5.15.1-1
                       kscreenlocker             5.15.0-1             5.15.1-1
                         ksshaskpass             5.15.0-1             5.15.1-1
                           ksysguard             5.15.0-1             5.15.1-1
                         kwallet-pam             5.15.0-1             5.15.1-1
                kwayland-integration             5.15.0-1             5.15.1-1
                                kwin             5.15.0-1             5.15.1-1
                             kwrited             5.15.0-1             5.15.1-1
                        libchamplain            0.12.16-1            0.12.17-1
                          libfontenc              1.1.3-2              1.1.4-1
                              libgdm             3.30.2-2 3.30.2+5+g57bf0dd7-1
                         libgweather             3.28.2-1             3.28.3-1
                           libkdepim            18.12.2-1            18.12.2-2
                          libkscreen             5.15.0-1             5.15.1-1
                        libksysguard             5.15.0-1             5.15.1-1
                            libunrar            1:5.7.1-1            1:5.7.2-1
                               milou             5.15.0-1             5.15.1-1
                              oxygen             5.15.0-1             5.15.1-1
                         php-apcu-bc              1.0.4-2              1.0.5-1
          plasma-browser-integration             5.15.0-1             5.15.1-1
                      plasma-desktop             5.15.0-1             5.15.1-1
                  plasma-integration             5.15.0-1             5.15.1-1
                           plasma-nm             5.15.0-1             5.15.1-1
                           plasma-pa             5.15.0-1             5.15.1-1
                          plasma-sdk             5.15.0-1             5.15.1-1
                        plasma-vault             5.15.0-1             5.15.1-1
              plasma-wayland-session             5.15.0-1             5.15.1-1
                    plasma-workspace             5.15.0-1             5.15.1-1
         plasma-workspace-wallpapers             5.15.0-1             5.15.1-1
                    polkit-kde-agent             5.15.0-1             5.15.1-1
                          powerdevil             5.15.0-1             5.15.1-1
                       python-beaker             1.10.0-3             1.10.1-1
                      python2-beaker             1.10.0-3             1.10.1-1
                            sddm-kcm             5.15.0-1             5.15.1-1
                      systemsettings             5.15.0-1             5.15.1-1
                         thunderbird             60.5.0-1             60.5.1-1
                 thunderbird-i18n-ar             60.5.0-1             60.5.1-1
                thunderbird-i18n-ast             60.5.0-1             60.5.1-1
                 thunderbird-i18n-be             60.5.0-1             60.5.1-1
                 thunderbird-i18n-bg             60.5.0-1             60.5.1-1
                 thunderbird-i18n-br             60.5.0-1             60.5.1-1
                 thunderbird-i18n-ca             60.5.0-1             60.5.1-1
                 thunderbird-i18n-cs             60.5.0-1             60.5.1-1
                 thunderbird-i18n-cy             60.5.0-1             60.5.1-1
                 thunderbird-i18n-da             60.5.0-1             60.5.1-1
                 thunderbird-i18n-de             60.5.0-1             60.5.1-1
                thunderbird-i18n-dsb             60.5.0-1             60.5.1-1
                 thunderbird-i18n-el             60.5.0-1             60.5.1-1
              thunderbird-i18n-en-gb             60.5.0-1             60.5.1-1
              thunderbird-i18n-en-us             60.5.0-1             60.5.1-1
              thunderbird-i18n-es-ar             60.5.0-1             60.5.1-1
              thunderbird-i18n-es-es             60.5.0-1             60.5.1-1
                 thunderbird-i18n-et             60.5.0-1             60.5.1-1
                 thunderbird-i18n-eu             60.5.0-1             60.5.1-1
                 thunderbird-i18n-fi             60.5.0-1             60.5.1-1
                 thunderbird-i18n-fr             60.5.0-1             60.5.1-1
              thunderbird-i18n-fy-nl             60.5.0-1             60.5.1-1
              thunderbird-i18n-ga-ie             60.5.0-1             60.5.1-1
                 thunderbird-i18n-gd             60.5.0-1             60.5.1-1
                 thunderbird-i18n-gl             60.5.0-1             60.5.1-1
                 thunderbird-i18n-he             60.5.0-1             60.5.1-1
                 thunderbird-i18n-hr             60.5.0-1             60.5.1-1
                thunderbird-i18n-hsb             60.5.0-1             60.5.1-1
                 thunderbird-i18n-hu             60.5.0-1             60.5.1-1
              thunderbird-i18n-hy-am             60.5.0-1             60.5.1-1
                 thunderbird-i18n-id             60.5.0-1             60.5.1-1
                 thunderbird-i18n-is             60.5.0-1             60.5.1-1
                 thunderbird-i18n-it             60.5.0-1             60.5.1-1
                 thunderbird-i18n-ja             60.5.0-1             60.5.1-1
                 thunderbird-i18n-ko             60.5.0-1             60.5.1-1
                 thunderbird-i18n-lt             60.5.0-1             60.5.1-1
              thunderbird-i18n-nb-no             60.5.0-1             60.5.1-1
                 thunderbird-i18n-nl             60.5.0-1             60.5.1-1
              thunderbird-i18n-nn-no             60.5.0-1             60.5.1-1
                 thunderbird-i18n-pl             60.5.0-1             60.5.1-1
              thunderbird-i18n-pt-br             60.5.0-1             60.5.1-1
              thunderbird-i18n-pt-pt             60.5.0-1             60.5.1-1
                 thunderbird-i18n-rm             60.5.0-1             60.5.1-1
                 thunderbird-i18n-ro             60.5.0-1             60.5.1-1
                 thunderbird-i18n-ru             60.5.0-1             60.5.1-1
                 thunderbird-i18n-si             60.5.0-1             60.5.1-1
                 thunderbird-i18n-sk             60.5.0-1             60.5.1-1
                 thunderbird-i18n-sl             60.5.0-1             60.5.1-1
                 thunderbird-i18n-sq             60.5.0-1             60.5.1-1
                 thunderbird-i18n-sr             60.5.0-1             60.5.1-1
              thunderbird-i18n-sv-se             60.5.0-1             60.5.1-1
                 thunderbird-i18n-tr             60.5.0-1             60.5.1-1
                 thunderbird-i18n-uk             60.5.0-1             60.5.1-1
                 thunderbird-i18n-vi             60.5.0-1             60.5.1-1
              thunderbird-i18n-zh-cn             60.5.0-1             60.5.1-1
              thunderbird-i18n-zh-tw             60.5.0-1             60.5.1-1
                          timidity++             2.15.0-1                    -
                             tracker              2.1.7-1              2.2.0-2
                      tracker-miners              2.1.5-3              2.2.0-1
                               unrar            1:5.7.1-1            1:5.7.2-1
                        user-manager             5.15.0-1             5.15.1-1
                      vulkan-headers           1:1.1.99-1          1:1.1.100-1
                    vulkan-html-docs           1:1.1.99-1          1:1.1.101-1
              xdg-desktop-portal-kde             5.15.0-1             5.15.1-1
                          xorg-xcalc              1.0.6-2              1.0.7-1
                         xorg-xclock              1.0.7-2              1.0.8-1
                            xorg-xev              1.2.2-2              1.2.3-1
                          xorg-xhost              1.0.7-2              1.0.8-1
                       xorg-xlsatoms              1.1.2-2              1.1.3-1
                        xorg-xmodmap              1.0.9-2             1.0.10-1
                           xorg-xrdb              1.1.1-1              1.2.0-1
                         xorg-xvinfo              1.1.3-2              1.1.4-1


:: Different overlay package(s) in repository multilib x86_64

-------------------------------------------------------------------------------
                             PACKAGE           2019-02-19           2019-02-22
-------------------------------------------------------------------------------
                       lib32-systemd            241.159-1            241.244-1


:: Different sync package(s) in repository multilib x86_64

-------------------------------------------------------------------------------
                             PACKAGE           2019-02-19           2019-02-22
-------------------------------------------------------------------------------
                        lib32-libcap               2.25-2               2.26-1
                  lib32-libgpg-error               1.34-1               1.35-1

No issue, everything went smoothly
Yes there was an issue. I was able to resolve it myself.(Please post your solution)
Yes i am currently experiencing an issue due to the update. (Please post about it)
Check if your mirror has already synced: