Hello community,
here is another Stable Update ...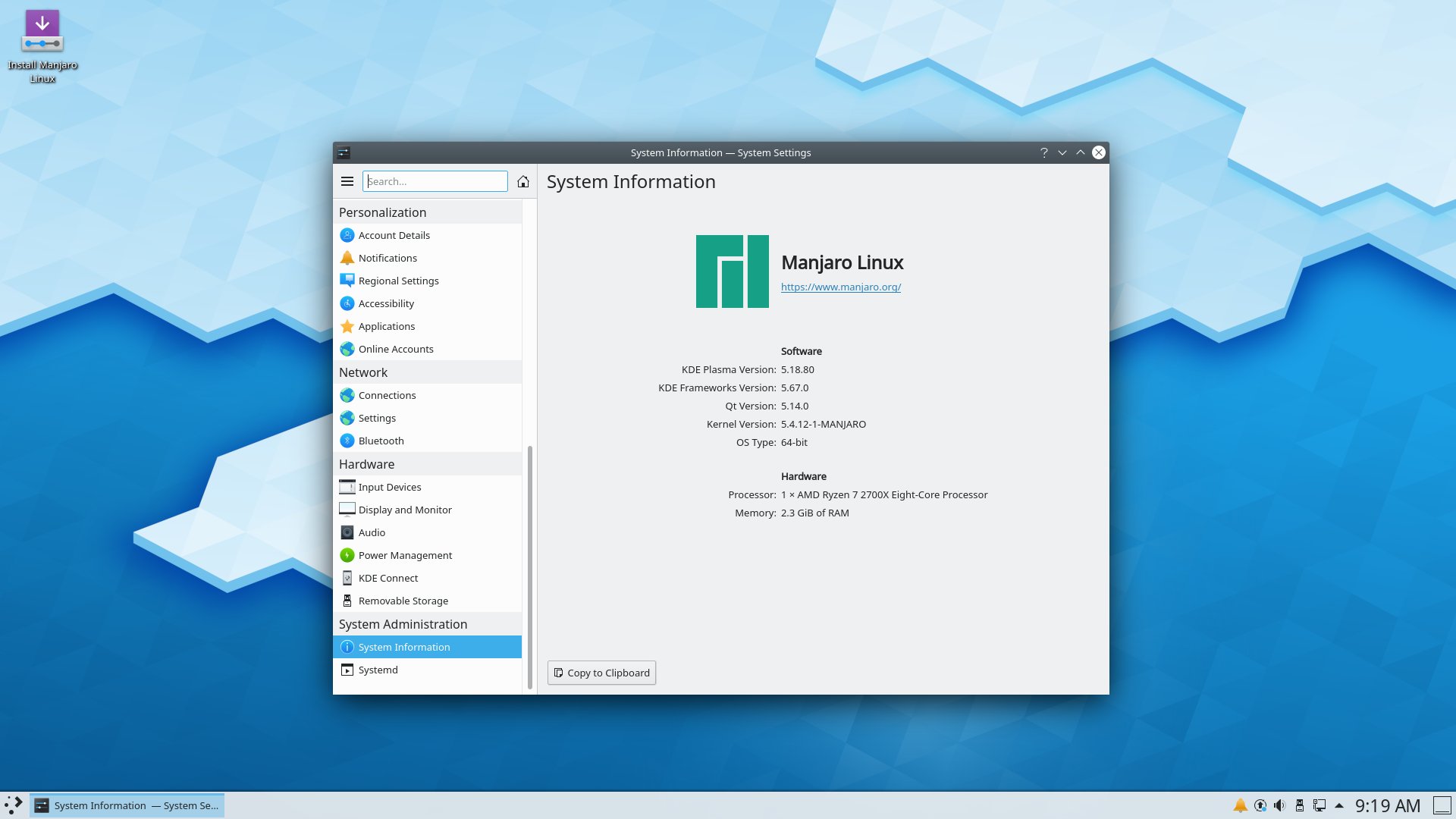 Test the latest efforts of KDE on our Development ISOs
Some feature-updates:
Some Kernels got updated
Plasma got updated to 5.19 alpha on our KDE-git packages
Pamac 9.3 got it's first RC. Please update your translations
Gambas at 3.14.3
Virtualbox to renewed to 6.1.2
The usual upstream fixes
If you like following latest Plasma development you may also like to check out our current version of manjaro-kde-dev, which we build on a regular basis against kde-git master packages. Also check out our current 18.1.5 ISOs and give us the needed feedback. You might also want to give our latest spin with NX-Desktop a try ...
As always we appreciate your input and feedback for the updates.
---
Upstream notice
Arch updated their default compression to zstd. We adopted to the same standard. More and more packages will have the zst extension from now on. If you get for what ever reason an error with ZSTD not supported as archive format you can do this:
wget https://pkgbuild.com/~eschwartz/repo/x86_64-extracted/pacman-static
chmod +x pacman-static
sudo ./pacman-static -Syyu

---
Our current supported kernels:
linux316 3.16.81
linux44 4.4.210
linux49 4.9.210
linux414 4.14.166
linux419 4.19.97
linux53 5.3.18 [EOL]
linux54 5.4.13
linux55 5.5-rc6
linux419-rt 4.19.94_rt38
linux54-rt 5.4.10_rt5
Package Changes (Mon Jan 20 08:52:49 CET 2020)
stable community x86_64: 543 new and 518 removed package(s)
stable core x86_64: 9 new and 9 removed package(s)
stable extra x86_64: 137 new and 201 removed package(s)
stable multilib x86_64: 3 new and 8 removed package(s)
:: Different overlay package(s) in repository community x86_64

-------------------------------------------------------------------------------
                             PACKAGE           2020-01-16           2020-01-20
-------------------------------------------------------------------------------
                          attica-git5.67.0.r736.g1d79a8e-15.67.0.r737.gc92809e-1
                           baloo-git5.67.0.r2683.geec35486-15.67.0.r2685.gdb2739e7-1
                       bluedevil-git5.17.80.r2038.g3686a5ac-15.18.80.r2045.gfe9727a8-1
                          breeze-git5.17.80.r1931.g3e9cd8d1-15.18.80.r1939.gc1ba29e0-1
                      breeze-gtk-git5.17.80.r370.g47b9a1f-15.18.80.r372.g0f7d7de-1
                    breeze-icons-git5.67.0.r1453.g2f00ca39-15.67.0.r1454.g22286e6a-1
                             catfish           1.4.13-0.1                    -
                            cinnamon              4.4.7-1              4.4.8-1
                               cpu-x3.2.4.r167.ge590603-13.2.4.r168.gf3df7f1-1
                        discover-git5.17.80.r7548.gc5c42a84-15.18.80.r7562.g52f93cb4-1
                         drkonqi-git5.17.80.r470.ge944f62f-15.18.80.r474.g535cc003-1
                         edid-decode       r362.e719d04-1       r366.3910b4c-1
      gnome-shell-extension-arc-menu39.0+dev+7+g9221487-1           40.0+dev-1
                            hw-probe  1.5+0.g200fbb5b45-1  1.5+7.gf350d41ad5-1
               kactivitymanagerd-git5.15.80.r1254.gda649d0-15.15.80.r1255.g02cf620-1
                         kapidox-git5.67.0.r448.ga219771-15.67.0.r450.geae0cd8-1
                        kcmutils-git5.67.0.r364.gf52314e-15.67.0.r365.gabd2e49-1
                  kconfigwidgets-git5.67.0.r431.g4dc3f18-15.67.0.r432.ga9e1079-1
                     kcoreaddons-git5.67.0.r929.g9329bdc-15.67.0.r933.gaa908f7-1
                   kde-cli-tools-git5.17.80.r1740.gffdeac0-15.18.80.r1743.gf5243b6-1
                  kde-gtk-config-git5.17.80.r774.g1ebf620-15.18.80.r778.g57ecf50-1
                    kdeclarative-git5.67.0.r741.g3694f8a-15.67.0.r742.g083b21c-1
                     kdecoration-git5.17.80.r210.g771ed0c-15.18.80.r213.g6584600-1
                kdeplasma-addons-git5.17.80.r8251.g5dbf4bd0a-15.18.80.r8259.g884db0486-1
                         kgamma5-git5.17.80.r404.gd900dc7-15.18.80.r408.gbc70495-1
                        khotkeys-git5.17.80.r1976.g17d34cc-15.18.80.r1979.g790a00d-1
                     kinfocenter-git5.17.80.r1587.g35f6d3f-15.18.80.r1592.g8a4f8c4-1
                             kio-git5.67.0.r3749.g76470c11-15.67.0.r3753.gfb1bfd23-1
                       kirigami2-git5.67.0.r2039.gd4bf3ed3-15.67.0.r2042.g3e26d744-1
                      knetattach-git5.17.80.r7270.ga0f165650-15.18.80.r7294.g9f7b53b5e-1
                       knewstuff-git5.67.0.r765.ge90611b-15.67.0.r769.g198e589-1
                  knotifications-git5.67.0.r490.g33742dd-15.67.0.r494.gbc01688-1
                   kscreenlocker-git5.17.80.r751.g673c635-15.18.80.r762.gcefa4fc-1
                     ksshaskpass-git5.17.80.r146.g7521a9a-15.18.80.r149.g88a8f53-1
                       ksysguard-git5.17.80.r3206.ga01b1f75-15.18.80.r3208.g908a13c1-1
                     ktexteditor-git5.67.0.r2307.g46c08eeb-15.67.0.r2308.g9499d28b-1
                 kunitconversion-git5.67.0.r289.g8a928f2-15.67.0.r290.gb0229f5-1
                         kwallet-git5.67.0.r939.g533d6d9-15.67.0.r940.gd498044-1
                        kwayland-git5.67.0.r972.g718dc96-15.67.0.r973.g305a657-1
            kwayland-integration-git5.17.80.r137.ge390476-15.18.80.r140.gaae0cdd-1
                  kwidgetsaddons-git5.67.0.r622.g26055f3-15.67.0.r623.g945f184-1
                            kwin-git5.17.80.r17616.g687fcd820-15.18.80.r17642.g0ba10d58c-1
                   kwindowsystem-git5.67.0.r488.g79cb14d-15.67.0.r489.g181d4f3-1
                         kwrited-git5.17.80.r411.g64f3d8f-15.18.80.r414.g23ca448-1
                         kxmlgui-git5.67.0.r592.g5995431-15.67.0.r593.g373e200-1
                      libkscreen-git5.17.80.r1498.g05e361e-15.18.80.r1503.g8cd7ff9-1
                    libksysguard-git5.17.80.r1758.g2ed58ad-15.18.80.r1762.g4bf0780-1
linux419-rt-virtualbox-guest-modules              6.1.0-4              6.1.2-1
 linux419-rt-virtualbox-host-modules              6.1.0-4              6.1.2-1
 linux54-rt-virtualbox-guest-modules              6.1.0-3              6.1.2-1
  linux54-rt-virtualbox-host-modules              6.1.0-3              6.1.2-1
               manjaro-arm-installer             1.2.11-3             1.2.12-1
            manjaro-kde-settings-dev           20200114-1           20200117-1
                           milou-git5.17.80.r669.g7a6b1a0-15.18.80.r672.gee363dc-1
                          oxygen-git5.17.80.r4349.g435becaf-15.18.80.r4351.g05e2ffa5-1
                                 pix              2.4.5-1              2.4.6-1
      plasma-browser-integration-git5.17.80.r1005.gb7ace6f9-15.18.80.r1007.ge4ce6072-1
                  plasma-desktop-git5.17.80.r7270.ga0f165650-15.18.80.r7294.g9f7b53b5e-1
                plasma-framework-git5.67.0.r15341.gda513b158-15.67.0.r15344.g1e5966147-1
              plasma-integration-git5.17.80.r452.g69b756e-15.18.80.r455.g7bd349d-1
                       plasma-nm-git5.17.80.r2737.g3eb9f7e6-15.18.80.r2748.gdc34d3f3-1
                       plasma-pa-git5.17.80.r781.gf6a5ea0-15.18.80.r784.g91363fb-1
                      plasma-sdk-git5.17.80.r2136.g0a45052-15.18.80.r2139.gde7108a-1
                    plasma-vault-git5.17.80.r243.gf8c6924-15.18.80.r245.gda1d7ad-1
          plasma-wayland-session-git5.17.80.r8614.g48d3613aa-15.18.80.r8633.ge9c57e4be-1
                plasma-workspace-git5.17.80.r8614.g48d3613aa-15.18.80.r8633.ge9c57e4be-1
     plasma-workspace-wallpapers-git5.17.80.r172.g15e8593-15.18.80.r174.g8b2722c-1
                polkit-kde-agent-git5.17.80.r423.gb10bfbc-15.18.80.r426.g394f826-1
                      powerdevil-git5.17.80.r2244.gc3b253f4-15.18.80.r2248.ge3e798f4-1
                         purpose-git5.67.0.r728.gab02adc-15.67.0.r731.gc0bc818-1
              qqc2-desktop-style-git5.67.0.r325.g06d4bb0-15.67.0.r329.g36b20cb-1
                        sddm-kcm-git5.17.80.r502.gb7de97b-15.18.80.r506.gaf4eff7-1
             syntax-highlighting-git5.67.0.r1062.gbb06250-15.67.0.r1063.g15e6e03-1
                  systemsettings-git5.17.80.r2179.g01cecb16-15.18.80.r2183.ga0a09e53-1
                    threadweaver-git5.67.0.r426.g78a1f4f-15.67.0.r427.g2c13715-1
                    user-manager-git5.17.80.r468.g339fb64-15.18.80.r471.gcd4911d-1
                                 yay              9.4.3-1              9.4.4-1
                    telegram-desktop                    -            1.9.4-0.3


:: Different sync package(s) in repository community x86_64

-------------------------------------------------------------------------------
                             PACKAGE           2020-01-16           2020-01-20
-------------------------------------------------------------------------------
                                 ack              3.3.0-1              3.3.1-1
                             acme.sh              2.8.3-2              2.8.4-1
                      acpi_call-dkms            1.1.0-275            1.1.0-277
                             acsccid              1.1.7-1              1.1.8-1
                             ansible              2.9.2-1              2.9.3-1
                           argyllcms              2.1.1-1              2.1.2-1
                      aspnet-runtime       3.1.0.sdk100-1       3.1.0.sdk100-2
                                atom             1.42.0-1             1.43.0-1
                             aws-cli           1.16.310-1             1.17.5-1
                           bandwhich              0.8.0-1             0.10.0-1
                           bctoolbox              4.3.0-1              4.3.0-2
                             blender          17:2.81.a-3          17:2.81.a-4
                               brial              1.2.6-2              1.2.6-3
                               broot             0.11.8-1             0.12.0-1
                              bshapr                0.6-1                0.7-1
                             buildah             1.12.0-1             1.13.1-1
                               caddy              1.0.4-2              1.0.4-3
                             caprine             2.41.1-1             2.42.0-1
                          cargo-crev             0.13.0-1             0.15.0-1
                          cargo-fuzz              0.6.0-1              0.7.1-1
                             catfish             1.4.12-1             1.4.13-1
                                ceph             14.2.1-3             14.2.6-1
                           ceph-libs             14.2.1-3             14.2.6-1
                            ceph-mgr             14.2.1-3             14.2.6-1
                                cgit              1.2.1-1              1.2.2-1
                            cinnamon              4.4.7-1              4.4.8-1
                         cni-plugins              0.8.3-1              0.8.4-1
                              conmon            1:2.0.3-1            1:2.0.9-1
                        cozy-desktop             3.17.0-1             3.18.0-1
                                croc              6.4.8-1             6.4.10-1
                            csoundqt              0.9.6-1              0.9.7-1
                              dcfldd                1.5-1                1.6-1
                            deja-dup               40.6-2               40.6-3
                          diffoscope                134-1                135-1
                         dns-lexicon             3.3.16-1             3.3.17-1
                         dotnet-host       3.1.0.sdk100-1       3.1.0.sdk100-2
                      dotnet-runtime       3.1.0.sdk100-1       3.1.0.sdk100-2
                          dotnet-sdk       3.1.0.sdk100-1       3.1.0.sdk100-2
                           duplicity             0.7.19-2             0.8.09-4
                            ejabberd            19.09.1-1              20.01-1
                            electron              7.1.8-1              7.1.9-1
                        emptyepsilon         2019.11.01-1         2020.01.15-1
                          emscripten             1.39.5-1             1.39.6-1
                                entr                4.3-1                4.4-1
                           exploitdb           20191203-1           20200117-1
                          fanficfare             3.13.0-1             3.15.0-1
                               faust             2.20.2-1             2.20.2-2
                 firefox-dark-reader              4.8.6-1              4.8.7-1
           firefox-developer-edition             73.0b4-1             73.0b5-1
  firefox-developer-edition-i18n-ach             73.0b4-1             73.0b5-1
   firefox-developer-edition-i18n-af             73.0b4-1             73.0b5-1
   firefox-developer-edition-i18n-an             73.0b4-1             73.0b5-1
   firefox-developer-edition-i18n-ar             73.0b4-1             73.0b5-1
  firefox-developer-edition-i18n-ast             73.0b4-1             73.0b5-1
   firefox-developer-edition-i18n-az             73.0b4-1             73.0b5-1
   firefox-developer-edition-i18n-be             73.0b4-1             73.0b5-1
   firefox-developer-edition-i18n-bg             73.0b4-1             73.0b5-1
   firefox-developer-edition-i18n-bn             73.0b4-1             73.0b5-1
   firefox-developer-edition-i18n-br             73.0b4-1             73.0b5-1
   firefox-developer-edition-i18n-bs             73.0b4-1             73.0b5-1
   firefox-developer-edition-i18n-ca             73.0b4-1             73.0b5-1
  firefox-developer-edition-i18n-cak             73.0b4-1             73.0b5-1
   firefox-developer-edition-i18n-cs             73.0b4-1             73.0b5-1
   firefox-developer-edition-i18n-cy             73.0b4-1             73.0b5-1
   firefox-developer-edition-i18n-da             73.0b4-1             73.0b5-1
   firefox-developer-edition-i18n-de             73.0b4-1             73.0b5-1
  firefox-developer-edition-i18n-dsb             73.0b4-1             73.0b5-1
   firefox-developer-edition-i18n-el             73.0b4-1             73.0b5-1
firefox-developer-edition-i18n-en-ca             73.0b4-1             73.0b5-1
firefox-developer-edition-i18n-en-gb             73.0b4-1             73.0b5-1
firefox-developer-edition-i18n-en-us             73.0b4-1             73.0b5-1
   firefox-developer-edition-i18n-eo             73.0b4-1             73.0b5-1
firefox-developer-edition-i18n-es-ar             73.0b4-1             73.0b5-1
firefox-developer-edition-i18n-es-cl             73.0b4-1             73.0b5-1
firefox-developer-edition-i18n-es-es             73.0b4-1             73.0b5-1
firefox-developer-edition-i18n-es-mx             73.0b4-1             73.0b5-1
   firefox-developer-edition-i18n-et             73.0b4-1             73.0b5-1
   firefox-developer-edition-i18n-eu             73.0b4-1             73.0b5-1
   firefox-developer-edition-i18n-fa             73.0b4-1             73.0b5-1
   firefox-developer-edition-i18n-ff             73.0b4-1             73.0b5-1
   firefox-developer-edition-i18n-fi             73.0b4-1             73.0b5-1
   firefox-developer-edition-i18n-fr             73.0b4-1             73.0b5-1
firefox-developer-edition-i18n-fy-nl             73.0b4-1             73.0b5-1
firefox-developer-edition-i18n-ga-ie             73.0b4-1             73.0b5-1
   firefox-developer-edition-i18n-gd             73.0b4-1             73.0b5-1
   firefox-developer-edition-i18n-gl             73.0b4-1             73.0b5-1
   firefox-developer-edition-i18n-gn             73.0b4-1             73.0b5-1
firefox-developer-edition-i18n-gu-in             73.0b4-1             73.0b5-1
   firefox-developer-edition-i18n-he             73.0b4-1             73.0b5-1
firefox-developer-edition-i18n-hi-in             73.0b4-1             73.0b5-1
   firefox-developer-edition-i18n-hr             73.0b4-1             73.0b5-1
  firefox-developer-edition-i18n-hsb             73.0b4-1             73.0b5-1
   firefox-developer-edition-i18n-hu             73.0b4-1             73.0b5-1
firefox-developer-edition-i18n-hy-am             73.0b4-1             73.0b5-1
   firefox-developer-edition-i18n-ia             73.0b4-1             73.0b5-1
   firefox-developer-edition-i18n-id             73.0b4-1             73.0b5-1
   firefox-developer-edition-i18n-is             73.0b4-1             73.0b5-1
   firefox-developer-edition-i18n-it             73.0b4-1             73.0b5-1
   firefox-developer-edition-i18n-ja             73.0b4-1             73.0b5-1
   firefox-developer-edition-i18n-ka             73.0b4-1             73.0b5-1
  firefox-developer-edition-i18n-kab             73.0b4-1             73.0b5-1
   firefox-developer-edition-i18n-kk             73.0b4-1             73.0b5-1
   firefox-developer-edition-i18n-km             73.0b4-1             73.0b5-1
   firefox-developer-edition-i18n-kn             73.0b4-1             73.0b5-1
   firefox-developer-edition-i18n-ko             73.0b4-1             73.0b5-1
  firefox-developer-edition-i18n-lij             73.0b4-1             73.0b5-1
   firefox-developer-edition-i18n-lt             73.0b4-1             73.0b5-1
   firefox-developer-edition-i18n-lv             73.0b4-1             73.0b5-1
   firefox-developer-edition-i18n-mk             73.0b4-1             73.0b5-1
   firefox-developer-edition-i18n-mr             73.0b4-1             73.0b5-1
   firefox-developer-edition-i18n-ms             73.0b4-1             73.0b5-1
   firefox-developer-edition-i18n-my             73.0b4-1             73.0b5-1
firefox-developer-edition-i18n-nb-no             73.0b4-1             73.0b5-1
firefox-developer-edition-i18n-ne-np             73.0b4-1             73.0b5-1
   firefox-developer-edition-i18n-nl             73.0b4-1             73.0b5-1
firefox-developer-edition-i18n-nn-no             73.0b4-1             73.0b5-1
   firefox-developer-edition-i18n-oc             73.0b4-1             73.0b5-1
firefox-developer-edition-i18n-pa-in             73.0b4-1             73.0b5-1
   firefox-developer-edition-i18n-pl             73.0b4-1             73.0b5-1
firefox-developer-edition-i18n-pt-br             73.0b4-1             73.0b5-1
firefox-developer-edition-i18n-pt-pt             73.0b4-1             73.0b5-1
   firefox-developer-edition-i18n-rm             73.0b4-1             73.0b5-1
   firefox-developer-edition-i18n-ro             73.0b4-1             73.0b5-1
   firefox-developer-edition-i18n-ru             73.0b4-1             73.0b5-1
   firefox-developer-edition-i18n-si             73.0b4-1             73.0b5-1
   firefox-developer-edition-i18n-sk             73.0b4-1             73.0b5-1
   firefox-developer-edition-i18n-sl             73.0b4-1             73.0b5-1
  firefox-developer-edition-i18n-son             73.0b4-1             73.0b5-1
   firefox-developer-edition-i18n-sq             73.0b4-1             73.0b5-1
   firefox-developer-edition-i18n-sr             73.0b4-1             73.0b5-1
firefox-developer-edition-i18n-sv-se             73.0b4-1             73.0b5-1
   firefox-developer-edition-i18n-ta             73.0b4-1             73.0b5-1
   firefox-developer-edition-i18n-te             73.0b4-1             73.0b5-1
   firefox-developer-edition-i18n-th             73.0b4-1             73.0b5-1
   firefox-developer-edition-i18n-tr             73.0b4-1             73.0b5-1
   firefox-developer-edition-i18n-uk             73.0b4-1             73.0b5-1
   firefox-developer-edition-i18n-ur             73.0b4-1             73.0b5-1
   firefox-developer-edition-i18n-uz             73.0b4-1             73.0b5-1
   firefox-developer-edition-i18n-vi             73.0b4-1             73.0b5-1
   firefox-developer-edition-i18n-xh             73.0b4-1             73.0b5-1
firefox-developer-edition-i18n-zh-cn             73.0b4-1             73.0b5-1
firefox-developer-edition-i18n-zh-tw             73.0b4-1             73.0b5-1
     firefox-extension-privacybadger         2019.11.18-1          2020.1.13-1
                    firefox-noscript            11.0.11-1            11.0.12-1
              firefox-tree-style-tab              3.3.2-1              3.3.4-1
                           firewalld              0.8.0-1              0.8.1-1
                           flobopuyo              0.20-10              0.20-11
                         fortune-mod             2.10.0-2             2.12.0-1
                       gambas3-devel             3.14.2-2             3.14.3-2
                     gambas3-gb-args             3.14.2-2             3.14.3-2
                    gambas3-gb-cairo             3.14.2-2             3.14.3-2
                    gambas3-gb-chart             3.14.2-2             3.14.3-2
                  gambas3-gb-clipper             3.14.2-2             3.14.3-2
                  gambas3-gb-complex             3.14.2-2             3.14.3-2
                 gambas3-gb-compress             3.14.2-2             3.14.3-2
                    gambas3-gb-crypt             3.14.2-2             3.14.3-2
                     gambas3-gb-data             3.14.2-2             3.14.3-2
                       gambas3-gb-db             3.14.2-2             3.14.3-2
                  gambas3-gb-db-form             3.14.2-2             3.14.3-2
                 gambas3-gb-db-mysql             3.14.2-2             3.14.3-2
                  gambas3-gb-db-odbc             3.14.2-2             3.14.3-2
            gambas3-gb-db-postgresql             3.14.2-2             3.14.3-2
               gambas3-gb-db-sqlite3             3.14.2-2             3.14.3-2
                     gambas3-gb-dbus             3.14.2-2             3.14.3-2
                  gambas3-gb-desktop             3.14.2-2             3.14.3-2
            gambas3-gb-desktop-gnome             3.14.2-2             3.14.3-2
              gambas3-gb-desktop-x11             3.14.2-2             3.14.3-2
           gambas3-gb-eval-highlight             3.14.2-2             3.14.3-2
                     gambas3-gb-form             3.14.2-2             3.14.3-2
              gambas3-gb-form-dialog             3.14.2-2             3.14.3-2
              gambas3-gb-form-editor             3.14.2-2             3.14.3-2
                 gambas3-gb-form-mdi             3.14.2-2             3.14.3-2
               gambas3-gb-form-stock             3.14.2-2             3.14.3-2
            gambas3-gb-form-terminal             3.14.2-2             3.14.3-2
                      gambas3-gb-gmp             3.14.2-2             3.14.3-2
                      gambas3-gb-gsl             3.14.2-2             3.14.3-2
                      gambas3-gb-gtk             3.14.2-2             3.14.3-2
               gambas3-gb-gtk-opengl             3.14.2-2             3.14.3-2
                     gambas3-gb-gtk3             3.14.2-2             3.14.3-2
                    gambas3-gb-httpd             3.14.2-2             3.14.3-2
                    gambas3-gb-image             3.14.2-2             3.14.3-2
             gambas3-gb-image-effect             3.14.2-2             3.14.3-2
              gambas3-gb-image-imlib             3.14.2-2             3.14.3-2
                 gambas3-gb-image-io             3.14.2-2             3.14.3-2
                  gambas3-gb-inotify             3.14.2-2             3.14.3-2
                   gambas3-gb-libxml             3.14.2-2             3.14.3-2
                  gambas3-gb-logging             3.14.2-2             3.14.3-2
                      gambas3-gb-map             3.14.2-2             3.14.3-2
                 gambas3-gb-markdown             3.14.2-2             3.14.3-2
                    gambas3-gb-media             3.14.2-2             3.14.3-2
               gambas3-gb-media-form             3.14.2-2             3.14.3-2
                gambas3-gb-memcached             3.14.2-2             3.14.3-2
                     gambas3-gb-mime             3.14.2-2             3.14.3-2
                    gambas3-gb-mysql             3.14.2-2             3.14.3-2
                  gambas3-gb-ncurses             3.14.2-2             3.14.3-2
                      gambas3-gb-net             3.14.2-2             3.14.3-2
                 gambas3-gb-net-curl             3.14.2-2             3.14.3-2
                 gambas3-gb-net-pop3             3.14.2-2             3.14.3-2
                 gambas3-gb-net-smtp             3.14.2-2             3.14.3-2
                   gambas3-gb-openal             3.14.2-2             3.14.3-2
                   gambas3-gb-opengl             3.14.2-2             3.14.3-2
              gambas3-gb-opengl-glsl             3.14.2-2             3.14.3-2
               gambas3-gb-opengl-glu             3.14.2-2             3.14.3-2
               gambas3-gb-opengl-sge             3.14.2-2             3.14.3-2
                  gambas3-gb-openssl             3.14.2-2             3.14.3-2
                   gambas3-gb-option             3.14.2-2             3.14.3-2
                     gambas3-gb-pcre             3.14.2-2             3.14.3-2
                      gambas3-gb-pdf             3.14.2-2             3.14.3-2
                      gambas3-gb-qt5             3.14.2-2             3.14.3-2
               gambas3-gb-qt5-opengl             3.14.2-2             3.14.3-2
               gambas3-gb-qt5-webkit             3.14.2-2             3.14.3-2
                   gambas3-gb-report             3.14.2-2             3.14.3-2
                  gambas3-gb-scanner             3.14.2-2             3.14.3-2
                      gambas3-gb-sdl             3.14.2-2             3.14.3-2
                gambas3-gb-sdl-sound             3.14.2-2             3.14.3-2
                     gambas3-gb-sdl2             3.14.2-2             3.14.3-2
               gambas3-gb-sdl2-audio             3.14.2-2             3.14.3-2
                 gambas3-gb-settings             3.14.2-2             3.14.3-2
                   gambas3-gb-signal             3.14.2-2             3.14.3-2
                     gambas3-gb-term             3.14.2-2             3.14.3-2
                     gambas3-gb-util             3.14.2-2             3.14.3-2
                 gambas3-gb-util-web             3.14.2-2             3.14.3-2
                      gambas3-gb-v4l             3.14.2-2             3.14.3-2
                       gambas3-gb-vb             3.14.2-2             3.14.3-2
                      gambas3-gb-web             3.14.2-2             3.14.3-2
                 gambas3-gb-web-feed             3.14.2-2             3.14.3-2
                 gambas3-gb-web-form             3.14.2-2             3.14.3-2
                      gambas3-gb-xml             3.14.2-2             3.14.3-2
                 gambas3-gb-xml-html             3.14.2-2             3.14.3-2
                  gambas3-gb-xml-rpc             3.14.2-2             3.14.3-2
                 gambas3-gb-xml-xslt             3.14.2-2             3.14.3-2
                         gambas3-ide             3.14.2-2             3.14.3-2
                     gambas3-runtime             3.14.2-2             3.14.3-2
                      gambas3-script             3.14.2-2             3.14.3-2
                         geckodriver             0.25.0-1             0.26.0-1
                    gimp-plugin-gmic              2.8.1-2              2.8.2-1
                               gitea             1.10.2-1             1.10.3-1
                            glfw-doc                3.3-2              3.3.1-1
                        glfw-wayland                3.3-2              3.3.1-1
                            glfw-x11                3.3-2              3.3.1-1
                                 glm            0.9.9.6-2            0.9.9.7-1
                               gloox             1.0.22-1             1.0.23-1
                           glusterfs              1:7.0-3              1:7.2-1
                                gmic              2.8.1-2              2.8.2-1
                              gnunet             0.12.0-1             0.12.2-1
                            gnuradio            3.8.0.0-5            3.8.0.0-6
                  gnuradio-companion            3.8.0.0-5            3.8.0.0-6
                 gnuradio-fcdproplus              3.8.0-3              3.8.0-4
                      gnuradio-iqbal            0.37.2-36            0.37.2-37
                    gnuradio-osmosdr  0.1.5.r128.f3905d-4  0.1.5.r128.f3905d-5
                                 gox              1.0.1-1              1.0.1-2
                                gqrx             2.11.5-7             2.11.5-8
                             grafana              6.5.2-1              6.5.3-1
                                grim              1.2.0-2              1.3.0-1
                           guitarix2             0.38.1-2                    -
                         hcxdumptool              5.2.2-1              6.0.0-1
                            hcxtools              5.2.2-1              5.3.0-1
                      home-assistant            0.103.4-1            0.104.2-1
                           imagescan             3.61.0-2             3.62.0-1
               intel-compute-runtime        20.01.15264-1        20.02.15268-1
                             jenkins              2.213-1              2.214-1
                          jupyterlab              1.2.4-1              1.2.5-1
                                 k9s              0.9.3-1             0.12.0-1
                             kakoune         2019.12.10-1         2020.01.16-1
                   krita-plugin-gmic              2.8.1-2              2.8.2-1
                            libdwarf           20191104-1           20200114-1
                       libimagequant             2.12.5-1             2.12.6-1
                         libmusicxml               3.17-1               3.18-1
         libpam-google-authenticator               1.07-1               1.08-1
                  libretro-core-info              1.8.1-1              1.8.4-1
               libretro-parallel-n64               5013-1               5078-1
                              libuhd           3.14.1.0-2           3.15.0.0-1
                     libuhd-firmware           3.14.1.0-1           3.15.0.0-1
                             libvips              8.8.4-1              8.9.0-1
                             libvolk              2.0.0-2              2.1.0-1
                       libwebsockets              3.2.0-1              3.2.2-1
                             lv2lint              0.2.0-2              0.4.0-1
                          lxqt-panel             0.14.1-1             0.14.1-2
                                m4ri           20140914-2           20200115-1
                               m4rie           20150908-2           20200115-1
                        mephisto.lv2              0.2.2-1              0.6.0-1
                          metasploit             5.0.60-2             5.0.70-1
                                mill              0.5.5-1              0.5.7-1
                              monero           0.15.0.1-3           0.15.0.1-4
                      mongo-c-driver             1.15.3-1             1.16.0-1
                             moosefs            3.0.109-1            3.0.109-2
                                mpop              1.4.6-1              1.4.7-1
                                 mpv           1:0.31.0-1           1:0.31.0-2
                           nextcloud             17.0.2-1             18.0.0-1
              nextcloud-app-calendar            1:1.7.2-1            1:2.0.0-1
                  nextcloud-app-deck            1:0.7.0-1            1:0.8.0-1
                  nextcloud-app-mail             0.21.1-1              1.0.0-1
                nextcloud-app-spreed            1:7.0.2-1            1:8.0.0-1
                             ninjas2                0.1-1              0.2.0-1
                                 nnn              2.8.1-1                2.9-1
                              nuitka              0.6.5-1              0.6.6-1
                                opam              2.0.5-5              2.0.6-1
                      openbsd-netcat            1.195_2-1            1.206_1-1
                            openfire              4.4.4-1              4.5.0-1
                       pantheon-code              3.1.1-3              3.2.0-1
                   pantheon-terminal              5.4.0-1              5.5.1-1
                                  pd             0.50.2-1             0.50.2-2
                            pgadmin4               4.15-1               4.17-1
                        php-igbinary              3.1.0-1              3.1.1-1
                          primecount                5.2-1                5.3-1
                             prosody           1:0.11.3-1           1:0.11.4-1
                        pulseeffects              4.7.0-1              4.7.1-1
                             puppet5             5.5.17-6             5.5.18-1
                              pwndbg         2019.01.25-2         2019.12.09-1
                python-aiohttp-socks              0.3.3-1              0.3.4-1
                      python-alembic              1.3.1-1              1.3.2-1
                     python-autobahn             20.1.1-1             20.1.2-1
           python-aws-sam-translator             1.19.1-2             1.20.1-1
                        python-boto3            1.10.46-1             1.11.5-1
                     python-botocore            1.13.46-1             1.14.5-1
                   python-cachetools              3.1.1-3              3.1.1-4
                     python-cfn-lint             0.26.2-1             0.26.3-1
                     python-curtsies              0.3.0-4              0.3.1-1
                   python-diff-cover              2.5.2-1              2.5.2-2
            python-django-extensions              2.2.5-2              2.2.6-1
                     python-django-q              1.0.2-2              1.1.0-1
                         python-dkim              1.0.2-1              1.0.3-1
                      python-dropbox              9.4.0-2              9.4.0-3
                     python-engineio             3.10.0-1             3.11.2-1
                         python-exam             0.10.6-5             0.10.6-6
                    python-freezegun             0.3.12-3             0.3.13-1
                   python-frozendict                1.2-5                1.2-6
     python-google-api-python-client             1.7.11-3             1.7.11-4
         python-google-auth-httplib2              0.0.3-4              0.0.3-5
           python-importlib-metadata               0.23-2              1.4.0-1
               python-jsonrpc-server              0.3.2-1              0.3.3-1
              python-language-server             0.31.4-2             0.31.6-1
                    python-multidict              4.6.1-1              4.7.4-1
                    python-ntlm-auth              1.2.0-5              1.2.0-6
                 python-oauth2client              4.1.3-3              4.1.3-4
                      python-pikepdf              1.8.3-1              1.9.0-1
                      python-pydrive              1.3.1-2              1.3.1-3
                       python-pyodbc             4.0.27-2             4.0.28-1
                python-pytest-flake8              1.0.4-3              1.0.4-4
           python-pytest-localserver              0.5.0-3              0.5.0-4
                          python-rsa                4.0-3                4.0-4
                   python-s3transfer              0.2.1-4              0.3.1-1
                     python-socketio              4.3.1-1              4.4.0-1
                   python-speaklater                1.3-6                1.3-7
             python-sphinx_rtd_theme              0.4.3-3              0.4.3-4
                    python-sshtunnel              0.1.5-2              0.1.5-3
                         python-stem              1.7.1-3              1.8.0-1
               python-terminaltables              3.1.0-6              3.1.0-7
                         python-yaml              5.1.2-3                5.3-1
                         python-yarl              1.3.0-3              1.4.2-1
                     python-zeroconf             0.23.0-2             0.24.4-1
                    python-zstandard             0.12.0-1             0.13.0-1
                     python2-alembic              1.3.1-1              1.3.2-1
                  python2-cachetools              3.1.1-3                    -
                    python2-curtsies              0.3.0-4              0.3.1-1
                     python2-dropbox              9.4.0-2                    -
                        python2-exam             0.10.6-5                    -
                 python2-flask-babel             0.12.2-3                    -
                   python2-freezegun             0.3.12-3             0.3.13-1
    python2-google-api-python-client             1.7.11-3                    -
                 python2-google-auth              1.7.1-1                    -
        python2-google-auth-httplib2              0.0.3-4                    -
          python2-importlib-metadata               0.23-2              1.4.0-1
             python2-mysql-connector             8.0.18-2                    -
                python2-oauth2client              4.1.3-3                    -
                     python2-pydrive              1.3.1-2                    -
                      python2-pyodbc             4.0.27-2             4.0.28-1
               python2-pytest-flake8              1.0.4-3                    -
          python2-pytest-localserver              0.5.0-3                    -
                 python2-qpid-proton             0.29.0-5             0.30.0-1
                         python2-rsa                4.0-3                    -
                  python2-speaklater                1.3-6                    -
                        python2-yaml              5.1.2-3                5.3-1
                                qmmp              1.3.5-1              1.3.6-1
                         qpid-proton             0.29.0-5             0.30.0-1
               react-native-debugger             0.10.5-1             0.10.6-1
                              remind             3.1.17-1              3.2.0-1
                           reprotest             0.7.10-2             0.7.12-1
                           retroarch              1.8.1-1              1.8.4-1
                             rocksdb              6.5.2-1              6.5.3-1
                            rt-tests                1.5-2                1.6-1
                            sagemath                9.0-2                9.0-4
                    sagemath-jupyter                9.0-2                9.0-4
                                salt           2019.2.2-1           2019.2.3-1
                                 sbt            1:1.3.6-1            1:1.3.7-1
                            shedskin              0.9.4-3                    -
                               shfmt              3.0.0-1              3.0.1-1
                           shorewall            5.2.3.4-1            5.2.3.5-1
                      shorewall-core            5.2.3.4-1            5.2.3.5-1
                          shorewall6            5.2.3.4-1            5.2.3.5-1
                      signal-desktop             1.29.3-2             1.29.6-1
                                skim              0.6.9-1              0.7.0-1
                         slirp4netns              0.4.2-1              0.4.3-1
                              sn0int             0.14.0-1             0.15.0-1
                              spdlog              1.4.2-2              1.5.0-1
                           sshtunnel              0.1.5-2              0.1.5-3
                            stratisd              2.0.0-1              2.0.0-2
                       supercollider             3.10.3-5             3.10.4-1
                         switchboard              2.3.7-1              2.3.8-1
                             sysstat             12.1.7-1             12.3.1-1
                           termtosvg              1.0.0-1              1.1.0-1
                           terraform            0.12.18-1            0.12.19-1
                           texstudio            2.12.18-1            2.12.22-1
                             toolbox             0.0.17-1             0.0.18-1
                             traefik              2.1.1-1              2.1.2-1
                   translate-toolkit              2.4.0-2              2.5.0-1
                          typescript              3.7.4-1              3.7.5-1
                             ucblogo               6.0-10                6.1-1
                             unbound              1.9.6-1              1.9.6-2
                          unrealircd              5.0.0-1              5.0.1-1
                                 urh              2.8.1-1              2.8.2-1
         v2ray-domain-list-community       202001121211-1       202001171007-1
                         v2ray-geoip       202001140103-1       202001160102-1
                         vapoursynth                R48-2                R48-3
                      vim-latexsuite           1:1.10.0-1           1:1.10.0-2
                          virtualbox              6.1.0-1              6.1.2-1
                  virtualbox-ext-vnc              6.1.0-1              6.1.2-1
               virtualbox-guest-dkms              6.1.0-1              6.1.2-1
                virtualbox-guest-iso              6.1.0-1              6.1.2-1
              virtualbox-guest-utils              6.1.0-1              6.1.2-1
          virtualbox-guest-utils-nox              6.1.0-1              6.1.2-1
                virtualbox-host-dkms              6.1.0-1              6.1.2-1
                      virtualbox-sdk              6.1.0-1              6.1.2-1
                                 vis   0.5.r62.ge136e34-1   0.5.r85.g30cd60c-1
                              vnstat                2.4-1                2.5-1
                             wavemon              0.9.0-1              0.9.1-1
                              waybar              0.9.0-1              0.9.0-2
                       wireshark-cli              3.2.0-1              3.2.1-1
                        wireshark-qt              3.2.0-1              3.2.1-1
                              wpscan            1:3.7.5-2            1:3.7.6-1
                         x42-plugins           20191215-1           20200114-1
                               xapps              1.6.8-1             1.6.10-1
                           xlockmore               5.59-1               5.61-1
                             xreader              2.4.2-1              2.4.4-1
                         xsecurelock              1.6.0-1              1.7.0-1
                               yaegi              0.7.0-2              0.7.4-1
                            yaml-cpp              0.6.3-1              0.6.3-2
                             yoshimi              1.6.1-2              1.7.0-1
                          youtube-dl         2020.01.01-1         2020.01.15-1
                             zanshin             0.5.71-1             0.5.71-2
                             zaproxy              2.8.1-1              2.9.0-1
                                zart              2.8.1-2              2.8.2-1
                           findomain                    -              0.9.9-1
                                gala                    -              3.2.0-1
                            gsignond                    -              1.2.0-2
                gtk-theme-elementary                    -              5.4.0-1
                            guitarix                    -             0.39.0-1
                           liquidsfz                    -              0.2.0-1
          pantheon-applications-menu                    -              2.5.0-1
                       python-calmjs                    -              3.4.1-1
                 python-calmjs.parse                    -              1.2.1-1
                 python-calmjs.types                    -              1.0.1-1
                     python-compiler                    -                1.1-1
                python-csscompressor                    -              0.9.5-1
               python-django-appconf                    -              1.0.3-1
           python-django-classy-tags                    -              0.9.0-1
            python-django-compressor                    -                2.4-1
          python-django-crispy-forms                    -              1.8.1-1
               python-django-environ                    -              0.4.5-3
                python-django-filter                    -              2.2.0-2
              python-django-guardian                    -              2.1.0-1
        python-django-rest-framework                    -             3.11.0-2
               python-django-sekizai                    -              1.0.0-1
                python-geographiclib                    -               1.50-1
                        python-geopy                    -             1.20.0-2
                     python-pylibacl                    -              0.5.4-2
                      python-rcssmin                    -              1.0.6-2
                       python-rjsmin                    -              1.1.0-1
              python-robot-detection                    -              0.4.0-2
                    python2-pylibacl                    -              0.5.4-2
                              slimit                    -              0.8.1-3
              sound-theme-elementary                    -                1.0-1
                  ttf-jetbrains-mono                    -              1.0.0-2
                           wingpanel                    -              2.2.6-1
       wingpanel-indicator-bluetooth                    -              2.1.4-1
        wingpanel-indicator-datetime                    -              2.2.1-1
        wingpanel-indicator-keyboard                    -              2.2.0-1
         wingpanel-indicator-network                    -              2.2.2-1
      wingpanel-indicator-nightlight                    -              2.0.2-1
   wingpanel-indicator-notifications                    -              2.1.3-1
           wingpanel-indicator-power                    -              2.1.4-1
         wingpanel-indicator-session                    -              2.2.7-1
           wingpanel-indicator-sound                    -              2.1.4-1


:: Different overlay package(s) in repository core x86_64

-------------------------------------------------------------------------------
                             PACKAGE           2020-01-16           2020-01-20
-------------------------------------------------------------------------------
                            linux414           4.14.165-1           4.14.166-1
                    linux414-headers           4.14.165-1           4.14.166-1
                            linux419            4.19.96-1            4.19.97-1
                    linux419-headers            4.19.96-1            4.19.97-1
                             linux54             5.4.12-1             5.4.13-2
                     linux54-headers             5.4.12-1             5.4.13-2


:: Different sync package(s) in repository core x86_64

-------------------------------------------------------------------------------
                             PACKAGE           2020-01-16           2020-01-20
-------------------------------------------------------------------------------
             ca-certificates-mozilla               3.49-1             3.49.1-1
                                 nss               3.49-1             3.49.1-1
                                 sed                4.7-3                4.8-1


:: Different overlay package(s) in repository extra x86_64

-------------------------------------------------------------------------------
                             PACKAGE           2020-01-16           2020-01-20
-------------------------------------------------------------------------------
               calamares-git 3.2.18.r6892.d47544e1e-1 3.2.18.r6893.45f152256-1
                               libnm 1.20.9dev+21+gfff235e3a-1               -
   linux316-virtualbox-guest-modules              6.1.0-4              6.1.2-1
    linux316-virtualbox-host-modules              6.1.0-4              6.1.2-1
                  linux414-acpi_call            1.1.0-137            1.1.0-138
                   linux414-bbswitch              0.8-137              0.8-138
                linux414-broadcom-wl     6.30.223.271-137     6.30.223.271-138
                linux414-ndiswrapper              1.62-32              1.62-33
               linux414-nvidia-340xx            340.108-6            340.108-7
               linux414-nvidia-390xx           390.132-14           390.132-15
               linux414-nvidia-418xx           418.113-13           418.113-14
               linux414-nvidia-430xx            430.64-12            430.64-13
               linux414-nvidia-435xx            435.21-22            435.21-23
               linux414-nvidia-440xx             440.44-8             440.44-9
                   linux414-nvidiabl             0.88-137             0.88-138
                      linux414-r8168          8.047.05-10          8.047.05-11
                  linux414-rt3562sta       2.4.1.1_r4-137       2.4.1.1_r4-138
                   linux414-tp_smapi              0.43-29              0.43-30
                linux414-vhba-module          20190831-22          20190831-23
   linux414-virtualbox-guest-modules              6.1.0-9              6.1.2-2
    linux414-virtualbox-host-modules              6.1.0-9              6.1.2-2
                        linux414-zfs             0.8.2-19             0.8.2-20
                  linux419-acpi_call             1.1.0-86             1.1.0-87
                   linux419-bbswitch               0.8-86               0.8-87
                linux419-broadcom-wl      6.30.223.271-85      6.30.223.271-86
                linux419-ndiswrapper              1.62-35              1.62-36
               linux419-nvidia-340xx            340.108-6            340.108-7
               linux419-nvidia-390xx           390.132-15           390.132-16
               linux419-nvidia-418xx           418.113-14           418.113-15
               linux419-nvidia-430xx            430.64-14            430.64-15
               linux419-nvidia-435xx            435.21-25            435.21-26
               linux419-nvidia-440xx             440.44-9            440.44-10
                   linux419-nvidiabl              0.88-85              0.88-86
                      linux419-r8168          8.047.05-11          8.047.05-12
                  linux419-rtl8723bu   4.3.9.3.13200.0-70   4.3.9.3.13200.0-71
                   linux419-tp_smapi              0.43-35              0.43-36
                linux419-vhba-module          20190831-25          20190831-26
   linux419-virtualbox-guest-modules              6.1.0-9              6.1.2-2
    linux419-virtualbox-host-modules              6.1.0-9              6.1.2-2
                        linux419-zfs             0.8.2-21             0.8.2-22
    linux44-virtualbox-guest-modules              6.1.0-6              6.1.2-1
     linux44-virtualbox-host-modules              6.1.0-6              6.1.2-1
    linux49-virtualbox-guest-modules              6.1.0-6              6.1.2-1
     linux49-virtualbox-host-modules              6.1.0-6              6.1.2-1
                   linux54-acpi_call             1.1.0-15             1.1.0-16
                    linux54-bbswitch               0.8-15               0.8-16
                 linux54-broadcom-wl      6.30.223.271-15      6.30.223.271-16
                 linux54-ndiswrapper              1.62-15              1.62-16
                linux54-nvidia-340xx            340.108-7            340.108-8
                linux54-nvidia-390xx           390.132-15           390.132-16
                linux54-nvidia-418xx           418.113-15           418.113-16
                linux54-nvidia-430xx            430.64-15            430.64-16
                linux54-nvidia-435xx            435.21-15            435.21-16
                linux54-nvidia-440xx            440.44-12            440.44-13
                    linux54-nvidiabl              0.88-15              0.88-16
                       linux54-r8168          8.047.05-15          8.047.05-16
                   linux54-rtl8723bu     4.3.9.3.13200-15     4.3.9.3.13200-16
                    linux54-tp_smapi              0.43-15              0.43-16
                 linux54-vhba-module          20190831-15          20190831-16
    linux54-virtualbox-guest-modules             6.1.0-12              6.1.2-2
     linux54-virtualbox-host-modules             6.1.0-12              6.1.2-2
                         linux54-zfs             0.8.2-15             0.8.2-16
    linux55-virtualbox-guest-modules            6.1.0-0.8            6.1.2-0.1
     linux55-virtualbox-host-modules            6.1.0-0.8            6.1.2-0.1
              manjaro-tools-base-git      r2853.3ff82a8-1      r2855.be6d499-1
               manjaro-tools-iso-git      r2853.3ff82a8-1      r2855.be6d499-1
               manjaro-tools-pkg-git      r2853.3ff82a8-1      r2855.be6d499-1
              manjaro-tools-yaml-git      r2853.3ff82a8-1      r2855.be6d499-1
                      networkmanager 1.20.9dev+21+gfff235e3a-1               -
                           pamac-cli              9.2.2-1            9.3.0rc-2
                        pamac-common              9.2.2-1            9.3.0rc-2
                           pamac-gtk              9.2.2-1            9.3.0rc-2
                            pamac-qt              0.3.0-4              0.3.0-6
                   pamac-snap-plugin              9.2.2-1            9.3.0rc-2
             pamac-tray-appindicator              9.2.2-1            9.3.0rc-2
                         thunderbird           68.4.1-0.2                    -
                 thunderbird-i18n-ar           68.4.1-0.2                    -
                thunderbird-i18n-ast           68.4.1-0.2                    -
                 thunderbird-i18n-be           68.4.1-0.2                    -
                 thunderbird-i18n-bg           68.4.1-0.2                    -
                 thunderbird-i18n-br           68.4.1-0.2                    -
                 thunderbird-i18n-ca           68.4.1-0.2                    -
                 thunderbird-i18n-cs           68.4.1-0.2                    -
                 thunderbird-i18n-cy           68.4.1-0.2                    -
                 thunderbird-i18n-da           68.4.1-0.2                    -
                 thunderbird-i18n-de           68.4.1-0.2                    -
                thunderbird-i18n-dsb           68.4.1-0.2                    -
                 thunderbird-i18n-el           68.4.1-0.2                    -
              thunderbird-i18n-en-gb           68.4.1-0.2                    -
              thunderbird-i18n-en-us           68.4.1-0.2                    -
              thunderbird-i18n-es-ar           68.4.1-0.2                    -
              thunderbird-i18n-es-es           68.4.1-0.2                    -
                 thunderbird-i18n-et           68.4.1-0.2                    -
                 thunderbird-i18n-eu           68.4.1-0.2                    -
                 thunderbird-i18n-fi           68.4.1-0.2                    -
                 thunderbird-i18n-fr           68.4.1-0.2                    -
              thunderbird-i18n-fy-nl           68.4.1-0.2                    -
              thunderbird-i18n-ga-ie           68.4.1-0.2                    -
                 thunderbird-i18n-gd           68.4.1-0.2                    -
                 thunderbird-i18n-gl           68.4.1-0.2                    -
                 thunderbird-i18n-he           68.4.1-0.2                    -
                 thunderbird-i18n-hr           68.4.1-0.2                    -
                thunderbird-i18n-hsb           68.4.1-0.2                    -
                 thunderbird-i18n-hu           68.4.1-0.2                    -
              thunderbird-i18n-hy-am           68.4.1-0.2                    -
                 thunderbird-i18n-id           68.4.1-0.2                    -
                 thunderbird-i18n-is           68.4.1-0.2                    -
                 thunderbird-i18n-it           68.4.1-0.2                    -
                 thunderbird-i18n-ja           68.4.1-0.2                    -
                 thunderbird-i18n-ko           68.4.1-0.2                    -
                 thunderbird-i18n-lt           68.4.1-0.2                    -
              thunderbird-i18n-nb-no           68.4.1-0.2                    -
                 thunderbird-i18n-nl           68.4.1-0.2                    -
              thunderbird-i18n-nn-no           68.4.1-0.2                    -
                 thunderbird-i18n-pl           68.4.1-0.2                    -
              thunderbird-i18n-pt-br           68.4.1-0.2                    -
              thunderbird-i18n-pt-pt           68.4.1-0.2                    -
                 thunderbird-i18n-rm           68.4.1-0.2                    -
                 thunderbird-i18n-ro           68.4.1-0.2                    -
                 thunderbird-i18n-ru           68.4.1-0.2                    -
                 thunderbird-i18n-si           68.4.1-0.2                    -
                 thunderbird-i18n-sk           68.4.1-0.2                    -
                 thunderbird-i18n-sl           68.4.1-0.2                    -
                 thunderbird-i18n-sq           68.4.1-0.2                    -
                 thunderbird-i18n-sr           68.4.1-0.2                    -
              thunderbird-i18n-sv-se           68.4.1-0.2                    -
                 thunderbird-i18n-tr           68.4.1-0.2                    -
                 thunderbird-i18n-uk           68.4.1-0.2                    -
                 thunderbird-i18n-vi           68.4.1-0.2                    -
              thunderbird-i18n-zh-cn           68.4.1-0.2                    -
              thunderbird-i18n-zh-tw           68.4.1-0.2                    -
                gnome-control-center                    -           3.34.2-1.1


:: Different sync package(s) in repository extra x86_64

-------------------------------------------------------------------------------
                             PACKAGE           2020-01-16           2020-01-20
-------------------------------------------------------------------------------
                            alsa-lib            1.2.1.2-2            1.2.1.2-3
                           appstream             0.12.9-2            0.12.10-2
                        appstream-qt             0.12.9-2            0.12.10-2
                            apricots              0.2.6-9             0.2.6-10
                              assimp              5.0.0-1              5.0.1-1
                            chromium      79.0.3945.117-1      79.0.3945.130-2
                            composer              1.9.1-1              1.9.2-1
                        cups-filters             1.26.1-1             1.26.2-1
                         dbus-broker                 21-1                 21-2
                                fftw              3.3.8-1              3.3.8-2
                         flashplugin         32.0.0.303-1         32.0.0.314-1
                    fontconfig 2:2.13.91+24+g75eadca-1 2:2.13.91+24+g75eadca-2
                            graphviz             2.42.3-1             2.42.3-2
                         imagemagick           7.0.9.16-1           7.0.9.17-1
                     imagemagick-doc           7.0.9.16-1           7.0.9.17-1
                            inkscape            0.92.4-10            0.92.4-11
                       jdk11-openjdk         11.0.5.u10-1         11.0.6.u10-1
                       jre11-openjdk         11.0.5.u10-1         11.0.6.u10-1
              jre11-openjdk-headless         11.0.5.u10-1         11.0.6.u10-1
                            kdenlive            19.12.1-1            19.12.1-3
                              kismet         2019_09_R1-5         2019_12_R2-1
                                lftp              4.9.0-1              4.9.1-1
                            libde265              1.0.4-1              1.0.5-1
                             libgusb              0.3.1-2              0.3.2-1
                          libmagick6          6.9.10.86-1          6.9.10.87-1
                             libmbim             1.20.4-1             1.22.0-1
                        libpagemaker              0.0.4-1              0.0.4-2
                          libplacebo             1.21.0-2             1.29.1-1
                              libqmi             1.24.2-1             1.24.4-1
                       libsamplerate              0.1.9-2              0.1.9-3
                             libsrtp            1:2.2.0-1            1:2.3.0-1
                               libva              2.6.0-1              2.6.1-1
                        libxkbcommon              0.9.1-1             0.10.0-1
                    libxkbcommon-doc              0.9.1-1             0.10.0-1
                    libxkbcommon-x11              0.9.1-1             0.10.0-1
                      mkvtoolnix-cli             42.0.0-1             42.0.0-2
                      mkvtoolnix-gui             42.0.0-1             42.0.0-2
                                 mpd            0.21.18-1            0.21.19-1
                       openjdk11-doc         11.0.5.u10-1         11.0.6.u10-1
                       openjdk11-src         11.0.5.u10-1         11.0.6.u10-1
                              ostree             2019.5-1             2019.6-1
                        pepper-flash         32.0.0.303-1         32.0.0.314-1
                            protobuf             3.11.1-2             3.11.2-1
                      python-anytree              2.7.3-1              2.8.0-1
                     python-dbusmock             0.18.3-2               0.19-1
                        python-evdev              1.2.0-3              1.3.0-1
                     python-protobuf             3.11.1-2             3.11.2-1
                            qt5-base             5.14.0-1             5.14.0-3
                     qt5-declarative             5.14.0-2             5.14.0-3
             qt5-xcb-private-headers             5.14.0-1             5.14.0-3
                               rsync              3.1.3-2              3.1.3-3
                               scons              3.1.2-1              3.1.2-2
                    shared-mime-info               1.15-1               1.15-2
                              snappy              1.1.7-1              1.1.8-1
                           syslog-ng             3.25.1-1             3.25.1-2
                             tracker              2.3.0-2 2.3.1+6+g4d3073954-1
                      tracker-miners              2.3.0-22.3.1+23+g139553959-1
                      vulkan-headers          1:1.1.130-1          1:1.2.131-1
                    vulkan-html-docs          1:1.1.130-1          1:1.2.131-1
                     wireguard-tools       1.0.20200102-1       1.0.20200102-2
                          x2goclient            4.1.2.1-3            4.1.2.1-4
                    xorg-mkfontscale              1.2.1-1              1.2.1-2
                         xorg-server             1.20.6-3             1.20.7-1
                  xorg-server-common             1.20.6-3             1.20.7-1
                   xorg-server-devel             1.20.6-3             1.20.7-1
                  xorg-server-xephyr             1.20.6-3             1.20.7-1
                   xorg-server-xnest             1.20.6-3             1.20.7-1
                    xorg-server-xvfb             1.20.6-3             1.20.7-1
                xorg-server-xwayland             1.20.6-3             1.20.7-1
                           zeitgeist              1.0.2-3              1.0.2-4
                       kuserfeedback                    -             0.9.90-1
       prometheus-memcached-exporter                    -              0.6.0-1


:: Different overlay package(s) in repository multilib x86_64

-------------------------------------------------------------------------------
                             PACKAGE           2020-01-16           2020-01-20
-------------------------------------------------------------------------------
                         lib32-libnm 1.20.9dev+19+gcbb1ad1ba-1               -


:: Different sync package(s) in repository multilib x86_64

-------------------------------------------------------------------------------
                             PACKAGE           2020-01-16           2020-01-20
-------------------------------------------------------------------------------
               lib32-glib-networking             2.62.2-1             2.62.3-1
                       lib32-libgusb              0.3.1-2              0.3.2-2
                       lib32-libmbim             1.20.2-1                    -
                    lib32-libmm-glib             1.12.2-1                    -
                         lib32-libnm             1.22.0-1                    -
                        lib32-libqmi             1.24.2-1                    -
                           lib32-nss               3.49-1             3.49.1-1

No issue, everything went smoothly
Yes there was an issue. I was able to resolve it myself.(Please post your solution)
Yes i am currently experiencing an issue due to the update. (Please post about it)
Check if your mirror has already synced: