Hello community,
here is another Stable Update for you: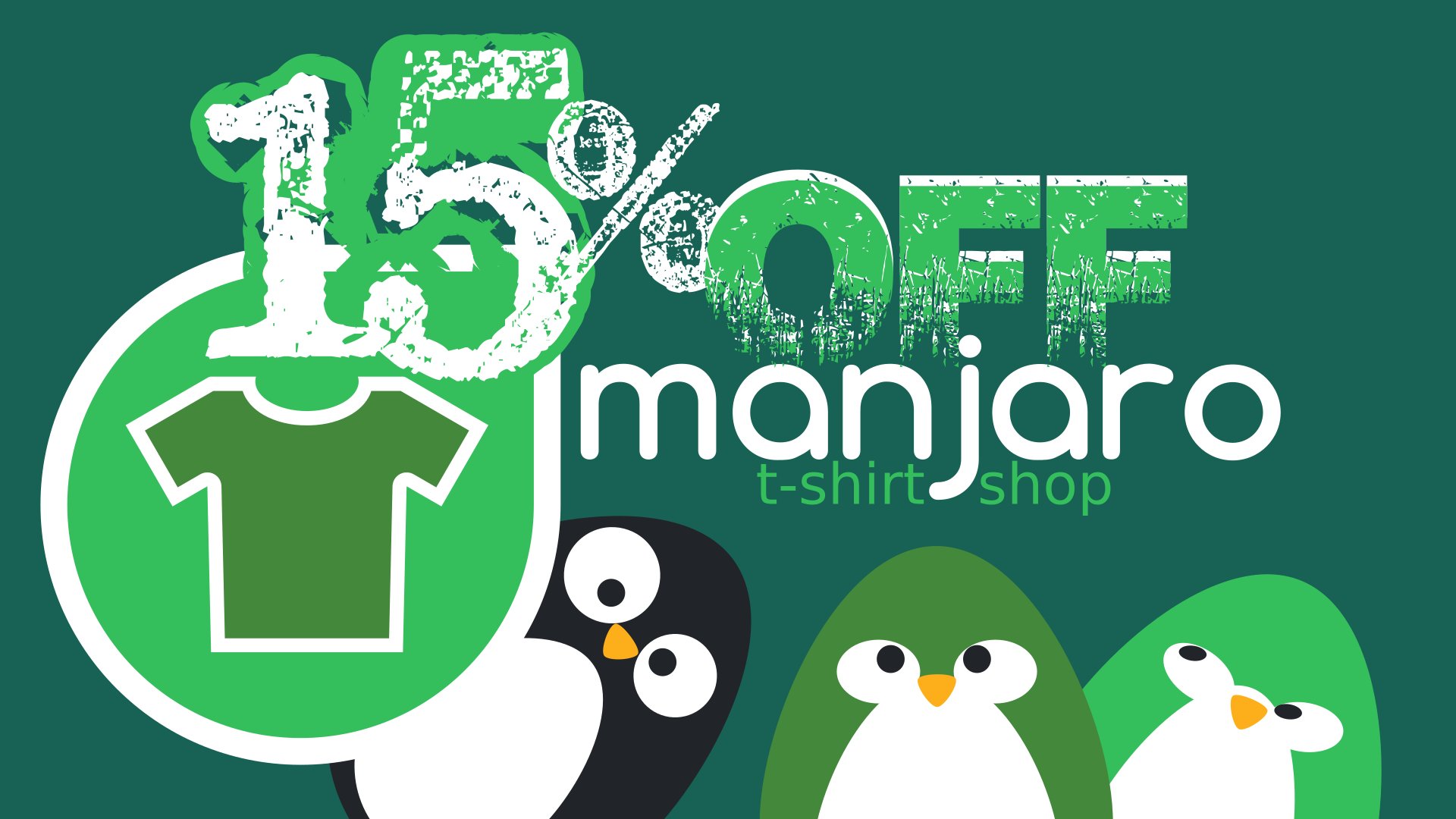 Get your Manjaro Merch 15% off!

#StayHome

,

#StayHealthy

,

#StaySafe

,

#HomeOffice
Some feature-updates:
Some of our Kernels got updated
Brave browser got renewed
Calamares is now at 3.2.22
Octopi got some fixes added
Flatpak is at 1.7.2
Thunderbird got updated to 68.7.0
OnlyOffice is now at 5.5.1
Updates to Gnome and GTK
The usual upstream updates including Python
If you like following latest Plasma development you may also like to check out our current version of manjaro-kde-dev, which we build on a regular basis against kde-git master packages. Also check out our first release-candidate of Manjaro Lysia 20.0! XFCE, KDE and Gnome
As always we appreciate your input and feedback for the updates.
---
Upstream notice
Arch updated their default compression to zstd. We adopted to the same standard. More and more packages will have the zst extension from now on. If you get for what ever reason an error with ZSTD not supported as archive format you can do this:
sudo pacman -Syy
sudo pacman -S pacman-static
sudo pacman-static -Syyu

---
Our current supported kernels
linux316 3.16.82
linux44 4.4.218
linux49 4.9.218
linux414 4.14.175
linux419 4.19.114
linux54 5.4.31
linux55 5.5.16
linux56 5.6.3
linux57 5.7-rc0
linux419-rt 4.19.106_rt45
linux54-rt 5.4.28_rt19
linux56-rt 5.6.2_rt1
Package Changes (Fri Apr 10 19:36:13 CEST 2020)
stable community x86_64: 245 new and 220 removed package(s)
stable core x86_64: 12 new and 10 removed package(s)
stable extra x86_64: 159 new and 92 removed package(s)
stable multilib x86_64: 4 new and 3 removed package(s)


:: Different overlay package(s) in repository community x86_64

-------------------------------------------------------------------------------
                             PACKAGE           2020-04-08           2020-04-11
-------------------------------------------------------------------------------
                           baloo-git5.69.0.r2749.gd4494ee4-15.69.0.r2750.g927ce4c7-1
                               brave            1.5.115-1             1.7.90-1
                          brave-beta             1.7.72-1             1.8.66-1
                               cpu-x3.2.4.r195.gec43fb0-13.2.4.r199.gffe29f8-1
                                 gwe             0.14.0-2             0.14.1-1
                            hw-probe 1.5+29.gbc1d234f80-1 1.5+30.g8a91a7fe4f-1
                          kcrash-git5.69.0.r299.g29c23f2-15.69.0.r300.gd8e41e6-1
                    kdeclarative-git5.69.0.r762.ga09398e-15.69.0.r763.g6c5619f-1
                 kdelibs4support-git5.69.0.r929.g1e8ce683-15.69.0.r930.g8ea717f3-1
                             kio-git5.69.0.r3884.gd025ed9b-15.69.0.r3885.g1fa2f5b4-1
                       kirigami2-git5.69.0.r2139.g4c7780ea-15.69.0.r2140.g3263c5a9-1
                      knetattach-git5.18.80.r7532.g1f0cf38db-15.18.80.r7534.g3e8c7dada-1
                       knewstuff-git5.69.0.r802.g37452d02-15.69.0.r805.gbdd218f0-1
                        kservice-git5.69.0.r757.g0ba6476-15.69.0.r758.g42675b1-1
              manjaro-openbox-config             1.23.1-1             1.23.2-1
    manjaro-openbox-desktop-settings             1.23.1-1             1.23.2-1
           onlyoffice-desktopeditors              5.4.2-2              5.5.1-1
                        palemoon-bin           28.9.0.2-1             28.9.1-1
                    palemoon-i18n-ar           28.9.0.2-1             28.9.1-1
                    palemoon-i18n-bg           28.9.0.2-1             28.9.1-1
                    palemoon-i18n-cs           28.9.0.2-1             28.9.1-1
                    palemoon-i18n-da           28.9.0.2-1             28.9.1-1
                    palemoon-i18n-de           28.9.0.2-1             28.9.1-1
                    palemoon-i18n-el           28.9.0.2-1             28.9.1-1
                 palemoon-i18n-en-gb           28.9.0.2-1             28.9.1-1
                 palemoon-i18n-es-ar           28.9.0.2-1             28.9.1-1
                 palemoon-i18n-es-es           28.9.0.2-1             28.9.1-1
                 palemoon-i18n-es-mx           28.9.0.2-1             28.9.1-1
                    palemoon-i18n-fi           28.9.0.2-1             28.9.1-1
                    palemoon-i18n-fr           28.9.0.2-1             28.9.1-1
                    palemoon-i18n-gl           28.9.0.2-1             28.9.1-1
                    palemoon-i18n-hr           28.9.0.2-1             28.9.1-1
                    palemoon-i18n-hu           28.9.0.2-1             28.9.1-1
                    palemoon-i18n-id           28.9.0.2-1             28.9.1-1
                    palemoon-i18n-is           28.9.0.2-1             28.9.1-1
                    palemoon-i18n-it           28.9.0.2-1             28.9.1-1
                    palemoon-i18n-ja           28.9.0.2-1             28.9.1-1
                    palemoon-i18n-kn           28.9.0.2-1             28.9.1-1
                    palemoon-i18n-ko           28.9.0.2-1             28.9.1-1
                    palemoon-i18n-nl           28.9.0.2-1             28.9.1-1
                    palemoon-i18n-pl           28.9.0.2-1             28.9.1-1
                 palemoon-i18n-pt-br           28.9.0.2-1             28.9.1-1
                 palemoon-i18n-pt-pt           28.9.0.2-1             28.9.1-1
                    palemoon-i18n-ro           28.9.0.2-1             28.9.1-1
                    palemoon-i18n-ru           28.9.0.2-1             28.9.1-1
                    palemoon-i18n-sk           28.9.0.2-1             28.9.1-1
                    palemoon-i18n-sl           28.9.0.2-1             28.9.1-1
                    palemoon-i18n-sr           28.9.0.2-1             28.9.1-1
                 palemoon-i18n-sv-se           28.9.0.2-1             28.9.1-1
                    palemoon-i18n-tl           28.9.0.2-1             28.9.1-1
                    palemoon-i18n-tr           28.9.0.2-1             28.9.1-1
                    palemoon-i18n-uk           28.9.0.2-1             28.9.1-1
                    palemoon-i18n-vi           28.9.0.2-1             28.9.1-1
                 palemoon-i18n-zh-cn           28.9.0.2-1             28.9.1-1
                 palemoon-i18n-zh-tw           28.9.0.2-1             28.9.1-1
      plasma-browser-integration-git5.18.80.r1023.gb26ddbe9-15.18.80.r1025.g8d1716f1-1
                  plasma-desktop-git5.18.80.r7532.g1f0cf38db-15.18.80.r7534.g3e8c7dada-1
          plasma-wayland-session-git5.18.80.r8871.g96ad51cde-15.18.80.r8874.g5ea6a05eb-1
                plasma-workspace-git5.18.80.r8871.g96ad51cde-15.18.80.r8874.g5ea6a05eb-1
                         purpose-git5.69.0.r751.g0b07034-15.69.0.r752.g4a9a356-1
                           bettercap                    -             2.27-0.1
                          linux56-rt                    -          5.6.2_rt1-1
                 linux56-rt-bbswitch                    -                0.8-1
              linux56-rt-broadcom-wl                    -       6.30.223.271-1
                  linux56-rt-headers                    -          5.6.2_rt1-1
              linux56-rt-ndiswrapper                    -               1.62-1
             linux56-rt-nvidia-340xx                    -            340.108-1
             linux56-rt-nvidia-390xx                    -            390.132-1
             linux56-rt-nvidia-418xx                    -            418.113-1
             linux56-rt-nvidia-430xx                    -             430.64-1
             linux56-rt-nvidia-435xx                    -             435.21-1
             linux56-rt-nvidia-440xx                    -             440.82-1
                    linux56-rt-r8168                    -           8.048.00-1
                 linux56-rt-tp_smapi                    -               0.43-1
              linux56-rt-vhba-module                    -           20200106-1
 linux56-rt-virtualbox-guest-modules                    -              6.1.4-1
  linux56-rt-virtualbox-host-modules                    -              6.1.4-1
                      linux56-rt-zfs                    -              0.8.3-1
                                 xed                    -              2.4.2-1


:: Different sync package(s) in repository community x86_64

-------------------------------------------------------------------------------
                             PACKAGE           2020-04-08           2020-04-11
-------------------------------------------------------------------------------
                              acpica           20200214-1           20200326-1
                               bmusb              0.7.4-1              0.7.5-1
                               botan             2.13.0-1             2.14.0-1
                               broot             0.13.4-2             0.13.6-1
                             buildah             1.14.6-1             1.14.8-1
                       capnet-assist              2.2.4-1              2.2.5-1
                             caprine             2.44.0-1             2.45.0-1
                      cargo-outdated              0.9.8-1              0.9.9-1
                                cgns              4.0.0-1              4.1.1-1
                                code             1.43.2-2             1.44.0-1
                         coin-or-cbc             2.10.5-3             2.10.5-4
                        cozy-desktop             3.19.0-1             3.20.0-1
                                croc              8.0.5-1              8.0.7-1
                               dhall             1.31.1-3             1.31.1-4
                          dhall-bash             1.0.29-7             1.0.29-8
                          dhall-json              1.6.3-7              1.6.3-8
                                 din                 45-1                 46-1
                      docker-compose             1.25.4-1             1.25.5-1
               dolphin-emu 1:5.0.r11617.0491831483-1 1:5.0.r11832.9a2d8a9623-1
                              embree              3.8.0-1              3.9.0-1
               fcitx5-chinese-addons     0.0.0.20200404-1     0.0.0.20200406-1
                             fractal              4.2.2-1              4.2.2-2
                             freerdp        1:2.0.0_rc4-8            2:2.0.0-1
                                ganv              1.4.2-4              1.6.0-1
                             gnucash                3.8-6                3.9-1
                        gnucash-docs                3.8-1                3.9-1
                                  go           2:1.14.1-1           2:1.14.2-1
                              go-pie           2:1.14.1-1           2:1.14.2-1
                         grammalecte              1.7.0-1              1.8.0-1
             haskell-configurator-pg              0.2.1-2              0.2.2-1
                    haskell-data-fix              0.2.0-1              0.2.1-1
                  intel-media-driver           19.4.0.r-1             20.1.1-1
                                josm              15937-1              16239-1
                              jython              2.7.1-2              2.7.2-1
                              kcptun           20200321-1           20200409-1
                           keepassxc              2.5.3-1              2.5.4-1
                               khard             0.16.0-1             0.16.1-1
                         kvantum-qt5             0.14.1-1             0.15.2-1
               kvantum-theme-materia           20200214-1           20200312-1
                 libretro-beetle-psx               2280-1               2281-1
              libretro-beetle-psx-hw               2280-1               2281-1
                    libretro-flycast               4122-1               4125-1
           libretro-mupen64plus-next              1:194-1              1:228-1
                       libretro-play               5552-1               5553-1
                     libretro-ppsspp              26808-1              26831-1
                libsignal-protocol-c              2.3.2-2              2.3.3-1
                            libslirp              4.1.0-1              4.2.0-1
                         libva-utils              2.6.0-1              2.7.1-1
                             libxmlb             0.1.14-1             0.1.15-1
            lightdm-pantheon-greeter              5.0.2-2              5.0.3-1
                            lollypop             1.2.33-1             1.2.34-1
                         materia-kde           20200214-1           20200312-1
                             mathjax              3.0.1-1              3.0.5-1
                            mathjax2              2.7.7-1              2.7.8-1
                        matterbridge             1.17.1-1             1.17.2-1
                            minikube              1.9.0-1              1.9.2-1
             mkinitcpio-systemd-tool                 29-1                 30-2
                            molecule              3.0.2-3              3.0.3-1
                              nebula              1.1.0-2              1.2.0-0
                  nextcloud-app-deck            1:0.8.0-1            1:0.8.2-1
                  nodejs-lts-dubnium            10.19.0-2            10.20.0-1
                   nodejs-lts-erbium            12.16.1-1            12.16.2-1
                   npm-check-updates              4.1.1-1              4.1.2-1
                           nvchecker                1.5-2                1.6-1
                        openfortivpn             1.11.0-1             1.13.3-1
                               opera      67.0.3575.115-1      67.0.3575.137-1
                 opera-ffmpeg-codecs      80.0.3987.149-1      80.0.3987.163-1
                     pantheon-photos              2.6.5-1              2.7.0-1
               pantheon-polkit-agent              1.0.0-2              1.0.1-1
                            paraview              5.8.0-2              5.8.0-3
                            patchage              1.0.0-6              1.0.2-1
                          pdfmixtool                0.5-1                0.5-2
                              pdfsam              4.1.1-1              4.1.2-1
                            pianobar         2019.02.14-1         2020.04.05-1
                           postgrest              7.0.0-2              7.0.0-3
                           profanity            1:0.8.1-1            1:0.8.1-2
                       profanity-gtk            1:0.8.1-1            1:0.8.1-2
                        prusa-slicer              2.1.1-2              2.2.0-2
                  python-aiobotocore              1.0.2-1              1.0.3-1
                 python-aioitertools              0.5.1-1              0.6.0-1
                        python-blosc              1.8.3-1              1.9.0-1
                      python-breathe             4.14.1-1             4.15.0-1
                       python-btrees              4.7.1-1              4.7.2-1
                       python-cftime              1.1.0-1            1.1.1.2-1
                 python-cinderclient              6.0.0-1              7.0.0-1
                   python-cloudflare              2.6.3-1              2.6.5-1
                    python-connexion              2.4.0-2              2.6.0-2
                        python-curio                1.1-1                1.2-1
                python-debtcollector              2.0.0-3              2.0.1-1
                   python-deprecated              1.2.8-1              1.2.9-1
                   python-diff-cover              2.6.0-1              2.6.1-1
                 python-glanceclient              3.0.0-1              3.1.0-1
             python-oslo-concurrency              4.0.1-1              4.0.2-1
                  python-oslo-config              8.0.1-1              8.0.2-1
                 python-oslo-context              3.0.1-1              3.0.2-1
                      python-oslo-db              8.0.0-1              8.1.0-1
                    python-oslo-i18n              4.0.0-1              4.0.1-1
                     python-oslo-log              4.1.0-1              4.1.1-1
           python-oslo-serialization              3.1.0-1              3.1.1-1
                   python-oslo-utils              4.1.0-1              4.1.1-1
                        python-param              1.9.2-3              1.9.3-1
                     python-pathspec              0.7.0-1              0.8.0-1
                     python-pdfminer           20200124-1           20200402-1
                      python-pikepdf             1.10.4-1             1.11.0-1
                     python-psycopg2              2.8.4-4              2.8.5-1
                   python-qdarkstyle                2.8-1              2.8.1-1
                       python-xarray             0.15.0-1             0.15.1-1
                         python-xlib               0.26-2               0.27-1
                    python2-psycopg2              2.8.4-4              2.8.5-1
                           qmapshack             1.14.1-1             1.14.1-2
                              qt5pas         2.6.r62764-1         2.6.r62883-1
               react-native-debugger             0.10.7-1             0.11.1-1
                            restinio              0.6.4-1              0.6.5-1
              retroarch-assets-ozone              1:289-1              1:295-1
                retroarch-assets-xmb              1:289-1              1:295-1
                      rime-cantonese     0.0.0.20200406-1     0.0.0.20200408-1
                    rime-luna-pinyin     0.0.0.20200207-2     0.0.0.20200410-1
                        riot-desktop             1.5.12-1             1.5.15-1
                            riot-web             1.5.12-1             1.5.15-1
                            sagemath               9.0-13               9.0-14
                    sagemath-jupyter               9.0-13               9.0-14
                                  sd              0.6.5-1              0.7.2-1
                      signal-desktop             1.32.3-1             1.33.0-1
                              skopeo             0.1.41-2              0.2.0-1
                            solidity              0.6.4-1              0.6.6-1
                              srslte              19.12-2              19.12-3
                         srslte-avx2              19.12-2              19.12-3
                          strawberry              0.6.8-1              0.6.9-1
                              stubby              0.2.6-1              0.3.0-1
              switchboard-plug-about              2.6.1-1              2.6.2-1
       switchboard-plug-applications              2.1.6-1              2.1.7-1
            switchboard-plug-desktop              2.8.2-2              2.8.3-1
            switchboard-plug-display              2.2.0-1              2.2.1-1
     switchboard-plug-mouse-touchpad              2.4.0-1              2.4.1-1
   switchboard-plug-security-privacy              2.2.2-1              2.2.3-1
      switchboard-plug-user-accounts              2.3.0-2              2.3.1-1
                           syncthing              1.4.0-1              1.4.2-1
                  syncthing-relaysrv              1.4.0-1              1.4.2-1
                              sysdig             0.26.6-2             0.26.6-3
                            termdown             1.16.0-3             1.17.0-1
                                 tig              2.5.0-1              2.5.1-1
                          tpm2-tools              4.1.1-1                4.2-1
                 ukui-control-center              2.0.3-1              2.0.4-1
                        ukui-greeter              1.2.4-1              1.2.5-1
                           ukui-menu              2.0.4-1              2.0.5-1
                          ukui-panel              2.0.5-1              2.0.6-1
                  ukui-window-switch              2.0.1-2              2.0.2-1
         v2ray-domain-list-community       202004061300-1       202004080001-1
                     vim-grammalecte        r21.a93ee1b-1        r31.09d4b24-1
                          virtualbox              6.1.4-5              6.1.4-6
                  virtualbox-ext-vnc              6.1.4-5              6.1.4-6
               virtualbox-guest-dkms              6.1.4-5              6.1.4-6
              virtualbox-guest-utils              6.1.4-5              6.1.4-6
          virtualbox-guest-utils-nox              6.1.4-5              6.1.4-6
                virtualbox-host-dkms              6.1.4-5              6.1.4-6
                      virtualbox-sdk              6.1.4-5              6.1.4-6
                           wingpanel   2.3.0.r3.88305e0-1              2.3.1-1
       wingpanel-indicator-bluetooth              2.1.4-1              2.1.5-1
                       wireshark-cli              3.2.2-1              3.2.3-1
                        wireshark-qt              3.2.2-1              3.2.3-1
                         coin-or-asl                    -              1.4.3-1
                nds32le-elf-binutils                    -               2.34-1
                     nds32le-elf-gcc                    -              9.3.0-1
                  nds32le-elf-newlib                    -              3.3.0-1
               netfilter-fullconenat                    -        r73.0cf3b48-6
            python-swagger-ui-bundle                    -              0.0.6-1


:: Different overlay package(s) in repository core x86_64

-------------------------------------------------------------------------------
                             PACKAGE           2020-04-08           2020-04-11
-------------------------------------------------------------------------------
                             linux54             5.4.30-1             5.4.31-1
                     linux54-headers             5.4.30-1             5.4.31-1
                             linux55             5.5.15-1             5.5.16-1
                     linux55-headers             5.5.15-1             5.5.16-1
                             linux56              5.6.2-1              5.6.3-2
                     linux56-headers              5.6.2-1              5.6.3-2
                             linux57                 - 5.7rc0.d0408.gae46d2a-1
                     linux57-headers                 - 5.7rc0.d0408.gae46d2a-1


:: Different sync package(s) in repository core x86_64

-------------------------------------------------------------------------------
                             PACKAGE           2020-04-08           2020-04-11
-------------------------------------------------------------------------------
                              dhcpcd              8.1.6-1              8.1.7-1
                              dialog     1:1.3_20200228-1     1:1.3_20200327-1
                                make                4.3-1                4.3-3
                                nano              4.9.1-1              4.9.2-1


:: Different overlay package(s) in repository extra x86_64

-------------------------------------------------------------------------------
                             PACKAGE           2020-04-08           2020-04-11
-------------------------------------------------------------------------------
                                kwin           5.18.4.1-4                    -
                   linux54-acpi_call             1.1.0-35             1.1.0-36
                    linux54-bbswitch               0.8-35               0.8-36
                 linux54-broadcom-wl      6.30.223.271-35      6.30.223.271-36
                 linux54-ndiswrapper              1.62-35              1.62-36
                linux54-nvidia-340xx           340.108-27           340.108-28
                linux54-nvidia-390xx           390.132-35           390.132-36
                linux54-nvidia-418xx           418.113-35           418.113-36
                linux54-nvidia-430xx            430.64-35            430.64-36
                linux54-nvidia-435xx            435.21-35            435.21-36
                linux54-nvidia-440xx             440.82-1             440.82-3
                    linux54-nvidiabl              0.88-35              0.88-36
                       linux54-r8168          8.048.00-20          8.048.00-21
                    linux54-tp_smapi              0.43-35              0.43-36
                 linux54-vhba-module          20200106-20          20200106-21
    linux54-virtualbox-guest-modules             6.1.4-11             6.1.4-12
     linux54-virtualbox-host-modules             6.1.4-11             6.1.4-12
                         linux54-zfs             0.8.3-19             0.8.3-20
                   linux55-acpi_call             1.1.0-18             1.1.0-19
                    linux55-bbswitch               0.8-18               0.8-19
                 linux55-broadcom-wl      6.30.223.271-18      6.30.223.271-19
                 linux55-ndiswrapper              1.62-18              1.62-19
                linux55-nvidia-340xx           340.108-12           340.108-13
                linux55-nvidia-390xx           390.132-18           390.132-19
                linux55-nvidia-418xx           418.113-19           418.113-20
                linux55-nvidia-430xx            430.64-19            430.64-20
                linux55-nvidia-435xx            435.21-19            435.21-20
                linux55-nvidia-440xx             440.82-1             440.82-2
                    linux55-nvidiabl              0.88-19              0.88-20
                       linux55-r8168          8.048.00-19          8.048.00-20
                   linux55-rtl8723bu          20200126-19          20200126-20
                    linux55-tp_smapi              0.43-19              0.43-20
                 linux55-vhba-module          20200106-19          20200106-20
    linux55-virtualbox-guest-modules             6.1.4-13             6.1.4-14
     linux55-virtualbox-host-modules             6.1.4-13             6.1.4-14
                         linux55-zfs             0.8.3-16             0.8.3-17
                   linux56-acpi_call              1.1.0-3              1.1.0-4
                    linux56-bbswitch                0.8-3                0.8-4
                 linux56-broadcom-wl       6.30.223.271-3       6.30.223.271-4
                 linux56-ndiswrapper               1.62-3               1.62-4
                linux56-nvidia-340xx            340.108-3            340.108-4
                linux56-nvidia-390xx            390.132-3            390.132-4
                linux56-nvidia-418xx            418.113-3            418.113-4
                linux56-nvidia-430xx             430.64-3             430.64-4
                linux56-nvidia-435xx             435.21-3             435.21-4
                linux56-nvidia-440xx             440.82-1             440.82-2
                       linux56-r8168           8.048.00-3           8.048.00-4
                    linux56-tp_smapi               0.43-3               0.43-4
                 linux56-vhba-module           20200106-3           20200106-4
    linux56-virtualbox-guest-modules              6.1.4-3              6.1.4-4
     linux56-virtualbox-host-modules              6.1.4-3              6.1.4-4
                         linux56-zfs              0.8.3-3              0.8.3-4
            manjaro-settings-manager              0.5.6-6              0.5.6-7
        manjaro-settings-manager-kcm              0.5.6-6              0.5.6-7
  manjaro-settings-manager-knotifier              0.5.6-6              0.5.6-7
   manjaro-settings-manager-notifier              0.5.6-6              0.5.6-7
                               snapd             2.44.2-1             2.44.3-1
              xdg-desktop-portal-kde           5.18.3-1.3                    -
                   linux57-acpi_call                    -              1.1.0-0
                 linux57-broadcom-wl                    -       6.30.223.271-0
                 linux57-ndiswrapper                    -               1.62-0
                linux57-nvidia-390xx                    -            390.132-0
                linux57-nvidia-418xx                    -            418.113-0
                linux57-nvidia-430xx                    -             430.64-0
                linux57-nvidia-435xx                    -             435.21-0
                linux57-nvidia-440xx                    -             440.82-0
                       linux57-r8168                    -           8.048.00-0
                    linux57-tp_smapi                    -               0.43-0
                 linux57-vhba-module                    -           20200106-0
    linux57-virtualbox-guest-modules                    -              6.1.4-0
     linux57-virtualbox-host-modules                    -              6.1.4-0
                         thunderbird                    -           68.7.0-0.1
                 thunderbird-i18n-ar                    -           68.7.0-0.1
                thunderbird-i18n-ast                    -           68.7.0-0.1
                 thunderbird-i18n-be                    -           68.7.0-0.1
                 thunderbird-i18n-bg                    -           68.7.0-0.1
                 thunderbird-i18n-br                    -           68.7.0-0.1
                 thunderbird-i18n-ca                    -           68.7.0-0.1
                 thunderbird-i18n-cs                    -           68.7.0-0.1
                 thunderbird-i18n-cy                    -           68.7.0-0.1
                 thunderbird-i18n-da                    -           68.7.0-0.1
                 thunderbird-i18n-de                    -           68.7.0-0.1
                thunderbird-i18n-dsb                    -           68.7.0-0.1
                 thunderbird-i18n-el                    -           68.7.0-0.1
              thunderbird-i18n-en-gb                    -           68.7.0-0.1
              thunderbird-i18n-en-us                    -           68.7.0-0.1
              thunderbird-i18n-es-ar                    -           68.7.0-0.1
              thunderbird-i18n-es-es                    -           68.7.0-0.1
                 thunderbird-i18n-et                    -           68.7.0-0.1
                 thunderbird-i18n-eu                    -           68.7.0-0.1
                 thunderbird-i18n-fi                    -           68.7.0-0.1
                 thunderbird-i18n-fr                    -           68.7.0-0.1
              thunderbird-i18n-fy-nl                    -           68.7.0-0.1
              thunderbird-i18n-ga-ie                    -           68.7.0-0.1
                 thunderbird-i18n-gd                    -           68.7.0-0.1
                 thunderbird-i18n-gl                    -           68.7.0-0.1
                 thunderbird-i18n-he                    -           68.7.0-0.1
                 thunderbird-i18n-hr                    -           68.7.0-0.1
                thunderbird-i18n-hsb                    -           68.7.0-0.1
                 thunderbird-i18n-hu                    -           68.7.0-0.1
              thunderbird-i18n-hy-am                    -           68.7.0-0.1
                 thunderbird-i18n-id                    -           68.7.0-0.1
                 thunderbird-i18n-is                    -           68.7.0-0.1
                 thunderbird-i18n-it                    -           68.7.0-0.1
                 thunderbird-i18n-ja                    -           68.7.0-0.1
                 thunderbird-i18n-ko                    -           68.7.0-0.1
                 thunderbird-i18n-lt                    -           68.7.0-0.1
              thunderbird-i18n-nb-no                    -           68.7.0-0.1
                 thunderbird-i18n-nl                    -           68.7.0-0.1
              thunderbird-i18n-nn-no                    -           68.7.0-0.1
                 thunderbird-i18n-pl                    -           68.7.0-0.1
              thunderbird-i18n-pt-br                    -           68.7.0-0.1
              thunderbird-i18n-pt-pt                    -           68.7.0-0.1
                 thunderbird-i18n-rm                    -           68.7.0-0.1
                 thunderbird-i18n-ro                    -           68.7.0-0.1
                 thunderbird-i18n-ru                    -           68.7.0-0.1
                 thunderbird-i18n-si                    -           68.7.0-0.1
                 thunderbird-i18n-sk                    -           68.7.0-0.1
                 thunderbird-i18n-sl                    -           68.7.0-0.1
                 thunderbird-i18n-sq                    -           68.7.0-0.1
                 thunderbird-i18n-sr                    -           68.7.0-0.1
              thunderbird-i18n-sv-se                    -           68.7.0-0.1
                 thunderbird-i18n-tr                    -           68.7.0-0.1
                 thunderbird-i18n-uk                    -           68.7.0-0.1
                 thunderbird-i18n-vi                    -           68.7.0-0.1
              thunderbird-i18n-zh-cn                    -           68.7.0-0.1
              thunderbird-i18n-zh-tw                    -           68.7.0-0.1


:: Different sync package(s) in repository extra x86_64

-------------------------------------------------------------------------------
                             PACKAGE           2020-04-08           2020-04-11
-------------------------------------------------------------------------------
                            cbindgen             0.14.0-2             0.14.1-1
                            chromium      80.0.3987.163-1       81.0.4044.92-1
                               cmake             3.17.0-2             3.17.1-1
                            composer             1.10.1-1             1.10.5-1
                        cups-filters             1.27.3-1             1.27.3-2
                             flatpak              1.6.2-1              1.7.2-1
                     flatpak-builder              1.0.9-1             1.0.10-1
                                 fmt              6.1.2-1              6.2.0-1
                       gnome-weather             3.36.0-1             3.36.1-1
               gtk-update-icon-cache 1:3.24.17+18+gcdd4349bfe-1    1:3.24.18-1
                                gtk3 1:3.24.17+18+gcdd4349bfe-1    1:3.24.18-1
                                jack            0.125.0-8            0.125.0-9
                                js68             68.6.0-1             68.7.0-1
                                kwin           5.18.4.1-2           5.18.4.1-4
                              libdrm            2.4.100-1            2.4.101-1
                             librsvg           2:2.48.2-1           2:2.48.3-1
                              libssh              0.9.3-1              0.9.4-1
                         libssh-docs              0.9.3-1              0.9.4-1
                       libstaroffice              0.0.6-1              0.0.7-1
                                loki              1.4.0-1              1.4.1-1
                             numactl             2.0.13-2             2.0.13-3
                              ostree             2019.6-1             2020.3-1
                        pyqt-builder              1.3.0-1              1.3.1-1
                       python-pysmbc             1.0.18-1             1.0.20-1
                                qpdf              9.1.1-1             10.0.1-1
                        rpcsvc-proto                1.4-1              1.4.1-1
                                sip5              5.1.2-1              5.2.0-1
                         suitesparse              5.7.1-1              5.7.2-1
                             tomcat9             9.0.33-1             9.0.34-1
                      vulkan-headers          1:1.2.136-1          1:1.2.137-1
            vulkan-validation-layers            1.2.133-1            1.2.135-1
                            wxmaxima            19.09.0-1            20.03.1-1
                  xdg-desktop-portal              1.6.0-2              1.7.2-1
              xdg-desktop-portal-gtk              1.6.0-4              1.7.1-1
                       xfce4-notifyd              0.4.4-2              0.6.0-1


:: Different overlay package(s) in repository multilib x86_64

-------------------------------------------------------------------------------
                             PACKAGE           2020-04-08           2020-04-11
-------------------------------------------------------------------------------
                          lib32-gtk3                    -          3.24.18-0.1


:: Different sync package(s) in repository multilib x86_64

-------------------------------------------------------------------------------
                             PACKAGE           2020-04-08           2020-04-11
-------------------------------------------------------------------------------
                         lib32-jack2             1.9.14-2             1.9.14-3
                        lib32-libdrm            2.4.100-1            2.4.101-1
                       lib32-librsvg             2.48.2-1             2.48.3-1


No issue, everything went smoothly
Yes there was an issue. I was able to resolve it myself.(Please post your solution)
Yes i am currently experiencing an issue due to the update. (Please post about it)
Check if your mirror has already synced: