Hello community,
I am happy to announce another Testing Update.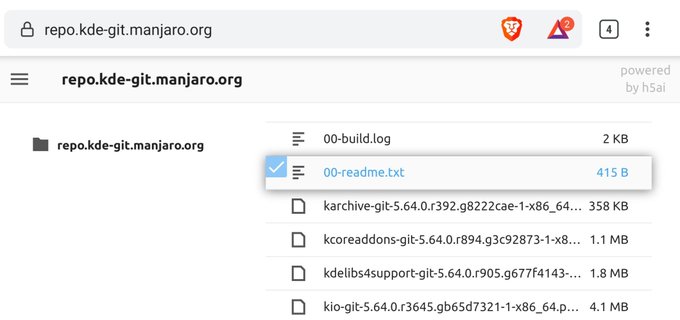 Checkout our latest server holding the latest KDE-git packages
With this we have new Nvidia drivers, latest KDE Frameworks.
Some feature-updates:
KDE Frameworks are at 5.64.0
Brave Browsers are now updated to 0.71 and 0.72 series
Nvidia drivers got updated
We dropped linux52
The usual upstream fixes and updates
If you like following latest Plasma development you may also like to check out our current version of mnjaro-kde-vanilla, which we build on a regular basis against kde-git master packages.
As always we appreciate your input and feedback for the updates.
---
Our current supported kernels:
linux316 3.16.75
linux44 4.4.200
linux49 4.9.200
linux414 4.14.153
linux419 4.19.83
linux53 5.3.10 (no catalyst module!)
linux54 5.4.0-rc5 (not all modules build yet!)
linux419-rt 4.19.72_rt26
linux52-rt 5.2.21_rt13
Package Changes (Mon Nov 11 19:25:13 CET 2019)
testing community x86_64: 351 new and 438 removed package(s)
testing core x86_64: 13 new and 15 removed package(s)
testing extra x86_64: 239 new and 258 removed package(s)
testing multilib x86_64: 24 new and 23 removed package(s)
:: Different overlay package(s) in repository community x86_64

-------------------------------------------------------------------------------
                             PACKAGE           2019-11-08           2019-11-11
-------------------------------------------------------------------------------
                          attica-git5.64.0.r722.g92686a0-15.65.0.r723.g2b5d5b3-1
                           baloo-git5.64.0.r2662.g363fcf36-15.65.0.r2663.ga45c3625-1
                       bluedevil-git5.17.80.r2029.g405d1294-15.17.80.r2030.ga9d1bfcf-1
                        bluez-qt-git5.64.0.r566.g6f38115-15.65.0.r568.g77d9ff5-1
                               brave           0.68.141-1           0.71.114-1
                          brave-beta           0.70.101-1           0.72.119-1
                          breeze-git5.17.80.r1895.g4a6da365-15.17.80.r1896.g0901e41a-1
                      breeze-gtk-git5.17.80.r358.g51968f9-15.17.80.r363.g4a472fd-1
                        discover-git5.17.80.r7433.gffd8813e-15.17.80.r7474.gc5c045d1-1
                         drkonqi-git5.17.80.r451.g5599273f-15.17.80.r462.g883769ab-1
             extra-cmake-modules-git5.64.0.r3113.gd281074-15.65.0.r3115.g6877275-1
            frameworkintegration-git5.64.0.r482.g3f52a3b-15.65.0.r483.gdd6253e-1
                   indicator-sensors   0.8.r32.g6bfed17-3                0.9-1
                     kactivities-git5.64.0.r1254.g6f6111dd-15.65.0.r1255.g53f56043-1
               kactivities-stats-git5.64.0.r252.g81650c7-15.65.0.r253.g0a4e2f3-1
               kactivitymanagerd-git5.15.80.r1248.gef0adc9-15.15.80.r1252.g35e5dc9-1
                         kapidox-git5.64.0.r442.gbae3cb3-15.65.0.r444.gf73dbc2-1
                        karchive-git5.64.0.r395.g863d399-15.65.0.r396.gc5e03f6-1
                           kauth-git5.64.0.r316.g1e9cb93-15.65.0.r317.g8a0f279-1
                      kbookmarks-git5.64.0.r289.g813d8bb-15.65.0.r290.g09e5383-1
                        kcmutils-git5.64.0.r342.gf2f04d6-15.65.0.r346.gafc528c-1
                         kcodecs-git5.64.0.r279.gd61e8a6-15.65.0.r280.ge0535d9-1
                     kcompletion-git5.64.0.r328.g3ae266b-15.65.0.r329.g9b6a536-1
                         kconfig-git5.64.0.r614.g8d29e26-15.65.0.r615.g83732a8-1
                  kconfigwidgets-git5.64.0.r408.g0762203-15.65.0.r410.g96f6023-1
                     kcoreaddons-git5.64.0.r896.g31118e2-15.65.0.r897.g04090c1-1
                          kcrash-git5.64.0.r270.g75abc57-15.65.0.r275.gab60915-1
                     kdbusaddons-git5.64.0.r282.g5fd1ab6-15.65.0.r283.geb7abaa-1
                  kde-gtk-config-git5.17.80.r738.g59ad3f6-15.17.80.r746.g21f5b87-1
                    kdeclarative-git5.64.0.r717.gb2c1a64-15.65.0.r718.gd2fbf7b-1
                            kded-git5.64.0.r281.gbf0268c-15.65.0.r282.g2c37212-1
                 kdelibs4support-git5.64.0.r906.g0eaef280-15.65.0.r907.g1fff80d9-1
                kdeplasma-addons-git5.17.80.r8196.ge2d584a13-15.17.80.r8199.g2d1072b3a-1
                           kdesu-git5.64.0.r369.g70cf592-15.65.0.r370.g7f9480a-1
                          kdnssd-git5.64.0.r236.g666285c-15.65.0.r237.g350861b-1
                       kdoctools-git5.64.0.r506.g51c7e65-15.65.0.r508.g56802ec-1
                      kemoticons-git5.64.0.r291.ge51463a-15.65.0.r292.gfb89d1c-1
                   kfilemetadata-git5.64.0.r655.g8a3b8d8-15.65.0.r656.g530ec5b-1
                         kgamma5-git5.17.80.r401.g867ea36-15.17.80.r404.gd900dc7-1
                    kglobalaccel-git5.64.0.r329.gc276a74-15.65.0.r330.g8754b99-1
                      kguiaddons-git5.64.0.r250.g8d5834a-15.65.0.r251.gba4c1bb-1
                       kholidays-git5.64.0.r828.g4776377-15.65.0.r829.g433257f-1
                           khtml-git5.64.0.r473.g90f610a-15.65.0.r474.gd6f7f3b-1
                           ki18n-git5.64.0.r358.g165484c-15.65.0.r359.g39d667e-1
                     kiconthemes-git5.64.0.r390.ga77ebe3-15.65.0.r392.gfa12e4d-1
                       kidletime-git5.64.0.r226.g845fc3d-15.65.0.r227.gc8203bc-1
                     kinfocenter-git5.17.80.r1569.gf5afde7-15.17.80.r1571.g32e2f25-1
                           kinit-git5.64.0.r314.g9eed491-15.65.0.r316.gb9e33ae-1
                             kio-git5.64.0.r3650.gc3dded12-15.65.0.r3659.gd074873f-1
                       kirigami2-git5.64.0.r1967.g481f72d9-15.65.0.r1990.g0577d3a3-1
                     kitemmodels-git5.64.0.r376.g1d9d288-15.65.0.r377.g85f6879-1
                      kitemviews-git5.64.0.r245.g5eb579e-15.65.0.r246.g36fbf5d-1
                     kjobwidgets-git5.64.0.r268.g6e96100-15.65.0.r269.gaa6d058-1
                             kjs-git5.64.0.r250.g3546510-15.65.0.r251.g60bc4a7-1
                    kmediaplayer-git5.64.0.r213.ge69a075-15.65.0.r214.g937f1a9-1
                      knetattach-git5.17.80.r7044.g0b8ef770d-15.17.80.r7051.gadfb26cef-1
                       knewstuff-git5.64.0.r714.g6c40709-15.65.0.r727.g92876ce-1
                  knotifications-git5.64.0.r471.g4875b7f-15.65.0.r473.g04da2f4-1
                   knotifyconfig-git5.64.0.r254.g615451a-15.65.0.r255.gf2f25a7-1
                        kpackage-git5.64.0.r542.gfce9bb3-15.65.0.r543.g798b212-1
                          kparts-git5.64.0.r357.g58722fa-15.65.0.r358.g0563d10-1
                         kpeople-git5.64.0.r1215.g1bc7b0b-15.65.0.r1216.g2cfe16c-1
                       kplotting-git5.64.0.r212.g1a2fd7a-15.65.0.r213.g9e72fee-1
                            kpty-git5.64.0.r233.gee4216f-15.65.0.r234.ga66f8ac-1
                           kross-git5.64.0.r257.gd992499-15.65.0.r258.gf263413-1
                   kscreenlocker-git5.17.80.r741.g33e21fb-15.17.80.r742.g4b7c7b2-1
                        kservice-git5.64.0.r700.gda9563c-15.65.0.r701.g8f9faed-1
                     ksshaskpass-git5.17.80.r145.g99b444d-15.17.80.r146.g7521a9a-1
                       ksysguard-git5.17.80.r3174.g75c0b315-15.17.80.r3178.g8efccc6a-1
                    ktextwidgets-git5.64.0.r279.g9575f45-15.65.0.r280.g932aa2d-1
                 kunitconversion-git5.64.0.r279.gf49bb5f-15.65.0.r280.g555033a-1
                         kwallet-git5.64.0.r927.geff45af-15.65.0.r928.gb8f70d0-1
                        kwayland-git5.64.0.r958.gad18d27-15.65.0.r959.g4a90d90-1
                  kwidgetsaddons-git5.64.0.r608.ga2adad2-15.65.0.r609.g05bc842-1
                            kwin-git5.17.80.r17464.ga0d98a61c-25.17.80.r17472.ga6b705bb7-2
                   kwindowsystem-git5.64.0.r476.g6ea4f60-15.65.0.r478.gb73efab-1
                         kwrited-git5.17.80.r409.gd873d5d-15.17.80.r411.g64f3d8f-1
                         kxmlgui-git5.64.0.r563.g1b802df-15.65.0.r565.gf032033-1
                   kxmlrpcclient-git5.64.0.r369.gccf44068d-15.65.0.r370.g8ac9121a2-1
                        linux-latest                5.3-1                5.3-3
              linux-latest-acpi_call                5.3-1                5.3-3
               linux-latest-bbswitch                5.3-1                5.3-3
            linux-latest-broadcom-wl                5.3-1                5.3-3
               linux-latest-catalyst                5.3-1                5.3-3
                linux-latest-headers                5.3-1                5.3-3
            linux-latest-ndiswrapper                5.3-1                5.3-3
           linux-latest-nvidia-340xx                5.3-1                5.3-3
           linux-latest-nvidia-390xx                5.3-1                5.3-3
           linux-latest-nvidia-418xx                5.3-1                5.3-3
           linux-latest-nvidia-430xx                5.3-1                5.3-3
           linux-latest-nvidia-435xx                5.3-1                5.3-3
           linux-latest-nvidia-440xx                5.3-2                5.3-3
               linux-latest-nvidiabl                5.3-1                5.3-3
                  linux-latest-r8168                5.3-1                5.3-3
              linux-latest-rt3562sta                5.3-1                5.3-3
              linux-latest-rtl8723bu                5.3-1                5.3-3
               linux-latest-tp_smapi                5.3-1                5.3-3
            linux-latest-vhba-module                5.3-1                5.3-3
linux-latest-virtualbox-guest-modules               5.3-1                5.3-3
linux-latest-virtualbox-host-modules                5.3-1                5.3-3
                    linux-latest-zfs                5.3-1                5.3-3
            linux419-rt-nvidia-390xx            390.129-5            390.132-1
            linux419-rt-nvidia-430xx             430.40-4             430.50-1
            linux419-rt-nvidia-440xx             440.26-2             440.31-1
             linux52-rt-nvidia-390xx            390.129-7            390.132-1
             linux52-rt-nvidia-430xx             430.40-7             430.50-1
             linux52-rt-nvidia-440xx             440.26-2             440.31-1
           manjaro-gnome-assets-19.0           20191102-1           20191110-1
                 modemmanager-qt-git5.64.0.r435.gf7cea6d-15.65.0.r436.g1fa3bce-1
               networkmanager-qt-git5.64.0.r1017.g86bfd7e-15.65.0.r1018.g978b5a4-1
                                 nim              1.0.0-0              1.0.2-0
      plasma-browser-integration-git5.17.80.r946.g428197fb-15.17.80.r949.g2ce261b1-1
                  plasma-desktop-git5.17.80.r7044.g0b8ef770d-15.17.80.r7051.gadfb26cef-1
                plasma-framework-git5.64.0.r15281.ge3abfcfc1-15.65.0.r15287.g052a81f75-1
              plasma-integration-git5.17.80.r438.ge37cd4d-15.17.80.r441.gf14c3ff-1
                       plasma-nm-git5.17.80.r2699.g2f597573-15.17.80.r2701.ge76c0f11-1
                    plasma-vault-git5.17.80.r237.g49bba96-15.17.80.r238.gc39b965-1
          plasma-wayland-session-git5.17.80.r8452.gee25d4705-15.17.80.r8465.g371dc1f1e-1
                plasma-workspace-git5.17.80.r8452.gee25d4705-15.17.80.r8465.g371dc1f1e-1
                polkit-kde-agent-git5.17.80.r421.gb4a2202-15.17.80.r422.ge82090b-1
                      powerdevil-git5.17.80.r2218.g1e0baeaa-15.17.80.r2221.g2917962e-1
                          prison-git5.64.0.r225.gc985f95-15.65.0.r226.g1799cd5-1
              qqc2-desktop-style-git5.64.0.r307.g5dc1c74-15.65.0.r308.g9c1cf71-1
                           solid-git5.64.0.r516.g98fc2f5-15.65.0.r517.ge9852ad-1
                          sonnet-git5.64.0.r494.gbe0414d-15.65.0.r496.gea92464-1
                     syndication-git5.64.0.r728.g4bfc1db-15.65.0.r729.g3f90238-1
             syntax-highlighting-git5.64.0.r1041.g467bea3-15.65.0.r1042.g82d140c-1
                  systemsettings-git5.17.80.r2144.g0584eb76-15.17.80.r2150.g08bebd3c-1
                    threadweaver-git5.64.0.r416.g709f834-15.65.0.r417.g0f42a64-1
                    user-manager-git5.17.80.r459.gb5da60d-15.17.80.r461.g66cdd06-1
               manjaro-gdm-theme-dev                    -           20191110-1


:: Different sync package(s) in repository community x86_64

-------------------------------------------------------------------------------
                             PACKAGE           2019-11-08           2019-11-11
-------------------------------------------------------------------------------
                      acpi_call-dkms            1.1.0-256            1.1.0-258
                                 apm              2.4.3-1              2.4.3-2
                         arduino-cli              0.6.0-1              0.6.0-2
                            arp-scan              1.9.6-1              1.9.7-1
                               botan             2.12.0-1             2.12.1-1
                       budgie-extras             0.10.1-1             0.10.1-2
                       cabal-install          2.4.0.0-150          2.4.0.0-151
                              ccache              3.7.4-1              3.7.5-1
                           celluloid               0.17-1               0.18-1
                                cgal             4.14.1-1             4.14.2-1
                             cockpit              205.1-1                206-1
                   cockpit-dashboard              205.1-1                206-1
                         cockpit-pcp              205.1-1                206-1
                                code             1.39.2-1             1.40.0-3
                               darcs           2.14.2-121           2.14.2-122
                             dblatex             0.3.10-2             0.3.11-1
                            electron              7.1.0-1              7.1.1-2
                                eric              19.06-1              19.11-1
                         eric-common              19.06-1              19.11-1
                           fcitx-qt5             1.2.3-11              1.2.4-1
           firefox-developer-edition             71.0b7-1             71.0b8-1
  firefox-developer-edition-i18n-ach             71.0b7-1             71.0b8-1
   firefox-developer-edition-i18n-af             71.0b7-1             71.0b8-1
   firefox-developer-edition-i18n-an             71.0b7-1             71.0b8-1
   firefox-developer-edition-i18n-ar             71.0b7-1             71.0b8-1
  firefox-developer-edition-i18n-ast             71.0b7-1             71.0b8-1
   firefox-developer-edition-i18n-az             71.0b7-1             71.0b8-1
   firefox-developer-edition-i18n-be             71.0b7-1             71.0b8-1
   firefox-developer-edition-i18n-bg             71.0b7-1             71.0b8-1
   firefox-developer-edition-i18n-bn             71.0b7-1             71.0b8-1
   firefox-developer-edition-i18n-br             71.0b7-1             71.0b8-1
   firefox-developer-edition-i18n-bs             71.0b7-1             71.0b8-1
   firefox-developer-edition-i18n-ca             71.0b7-1             71.0b8-1
  firefox-developer-edition-i18n-cak             71.0b7-1             71.0b8-1
   firefox-developer-edition-i18n-cs             71.0b7-1             71.0b8-1
   firefox-developer-edition-i18n-cy             71.0b7-1             71.0b8-1
   firefox-developer-edition-i18n-da             71.0b7-1             71.0b8-1
   firefox-developer-edition-i18n-de             71.0b7-1             71.0b8-1
  firefox-developer-edition-i18n-dsb             71.0b7-1             71.0b8-1
   firefox-developer-edition-i18n-el             71.0b7-1             71.0b8-1
firefox-developer-edition-i18n-en-ca             71.0b7-1             71.0b8-1
firefox-developer-edition-i18n-en-gb             71.0b7-1             71.0b8-1
firefox-developer-edition-i18n-en-us             71.0b7-1             71.0b8-1
   firefox-developer-edition-i18n-eo             71.0b7-1             71.0b8-1
firefox-developer-edition-i18n-es-ar             71.0b7-1             71.0b8-1
firefox-developer-edition-i18n-es-cl             71.0b7-1             71.0b8-1
firefox-developer-edition-i18n-es-es             71.0b7-1             71.0b8-1
firefox-developer-edition-i18n-es-mx             71.0b7-1             71.0b8-1
   firefox-developer-edition-i18n-et             71.0b7-1             71.0b8-1
   firefox-developer-edition-i18n-eu             71.0b7-1             71.0b8-1
   firefox-developer-edition-i18n-fa             71.0b7-1             71.0b8-1
   firefox-developer-edition-i18n-ff             71.0b7-1             71.0b8-1
   firefox-developer-edition-i18n-fi             71.0b7-1             71.0b8-1
   firefox-developer-edition-i18n-fr             71.0b7-1             71.0b8-1
firefox-developer-edition-i18n-fy-nl             71.0b7-1             71.0b8-1
firefox-developer-edition-i18n-ga-ie             71.0b7-1             71.0b8-1
   firefox-developer-edition-i18n-gd             71.0b7-1             71.0b8-1
   firefox-developer-edition-i18n-gl             71.0b7-1             71.0b8-1
   firefox-developer-edition-i18n-gn             71.0b7-1             71.0b8-1
firefox-developer-edition-i18n-gu-in             71.0b7-1             71.0b8-1
   firefox-developer-edition-i18n-he             71.0b7-1             71.0b8-1
firefox-developer-edition-i18n-hi-in             71.0b7-1             71.0b8-1
   firefox-developer-edition-i18n-hr             71.0b7-1             71.0b8-1
  firefox-developer-edition-i18n-hsb             71.0b7-1             71.0b8-1
   firefox-developer-edition-i18n-hu             71.0b7-1             71.0b8-1
firefox-developer-edition-i18n-hy-am             71.0b7-1             71.0b8-1
   firefox-developer-edition-i18n-ia             71.0b7-1             71.0b8-1
   firefox-developer-edition-i18n-id             71.0b7-1             71.0b8-1
   firefox-developer-edition-i18n-is             71.0b7-1             71.0b8-1
   firefox-developer-edition-i18n-it             71.0b7-1             71.0b8-1
   firefox-developer-edition-i18n-ja             71.0b7-1             71.0b8-1
   firefox-developer-edition-i18n-ka             71.0b7-1             71.0b8-1
  firefox-developer-edition-i18n-kab             71.0b7-1             71.0b8-1
   firefox-developer-edition-i18n-kk             71.0b7-1             71.0b8-1
   firefox-developer-edition-i18n-km             71.0b7-1             71.0b8-1
   firefox-developer-edition-i18n-kn             71.0b7-1             71.0b8-1
   firefox-developer-edition-i18n-ko             71.0b7-1             71.0b8-1
  firefox-developer-edition-i18n-lij             71.0b7-1             71.0b8-1
   firefox-developer-edition-i18n-lt             71.0b7-1             71.0b8-1
   firefox-developer-edition-i18n-lv             71.0b7-1             71.0b8-1
   firefox-developer-edition-i18n-mk             71.0b7-1             71.0b8-1
   firefox-developer-edition-i18n-mr             71.0b7-1             71.0b8-1
   firefox-developer-edition-i18n-ms             71.0b7-1             71.0b8-1
   firefox-developer-edition-i18n-my             71.0b7-1             71.0b8-1
firefox-developer-edition-i18n-nb-no             71.0b7-1             71.0b8-1
firefox-developer-edition-i18n-ne-np             71.0b7-1             71.0b8-1
   firefox-developer-edition-i18n-nl             71.0b7-1             71.0b8-1
firefox-developer-edition-i18n-nn-no             71.0b7-1             71.0b8-1
   firefox-developer-edition-i18n-oc             71.0b7-1             71.0b8-1
firefox-developer-edition-i18n-pa-in             71.0b7-1             71.0b8-1
   firefox-developer-edition-i18n-pl             71.0b7-1             71.0b8-1
firefox-developer-edition-i18n-pt-br             71.0b7-1             71.0b8-1
firefox-developer-edition-i18n-pt-pt             71.0b7-1             71.0b8-1
   firefox-developer-edition-i18n-rm             71.0b7-1             71.0b8-1
   firefox-developer-edition-i18n-ro             71.0b7-1             71.0b8-1
   firefox-developer-edition-i18n-ru             71.0b7-1             71.0b8-1
   firefox-developer-edition-i18n-si             71.0b7-1             71.0b8-1
   firefox-developer-edition-i18n-sk             71.0b7-1             71.0b8-1
   firefox-developer-edition-i18n-sl             71.0b7-1             71.0b8-1
  firefox-developer-edition-i18n-son             71.0b7-1             71.0b8-1
   firefox-developer-edition-i18n-sq             71.0b7-1             71.0b8-1
   firefox-developer-edition-i18n-sr             71.0b7-1             71.0b8-1
firefox-developer-edition-i18n-sv-se             71.0b7-1             71.0b8-1
   firefox-developer-edition-i18n-ta             71.0b7-1             71.0b8-1
   firefox-developer-edition-i18n-te             71.0b7-1             71.0b8-1
   firefox-developer-edition-i18n-th             71.0b7-1             71.0b8-1
   firefox-developer-edition-i18n-tr             71.0b7-1             71.0b8-1
   firefox-developer-edition-i18n-uk             71.0b7-1             71.0b8-1
   firefox-developer-edition-i18n-ur             71.0b7-1             71.0b8-1
   firefox-developer-edition-i18n-uz             71.0b7-1             71.0b8-1
   firefox-developer-edition-i18n-vi             71.0b7-1             71.0b8-1
   firefox-developer-edition-i18n-xh             71.0b7-1             71.0b8-1
firefox-developer-edition-i18n-zh-cn             71.0b7-1             71.0b8-1
firefox-developer-edition-i18n-zh-tw             71.0b7-1             71.0b8-1
              firefox-tree-style-tab              3.2.3-1              3.2.4-1
                              fs-uae              3.0.0-1              3.0.2-1
                     fs-uae-launcher              3.0.0-2              3.0.2-1
                            gammaray             2.11.0-2             2.11.0-3
                           git-annex         7.20191106-1         7.20191106-2
                                grpc             1.24.3-2             1.25.0-1
                            grpc-cli             1.24.3-2             1.25.0-1
                           handbrake              1.2.2-2              1.3.0-1
                       handbrake-cli              1.2.2-2              1.3.0-1
                haskell-authenticate            1.3.4-357            1.3.4-358
                         haskell-aws           0.21.1-111           0.21.1-112
                   haskell-criterion           1.5.5.0-75           1.5.5.0-76
                      haskell-hakyll         4.12.5.2-114         4.12.5.2-115
                        haskell-http         4000.3.14-45         4000.3.14-46
                haskell-http-conduit            2.3.7.3-4            2.3.7.3-5
               haskell-http-download           0.1.0.0-38           0.1.0.0-39
                   haskell-js-jquery            3.3.1-289            3.3.1-290
                      haskell-pantry           0.1.1.1-52           0.1.1.1-53
              haskell-servant-server            0.16.2-30            0.16.2-31
                       haskell-shake            0.18.3-42            0.18.3-43
              haskell-wai-app-static          3.1.6.3-111          3.1.6.3-112
          haskell-wai-handler-launch          3.0.2.4-224          3.0.2.4-225
                        haskell-warp              3.3.3-3              3.3.4-1
                    haskell-warp-tls             3.2.8-16             3.2.8-17
                       haskell-yesod            1.6.0-359            1.6.0-360
                  haskell-yesod-auth             1.6.8-31             1.6.8-32
                  haskell-yesod-core          1.6.16.1-20          1.6.16.1-21
               haskell-yesod-default            1.2.0-602            1.2.0-603
                  haskell-yesod-form             1.6.7-20             1.6.7-21
            haskell-yesod-persistent          1.6.0.2-107          1.6.0.2-108
                haskell-yesod-static          1.6.0.1-213          1.6.0.1-214
                  haskell-yesod-test              1.6.7-4              1.6.7-5
                                haxe              4.0.0-1              4.0.1-1
                         hledger-web              1.15-28              1.15-29
                              hoogle         5.0.17.11-18         5.0.17.11-19
                          irssi-xmpp               0.54-2               0.54-3
                             jenkins              2.200-1              2.203-1
                            libdwarf           20191002-1           20191104-1
                             libvirt              5.8.0-1              5.8.0-2
                     libvirt-python2              5.8.0-1                    -
                             liteide               36.1-2               36.2-1
                                 min             1.11.1-1             1.11.2-1
                            minikube              1.4.0-2              1.5.2-1
                           miniupnpd       2.1.20190502-2       2.1.20191006-1
                           multitail              6.4.2-2              6.5.0-1
                           musescore                3.3-2                3.3-3
                             neomutt           20191102-1           20191111-1
                              neovim              0.4.2-2              0.4.3-1
                    nginx-mod-geoip2                3.2-5                3.3-1
                                ogre             1.12.2-2             1.12.3-1
                           ogre-docs             1.12.2-2                    -
                              openmw             0.45.0-2             0.45.0-3
                     owncloud-client        2.5.4.11654-1        2.6.0.13018-1
                              pandoc             2.7.3-64             2.7.3-65
                     pandoc-citeproc           0.16.2-131           0.16.2-132
                     pandoc-crossref          0.3.4.1-113          0.3.4.1-114
                                 pcp              4.3.4-1              5.0.1-1
                            pdf2djvu             0.9.13-3             0.9.14-1
                              pdfsam              4.0.3-1              4.0.5-1
                            php-grpc             1.24.3-2             1.25.0-1
                           php-redis              5.1.0-1              5.1.1-1
                           postgrest             6.0.0-43             6.0.0-44
                            prettier             1.18.2-1             1.19.1-1
                        pulseeffects              4.6.8-2              4.6.8-3
                       python-grpcio             1.24.3-2             1.25.0-1
                    python-ibm-db-sa              0.3.3-2              0.3.5-1
                   python-latexcodec              1.0.5-2              1.0.7-1
                      python-pikepdf              1.6.5-1              1.7.0-1
              python-pybtex-docutils              0.2.1-2              0.2.2-1
                     python-pygithub               1.44-1             1.44.1-1
                      python-pyxattr              0.6.0-2              0.6.1-1
                        python-qt.py           1.2.0.b3-1              1.2.1-3
                    python-reportlab             3.5.28-1             3.5.32-1
             python-ukpostcodeparser              1.1.2-2              1.1.2-5
                       python-uproot             3.10.6-1            3.10.10-3
                        python2-amqp              2.5.2-1                    -
                python2-backports.os              0.1.1-1                    -
                    python2-billiard            3.6.1.0-1                    -
                      python2-bluepy              1.3.0-1                    -
                       python2-boto3            1.9.253-1                    -
                    python2-botocore           1.12.253-1                    -
                    python2-capstone              4.0.1-1                    -
                        python2-case              1.5.3-2                    -
                  python2-colorclass              2.2.0-4                    -
                  python2-commonmark              0.8.0-1                    -
                     python2-cookies              2.2.1-2                    -
                    python2-daiquiri              1.6.0-1                    -
                      python2-docopt              0.6.2-5                    -
             python2-email-validator              1.0.4-1                    -
                        python2-eric              19.06-1                    -
                  python2-fastpbkdf2                0.2-3                    -
                   python2-filebytes             0.9.21-1                    -
             python2-flake8-debugger              3.2.1-1                    -
               python2-flask-babelex  0.9.3.r2.gd699306-1                    -
              python2-flask-gravatar              0.5.0-1                    -
               python2-flask-htmlmin              1.5.0-1                    -
                  python2-flask-mail              0.9.1-1                    -
              python2-flask-paranoid                0.2-1                    -
                   python2-flask-wtf             0.14.2-2                    -
                        python2-gasp              0.3.4-4                    -
                   python2-harparser                0.4-2                    -
                     python2-hexdump                3.3-3                    -
                       python2-hglib              2.6.1-2                    -
                     python2-htmlmin             0.1.12-1                    -
                   python2-ibm-db-sa              0.3.3-2                    -
                        python2-jose              3.0.1-1                    -
                      python2-josepy              1.2.0-1                    -
                 python2-json-logger             0.1.11-1                    -
                    python2-keystone              0.9.1-4                    -
                        python2-kivy             1.11.1-1                    -
                  python2-latexcodec              1.0.5-2                    -
                 python2-librabbitmq              2.0.0-2                    -
                     python2-logbook              1.5.3-1                    -
               python2-markdown-math                0.6-3                    -
                     python2-markups              3.0.0-5                    -
                 python2-mongoengine             0.18.2-1                    -
                   python2-pacparser           1.3.7rc6-1                    -
                     python2-passlib              1.7.1-2                    -
                     python2-path.py             11.5.2-1                    -
                         python2-pmw              2.0.1-4                    -
                      python2-ptrace              0.9.4-1                    -
                        python2-pudb             2019.1-1                    -
                       python2-pyamf              0.8.0-4                    -
                      python2-pybtex             0.22.2-1                    -
             python2-pybtex-docutils              0.2.1-2                    -
                      python2-pycuda           2019.1.2-2                    -
                   python2-pyftpdlib              1.5.5-1                    -
                  python2-pysendfile              2.0.1-2                    -
                       python2-pysmi              0.3.4-1                    -
                      python2-pysnmp             4.4.11-1                    -
                        python2-pyte              0.8.0-2                    -
       python2-pytest-fixture-config              1.7.0-1                    -
                python2-pytest-isort              0.3.1-1                    -
               python2-pytest-shutil              1.7.0-1                    -
                python2-pytest-sugar              0.9.2-1                    -
           python2-pytest-virtualenv              1.7.0-1                    -
                     python2-pytools           2019.1.1-1                    -
                         python2-pyx             0.12.1-3                    -
                     python2-pyxattr              0.6.0-2              0.6.1-1
                    python2-qrencode                1.2-4                    -
                   python2-qtconsole              4.5.5-1                    -
             python2-rangehttpserver              1.2.0-3                    -
                python2-recommonmark  0.4.0.133.c410abb-4                    -
                   python2-reportlab             3.5.28-1             3.5.32-1
                   python2-responses             0.10.6-1                    -
                      python2-ropper             1.12.5-1                    -
                  python2-s3transfer              0.2.1-1                    -
                       python2-scapy              2.4.3-1                    -
                  python2-scripttest              1.3.0-2                    -
                      python2-scrypt              0.8.7-1                    -
              python2-setuptools-git                1.2-2                    -
                   python2-sshtunnel  0.1.4.r3.g66a923e-1                    -
                       python2-tblib              1.4.0-1                    -
                   python2-termcolor              1.1.0-6                    -
                        python2-tlsh             3.17.0-1                    -
                        python2-tqdm             4.28.1-1                    -
                       python2-txaio             18.8.1-1                    -
            python2-ukpostcodeparser              1.1.2-2                    -
                     python2-unicorn              1.0.1-6                    -
              python2-unpaddedbase64              1.1.0-3                    -
              python2-update-checker               0.16-2                    -
                        python2-vine              1.3.0-1                    -
                       python2-w3lib             1.21.0-1                    -
                       python2-webpy               0.38-1                    -
                     python2-wtforms              2.2.1-4                    -
                            qtractor             0.9.10-1             0.9.11-1
                            rabbitmq             3.7.18-1              3.8.1-1
                       rabbitmqadmin             3.7.15-1              3.8.1-1
               react-native-debugger  0.10.2+9+ga9e4a9f-1             0.10.4-1
                           rng-tools                6.7-2                6.8-1
                         rtl-sdr-lms       r343.b459a70-1                    -
                       sage-notebook              1.1.2-2              1.1.3-1
                          shellcheck             0.7.0-48             0.7.0-49
                             signify                 26-1                 27-1
                        slowhttptest                1.7-1                1.8-1
                              snes9x               1.60-2               1.60-4
                          snes9x-gtk               1.60-2               1.60-4
                                sord             0.16.2-1             0.16.4-1
                              sratom              0.6.2-2              0.6.4-1
                               stack             2.1.3-59             2.1.3-60
                         stratis-cli              1.1.0-1              2.0.0-1
                            stratisd              1.0.6-1              2.0.0-1
                          strawberry              0.6.5-3              0.6.6-1
                      tamarin-prover            1.4.1-175            1.4.1-176
                   teamspeak3-server              3.9.1-1             3.10.0-1
                             tellico              3.2.1-1              3.2.2-1
                           terraform            0.12.12-1            0.12.13-1
                              wpscan            1:3.7.2-1            1:3.7.4-1
                                  wt              4.1.1-2              4.1.2-1
            xfce4-whiskermenu-plugin              2.3.3-1              2.3.4-1
                              xmobar              0.31-11              0.31-12
                             xtrlock                2.9-1               2.12-1
                               yosys                0.9-1                0.9-2
                               zcash              2.1.0-1            2.1.0_1-1
                           electron6                    -              6.1.4-1
                          libclastfm                    -                0.5-6
                              pragha                    -              1.3.4-2


:: Different overlay package(s) in repository core x86_64

-------------------------------------------------------------------------------
                             PACKAGE           2019-11-08           2019-11-11
-------------------------------------------------------------------------------
                            linux414           4.14.152-1           4.14.153-1
                    linux414-headers           4.14.152-1           4.14.153-1
                            linux419            4.19.82-1            4.19.83-1
                    linux419-headers            4.19.82-1            4.19.83-1
                             linux44            4.4.199-1            4.4.200-1
                     linux44-headers            4.4.199-1            4.4.200-1
                             linux49            4.9.199-1            4.9.200-1
                     linux49-headers            4.9.199-1            4.9.200-1
                             linux52             5.2.21-1                    -
                     linux52-headers             5.2.21-1                    -
                             linux53              5.3.9-1             5.3.10-1
                     linux53-headers              5.3.9-1             5.3.10-1
                   mhwd-nvidia-390xx            390.129-1            390.132-1
                   mhwd-nvidia-430xx             430.40-1             430.50-1
                   mhwd-nvidia-440xx             440.26-1             440.31-1


:: Different overlay package(s) in repository extra x86_64

-------------------------------------------------------------------------------
                             PACKAGE           2019-11-08           2019-11-11
-------------------------------------------------------------------------------
               linux316-nvidia-390xx            390.129-5            390.132-1
               linux316-nvidia-430xx             430.40-8             430.50-1
               linux316-nvidia-440xx             440.26-2             440.31-1
                  linux414-acpi_call            1.1.0-124            1.1.0-125
                   linux414-bbswitch              0.8-124              0.8-125
                linux414-broadcom-wl     6.30.223.271-124     6.30.223.271-125
                   linux414-catalyst    1:15.201.1151-124    1:15.201.1151-125
                linux414-ndiswrapper              1.62-19              1.62-20
               linux414-nvidia-340xx           340.107-83           340.107-84
               linux414-nvidia-390xx           390.129-14            390.132-2
               linux414-nvidia-418xx            418.88-12            418.88-13
               linux414-nvidia-430xx            430.40-15             430.50-2
               linux414-nvidia-435xx             435.21-9            435.21-10
               linux414-nvidia-440xx             440.26-2             440.31-2
                   linux414-nvidiabl             0.88-124             0.88-125
                      linux414-r8168           8.047.04-6           8.047.04-7
                   linux414-tp_smapi              0.43-16              0.43-17
                linux414-vhba-module           20190831-9          20190831-10
   linux414-virtualbox-guest-modules             6.0.14-3             6.0.14-4
    linux414-virtualbox-host-modules             6.0.14-3             6.0.14-4
                  linux419-acpi_call             1.1.0-72             1.1.0-73
                   linux419-bbswitch               0.8-72               0.8-73
                linux419-broadcom-wl      6.30.223.271-71      6.30.223.271-72
                   linux419-catalyst     1:15.201.1151-69     1:15.201.1151-70
                linux419-ndiswrapper              1.62-21              1.62-22
               linux419-nvidia-340xx           340.107-71           340.107-72
               linux419-nvidia-390xx           390.129-17            390.132-2
               linux419-nvidia-418xx            418.88-15            418.88-16
               linux419-nvidia-430xx            430.40-17             430.50-2
               linux419-nvidia-435xx            435.21-11            435.21-12
               linux419-nvidia-440xx             440.26-2             440.31-2
                   linux419-nvidiabl              0.88-71              0.88-72
                      linux419-r8168           8.047.04-7           8.047.04-8
                  linux419-rtl8723bu   4.3.9.3.13200.0-56   4.3.9.3.13200.0-57
                   linux419-tp_smapi              0.43-21              0.43-22
                linux419-vhba-module          20190831-11          20190831-12
   linux419-virtualbox-guest-modules             6.0.14-3             6.0.14-4
    linux419-virtualbox-host-modules             6.0.14-3             6.0.14-4
                        linux419-zfs              0.8.2-7              0.8.2-8
                   linux44-acpi_call            1.1.0-131            1.1.0-132
                    linux44-bbswitch              0.8-131              0.8-132
                 linux44-broadcom-wl     6.30.223.271-101     6.30.223.271-102
                    linux44-catalyst    1:15.201.1151-131    1:15.201.1151-132
                 linux44-ndiswrapper              1.62-13              1.62-14
                linux44-nvidia-340xx            340.107-3            340.107-4
                linux44-nvidia-390xx            390.129-9            390.132-1
                linux44-nvidia-418xx             418.88-7             418.88-8
                linux44-nvidia-430xx             430.40-9             430.50-2
                linux44-nvidia-440xx             440.26-2             440.31-1
                    linux44-nvidiabl             0.88-131             0.88-132
                       linux44-r8168           8.047.04-4           8.047.04-5
                    linux44-tp_smapi              0.43-10              0.43-11
                 linux44-vhba-module           20190831-6           20190831-7
    linux44-virtualbox-guest-modules             6.0.14-3             6.0.14-4
     linux44-virtualbox-host-modules             6.0.14-3             6.0.14-4
                         linux44-zfs              0.8.2-4              0.8.2-5
                   linux49-acpi_call            1.1.0-144            1.1.0-145
                    linux49-bbswitch              0.8-144              0.8-145
                 linux49-broadcom-wl     6.30.223.271-144     6.30.223.271-145
                    linux49-catalyst    1:15.201.1151-144    1:15.201.1151-145
                 linux49-ndiswrapper              1.62-14              1.62-15
                linux49-nvidia-340xx           340.107-63           340.107-64
                linux49-nvidia-390xx           390.129-10            390.132-2
                linux49-nvidia-418xx            418.88-10            418.88-11
                linux49-nvidia-430xx            430.40-12             430.50-2
                linux49-nvidia-435xx             435.21-6             435.21-7
                linux49-nvidia-440xx             440.26-3             440.31-2
                    linux49-nvidiabl             0.88-144             0.88-145
                       linux49-r8168           8.047.04-6           8.047.04-7
                    linux49-tp_smapi              0.43-12              0.43-13
                 linux49-vhba-module           20190831-8           20190831-9
    linux49-virtualbox-guest-modules             6.0.14-4             6.0.14-5
     linux49-virtualbox-host-modules             6.0.14-4             6.0.14-5
                         linux49-zfs              0.8.2-6              0.8.2-7
                   linux52-acpi_call             1.1.0-23                    -
                    linux52-bbswitch               0.8-23                    -
                 linux52-broadcom-wl      6.30.223.271-23                    -
                 linux52-ndiswrapper              1.62-19                    -
                linux52-nvidia-340xx           340.107-24                    -
                linux52-nvidia-390xx           390.129-18                    -
                linux52-nvidia-418xx            418.88-10                    -
                linux52-nvidia-430xx            430.40-14                    -
                linux52-nvidia-435xx            435.21-10                    -
                linux52-nvidia-440xx             440.26-1                    -
                    linux52-nvidiabl              0.88-23                    -
                       linux52-r8168           8.047.04-5                    -
                   linux52-rtl8723bu     4.3.9.3.13200-23                    -
                    linux52-tp_smapi              0.43-23                    -
                 linux52-vhba-module          20190831-10                    -
    linux52-virtualbox-guest-modules             6.0.14-1                    -
     linux52-virtualbox-host-modules             6.0.14-1                    -
                         linux52-zfs              0.8.2-5                    -
                   linux53-acpi_call             1.1.0-10             1.1.0-11
                    linux53-bbswitch               0.8-10               0.8-11
                 linux53-broadcom-wl      6.30.223.271-10      6.30.223.271-11
                 linux53-ndiswrapper              1.62-10              1.62-11
                linux53-nvidia-340xx           340.107-10           340.107-11
                linux53-nvidia-390xx           390.129-10            390.132-2
                linux53-nvidia-418xx            418.88-10            418.88-11
                linux53-nvidia-430xx            430.40-10             430.50-2
                linux53-nvidia-435xx            435.21-10            435.21-11
                linux53-nvidia-440xx             440.26-5             440.31-2
                    linux53-nvidiabl              0.88-10              0.88-11
                       linux53-r8168          8.047.04-10          8.047.04-11
                   linux53-rtl8723bu     4.3.9.3.13200-10     4.3.9.3.13200-11
                    linux53-tp_smapi              0.43-10              0.43-11
                 linux53-vhba-module          20190831-10          20190831-11
    linux53-virtualbox-guest-modules             6.0.14-6             6.0.14-7
     linux53-virtualbox-host-modules             6.0.14-6             6.0.14-7
                         linux53-zfs             0.8.2-10             0.8.2-11
                linux54-nvidia-430xx          430.40-0.10           430.50-0.7
                linux54-nvidia-440xx          440.26-0.10           440.31-0.7
                  nvidia-390xx-utils            390.129-1            390.132-1
                  nvidia-430xx-utils             430.40-2             430.50-1
                  nvidia-440xx-utils             440.26-1             440.31-1
                 opencl-nvidia-390xx            390.129-1            390.132-1
                 opencl-nvidia-430xx             430.40-2             430.50-1
                 opencl-nvidia-440xx             440.26-1             440.31-1
                              thunar            1.8.9-2.3                    -
                linux54-nvidia-390xx                    -          390.132-0.7


:: Different sync package(s) in repository extra x86_64

-------------------------------------------------------------------------------
                             PACKAGE           2019-11-08           2019-11-11
-------------------------------------------------------------------------------
                              attica             5.63.0-1             5.64.0-1
                               baloo             5.63.0-1             5.64.0-1
                            bluez-qt             5.63.0-1             5.64.0-1
                        breeze-icons             5.63.0-1             5.64.0-1
                          cifs-utils                6.8-2                6.9-1
                                cpio               2.12-4               2.13-1
                               dav1d              0.4.0-1              0.5.1-1
                 extra-cmake-modules             5.63.0-1             5.64.0-1
                                faac           1.29.9.2-1               1.30-1
                               faad2              2.8.8-1              2.9.1-1
                              ffmpeg            1:4.2.1-3            1:4.2.1-4
                frameworkintegration             5.63.0-1             5.64.0-1
                                fvwm              2.6.9-1              2.6.9-2
                                gegl             0.4.16-3             0.4.18-1
                                gimp            2.10.12-4            2.10.14-1
                             glslang          7.12.3352-1          7.13.3496-1
                  gnome-shell 1:3.34.1+7+g750c5acd3-1 1:3.34.1+12+ga43c22e3a-1
                            gnumeric            1.12.45-2            1.12.46-1
                             goffice            0.10.45-1            0.10.46-1
                             gtk-doc               1.31-2               1.32-1
                 ibus-typing-booster              2.6.8-1              2.7.2-1
                           iso-codes                4.3-1                4.4-1
                         kactivities             5.63.0-1             5.64.0-1
                   kactivities-stats             5.63.0-1             5.64.0-1
                             kapidox             5.63.0-1             5.64.0-1
                            karchive             5.63.0-1             5.64.0-1
                               kauth             5.63.0-1             5.64.0-1
                          kbookmarks             5.63.0-1             5.64.0-1
                       kcalendarcore             5.63.0-1             5.64.0-1
                            kcmutils             5.63.0-1             5.64.0-1
                             kcodecs             5.63.0-1             5.64.0-1
                         kcompletion             5.63.0-1             5.64.0-1
                             kconfig             5.63.0-1             5.64.0-1
                      kconfigwidgets             5.63.0-1             5.64.0-1
                           kcontacts           1:5.63.0-1           1:5.64.0-1
                         kcoreaddons             5.63.0-1             5.64.0-1
                              kcrash             5.63.0-1             5.64.0-1
                         kdbusaddons             5.63.0-1             5.64.0-1
                        kdeclarative             5.63.0-1             5.64.0-1
                                kded             5.63.0-1             5.64.0-1
                     kdelibs4support             5.63.0-1             5.64.0-1
                     kdesignerplugin             5.63.0-1             5.64.0-1
                               kdesu             5.63.0-1             5.64.0-1
                           kdewebkit             5.63.0-1             5.64.0-1
                              kdnssd             5.63.0-1             5.64.0-1
                           kdoctools             5.63.0-1             5.64.0-1
                          kemoticons             5.63.0-1             5.64.0-1
                       kfilemetadata             5.63.0-1             5.64.0-1
                        kglobalaccel             5.63.0-1             5.64.0-1
                          kguiaddons             5.63.0-1             5.64.0-1
                           kholidays           1:5.63.0-1           1:5.64.0-1
                               khtml             5.63.0-1             5.64.0-1
                               ki18n             5.63.0-1             5.64.0-1
                         kiconthemes             5.63.0-1             5.64.0-1
                           kidletime             5.63.0-1             5.64.0-1
                       kimageformats             5.63.0-2             5.64.0-1
                               kinit             5.63.0-1             5.64.0-1
                                 kio             5.63.0-1             5.64.0-1
                           kirigami2             5.63.0-1             5.64.0-1
                         kitemmodels             5.63.0-1             5.64.0-1
                          kitemviews             5.63.0-1             5.64.0-1
                         kjobwidgets             5.63.0-1             5.64.0-1
                                 kjs             5.63.0-1             5.64.0-1
                            kjsembed             5.63.0-1             5.64.0-1
                        kmediaplayer             5.63.0-1             5.64.0-1
                           knewstuff             5.63.0-1             5.64.0-1
                      knotifications             5.63.0-1             5.64.0-1
                       knotifyconfig             5.63.0-1             5.64.0-1
                            kpackage             5.63.0-1             5.64.0-1
                              kparts             5.63.0-1             5.64.0-1
                             kpeople             5.63.0-1             5.64.0-1
                           kplotting             5.63.0-1             5.64.0-1
                                kpty             5.63.0-1             5.64.0-1
                               kross             5.63.0-1             5.64.0-1
                             krunner             5.63.0-1             5.64.0-1
                            kservice             5.63.0-1             5.64.0-1
                         ktexteditor             5.63.0-1             5.64.0-1
                        ktextwidgets             5.63.0-1             5.64.0-1
                     kunitconversion             5.63.0-1             5.64.0-1
                             kwallet             5.63.0-1             5.64.0-1
                            kwayland             5.63.0-1             5.64.0-1
                      kwidgetsaddons             5.63.0-1             5.64.0-1
                       kwindowsystem             5.63.0-1             5.64.0-1
                             kxmlgui             5.63.0-1             5.64.0-1
                       kxmlrpcclient             5.63.0-1             5.64.0-1
                    libcdio-paranoia         10.2+2.0.0-2         10.2+2.0.1-1
                             libgpod              0.8.3-7              0.8.3-8
                    libimobiledevice  1.2.0+87+g92c5462-1  1.2.0+87+g92c5462-4
                            libiscsi             1.18.0-1             1.19.0-1
                          libplacebo             1.18.0-2             1.18.0-4
                            libplist  2.0.0+11+gec9ba8b-2              2.1.0-1
                        libpwquality              1.4.1-1              1.4.2-1
                   libva-mesa-driver             19.2.3-1             19.2.3-2
                        link-grammar              5.5.1-2              5.7.0-1
                          live-media         2019.05.12-1         2019.11.06-1
                             mariadb             10.4.9-1            10.4.10-1
                     mariadb-clients             10.4.9-1            10.4.10-1
                        mariadb-libs             10.4.9-1            10.4.10-1
                                mesa             19.2.3-1             19.2.3-2
                          mesa-vdpau             19.2.3-1             19.2.3-2
                      mkvtoolnix-cli             39.0.0-1             40.0.0-1
                      mkvtoolnix-gui             39.0.0-1             40.0.0-1
                     modemmanager-qt             5.63.0-1             5.64.0-1
                              mpg123            1.25.12-1            1.25.13-1
                          mutter 3.34.1+31+g51f7e8c4d-1 3.34.1+52+g403d8fcc6-1
                               mytop             10.4.9-1            10.4.10-1
                   networkmanager-qt             5.63.0-1             5.64.0-1
                         opencl-mesa             19.2.3-1             19.2.3-2
                        oxygen-icons           1:5.63.0-1           1:5.64.0-1
                    oxygen-icons-svg           1:5.63.0-1           1:5.64.0-1
                    plasma-framework             5.63.0-1             5.64.0-1
                              prison             5.63.0-1             5.64.0-1
                             purpose             5.63.0-1             5.64.0-1
               python-qscintilla-qt5             2.11.3-1             2.11.3-4
        python-qscintilla-qt5-common             2.11.3-1                    -
              python2-qscintilla-qt5             2.11.3-1                    -
                                qemu              4.1.0-3              4.1.0-4
                     qemu-arch-extra              4.1.0-3              4.1.0-4
                  qemu-block-gluster              4.1.0-3              4.1.0-4
                    qemu-block-iscsi              4.1.0-3              4.1.0-4
                      qemu-block-rbd              4.1.0-3              4.1.0-4
                    qemu-guest-agent              4.1.0-3              4.1.0-4
                       qemu-headless              4.1.0-3              4.1.0-4
            qemu-headless-arch-extra              4.1.0-3              4.1.0-4
                  qqc2-desktop-style             5.63.0-1             5.64.0-1
                      qscintilla-qt5             2.11.3-1             2.11.3-4
                             shaderc             2019.0-2             2019.0-3
                               solid             5.63.0-1             5.64.0-1
                              sonnet             5.63.0-1             5.64.0-1
                         syndication             5.63.0-1             5.64.0-1
                 syntax-highlighting             5.63.0-1             5.64.0-1
                            testdisk                7.0-5                7.1-1
                        threadweaver             5.63.0-1             5.64.0-1
                              thunar              1.8.9-2             1.8.10-1
                                vala             0.46.3-1             0.46.4-1
                                 vlc              3.0.8-5              3.0.8-6
                        vulkan-intel             19.2.3-1             19.2.3-2
                   vulkan-mesa-layer             19.2.3-1             19.2.3-2
                       vulkan-radeon             19.2.3-1             19.2.3-2
                    python-pyqtchart                    -             5.13.1-1


:: Different overlay package(s) in repository multilib x86_64

-------------------------------------------------------------------------------
                             PACKAGE           2019-11-08           2019-11-11
-------------------------------------------------------------------------------
            lib32-nvidia-390xx-utils            390.129-1            390.132-1
            lib32-nvidia-430xx-utils             430.40-2             430.50-1
            lib32-nvidia-440xx-utils             440.26-1             440.31-1
           lib32-opencl-nvidia-390xx            390.129-1            390.132-1
           lib32-opencl-nvidia-430xx             430.40-2             430.50-1
           lib32-opencl-nvidia-440xx             440.26-1             440.31-1


:: Different sync package(s) in repository multilib x86_64

-------------------------------------------------------------------------------
                             PACKAGE           2019-11-08           2019-11-11
-------------------------------------------------------------------------------
                      lib32-fakeroot               1.23-1               1.24-1
              lib32-gst-plugins-base             1.14.4-1             1.16.1-1
         lib32-gst-plugins-base-libs             1.14.4-1             1.16.1-1
              lib32-gst-plugins-good             1.14.4-2             1.16.1-1
                     lib32-gstreamer             1.14.4-1             1.16.1-1
                      lib32-libcroco  0.6.12+4+g9ad7287-2             0.6.13-1
                        lib32-libice              1.0.9-3             1.0.10-1
                 lib32-libjpeg-turbo              2.0.2-1              2.0.3-1
                       lib32-libmbim             1.20.0-1             1.20.2-1
                    lib32-libmm-glib             1.10.8-1             1.12.0-1
                         lib32-libnm             1.20.4-1             1.20.6-1
                        lib32-libpng             1.6.37-1             1.6.37-2
                       lib32-libssh2              1.8.2-1              1.9.0-1
                         lib32-libva              2.4.0-1              2.5.0-1
                         lib32-libxi              1.7.9-2             1.7.10-1
                       lib32-libxvmc             1.0.11-1             1.0.12-1
                     lib32-v4l-utils             1.16.2-1             1.16.7-1
                               smlnj             110.92-2             110.94-1

No issue, everything went smoothly
Yes there was an issue. I was able to resolve it myself.(Please post your solution)
Yes i am currently experiencing an issue due to the update. (Please post about it)
Check if your mirror has already synced: