Hello community,
here is another Testing Update.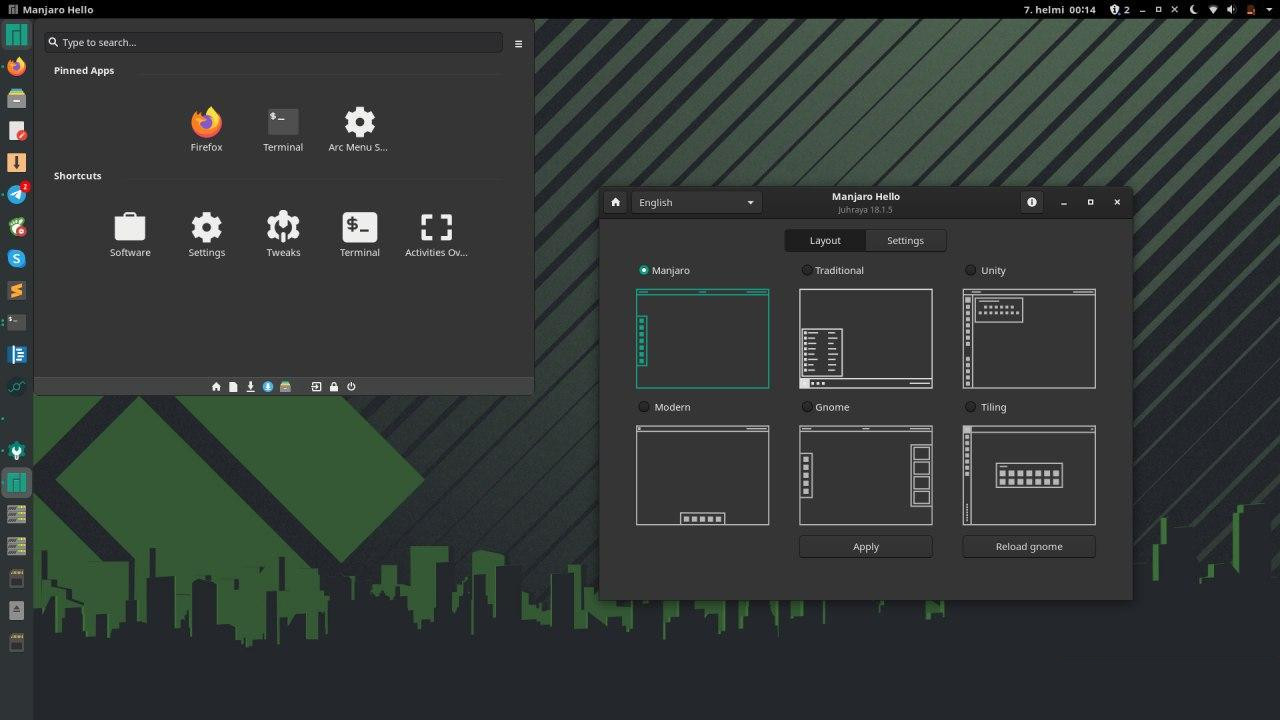 Lots of goodies are in queue for the Gnome edition ...
Some feature-updates:
Most of the Kernels got updated
KDE Apps got updated to 19.12.2
Small adjustments to the upcoming Gnome Edition
The usual upstream fixes
If you like following latest Plasma development you may also like to check out our current version of manjaro-kde-dev, which we build on a regular basis against kde-git master packages. Also check out our current 19.0-pre4 ISOs and give us the needed feedback. You might also want to give our latest spin with NX-Desktop a try ...
As always we appreciate your input and feedback for the updates.
---
Upstream notice
Arch updated their default compression to zstd. We adopted to the same standard. More and more packages will have the zst extension from now on. If you get for what ever reason an error with ZSTD not supported as archive format you can do this:
wget https://pkgbuild.com/~eschwartz/repo/x86_64-extracted/pacman-static
chmod +x pacman-static
sudo ./pacman-static -Syyu

---
Our current supported kernels
linux316 3.16.81
linux44 4.4.213
linux49 4.9.213
linux414 4.14.170
linux419 4.19.102
linux53 5.3.18 [EOL]
linux54 5.4.18
linux55 5.5.2
linux419-rt 4.19.94_rt39
linux54-rt 5.4.10_rt5
Package Changes (Fri Feb 7 09:34:20 CET 2020)
testing community x86_64: 115 new and 112 removed package(s)
testing core x86_64: 20 new and 20 removed package(s)
testing extra x86_64: 325 new and 325 removed package(s)
testing multilib x86_64: 5 new and 5 removed package(s)
:: Different overlay package(s) in repository community x86_64

-------------------------------------------------------------------------------
                             PACKAGE           2020-02-06           2020-02-07
-------------------------------------------------------------------------------
                               cpu-x3.2.4.r179.gf42551e-13.2.4.r180.g18c5027-1
                         edid-decode       r386.c29b943-1       r388.b27dc54-1
                              etcher             1.5.73-1             1.5.76-1
                            libcpuid 0.4.1.r26.g7b36063-1 0.4.1.r29.g5f6a9bf-1
                manjaro-gdm-branding           20200130-1           20200206-1
           manjaro-gnome-assets-19.0           20200130-1           20200206-1
manjaro-gnome-extension-settings-17.0          20181012-1                    -
manjaro-gnome-extension-settings-18.0          20200130-1           20200206-1
         manjaro-gnome-settings-17.0           20181012-1                    -
         manjaro-gnome-settings-18.0           20200130-1           20200206-1
         manjaro-gnome-settings-19.0           20200126-1           20200206-2


:: Different sync package(s) in repository community x86_64

-------------------------------------------------------------------------------
                             PACKAGE           2020-02-06           2020-02-07
-------------------------------------------------------------------------------
                      acpi_call-dkms            1.1.0-283            1.1.0-286
                         aircrack-ng              1.5.2-1                1.6-1
                             aws-cli             1.17.9-1            1.17.11-1
                           bleachbit                3.0-2              3.2.0-1
                               broot             0.12.2-1             0.13.0-1
                             certbot              1.1.0-1              1.2.0-1
                      certbot-apache              1.1.0-1              1.2.0-1
              certbot-dns-cloudflare              1.1.0-1              1.2.0-1
                certbot-dns-cloudxns              1.1.0-1              1.2.0-1
            certbot-dns-digitalocean              1.1.0-1              1.2.0-1
                certbot-dns-dnsimple              1.1.0-1              1.2.0-1
             certbot-dns-dnsmadeeasy              1.1.0-1              1.2.0-1
                  certbot-dns-gehirn              1.1.0-1              1.2.0-1
                  certbot-dns-google              1.1.0-1              1.2.0-1
                  certbot-dns-linode              1.1.0-1              1.2.0-1
                  certbot-dns-luadns              1.1.0-1              1.2.0-1
                   certbot-dns-nsone              1.1.0-1              1.2.0-1
                     certbot-dns-ovh              1.1.0-1              1.2.0-1
                 certbot-dns-rfc2136              1.1.0-1              1.2.0-1
                 certbot-dns-route53              1.1.0-1              1.2.0-1
             certbot-dns-sakuracloud              1.1.0-1              1.2.0-1
                       certbot-nginx              1.1.0-1              1.2.0-1
                              choqok              1.6.0-2              1.7.0-1
                             clojure             1.10.1-3             1.10.1-4
                             cockpit              211.1-1                212-1
                   cockpit-dashboard              211.1-1                212-1
                         cockpit-pcp              211.1-1                212-1
                      cockpit-podman                 12-1                 13-1
                              cython            0.29.14-4            0.29.15-1
                             cython2            0.29.14-4            0.29.15-1
                                dino              0.1.0-2              0.1.0-3
                              erlang               22.2-1             22.2.4-1
                          erlang-nox               22.2-1             22.2.4-1
                     erlang-unixodbc               22.2-1             22.2.4-1
                 firefox-dark-reader              4.8.8-1              4.8.9-1
               firefox-ublock-origin             1.24.2-1             1.24.4-1
                                gqrx             2.11.5-9             2.12.1-1
                             grafana              6.6.0-1              6.6.1-1
                                grpc             1.26.0-4             1.27.0-2
                            grpc-cli             1.26.0-4             1.27.0-2
                            gsignond              1.2.0-2              1.2.0-3
                               gummi            2:0.8.0-1            2:0.8.1-1
                      home-assistant            0.104.3-1            0.105.2-1
                                hugo             0.63.2-1             0.64.0-1
                              hwinfo              21.68-1              21.68-2
                                josm              15628-1              15806-1
                                 k9s             0.13.6-1             0.13.8-1
                          libalkimia              8.0.2-2              8.0.3-1
                              libasr              1.0.3-1              1.0.4-1
                           libmysofa              0.9.1-1                1.0-1
                           libx86emu                2.4-1                3.1-1
                                nrpe              3.2.1-3              4.0.0-1
                          obs-studio             24.0.5-2             24.0.6-1
                               opera       66.0.3515.44-1       66.0.3515.72-1
                            opusfile               0.11-1               0.11-2
                            pageedit              1.0.0-1              1.1.0-1
                     parity-ethereum              2.7.1-1              2.7.2-1
         perl-alien-base-modulebuild               1.08-1               1.10-1
                    perl-net-dns-sec               1.14-1               1.15-1
                            php-grpc             1.26.0-4             1.27.0-2
                         php-mongodb              1.7.0-1              1.7.1-1
                           plan9port           20190923-1           20200205-1
                         python-acme              1.1.0-1              1.2.0-1
                        python-boto3             1.11.9-1            1.11.11-1
                     python-botocore             1.14.9-1            1.14.11-1
                       python-docker              4.1.0-3              4.2.0-1
                  python-flask-babel             0.12.2-4              1.0.0-1
                       python-grpcio             1.26.0-4             1.27.0-2
                        python-jieba               0.42-1             0.42.1-1
                  python-marshmallow              3.3.0-1              3.4.0-1
               python-musicbrainzngs                0.6-6              0.7.1-1
              python-mysql-connector             8.0.18-3             8.0.19-2
                      python-pexpect              4.7.0-3              4.8.0-1
            python-typing_extensions              3.7.4-4            3.7.4.1-1
                     python-waitress              1.4.2-1              1.4.3-1
               python-wsgi-intercept              1.9.1-1              1.9.2-1
                     python2-pexpect              4.7.0-3              4.8.0-1
                    python2-waitress              1.4.2-1              1.4.3-1
                         rawtherapee              1:5.7-3              1:5.8-1
          riscv64-linux-gnu-binutils             2.33.1-1               2.34-1
                              rspamd                2.2-1                2.3-1
                             shotcut           19.12.23-1           19.12.31-1
                               sigil              1.0.0-1              1.1.0-1
                           skk-jisyo           20191208-1           20200202-1
                                 snd               20.0-1               20.1-1
                            soapyuhd              0.3.4-6              0.3.4-7
                           sqlcipher              4.2.0-1              4.3.0-1
                                sway              1:1.4-6              1:1.4-7
                           syncthing              1.3.3-1              1.3.4-1
                  syncthing-relaysrv              1.3.3-1              1.3.4-1
                               tdlib              0.5.0-3              0.5.0-4
                         tidalcycles              1.4.7-5              1.4.8-1
                                 tlp              1.3.0-2              1.3.1-1
                             tlp-rdw              1.3.0-2              1.3.1-1
                  ttf-jetbrains-mono              1.0.1-1              1.0.2-1
                                 upx               3.95-1               3.96-1
         v2ray-domain-list-community       202002011020-1       202002051516-1
                         v2ray-geoip       202002040102-1       202002050239-1
                              viking                1.7-3                1.8-1
                                yarn             1.21.1-1             1.22.0-1
                               zcash              2.1.1-2            2.1.1_1-1
                                crun                    -               0.12-1
                            easyjson                    -              0.7.0-1
                       python-snappy                    -              0.5.4-1
                              srslte                    -              19.12-1
                         srslte-avx2                    -              19.12-1


:: Different overlay package(s) in repository core x86_64

-------------------------------------------------------------------------------
                             PACKAGE           2020-02-06           2020-02-07
-------------------------------------------------------------------------------
                       amd-ucode   20200204.c2df39a-1 20200206.r1574.5351afe-1
                  linux-firmware   20200204.c2df39a-1 20200206.r1574.5351afe-1
                            linux414           4.14.169-1           4.14.170-1
                    linux414-headers           4.14.169-1           4.14.170-1
                            linux419           4.19.101-1           4.19.102-1
                    linux419-headers           4.19.101-1           4.19.102-1
                             linux44            4.4.212-1            4.4.213-1
                     linux44-headers            4.4.212-1            4.4.213-1
                             linux49            4.9.212-1            4.9.213-1
                     linux49-headers            4.9.212-1            4.9.213-1
                             linux54             5.4.17-1             5.4.18-1
                     linux54-headers             5.4.17-1             5.4.18-1


:: Different sync package(s) in repository core x86_64

-------------------------------------------------------------------------------
                             PACKAGE           2020-02-06           2020-02-07
-------------------------------------------------------------------------------
                               bison                3.5-1              3.5.1-1
                              gnutls           3.6.11.1-1             3.6.12-1
                            iana-etc           20191231-1           20200117-1
                            libtasn1             4.15.0-1             4.16.0-1
                                make              4.2.1-4                4.3-1
                                nspr               4.24-1               4.25-1
                              s-nail            14.9.16-2            14.9.17-1
                              shadow                4.8-1              4.8.1-1


:: Different overlay package(s) in repository extra x86_64

-------------------------------------------------------------------------------
                             PACKAGE           2020-02-06           2020-02-07
-------------------------------------------------------------------------------
                  linux414-acpi_call            1.1.0-141            1.1.0-142
                   linux414-bbswitch              0.8-141              0.8-142
                linux414-broadcom-wl     6.30.223.271-141     6.30.223.271-142
                linux414-ndiswrapper              1.62-36              1.62-37
               linux414-nvidia-340xx           340.108-10           340.108-11
               linux414-nvidia-390xx           390.132-18           390.132-19
               linux414-nvidia-430xx            430.64-16            430.64-17
               linux414-nvidia-435xx            435.21-26            435.21-27
               linux414-nvidia-440xx             440.59-1             440.59-3
                   linux414-nvidiabl             0.88-141             0.88-142
                      linux414-r8168           8.048.00-4           8.048.00-5
                  linux414-rt3562sta       2.4.1.1_r4-141       2.4.1.1_r4-142
                   linux414-tp_smapi              0.43-33              0.43-34
                linux414-vhba-module           20200106-4           20200106-5
   linux414-virtualbox-guest-modules              6.1.2-5              6.1.2-6
    linux414-virtualbox-host-modules              6.1.2-5              6.1.2-6
                        linux414-zfs              0.8.3-3              0.8.3-4
                  linux419-acpi_call             1.1.0-91             1.1.0-92
                   linux419-bbswitch               0.8-91               0.8-92
                linux419-broadcom-wl      6.30.223.271-90      6.30.223.271-91
                linux419-ndiswrapper              1.62-40              1.62-41
               linux419-nvidia-340xx           340.108-11           340.108-12
               linux419-nvidia-390xx           390.132-20           390.132-21
               linux419-nvidia-418xx           418.113-19           418.113-20
               linux419-nvidia-430xx            430.64-19            430.64-20
               linux419-nvidia-435xx            435.21-30            435.21-31
               linux419-nvidia-440xx             440.59-1             440.59-2
                   linux419-nvidiabl              0.88-90              0.88-91
                      linux419-r8168           8.048.00-5           8.048.00-6
                  linux419-rtl8723bu           20200126-2           20200126-3
                   linux419-tp_smapi              0.43-40              0.43-41
                linux419-vhba-module           20200106-5           20200106-6
   linux419-virtualbox-guest-modules              6.1.2-6              6.1.2-7
    linux419-virtualbox-host-modules              6.1.2-6              6.1.2-7
                        linux419-zfs              0.8.3-4              0.8.3-5
                   linux44-acpi_call            1.1.0-142            1.1.0-143
                    linux44-bbswitch              0.8-142              0.8-143
                 linux44-broadcom-wl     6.30.223.271-112     6.30.223.271-113
                 linux44-ndiswrapper              1.62-24              1.62-25
                linux44-nvidia-340xx            340.108-6            340.108-7
                linux44-nvidia-390xx           390.132-12           390.132-13
                linux44-nvidia-418xx           418.113-11           418.113-12
                linux44-nvidia-430xx            430.64-10            430.64-11
                linux44-nvidia-435xx            435.21-12            435.21-13
                linux44-nvidia-440xx             440.59-1             440.59-3
                    linux44-nvidiabl             0.88-142             0.88-143
                       linux44-r8168           8.048.00-3           8.048.00-4
                    linux44-tp_smapi              0.43-21              0.43-22
                 linux44-vhba-module           20200106-3           20200106-4
    linux44-virtualbox-guest-modules              6.1.2-3              6.1.2-4
     linux44-virtualbox-host-modules              6.1.2-3              6.1.2-4
                         linux44-zfs              0.8.3-1              0.8.3-3
                   linux49-acpi_call            1.1.0-156            1.1.0-157
                    linux49-bbswitch              0.8-156              0.8-157
                 linux49-broadcom-wl     6.30.223.271-156     6.30.223.271-157
                 linux49-ndiswrapper              1.62-26              1.62-27
                linux49-nvidia-340xx            340.108-6            340.108-7
                linux49-nvidia-390xx           390.132-13           390.132-14
                linux49-nvidia-418xx           418.113-12           418.113-13
                linux49-nvidia-430xx            430.64-11            430.64-12
                linux49-nvidia-435xx            435.21-18            435.21-19
                linux49-nvidia-440xx             440.59-1             440.59-2
                    linux49-nvidiabl             0.88-156             0.88-157
                       linux49-r8168           8.048.00-3           8.048.00-4
                    linux49-tp_smapi              0.43-24              0.43-25
                 linux49-vhba-module           20200106-3           20200106-4
    linux49-virtualbox-guest-modules              6.1.2-3              6.1.2-4
     linux49-virtualbox-host-modules              6.1.2-3              6.1.2-4
                         linux49-zfs              0.8.3-2              0.8.3-3
                   linux54-acpi_call             1.1.0-20             1.1.0-21
                    linux54-bbswitch               0.8-20               0.8-21
                 linux54-broadcom-wl      6.30.223.271-20      6.30.223.271-21
                 linux54-ndiswrapper              1.62-20              1.62-21
                linux54-nvidia-340xx           340.108-12           340.108-13
                linux54-nvidia-390xx           390.132-20           390.132-21
                linux54-nvidia-418xx           418.113-20           418.113-21
                linux54-nvidia-430xx            430.64-20            430.64-21
                linux54-nvidia-435xx            435.21-20            435.21-21
                linux54-nvidia-440xx             440.59-1             440.59-2
                    linux54-nvidiabl              0.88-20              0.88-21
                       linux54-r8168           8.048.00-5           8.048.00-6
                   linux54-rtl8723bu           20200126-2           20200126-3
                    linux54-tp_smapi              0.43-20              0.43-21
                 linux54-vhba-module           20200106-5           20200106-6
    linux54-virtualbox-guest-modules              6.1.2-6              6.1.2-7
     linux54-virtualbox-host-modules              6.1.2-6              6.1.2-7
                         linux54-zfs              0.8.3-4              0.8.3-5
                          webkit2gtk           2.26.2-2.1                    -
                           boxit-arm                    -              2.1.3-1


:: Different sync package(s) in repository extra x86_64

-------------------------------------------------------------------------------
                             PACKAGE           2020-02-06           2020-02-07
-------------------------------------------------------------------------------
                             akonadi            19.12.1-2            19.12.2-1
                    akonadi-calendar            19.12.1-1            19.12.2-1
              akonadi-calendar-tools            19.12.1-1            19.12.2-1
                    akonadi-contacts            19.12.1-1            19.12.2-1
               akonadi-import-wizard            19.12.1-1            19.12.2-1
                        akonadi-mime            19.12.1-1            19.12.2-1
                       akonadi-notes            19.12.1-1            19.12.2-1
                      akonadi-search            19.12.1-1            19.12.2-1
                      akonadiconsole            19.12.1-1            19.12.2-1
                           akregator            19.12.1-1            19.12.2-1
                            analitza            19.12.1-1            19.12.2-1
                                 ark            19.12.1-1            19.12.2-1
                          artikulate            19.12.1-1            19.12.2-1
                         audiocd-kio            19.12.1-1            19.12.2-1
                        avogadrolibs             1.92.1-1             1.93.0-1
                       baloo-widgets            19.12.1-1            19.12.2-1
                             blinken            19.12.1-1            19.12.2-1
                              bomber            19.12.1-1            19.12.2-1
                                bovo            19.12.1-1            19.12.2-1
                     calendarsupport            19.12.1-1            19.12.2-1
                              cantor            19.12.1-1            19.12.2-1
                            cervisia            19.12.1-1            19.12.2-1
                               cmake             3.16.3-1             3.16.4-1
                             dolphin            19.12.1-1            19.12.2-1
                     dolphin-plugins            19.12.1-1            19.12.2-1
                              dragon            19.12.1-1            19.12.2-1
                               elisa            19.12.1-1            19.12.2-1
                          eventviews            19.12.1-1            19.12.2-1
                        ffmpegthumbs            19.12.1-1            19.12.2-1
                           filelight            19.12.1-1            19.12.2-1
                             flatpak              1.6.0-1              1.6.1-1
                  foomatic-db-engine           4:4.0.13-1         4:20200206-1
                           granatier            19.12.1-1            19.12.2-1
                     grantlee-editor            19.12.1-1            19.12.2-1
                       grantleetheme            19.12.1-1            19.12.2-1
                            gwenview            19.12.1-1            19.12.2-1
                     incidenceeditor            19.12.1-1            19.12.2-1
                                 juk            19.12.1-1            19.12.2-1
                                 k3b          1:19.12.1-1          1:19.12.2-1
               kaccounts-integration            19.12.1-1            19.12.2-1
                 kaccounts-providers            19.12.1-2            19.12.2-1
                        kaddressbook            19.12.1-1            19.12.2-1
                             kajongg            19.12.1-1            19.12.2-1
                              kalarm            19.12.1-1            19.12.2-1
                           kalarmcal            19.12.1-1            19.12.2-1
                            kalgebra            19.12.1-1            19.12.2-1
                             kalzium            19.12.1-1            19.12.2-1
                              kamera            19.12.1-1            19.12.2-1
                              kamoso            19.12.1-1            19.12.2-1
                            kanagram            19.12.1-1            19.12.2-1
                              kapman            19.12.1-1            19.12.2-1
                        kapptemplate            19.12.1-1            19.12.2-1
                                kate            19.12.1-1            19.12.2-1
                             katomic            19.12.1-1            19.12.2-1
                             kbackup            19.12.1-1            19.12.2-1
                           kblackbox            19.12.1-1            19.12.2-1
                             kblocks            19.12.1-1            19.12.2-1
                               kblog            19.12.1-1            19.12.2-1
                             kbounce            19.12.1-1            19.12.2-1
                           kbreakout            19.12.1-1            19.12.2-1
                              kbruch            19.12.1-1            19.12.2-1
                         kcachegrind            19.12.1-1            19.12.2-1
                  kcachegrind-common            19.12.1-1            19.12.2-1
                               kcalc            19.12.1-1            19.12.2-1
                           kcalutils            19.12.1-1            19.12.2-1
                         kcharselect            19.12.1-1            19.12.2-1
                       kcolorchooser            19.12.1-1            19.12.2-1
                               kcron            19.12.1-1            19.12.2-1
                                kdav            19.12.1-1            19.12.2-1
                     kde-dev-scripts            19.12.1-1            19.12.2-1
                       kde-dev-utils            19.12.1-1            19.12.2-1
                      kdebugsettings            19.12.1-1            19.12.2-1
                         kdeedu-data            19.12.1-1            19.12.2-1
              kdegraphics-mobipocket            19.12.1-1            19.12.2-1
            kdegraphics-thumbnailers            19.12.1-1            19.12.2-1
              kdenetwork-filesharing            19.12.1-1            19.12.2-1
                            kdenlive            19.12.1-3            19.12.2-1
                       kdepim-addons            19.12.1-1            19.12.2-1
                    kdepim-apps-libs            19.12.1-1            19.12.2-1
                      kdepim-runtime            19.12.1-1            19.12.2-1
                    kdesdk-kioslaves            19.12.1-1            19.12.2-1
                 kdesdk-thumbnailers            19.12.1-1            19.12.2-1
                                 kdf            19.12.1-1            19.12.2-1
                             kdialog            19.12.1-1            19.12.2-1
                            kdiamond            19.12.1-1            19.12.2-1
                      keditbookmarks            19.12.1-1            19.12.2-1
                               kfind            19.12.1-1            19.12.2-1
                             kfloppy            19.12.1-1            19.12.2-1
                         kfourinline            19.12.1-1            19.12.2-1
                          kgeography            19.12.1-1            19.12.2-1
                                kget            19.12.1-1            19.12.2-1
                         kgoldrunner            19.12.1-1            19.12.2-1
                                kgpg            19.12.1-1            19.12.2-1
                            khangman            19.12.1-1            19.12.2-1
                         khelpcenter            19.12.1-1            19.12.2-1
                 kidentitymanagement            19.12.1-1            19.12.2-1
                                 kig            19.12.1-2            19.12.2-1
                                kigo            19.12.1-1            19.12.2-1
                            killbots            19.12.1-1            19.12.2-1
                     kimagemapeditor            19.12.1-1            19.12.2-1
                               kimap            19.12.1-1            19.12.2-1
                          kio-extras            19.12.1-1            19.12.2-1
                        kipi-plugins            19.12.1-1            19.12.2-1
                    kirigami-gallery            19.12.1-1            19.12.2-1
                              kiriki            19.12.1-1            19.12.2-1
                               kiten            19.12.1-1            19.12.2-1
                          kitinerary            19.12.1-3            19.12.2-1
                        kjumpingcube            19.12.1-1            19.12.2-1
                               kldap            19.12.1-1            19.12.2-1
                           kleopatra            19.12.1-1            19.12.2-1
                            klettres            19.12.1-1            19.12.2-1
                            klickety            19.12.1-1            19.12.2-1
                              klines            19.12.1-1            19.12.2-1
                                kmag            19.12.1-1            19.12.2-1
                           kmahjongg            19.12.1-1            19.12.2-1
                               kmail            19.12.1-1            19.12.2-1
                kmail-account-wizard            19.12.1-1            19.12.2-1
                      kmailtransport            19.12.1-1            19.12.2-1
                               kmbox            19.12.1-1            19.12.2-1
                               kmime            19.12.1-1            19.12.2-1
                              kmines            19.12.1-1            19.12.2-1
                                kmix            19.12.1-1            19.12.2-1
                          kmousetool            19.12.1-1            19.12.2-1
                              kmouth            19.12.1-1            19.12.2-1
                              kmplot            19.12.1-1            19.12.2-1
                        knavalbattle            19.12.1-1            19.12.2-1
                            knetwalk            19.12.1-1            19.12.2-1
                             knights            19.12.1-1            19.12.2-1
                              knotes            19.12.1-1            19.12.2-1
                                kolf            19.12.1-1            19.12.2-1
                           kollision            19.12.1-1            19.12.2-1
                         kolourpaint            19.12.1-1            19.12.2-1
                             kompare            19.12.1-1            19.12.2-1
                           konqueror            19.12.1-1            19.12.2-1
                            konquest            19.12.1-1            19.12.2-1
                             konsole            19.12.1-1            19.12.2-1
                             kontact            19.12.1-1            19.12.2-1
                    kontactinterface            19.12.1-1            19.12.2-1
                              kopete            19.12.1-1            19.12.2-1
                          korganizer            19.12.1-1            19.12.2-1
                           kpatience            19.12.1-1            19.12.2-1
                        kpimtextedit            19.12.1-1            19.12.2-1
                             kpkpass            19.12.1-1            19.12.2-1
                      kqtquickcharts            19.12.1-1            19.12.2-1
                                krdc            19.12.1-1            19.12.2-1
                            kreversi            19.12.1-1            19.12.2-1
                                krfb            19.12.1-1            19.12.2-1
                  kross-interpreters            19.12.1-1            19.12.2-1
                              kruler            19.12.1-1            19.12.2-1
                             kshisen            19.12.1-1            19.12.2-1
                               ksirk            19.12.1-1            19.12.2-1
                               ksmtp            19.12.1-1            19.12.2-1
                          ksnakeduel            19.12.1-1            19.12.2-1
                          kspaceduel            19.12.1-1            19.12.2-1
                            ksquares            19.12.1-1            19.12.2-1
                             ksudoku            19.12.1-1            19.12.2-1
                          ksystemlog            19.12.1-1            19.12.2-1
                            kteatime            19.12.1-1            19.12.2-1
                              ktimer            19.12.1-1            19.12.2-1
                               ktnef            19.12.1-1            19.12.2-1
                              ktouch            19.12.1-1            19.12.2-1
                          ktuberling            19.12.1-1            19.12.2-1
                             kturtle            19.12.1-1            19.12.2-1
                             kubrick            19.12.1-1            19.12.2-1
                       kuserfeedback             0.9.90-1              1.0.0-1
                      kwalletmanager            19.12.1-1            19.12.2-1
                               kwave            19.12.1-1            19.12.2-1
                           kwordquiz            19.12.1-1            19.12.2-1
                              kwrite            19.12.1-1            19.12.2-1
                          libakonadi            19.12.1-2            19.12.2-1
                              libcdr              0.1.5-3              0.1.6-1
                         libgravatar            19.12.1-1            19.12.2-1
                            libkcddb            19.12.1-1            19.12.2-1
                     libkcompactdisc            19.12.1-1            19.12.2-1
                           libkdcraw            19.12.1-1            19.12.2-1
                         libkdegames            19.12.1-1            19.12.2-1
                           libkdepim            19.12.1-1            19.12.2-1
                  libkeduvocdocument            19.12.1-1            19.12.2-1
                           libkexiv2            19.12.1-1            19.12.2-1
                            libkgapi            19.12.1-1            19.12.2-1
                          libkgeomap            19.12.1-1            19.12.2-1
                             libkipi            19.12.1-1            19.12.2-1
                             libkleo            19.12.1-1            19.12.2-1
                        libkmahjongg            19.12.1-1            19.12.2-1
                     libkomparediff2            19.12.1-1            19.12.2-1
                            libksane            19.12.1-1            19.12.2-1
                           libksieve            19.12.1-1            19.12.2-1
                            lokalize            19.12.1-1            19.12.2-1
                               lskat            19.12.1-1            19.12.2-1
                          mailcommon            19.12.1-1            19.12.2-1
                        mailimporter            19.12.1-1            19.12.2-1
                              marble            19.12.1-1            19.12.2-1
                       marble-common            19.12.1-1            19.12.2-1
                           marble-qt            19.12.1-1            19.12.2-1
                       mbox-importer            19.12.1-1            19.12.2-1
                          messagelib            19.12.1-1            19.12.2-1
                              minuet            19.12.1-1            19.12.2-1
                              okular            19.12.1-2            19.12.2-1
                              openal             1.20.1-1             1.20.1-2
                     openal-examples             1.20.1-1             1.20.1-2
                            palapeli            19.12.1-1            19.12.2-1
                              parley            19.12.1-1            19.12.2-1
                               picmi            19.12.1-1            19.12.2-1
                   pim-data-exporter            19.12.1-1            19.12.2-1
                    pim-sieve-editor            19.12.1-1            19.12.2-1
                           pimcommon            19.12.1-1            19.12.2-1
                               poxml            19.12.1-1            19.12.2-1
                       print-manager            19.12.1-1            19.12.2-1
                            protobuf             3.11.2-1             3.11.3-1
                     python-protobuf             3.11.2-1             3.11.3-1
                         qcachegrind            19.12.1-1            19.12.2-1
                           qtcreator             4.11.0-4             4.11.1-1
                                rocs            19.12.1-1            19.12.2-1
            signon-kwallet-extension            19.12.1-1            19.12.2-1
                           spectacle            19.12.1-1            19.12.2-1
                                step            19.12.1-1            19.12.2-1
                             svgpart            19.12.1-1            19.12.2-1
                             sweeper            19.12.1-1            19.12.2-1
          telepathy-kde-accounts-kcm            19.12.1-1            19.12.2-1
              telepathy-kde-approver            19.12.1-1            19.12.2-1
          telepathy-kde-auth-handler            19.12.1-1            19.12.2-1
               telepathy-kde-call-ui            19.12.1-1            19.12.2-1
      telepathy-kde-common-internals            19.12.1-1            19.12.2-1
          telepathy-kde-contact-list            19.12.1-1            19.12.2-1
        telepathy-kde-contact-runner            19.12.1-1            19.12.2-1
       telepathy-kde-desktop-applets            19.12.1-1            19.12.2-1
  telepathy-kde-filetransfer-handler            19.12.1-1            19.12.2-1
    telepathy-kde-integration-module            19.12.1-1            19.12.2-1
             telepathy-kde-send-file            19.12.1-1            19.12.2-1
               telepathy-kde-text-ui            19.12.1-1            19.12.2-1
                            umbrello            19.12.1-3            19.12.2-1
                      wireguard-dkms       0.0.20200128-1       0.0.20200205-1
                     wireguard-tools       1.0.20200121-1       1.0.20200206-2
                    xkeyboard-config               2.28-1               2.29-1
                               xterm                352-1                353-1
                             yakuake            19.12.1-1            19.12.2-1
                    zeroconf-ioslave            19.12.1-1            19.12.2-1


:: Different sync package(s) in repository multilib x86_64

-------------------------------------------------------------------------------
                             PACKAGE           2020-02-06           2020-02-07
-------------------------------------------------------------------------------
              lib32-fontconfig 2:2.13.91+24+g75eadca-1 2:2.13.91+24+g75eadca-2
                          lib32-gtk3            3.24.13-1            3.24.13-2
                      lib32-libtasn1             4.15.0-1             4.16.0-1
                          lib32-nspr               4.24-1               4.25-1
                   lib32-openssl-1.0            1.0.2.t-1            1.0.2.u-1


No issue, everything went smoothly
Yes there was an issue. I was able to resolve it myself.(Please post your solution)
Yes i am currently experiencing an issue due to the update. (Please post about it)
Check if your mirror has already synced: