Hello community,
here is another Testing Update for you: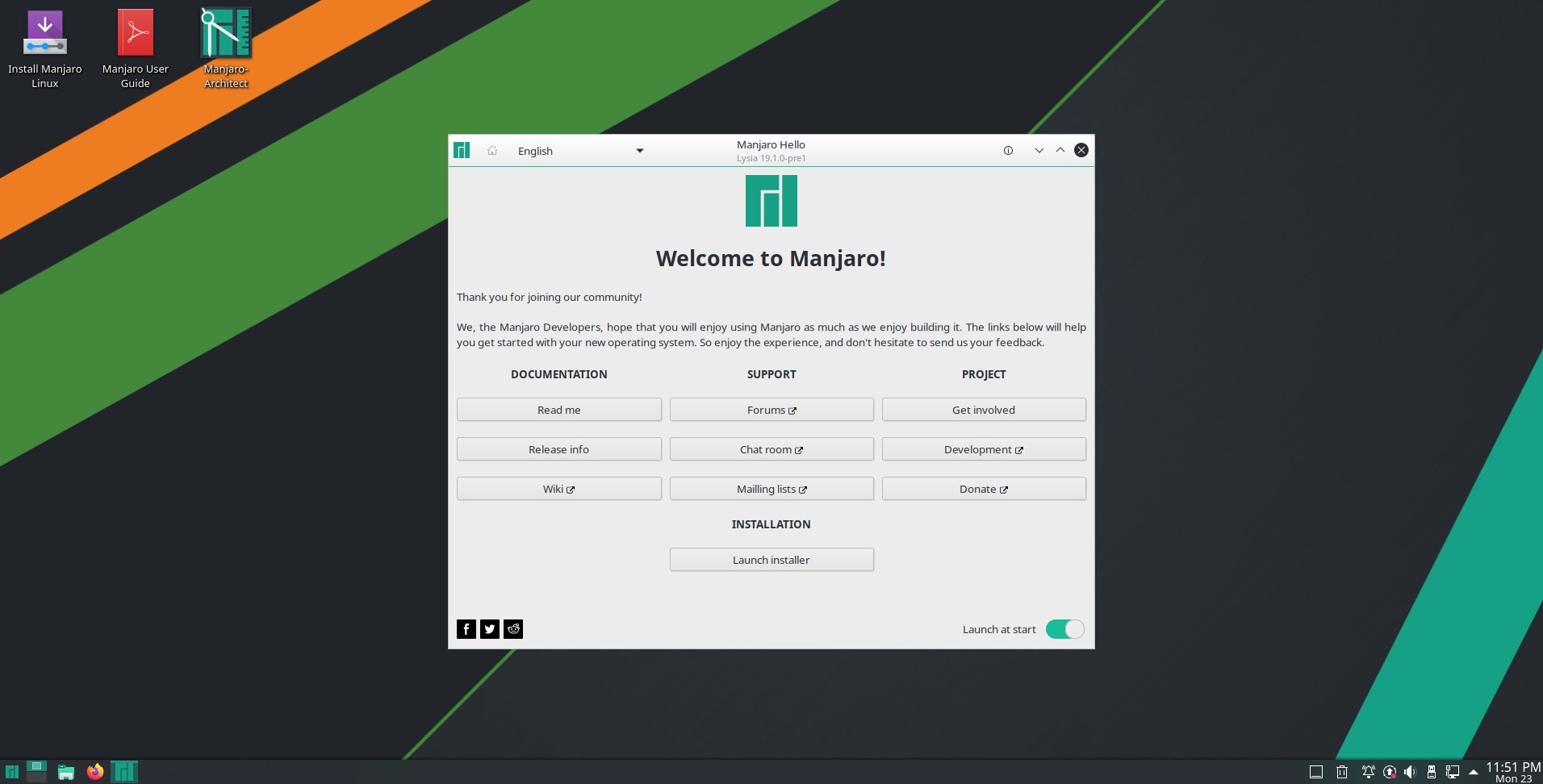 Give our first preview of KDE 19.1 Lysia release a try-out!
Some feature-updates:
Some of our Kernels got updated
We renewed Firefox-Dev and Palemoon
More package updates for ukui
Pamac got some more fixes
Haskell and Python updates
If you like following latest Plasma development you may also like to check out our current version of manjaro-kde-dev, which we build on a regular basis against kde-git master packages. Also check out our current 19.0.2 ISOs and give us the needed feedback. You might also want to give our latest spin with NX-Desktop a try ...
As always we appreciate your input and feedback for the updates.
---
Upstream notice
Arch updated their default compression to zstd. We adopted to the same standard. More and more packages will have the zst extension from now on. If you get for what ever reason an error with ZSTD not supported as archive format you can do this:
sudo pacman -Syy
sudo pacman -S pacman-static
sudo pacman-static -Syyu

---
Our current supported kernels
linux316 3.16.82
linux44 4.4.217
linux49 4.9.217
linux414 4.14.174
linux419 4.19.113
linux54 5.4.28
linux55 5.5.13
linux56 5.6-rc7
linux419-rt 4.19.106_rt45
linux54-rt 5.4.26_rt17
Package Changes (Thu Mar 26 06:02:06 CET 2020)
testing community x86_64: 380 new and 372 removed package(s)
testing core x86_64: 11 new and 11 removed package(s)
testing extra x86_64: 97 new and 97 removed package(s)
testing multilib x86_64: 1 new and 1 removed package(s)
:: Different overlay package(s) in repository community x86_64

-------------------------------------------------------------------------------
                             PACKAGE           2020-03-23           2020-03-26
-------------------------------------------------------------------------------
                               cpu-x3.2.4.r193.g73fe01e-43.2.4.r193.g73fe01e-5
                              etcher             1.5.79-1             1.5.80-1
                kdeplasma-addons-git5.18.80.r8314.g8d5e1a0b5-15.18.80.r8320.g7eaad09e1-1
                             kio-git5.69.0.r3840.g86832ca0-15.69.0.r3841.g50bc53ff-1
                     kitemmodels-git5.69.0.r419.gecdf87f-15.69.0.r420.g3775404-1
                      knetattach-git5.18.80.r7502.gfff5c0487-15.18.80.r7503.g38a874ab8-1
                       ksysguard-git5.18.80.r3236.g404ea7e9-15.18.80.r3237.g00f522a7-1
                    libksysguard-git5.18.80.r1777.g599270f-15.18.80.r1778.g7a13a67-1
                    matcha-gtk-theme           20200322-1           20200324-1
                        palemoon-bin             28.8.4-1           28.9.0.1-1
                    palemoon-i18n-ar             28.8.4-1           28.9.0.1-1
                    palemoon-i18n-bg             28.8.4-1           28.9.0.1-1
                    palemoon-i18n-cs             28.8.4-1           28.9.0.1-1
                    palemoon-i18n-da             28.8.4-1           28.9.0.1-1
                    palemoon-i18n-de             28.8.4-1           28.9.0.1-1
                    palemoon-i18n-el             28.8.4-1           28.9.0.1-1
                 palemoon-i18n-en-gb             28.8.4-1           28.9.0.1-1
                 palemoon-i18n-es-ar             28.8.4-1           28.9.0.1-1
                 palemoon-i18n-es-es             28.8.4-1           28.9.0.1-1
                 palemoon-i18n-es-mx             28.8.4-1           28.9.0.1-1
                    palemoon-i18n-fi             28.8.4-1           28.9.0.1-1
                    palemoon-i18n-fr             28.8.4-1           28.9.0.1-1
                    palemoon-i18n-gl             28.8.4-1           28.9.0.1-1
                    palemoon-i18n-hr             28.8.4-1           28.9.0.1-1
                    palemoon-i18n-hu             28.8.4-1           28.9.0.1-1
                    palemoon-i18n-id             28.8.4-1           28.9.0.1-1
                    palemoon-i18n-is             28.8.4-1           28.9.0.1-1
                    palemoon-i18n-it             28.8.4-1           28.9.0.1-1
                    palemoon-i18n-ja             28.8.4-1           28.9.0.1-1
                    palemoon-i18n-kn             28.8.4-1           28.9.0.1-1
                    palemoon-i18n-ko             28.8.4-1           28.9.0.1-1
                    palemoon-i18n-nl             28.8.4-1           28.9.0.1-1
                    palemoon-i18n-pl             28.8.4-1           28.9.0.1-1
                 palemoon-i18n-pt-br             28.8.4-1           28.9.0.1-1
                 palemoon-i18n-pt-pt             28.8.4-1           28.9.0.1-1
                    palemoon-i18n-ro             28.8.4-1           28.9.0.1-1
                    palemoon-i18n-ru             28.8.4-1           28.9.0.1-1
                    palemoon-i18n-sk             28.8.4-1           28.9.0.1-1
                    palemoon-i18n-sl             28.8.4-1           28.9.0.1-1
                    palemoon-i18n-sr             28.8.4-1           28.9.0.1-1
                 palemoon-i18n-sv-se             28.8.4-1           28.9.0.1-1
                    palemoon-i18n-tl             28.8.4-1           28.9.0.1-1
                    palemoon-i18n-tr             28.8.4-1           28.9.0.1-1
                    palemoon-i18n-uk             28.8.4-1           28.9.0.1-1
                    palemoon-i18n-vi             28.8.4-1           28.9.0.1-1
                 palemoon-i18n-zh-cn             28.8.4-1           28.9.0.1-1
                 palemoon-i18n-zh-tw             28.8.4-1           28.9.0.1-1
                  plasma-desktop-git5.18.80.r7502.gfff5c0487-15.18.80.r7503.g38a874ab8-1
                plasma-framework-git5.69.0.r15389.g049978008-15.69.0.r15390.gf363a06ae-1
          plasma-wayland-session-git5.18.80.r8824.g86fd0f2f7-15.18.80.r8834.gdceb791c0-1
                plasma-workspace-git5.18.80.r8824.g86fd0f2f7-15.18.80.r8834.gdceb791c0-1
                          sonnet-git5.69.0.r522.g81fd758-15.69.0.r523.g12d1e20-1
             vte-notification-common             0.58.2-1             0.60.0-2
                     diffuse-manjaro                    -              0.4.8-1
                               snapd                    -             2.44.1-1


:: Different sync package(s) in repository community x86_64

-------------------------------------------------------------------------------
                             PACKAGE           2020-03-23           2020-03-26
-------------------------------------------------------------------------------
                                agda              2.6.1-8              2.6.1-9
                           aqbanking              6.1.2-1              6.1.3-1
                                asar              3.0.1-1              3.0.2-1
                               beets              1.4.9-2              1.4.9-3
                              bsdiff                4.3-9               4.3-10
                       cabal-install           3.0.0.0-62           3.0.0.0-63
                      cargo-outdated              0.9.7-1              0.9.8-1
                            clipmenu              5.6.0-2              6.0.1-1
                                code             1.43.1-1             1.43.2-1
                           create_ap              0.4.6-2              0.4.6-3
                              cython            0.29.15-1            0.29.16-1
                             cython2            0.29.15-1            0.29.16-1
                               darcs           2.14.2-198           2.14.2-199
                               dhall            1.30.0-22            1.30.0-24
                          dhall-bash            1.0.28-24            1.0.28-26
                          dhall-json             1.6.2-23             1.6.2-25
                          diesel-cli              1.4.3-2              1.4.4-1
                     diffuse 0.5.0alpha7+4+g813d6e7-2 0.5.0alpha7+4+g813d6e7-3
                                 din             44.0.2-1                 45-1
                      dnscrypt-proxy             2.0.40-2             2.0.41-1
                              drupal              8.8.3-1              8.8.4-1
                            earlyoom                1.4-1                1.5-1
                            ejabberd              20.02-1              20.03-1
                            electron              8.1.1-1              8.2.0-2
                              fcitx5     0.0.0.20200321-1     0.0.0.20200325-1
                        fcitx5-anthy     0.0.0.20200312-1     0.0.0.20200325-1
                      fcitx5-chewing     0.0.0.20200213-1     0.0.0.20200325-1
               fcitx5-chinese-addons     0.0.0.20200323-1     0.0.0.20200325-1
                       fcitx5-hangul     0.0.0.20200213-1     0.0.0.20200325-1
                           fcitx5-qt     0.0.0.20200321-1     0.0.0.20200325-1
                       fcitx5-unikey     0.0.0.20200308-1     0.0.0.20200325-1
                           findomain              1.4.2-1              1.4.3-1
           firefox-developer-edition             75.0b6-1             75.0b8-1
  firefox-developer-edition-i18n-ach             75.0b6-1             75.0b8-1
   firefox-developer-edition-i18n-af             75.0b6-1             75.0b8-1
   firefox-developer-edition-i18n-an             75.0b6-1             75.0b8-1
   firefox-developer-edition-i18n-ar             75.0b6-1             75.0b8-1
  firefox-developer-edition-i18n-ast             75.0b6-1             75.0b8-1
   firefox-developer-edition-i18n-az             75.0b6-1             75.0b8-1
   firefox-developer-edition-i18n-be             75.0b6-1             75.0b8-1
   firefox-developer-edition-i18n-bg             75.0b6-1             75.0b8-1
   firefox-developer-edition-i18n-bn             75.0b6-1             75.0b8-1
   firefox-developer-edition-i18n-br             75.0b6-1             75.0b8-1
   firefox-developer-edition-i18n-bs             75.0b6-1             75.0b8-1
   firefox-developer-edition-i18n-ca             75.0b6-1             75.0b8-1
firefox-developer-edition-i18n-ca-valencia       75.0b6-1             75.0b8-1
  firefox-developer-edition-i18n-cak             75.0b6-1             75.0b8-1
   firefox-developer-edition-i18n-cs             75.0b6-1             75.0b8-1
   firefox-developer-edition-i18n-cy             75.0b6-1             75.0b8-1
   firefox-developer-edition-i18n-da             75.0b6-1             75.0b8-1
   firefox-developer-edition-i18n-de             75.0b6-1             75.0b8-1
  firefox-developer-edition-i18n-dsb             75.0b6-1             75.0b8-1
   firefox-developer-edition-i18n-el             75.0b6-1             75.0b8-1
firefox-developer-edition-i18n-en-ca             75.0b6-1             75.0b8-1
firefox-developer-edition-i18n-en-gb             75.0b6-1             75.0b8-1
firefox-developer-edition-i18n-en-us             75.0b6-1             75.0b8-1
   firefox-developer-edition-i18n-eo             75.0b6-1             75.0b8-1
firefox-developer-edition-i18n-es-ar             75.0b6-1             75.0b8-1
firefox-developer-edition-i18n-es-cl             75.0b6-1             75.0b8-1
firefox-developer-edition-i18n-es-es             75.0b6-1             75.0b8-1
firefox-developer-edition-i18n-es-mx             75.0b6-1             75.0b8-1
   firefox-developer-edition-i18n-et             75.0b6-1             75.0b8-1
   firefox-developer-edition-i18n-eu             75.0b6-1             75.0b8-1
   firefox-developer-edition-i18n-fa             75.0b6-1             75.0b8-1
   firefox-developer-edition-i18n-ff             75.0b6-1             75.0b8-1
   firefox-developer-edition-i18n-fi             75.0b6-1             75.0b8-1
   firefox-developer-edition-i18n-fr             75.0b6-1             75.0b8-1
firefox-developer-edition-i18n-fy-nl             75.0b6-1             75.0b8-1
firefox-developer-edition-i18n-ga-ie             75.0b6-1             75.0b8-1
   firefox-developer-edition-i18n-gd             75.0b6-1             75.0b8-1
   firefox-developer-edition-i18n-gl             75.0b6-1             75.0b8-1
   firefox-developer-edition-i18n-gn             75.0b6-1             75.0b8-1
firefox-developer-edition-i18n-gu-in             75.0b6-1             75.0b8-1
   firefox-developer-edition-i18n-he             75.0b6-1             75.0b8-1
firefox-developer-edition-i18n-hi-in             75.0b6-1             75.0b8-1
   firefox-developer-edition-i18n-hr             75.0b6-1             75.0b8-1
  firefox-developer-edition-i18n-hsb             75.0b6-1             75.0b8-1
   firefox-developer-edition-i18n-hu             75.0b6-1             75.0b8-1
firefox-developer-edition-i18n-hy-am             75.0b6-1             75.0b8-1
   firefox-developer-edition-i18n-ia             75.0b6-1             75.0b8-1
   firefox-developer-edition-i18n-id             75.0b6-1             75.0b8-1
   firefox-developer-edition-i18n-is             75.0b6-1             75.0b8-1
   firefox-developer-edition-i18n-it             75.0b6-1             75.0b8-1
   firefox-developer-edition-i18n-ja             75.0b6-1             75.0b8-1
   firefox-developer-edition-i18n-ka             75.0b6-1             75.0b8-1
  firefox-developer-edition-i18n-kab             75.0b6-1             75.0b8-1
   firefox-developer-edition-i18n-kk             75.0b6-1             75.0b8-1
   firefox-developer-edition-i18n-km             75.0b6-1             75.0b8-1
   firefox-developer-edition-i18n-kn             75.0b6-1             75.0b8-1
   firefox-developer-edition-i18n-ko             75.0b6-1             75.0b8-1
  firefox-developer-edition-i18n-lij             75.0b6-1             75.0b8-1
   firefox-developer-edition-i18n-lt             75.0b6-1             75.0b8-1
   firefox-developer-edition-i18n-lv             75.0b6-1             75.0b8-1
   firefox-developer-edition-i18n-mk             75.0b6-1             75.0b8-1
   firefox-developer-edition-i18n-mr             75.0b6-1             75.0b8-1
   firefox-developer-edition-i18n-ms             75.0b6-1             75.0b8-1
   firefox-developer-edition-i18n-my             75.0b6-1             75.0b8-1
firefox-developer-edition-i18n-nb-no             75.0b6-1             75.0b8-1
firefox-developer-edition-i18n-ne-np             75.0b6-1             75.0b8-1
   firefox-developer-edition-i18n-nl             75.0b6-1             75.0b8-1
firefox-developer-edition-i18n-nn-no             75.0b6-1             75.0b8-1
   firefox-developer-edition-i18n-oc             75.0b6-1             75.0b8-1
firefox-developer-edition-i18n-pa-in             75.0b6-1             75.0b8-1
   firefox-developer-edition-i18n-pl             75.0b6-1             75.0b8-1
firefox-developer-edition-i18n-pt-br             75.0b6-1             75.0b8-1
firefox-developer-edition-i18n-pt-pt             75.0b6-1             75.0b8-1
   firefox-developer-edition-i18n-rm             75.0b6-1             75.0b8-1
   firefox-developer-edition-i18n-ro             75.0b6-1             75.0b8-1
   firefox-developer-edition-i18n-ru             75.0b6-1             75.0b8-1
   firefox-developer-edition-i18n-si             75.0b6-1             75.0b8-1
   firefox-developer-edition-i18n-sk             75.0b6-1             75.0b8-1
   firefox-developer-edition-i18n-sl             75.0b6-1             75.0b8-1
  firefox-developer-edition-i18n-son             75.0b6-1             75.0b8-1
   firefox-developer-edition-i18n-sq             75.0b6-1             75.0b8-1
   firefox-developer-edition-i18n-sr             75.0b6-1             75.0b8-1
firefox-developer-edition-i18n-sv-se             75.0b6-1             75.0b8-1
   firefox-developer-edition-i18n-ta             75.0b6-1             75.0b8-1
   firefox-developer-edition-i18n-te             75.0b6-1             75.0b8-1
   firefox-developer-edition-i18n-th             75.0b6-1             75.0b8-1
   firefox-developer-edition-i18n-tl             75.0b6-1             75.0b8-1
   firefox-developer-edition-i18n-tr             75.0b6-1             75.0b8-1
  firefox-developer-edition-i18n-trs             75.0b6-1             75.0b8-1
   firefox-developer-edition-i18n-uk             75.0b6-1             75.0b8-1
   firefox-developer-edition-i18n-ur             75.0b6-1             75.0b8-1
   firefox-developer-edition-i18n-uz             75.0b6-1             75.0b8-1
   firefox-developer-edition-i18n-vi             75.0b6-1             75.0b8-1
   firefox-developer-edition-i18n-xh             75.0b6-1             75.0b8-1
firefox-developer-edition-i18n-zh-cn             75.0b6-1             75.0b8-1
firefox-developer-edition-i18n-zh-tw             75.0b6-1             75.0b8-1
                          freeradius             3.0.20-4             3.0.21-1
                       frogatto-data              1.3.1-3              1.3.1-4
                     fs-uae-launcher              3.0.2-2              3.0.3-1
                              gaupol                1.7-2                1.7-3
                    gimp-plugin-gmic              2.8.4-1              2.8.4-2
                           git-annex        8.20200309-29        8.20200309-32
                          git-repair        1.20200102-54        1.20200102-55
                                gmic              2.8.4-1              2.8.4-2
                                 gox              1.0.1-2              1.0.1-3
                              gradle              6.2.2-1                6.3-1
                          gradle-doc              6.2.2-1                6.3-1
                          gradle-src              6.2.2-1                6.3-1
        greenbone-security-assistant              8.0.1-1              9.0.0-1
                          gwenhywfar              5.1.3-1              5.2.0-1
                                  gx             0.14.1-4                    -
                               gx-go              1.9.0-2                    -
               haskell-asn1-encoding             0.9.6-21             0.9.6-22
                  haskell-asn1-parse             0.9.5-21             0.9.5-22
                  haskell-asn1-types             0.3.3-31              0.3.4-1
                haskell-authenticate             1.3.5-84             1.3.5-85
          haskell-authenticate-oauth           1.6.0.1-64           1.6.0.1-65
                         haskell-aws              0.22-16              0.22-17
            haskell-binary-instances                 1-10            1.0.0.1-1
                 haskell-casa-client              0.0.1-5              0.0.1-6
                  haskell-cheapskate           0.1.1.2-53           0.1.1.2-54
                  haskell-connection             0.3.1-26             0.3.1-27
                   haskell-criterion           1.5.6.2-17           1.5.6.2-18
               haskell-crypto-pubkey            0.2.8-142            0.2.8-143
         haskell-crypto-pubkey-types            0.4.3-127            0.4.3-128
                         haskell-dav             1.3.4-65             1.3.4-66
                        haskell-dbus             1.2.10-1             1.2.11-1
               haskell-dbus-hslogger           0.1.0.1-15           0.1.0.1-16
                  haskell-fdo-notify            0.3.1-268            0.3.1-269
                        haskell-feed           1.3.0.0-14            1.3.0.1-1
              haskell-generic-random            1.3.0.0-2            1.3.0.1-1
                     haskell-githash           0.1.3.3-80           0.1.3.3-81
            haskell-hackage-security           0.6.0.0-52           0.6.0.0-53
                      haskell-hakyll          4.13.2.0-29          4.13.2.0-30
                    haskell-hopenpgp             2.9.4-44             2.9.4-45
                       haskell-hpack            0.33.0-93            0.33.0-94
                        haskell-http        4000.3.14-151        4000.3.14-152
                 haskell-http-client           0.6.4.1-20           0.6.4.1-21
             haskell-http-client-tls          0.3.5.3-205          0.3.5.3-206
                haskell-http-conduit           2.3.7.3-97           2.3.7.3-98
               haskell-http-download           0.2.0.0-20           0.2.0.0-21
                haskell-http-streams           0.8.7.1-63           0.8.7.1-64
                  haskell-httpd-shed           0.4.1.1-80           0.4.1.1-81
                         haskell-hxt          9.3.1.18-47          9.3.1.18-48
                        haskell-jose           0.8.2.0-66           0.8.2.0-67
                   haskell-js-jquery            3.3.1-390            3.3.1-391
                    haskell-mustache             2.3.1-68             2.3.1-69
                 haskell-network-uri           2.6.3.0-47           2.6.3.0-48
             haskell-optparse-simple          0.1.1.2-157          0.1.1.2-158
                      haskell-pantry            0.4.0.1-8            0.4.0.1-9
                  haskell-pipes-http            1.0.6-117            1.0.6-118
                         haskell-rsa             2.4.1-14             2.4.1-15
                     haskell-servant              0.17-12              0.17-13
              haskell-servant-server              0.17-12              0.17-13
             haskell-servant-swagger             1.1.8-13             1.1.8-14
                       haskell-shake            0.18.5-57            0.18.5-58
                 haskell-skylighting           0.8.3.2-45           0.8.3.2-46
            haskell-skylighting-core           0.8.3.2-45           0.8.3.2-46
                   haskell-snap-core           1.0.4.1-58           1.0.4.1-59
                 haskell-snap-server          1.1.1.1-170          1.1.1.1-172
                     haskell-texmath          0.12.0.1-38          0.12.0.1-39
                         haskell-tls              1.5.4-6              1.5.4-7
         haskell-tls-session-manager             0.0.4-30             0.0.4-31
                  haskell-uri-encode           1.5.0.5-58           1.5.0.5-59
              haskell-wai-app-static           3.1.7.1-59           3.1.7.1-60
          haskell-wai-handler-launch           3.0.3.1-28           3.0.3.1-29
                        haskell-warp             3.3.9-10             3.3.9-11
                    haskell-warp-tls            3.2.11-47            3.2.11-48
                        haskell-wreq          0.5.3.2-168          0.5.3.2-169
                        haskell-x509             1.7.5-53             1.7.5-54
                  haskell-x509-store             1.6.7-52             1.6.7-53
                 haskell-x509-system            1.6.6-120            1.6.6-121
             haskell-x509-validation            1.6.11-52            1.6.11-53
                haskell-xss-sanitize             0.3.6-95             0.3.6-96
                       haskell-yesod           1.6.0.1-63           1.6.0.1-64
                  haskell-yesod-auth             1.6.9-57             1.6.10-2
                  haskell-yesod-core          1.6.17.3-21          1.6.17.3-22
               haskell-yesod-default            1.2.0-704            1.2.0-705
                  haskell-yesod-form            1.6.7-142            1.6.7-143
            haskell-yesod-persistent           1.6.0.4-87           1.6.0.4-88
                haskell-yesod-static          1.6.0.1-344          1.6.0.1-345
                  haskell-yesod-test            1.6.9-103            1.6.9-104
                         hledger-web             1.17.1-6             1.17.1-7
                              hoogle         5.0.17.15-18         5.0.17.15-19
                      hopenpgp-tools             0.23.1-4             0.23.1-5
                                hugo             0.68.1-1             0.68.3-1
                            hydrogen         1.0.0beta1-2         1.0.0beta2-1
                               idris            1.3.2-105            1.3.2-106
                                 iwd                1.5-1                1.6-1
                             jenkins              2.226-1              2.227-1
                               jruby           9.2.10.0-1           9.2.11.1-1
                                 k9s             0.17.7-1             0.18.1-1
                          kcm-fcitx5     0.0.0.20200322-1     0.0.0.20200325-1
                               kitty             0.16.0-2             0.17.1-1
                      kitty-terminfo             0.16.0-2             0.17.1-1
                   krita-plugin-gmic              2.8.4-1              2.8.4-2
                              libldm              0.2.4-3  0.2.4.r20.a856552-1
                                 lxc            1:3.2.1-2            1:4.0.0-1
                               lxcfs              4.0.0-1              4.0.1-1
                            newsboat               2.18-1               2.19-1
                           nextcloud             18.0.2-1             18.0.3-1
                              notion           20190501-1            1:4.0.0-1
                   npm-check-updates              4.0.4-2              4.0.6-1
                    otf-font-awesome             5.12.1-1             5.13.0-1
                              pandoc             2.9.2-72             2.9.2-73
                     pandoc-citeproc              0.17-53              0.17-54
                     pandoc-crossref           0.3.6.2-50           0.3.6.2-51
                  perl-list-allutils               0.15-2               0.16-1
                       phpvirtualbox              5.2_1-1              5.2_1-2
                            plantuml           1.2020.2-1           1.2020.5-1
                           postgrest            6.0.2-107            6.0.2-108
                              ppsspp              1.9.4-1              1.9.4-2
                            prettier              2.0.1-1              2.0.2-1
                             prosody           1:0.11.4-1           1:0.11.5-1
                python-aiohttp-socks              0.3.4-1              0.3.6-1
                       python-bleach              3.1.1-1              3.1.3-1
                         python-cmd2             0.10.1-1              1.0.1-1
                    python-fonttools              4.5.0-1              4.6.0-1
                    python-grequests              0.4.0-2              0.4.0-3
                   python-hypothesis              5.7.0-1              5.8.0-1
                     python-identify             1.4.12-1             1.4.13-1
                     python-oauthlib              3.1.0-3              3.1.0-4
              python-openstackclient              5.0.0-1              5.1.0-1
                     python-pwntools              4.0.1-2              4.0.1-3
                        python-pyaml            19.12.0-1             20.3.1-1
                     python-pyroute2             0.5.10-1             0.5.11-1
                   python-pyrsistent             0.15.7-2             0.16.0-1
                      python-pytorch              1.4.0-7              1.4.1-1
                 python-pytorch-cuda              1.4.0-7              1.4.1-1
                  python-pytorch-opt              1.4.0-7              1.4.1-1
             python-pytorch-opt-cuda              1.4.0-7              1.4.1-1
                      python-tempora              2.1.1-1              3.0.0-1
                          python-tox             3.14.5-1             3.14.6-1
                  python-transaction              2.4.0-3              3.0.0-1
               python-zope-component                4.6-1              4.6.1-1
                python-zope-security              5.1.0-1              5.1.1-1
                   python2-grequests              0.4.0-2                    -
                    python2-oauthlib              3.1.0-3                    -
                       python2-pyaml            19.12.0-1             20.3.1-1
                         python2-tox             3.14.5-1             3.14.6-1
                               qconf                2.4-2                2.5-1
                            qjackctl              0.6.1-1              0.6.2-1
                            qmidictl              0.6.1-1              0.6.2-1
                            qmidinet              0.6.1-1              0.6.2-1
                            qsampler              0.6.1-1              0.6.2-1
                              qsynth              0.6.1-1              0.6.2-1
              qt5-ukui-platformtheme              0.9.0-1              1.0.0-1
                             qxgedit              0.6.1-1              0.6.2-1
                             redmine              4.0.5-2              4.1.0-1
                      rime-cantonese     0.0.0.20200319-1     0.0.0.20200325-1
                            rofimoji              4.1.0-1              4.1.1-1
                          shellcheck            0.7.0-199            0.7.0-200
                           shorewall            5.2.3.7-1              5.2.4-1
                      shorewall-core            5.2.3.7-1              5.2.4-1
                          shorewall6            5.2.3.7-1              5.2.4-1
                      signal-desktop             1.32.1-1             1.32.1-2
                              sn0int             0.18.0-1             0.18.2-1
                               stack    2.1.3.20200310-28    2.1.3.20200310-29
                              stella              6.0.2-1                6.1-1
                            supertux              0.6.1-2              0.6.1-3
                      tamarin-prover            1.4.1-307            1.4.1-309
                                tang                  7-4                  7-6
                             taskell           1.9.2.0-61           1.9.2.0-62
                          teamspeak3              3.5.0-1              3.5.1-1
                           terraform            0.12.21-1            0.12.24-1
                            texworks              0.6.4-1              0.6.5-1
                            three.js               r114-1               r115-1
                              trojan             1.14.1-2             1.15.1-1
                    ttf-font-awesome             5.12.1-1             5.13.0-1
                 ukui-control-center              2.0.1-1            2.0.1.1-2
                          ukui-panel              2.0.2-1              2.0.3-1
                        ukui-sidebar              1.0.2-1              1.1.0-1
                                 upx               3.96-1               3.96-2
                                 urh              2.8.4-1              2.8.5-1
                      usb_modeswitch              2.6.0-1              2.6.0-2
                               v2ray             4.23.0-1             4.23.1-1
         v2ray-domain-list-community       202003221514-1       202003250001-1
                         v2ray-geoip       202003180002-1       202003250001-1
                        vim-nerdtree              6.3.0-1              6.4.0-1
                                xaos                3.6-8                3.7-1
                              xmobar              0.33-17              0.33-19
                            yamllint             1.20.0-1             1.21.0-1
                                 yaz             5.29.0-1             5.30.0-1
                             you-get           0.4.1410-1           0.4.1423-1
                          youtube-dl         2020.03.08-1         2020.03.24-1
                                zart              2.8.4-1              2.8.4-2
                      alicloud-vault                    -              1.2.0-1
                      ansible-bender                    -              0.8.1-2
                   python-astunparse                    -              1.6.2-2
                      python-cytoolz                    -             0.10.1-2
                        python-migen                    -              0.9.2-1
                       python-nmigen                    -                0.2-1
                   python-pytest-tap                    -                3.1-1
                        python-pyvcd                    -              0.1.7-1
                        python-tappy                    -                2.5-1
                        python-toolz                    -             0.10.0-2


:: Different overlay package(s) in repository core x86_64

-------------------------------------------------------------------------------
                             PACKAGE           2020-03-23           2020-03-26
-------------------------------------------------------------------------------
                            linux419           4.19.112-1           4.19.113-1
                    linux419-headers           4.19.112-1           4.19.113-1
                             linux54             5.4.27-1             5.4.28-1
                     linux54-headers             5.4.27-1             5.4.28-1
                             linux55             5.5.11-1             5.5.13-1
                     linux55-headers             5.5.11-1             5.5.13-1
                       linux56 5.6rc6.d0309.gfb33c65-1 5.6rc7.d0309.g16fbf79-1
               linux56-headers 5.6rc6.d0309.gfb33c65-1 5.6rc7.d0309.g16fbf79-1


:: Different sync package(s) in repository core x86_64

-------------------------------------------------------------------------------
                             PACKAGE           2020-03-23           2020-03-26
-------------------------------------------------------------------------------
                           e2fsprogs             1.45.5-1             1.45.6-1
                               gnupg             2.2.19-1             2.2.20-1
                               hwids           20200204-1           20200306-1


:: Different overlay package(s) in repository extra x86_64

-------------------------------------------------------------------------------
                             PACKAGE           2020-03-23           2020-03-26
-------------------------------------------------------------------------------
               calamares-git 3.2.21.r7402.252802870-1 3.2.21.r7473.b88e5589e-1
                  linux419-acpi_call            1.1.0-102            1.1.0-103
                   linux419-bbswitch              0.8-102              0.8-103
                linux419-broadcom-wl     6.30.223.271-101     6.30.223.271-102
                linux419-ndiswrapper              1.62-51              1.62-52
               linux419-nvidia-340xx           340.108-22           340.108-23
               linux419-nvidia-390xx           390.132-31           390.132-32
               linux419-nvidia-418xx           418.113-30           418.113-31
               linux419-nvidia-430xx            430.64-30            430.64-31
               linux419-nvidia-435xx            435.21-41            435.21-42
               linux419-nvidia-440xx             440.64-6             440.64-7
                   linux419-nvidiabl             0.88-101             0.88-102
                      linux419-r8168          8.048.00-16          8.048.00-17
                  linux419-rtl8723bu          20200126-13          20200126-14
                   linux419-tp_smapi              0.43-51              0.43-52
                linux419-vhba-module          20200106-16          20200106-17
   linux419-virtualbox-guest-modules              6.1.4-8              6.1.4-9
    linux419-virtualbox-host-modules              6.1.4-8              6.1.4-9
                        linux419-zfs             0.8.3-15             0.8.3-16
                   linux54-acpi_call             1.1.0-32             1.1.0-33
                    linux54-bbswitch               0.8-32               0.8-33
                 linux54-broadcom-wl      6.30.223.271-32      6.30.223.271-33
                 linux54-ndiswrapper              1.62-32              1.62-33
                linux54-nvidia-340xx           340.108-24           340.108-25
                linux54-nvidia-390xx           390.132-32           390.132-33
                linux54-nvidia-418xx           418.113-32           418.113-33
                linux54-nvidia-430xx            430.64-32            430.64-33
                linux54-nvidia-435xx            435.21-32            435.21-33
                linux54-nvidia-440xx             440.64-6             440.64-7
                    linux54-nvidiabl              0.88-32              0.88-33
                       linux54-r8168          8.048.00-17          8.048.00-18
                   linux54-rtl8723bu          20200126-14          20200126-15
                    linux54-tp_smapi              0.43-32              0.43-33
                 linux54-vhba-module          20200106-17          20200106-18
    linux54-virtualbox-guest-modules              6.1.4-8              6.1.4-9
     linux54-virtualbox-host-modules              6.1.4-8              6.1.4-9
                         linux54-zfs             0.8.3-16             0.8.3-17
                   linux55-acpi_call             1.1.0-14             1.1.0-16
                    linux55-bbswitch               0.8-14               0.8-16
                 linux55-broadcom-wl      6.30.223.271-14      6.30.223.271-16
                 linux55-ndiswrapper              1.62-14              1.62-16
                linux55-nvidia-340xx            340.108-8           340.108-10
                linux55-nvidia-390xx           390.132-14           390.132-16
                linux55-nvidia-418xx           418.113-14           418.113-17
                linux55-nvidia-430xx            430.64-14            430.64-17
                linux55-nvidia-435xx            435.21-14            435.21-17
                linux55-nvidia-440xx             440.64-6             440.64-9
                    linux55-nvidiabl              0.88-14              0.88-17
                       linux55-r8168          8.048.00-14          8.048.00-17
                   linux55-rtl8723bu          20200126-14          20200126-17
                    linux55-tp_smapi              0.43-14              0.43-17
                 linux55-vhba-module          20200106-14          20200106-17
    linux55-virtualbox-guest-modules              6.1.4-8             6.1.4-11
     linux55-virtualbox-host-modules              6.1.4-8             6.1.4-11
                         linux55-zfs             0.8.3-11             0.8.3-14
                linux56-nvidia-340xx          340.108-0.7          340.108-0.8
                linux56-nvidia-390xx          390.132-0.7          390.132-0.8
                linux56-nvidia-418xx          418.113-0.7          418.113-0.8
                linux56-nvidia-430xx           430.64-0.7           430.64-0.8
                linux56-nvidia-435xx           435.21-0.7           435.21-0.8
                linux56-nvidia-440xx           440.64-0.7           440.64-0.8
                    linux56-tp_smapi             0.43-0.7             0.43-0.8
                 linux56-vhba-module         20200106-0.7         20200106-0.8
                         linux56-zfs            0.8.3-0.7            0.8.3-0.8
              manjaro-tools-base-git      r2885.1dcb41d-1      r2887.dee5a38-1
               manjaro-tools-iso-git      r2885.1dcb41d-1      r2887.dee5a38-1
               manjaro-tools-pkg-git      r2885.1dcb41d-1      r2887.dee5a38-1
              manjaro-tools-yaml-git      r2885.1dcb41d-1      r2887.dee5a38-1
                           pamac-cli              9.4.0-1              9.4.0-3
                       pamac-cli-dev              9.4.0-1              9.4.0-3
                        pamac-common              9.4.0-1              9.4.0-3
                    pamac-common-dev              9.4.0-1              9.4.0-3
                pamac-flatpak-plugin              9.4.0-1              9.4.0-3
            pamac-flatpak-plugin-dev              9.4.0-1              9.4.0-3
                           pamac-gtk              9.4.0-1              9.4.0-3
                       pamac-gtk-dev              9.4.0-1              9.4.0-3
                   pamac-snap-plugin              9.4.0-1              9.4.0-3
               pamac-snap-plugin-dev              9.4.0-1              9.4.0-3
             pamac-tray-appindicator              9.4.0-1              9.4.0-3
         pamac-tray-appindicator-dev              9.4.0-1              9.4.0-3


:: Different sync package(s) in repository extra x86_64

-------------------------------------------------------------------------------
                             PACKAGE           2020-03-23           2020-03-26
-------------------------------------------------------------------------------
                         389-ds-base            1.4.3.4-1            1.4.3.4-2
                                  gd              2.2.5-2              2.3.0-1
                                 git             2.25.2-1             2.26.0-1
                gnome-remote-desktop              0.1.7-2              0.1.8-1
                              gpaste             3.36.0-1             3.36.2-1
                               krita            4.2.8.2-2              4.2.9-1
                           libsigc++             2.10.2-1             2.10.3-1
                      libsigc++-docs             2.10.2-1             2.10.3-1
                            libwnck3             3.32.0-3             3.36.0-1
                               ndctl                 67-1                 68-1
                    noto-fonts-emoji           20191016-4           20191016-6
              perl-ipc-system-simple               1.28-1               1.30-1
                          prometheus             2.16.0-2             2.17.0-1
                   python-setuptools           1:46.1.1-1           1:46.1.3-1
                              thunar             1.8.12-1             1.8.14-1
                                vala             0.48.1-1             0.48.2-1
                   xfce4-screensaver              0.1.8-3              0.1.9-2


:: Different sync package(s) in repository multilib x86_64

-------------------------------------------------------------------------------
                             PACKAGE           2020-03-23           2020-03-26
-------------------------------------------------------------------------------
                     lib32-e2fsprogs             1.45.5-1             1.45.6-1

No issue, everything went smoothly
Yes there was an issue. I was able to resolve it myself.(Please post your solution)
Yes i am currently experiencing an issue due to the update. (Please post about it)
Check if your mirror has already synced: