Hello community,
here is another Testing Update for you: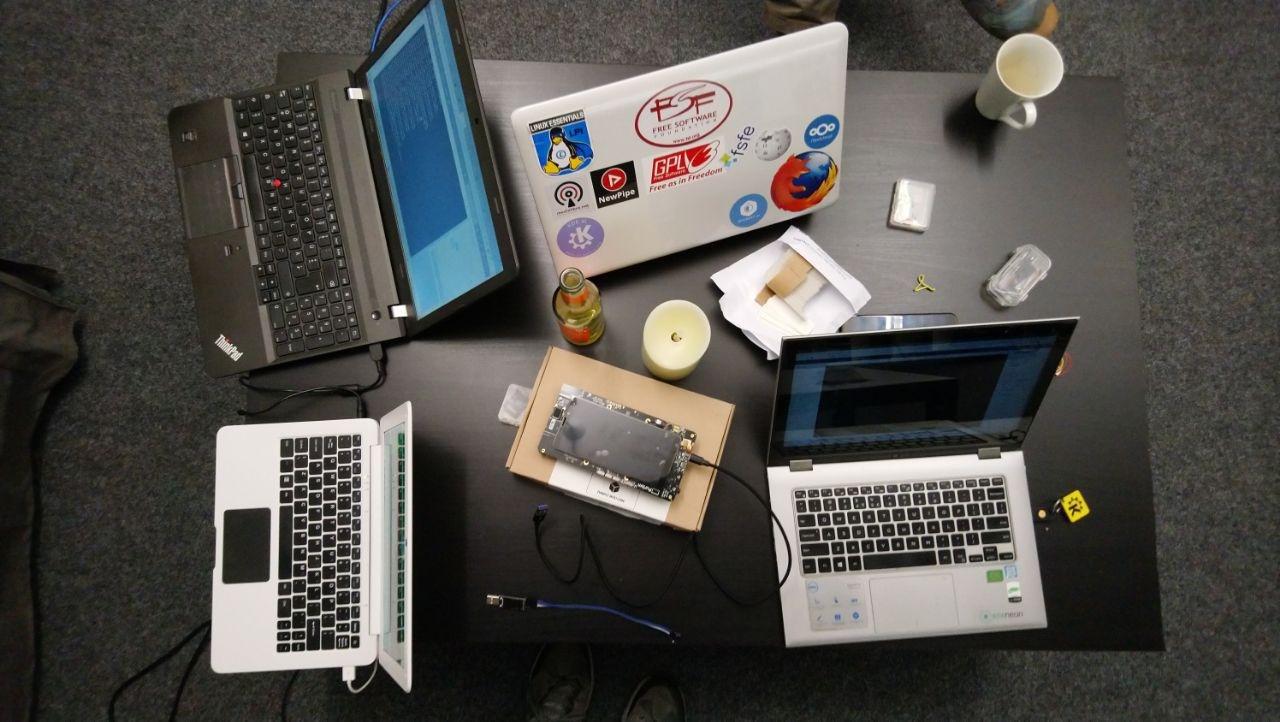 ... there will be a mini online sprint for PlasmaMobile next week. Best time to join the game!
Some feature-updates:
Qt got updated to 5.14.2
Rebuilds based on Qt update. Report if we missed some.
Updates to UKUI and Pamac got some fixes added
Mesa got updated to 20.0.4
Firefox is now at 74.0.1
The usual upstream updates including Haskell and Python
If you like following latest Plasma development you may also like to check out our current version of manjaro-kde-dev, which we build on a regular basis against kde-git master packages. Also check out our current 19.0.2 ISOs and give us the needed feedback. You might also want to give our latest spin with NX-Desktop a try ...
As always we appreciate your input and feedback for the updates.
---
Upstream notice
Arch updated their default compression to zstd. We adopted to the same standard. More and more packages will have the zst extension from now on. If you get for what ever reason an error with ZSTD not supported as archive format you can do this:
sudo pacman -Syy
sudo pacman -S pacman-static
sudo pacman-static -Syyu

---
Our current supported kernels
linux316 3.16.82
linux44 4.4.218
linux49 4.9.218
linux414 4.14.175
linux419 4.19.114
linux54 5.4.30
linux55 5.5.15
linux56 5.6.2
linux419-rt 4.19.106_rt45
linux54-rt 5.4.28_rt19
Package Changes (Sat Apr 4 10:55:23 CEST 2020)
testing community x86_64: 322 new and 317 removed package(s)
testing core x86_64: 3 new and 3 removed package(s)
testing extra x86_64: 181 new and 189 removed package(s)
testing multilib x86_64: 6 new and 12 removed package(s)
:: Different overlay package(s) in repository community x86_64

-------------------------------------------------------------------------------
                             PACKAGE           2020-04-03           2020-04-04
-------------------------------------------------------------------------------
                           baloo-git5.69.0.r2734.gac7f7df2-15.69.0.r2742.g74c17af6-1
                    breeze-icons-git5.69.0.r1529.g23b32c25-15.69.0.r1530.g4cdcd11c-1
                               cpu-x3.2.4.r194.gf6db693-13.2.4.r195.gec43fb0-1
               kactivitymanagerd-git5.15.80.r1271.g244f61f-15.15.80.r1272.g47a92d2-1
                     kcoreaddons-git5.69.0.r963.g05e62de-15.69.0.r964.g0ee6512-1
                   kde-cli-tools-git5.18.80.r1760.g30a7130-15.18.80.r1761.gf371e6f-1
                  kde-gtk-config-git5.18.80.r825.g84adfd9-15.18.80.r827.g0580098-1
                     kdecoration-git5.18.80.r218.g9c14f69-15.18.80.r219.gae01479-1
                kdeplasma-addons-git5.18.80.r8325.g0c0a937b8-15.18.80.r8327.gdaf8142d5-1
                         kgamma5-git5.18.80.r415.g26a9dc3-15.18.80.r416.g9c0f2bb-1
                        khotkeys-git5.18.80.r1982.g414e87e-15.18.80.r1984.g8b502fe-1
                           khtml-git5.69.0.r490.g3d17167-15.69.0.r491.gba10e1e-1
                     kinfocenter-git5.18.80.r1668.g34a29e7-15.18.80.r1675.gb7d462e-1
                             kio-git5.69.0.r3867.g63b3f033-15.69.0.r3873.ga624e074-1
                       kirigami2-git5.69.0.r2122.g9b6ec041-15.69.0.r2135.g1d777eef-1
                     kitemmodels-git5.69.0.r420.g3775404-15.69.0.r421.g8696ae5-1
                      knetattach-git5.18.80.r7522.g4b2639e58-15.18.80.r7528.gd7213a192-1
                       knewstuff-git5.69.0.r794.g7d6db881-15.69.0.r796.gd63e8bf4-1
                  knotifications-git5.69.0.r517.g9a29388-15.69.0.r518.g3dafde9-1
                   kscreenlocker-git5.18.80.r771.gdecf7c9-15.18.80.r773.gf2c89ed-1
                        kservice-git5.69.0.r753.gfe5c63b-15.69.0.r754.gce83ae5-1
                     ksshaskpass-git5.18.80.r157.gd62d19b-15.18.80.r158.g54d2fa6-1
                       ksysguard-git5.18.80.r3237.g00f522a7-15.18.80.r3240.g0c8496c9-1
            kwayland-integration-git5.18.80.r142.gfe947c0-15.18.80.r143.gcb0380f-1
                  kwidgetsaddons-git5.69.0.r643.gf626436-15.69.0.r647.g8262488-1
                         kwrited-git5.18.80.r420.gb192418-15.18.80.r421.g9d9f3c0-1
                      libkscreen-git5.18.80.r1521.g2dd7441-15.18.80.r1522.gf339263-1
                    libksysguard-git5.18.80.r1783.g108d5c5-15.18.80.r1785.g5559e2e-1
               manjaro-arm-installer             1.2.15-1             1.2.16-1
                           milou-git5.18.80.r674.g4d5c1c5-15.18.80.r682.gc7afe20-1
                          oxygen-git5.18.80.r4362.g13c540b9-15.18.80.r4364.gef365016-1
      plasma-browser-integration-git5.18.80.r1020.gfa5d96d3-15.18.80.r1021.g928f320d-1
                  plasma-desktop-git5.18.80.r7522.g4b2639e58-15.18.80.r7528.gd7213a192-1
                plasma-framework-git5.69.0.r15395.gbc3ccd178-15.69.0.r15397.g26eb57c53-1
              plasma-integration-git5.18.80.r465.gffd7ee5-15.18.80.r466.g9c9dcc8-1
                       plasma-nm-git5.18.80.r2839.g3be8d2f2-15.18.80.r2841.gd72ff6e1-1
                       plasma-pa-git5.18.80.r814.g36120da-15.18.80.r816.g1df3476-1
                      plasma-sdk-git5.18.80.r2164.g4c3b89a-15.18.80.r2168.g4de8578-1
          plasma-wayland-session-git5.18.80.r8852.g1d3b6e8f0-15.18.80.r8864.g6dc04ef0a-1
                plasma-workspace-git5.18.80.r8852.g1d3b6e8f0-15.18.80.r8864.g6dc04ef0a-1
                polkit-kde-agent-git5.18.80.r434.gcbf2101-15.18.80.r437.g76a4c2e-1
                      powerdevil-git5.18.80.r2265.gc829d217-15.18.80.r2270.g5602920a-1
                        sddm-kcm-git5.18.80.r526.g76b514b-15.18.80.r527.g0ec066f-1
                           solid-git5.69.0.r549.gde5a0c3-15.69.0.r551.ge468daf-1
                  systemsettings-git5.18.80.r2213.g76c6324f-15.18.80.r2215.gb14db29b-1


:: Different sync package(s) in repository community x86_64

-------------------------------------------------------------------------------
                             PACKAGE           2020-04-03           2020-04-04
-------------------------------------------------------------------------------
                                agda             2.6.1-16             2.6.1-20
                                c2hs            0.28.6-80            0.28.6-82
                       cabal-install           3.0.0.0-69           3.0.0.0-72
                               cgrep            6.6.32-16            6.6.32-17
                             clipper              6.4.2-1                    -
                             cryptol             2.8.0-94             2.8.0-96
                               darcs           2.14.2-204           2.14.2-207
                     deepin-anything              5.0.1-1              5.0.1-2
                deepin-anything-dkms              5.0.1-1              5.0.1-2
                         deepin-dock              5.0.0-5              5.0.0-6
                 deepin-file-manager            1:5.0.0-5            1:5.0.0-6
                         deepin-kwin              0.1.0-7              0.1.0-8
              deepin-qt-dbus-factory              5.0.1-5              5.0.1-6
               deepin-qt5dxcb-plugin              5.0.1-5              5.0.1-6
               deepin-qt5integration              5.0.0-7              5.0.0-8
                               dhall             1.31.0-2             1.31.1-2
                          dhall-bash             1.0.29-2             1.0.29-6
                          dhall-json              1.6.3-2              1.6.3-6
                           dtkwidget              2.1.1-5              2.1.1-6
                               dtkwm             2.0.12-5             2.0.12-6
                           fcitx-qt5              1.2.4-3              1.2.4-4
                              fcitx5     0.0.0.20200402-1     0.0.0.20200403-1
                        fcitx5-anthy     0.0.0.20200325-1     0.0.0.20200403-1
               fcitx5-chinese-addons     0.0.0.20200402-1     0.0.0.20200403-1
                           fcitx5-qt     0.0.0.20200402-1     0.0.0.20200403-1
                firefox-adblock-plus                3.8-1              3.8.4-1
                    firefox-noscript            11.0.19-1            11.0.23-1
                           firewalld              0.8.1-2              0.8.2-2
                            geonkick              1.9.2-1             1.10.0-1
                           git-annex         8.20200330-2         8.20200330-5
                          git-repair        1.20200102-60        1.20200102-63
                               gitea             1.11.4-1             1.11.4-2
                          googlemaps          20180602-11          20180602-12
                             grafana              6.7.1-1              6.7.2-1
                             granite              5.3.0-1              5.3.1-1
                gtk-theme-elementary              5.4.1-1              5.4.2-1
                       haskell-aeson            1.4.7.1-4            1.4.7.1-5
         haskell-aeson-better-errors          0.9.1.0-168          0.9.1.0-169
                haskell-aeson-compat             0.3.9-86             0.3.9-87
                  haskell-aeson-diff           1.1.0.8-84           1.1.0.8-86
                haskell-aeson-pretty             0.8.8-32             0.8.8-33
                    haskell-aeson-qq             0.8.3-42             0.8.3-44
                  haskell-aeson-yaml           1.0.6.0-17           1.0.6.0-19
                  haskell-alsa-mixer             0.3.0-27             0.3.0-29
                haskell-authenticate             1.3.5-91             1.3.5-94
          haskell-authenticate-oauth           1.6.0.1-70           1.6.0.1-73
                 haskell-auto-update             0.1.6-46             0.1.6-47
                         haskell-aws              0.22-23              0.22-26
            haskell-binary-instances            1.0.0.1-5            1.0.0.1-6
               haskell-binary-tagged               0.2-52               0.2-53
                  haskell-bower-json          1.0.0.1-166          1.0.0.1-167
                       haskell-■■■■■             0.52.1-3             0.52.1-5
            haskell-bsb-http-chunked           0.0.0.4-87           0.0.0.4-88
   haskell-bytestring-strict-builder           0.4.5.3-63           0.4.5.3-64
                         haskell-bz2           1.0.0.2-16           1.0.0.2-18
                 haskell-casa-client             0.0.1-12             0.0.1-15
                  haskell-casa-types             0.0.1-12             0.0.1-14
                       haskell-cborg           0.2.2.1-10           0.2.2.1-11
                  haskell-cborg-json           0.2.2.0-10           0.2.2.0-11
                  haskell-cheapskate           0.1.1.2-60           0.1.1.2-63
               haskell-clash-prelude             1.2.0-15             1.2.0-17
              haskell-classy-prelude             1.5.0-31             1.5.0-32
                  haskell-config-ini           0.2.4.0-99          0.2.4.0-100
                       haskell-cpphs             1.20.9-2           1.20.9.1-1
                   haskell-criterion           1.5.6.2-25           1.5.6.2-28
       haskell-criterion-measurement           0.1.2.0-36           0.1.2.0-37
                haskell-data-default           0.7.1.1-52           0.7.1.1-53
haskell-data-default-instances-dlist             0.0.1-65             0.0.1-66
                         haskell-dav             1.3.4-72             1.3.4-75
              haskell-deferred-folds          0.9.10.1-70          0.9.10.1-71
                 haskell-descriptive             0.9.5-98             0.9.5-99
                       haskell-dlist           0.8.0.7-20            0.8.0.8-1
             haskell-dlist-instances           0.1.1.1-14           0.1.1.1-15
                         haskell-dns             4.0.1-13             4.0.1-14
                haskell-doctemplates             0.8.1-15             0.8.1-16
                   haskell-esqueleto            3.3.3.0-2            3.3.3.0-4
                 haskell-fast-logger             3.0.1-21             3.0.1-22
        haskell-first-class-families            0.8.0.0-3            0.8.0.0-4
                    haskell-fsnotify           0.3.0.1-91           0.3.0.1-92
                haskell-generic-data            0.8.2.0-4            0.8.2.0-5
                     haskell-githash           0.1.3.3-86           0.1.3.3-90
                        haskell-glob            0.10.0-38            0.10.0-39
                      haskell-gnuidn            0.2.2-155            0.2.2-157
                    haskell-graphviz       2999.20.0.4-12       2999.20.0.4-13
            haskell-hackage-security           0.6.0.0-59           0.6.0.0-62
             haskell-haddock-library             1.8.0-46             1.8.0-47
                      haskell-hakyll          4.13.2.0-39          4.13.2.0-43
                       haskell-hasql              1.4.2-7              1.4.2-8
                  haskell-hasql-pool             0.5.1-81             0.5.1-82
           haskell-hasql-transaction           1.0.0.1-11           1.0.0.1-12
                    haskell-hedgehog             1.0.2-25             1.0.2-26
                        haskell-here           1.2.13-117           1.2.13-118
              haskell-hi-file-parser           0.1.0.0-31           0.1.0.0-32
                haskell-hjsonpointer             1.5.0-83             1.5.0-84
                 haskell-hledger-lib             1.17.1-7             1.17.1-8
                    haskell-hopenpgp             2.9.4-51             2.9.4-54
                       haskell-hpack            0.33.0-99           0.33.0-103
                   haskell-hspec-wai            0.10.1-14            0.10.1-17
              haskell-hspec-wai-json            0.10.1-14            0.10.1-18
                haskell-hsyaml-aeson           0.2.0.0-28           0.2.0.0-29
                        haskell-http        4000.3.14-159        4000.3.14-162
                 haskell-http-client           0.6.4.1-28           0.6.4.1-31
             haskell-http-client-tls          0.3.5.3-211          0.3.5.3-214
                haskell-http-conduit          2.3.7.3-103          2.3.7.3-106
               haskell-http-download           0.2.0.0-26           0.2.0.0-30
                haskell-http-streams           0.8.7.1-74           0.8.7.1-77
                       haskell-http2             2.0.3-68              2.0.4-1
                  haskell-httpd-shed           0.4.1.1-88           0.4.1.1-91
                         haskell-hxt          9.3.1.18-53          9.3.1.18-56
   haskell-insert-ordered-containers             0.2.3-23             0.2.3-24
                 haskell-interpolate            0.2.0-134            0.2.0-135
    haskell-interpolatedstring-perl6             1.0.2-32             1.0.2-33
                       haskell-ipynb              0.1-166              0.1-168
                 haskell-ixset-typed                0.5-7                0.5-8
                        haskell-jose           0.8.2.0-72           0.8.2.0-75
                   haskell-js-jquery            3.3.1-398            3.3.1-401
                  haskell-lens-aeson               1.1-23               1.1-24
                      haskell-libmpd           0.9.1.0-16           0.9.1.0-17
                haskell-lifted-async          0.10.0.5-11           0.10.0.6-1
                    haskell-listlike             4.6.3-18             4.6.3-19
             haskell-microlens-aeson           2.3.0.4-48           2.3.0.4-49
                 haskell-microstache          1.0.1.1-143          1.0.1.1-144
                haskell-monad-logger            0.3.32-16            0.3.32-17
  haskell-mono-traversable-instances           0.1.0.0-28           0.1.0.0-29
                    haskell-mustache             2.3.1-75             2.3.1-78
          haskell-neat-interpolation             0.5.1-11             0.5.1-12
                 haskell-network-uri           2.6.3.0-55           2.6.3.0-58
             haskell-optparse-simple          0.1.1.2-163          0.1.1.2-167
                haskell-pandoc-types              1.20-29              1.20-30
                      haskell-pantry           0.4.0.1-16           0.4.0.1-21
                        haskell-path              0.7.0-8              0.7.0-9
                     haskell-path-io             1.6.0-16             1.6.0-17
                  haskell-pcre-heavy           1.0.0.2-86           1.0.0.2-87
                  haskell-persistent          2.10.5.2-16          2.10.5.2-18
               haskell-persistent-qq           2.9.1.1-63           2.9.1.1-66
           haskell-persistent-sqlite          2.10.6.2-40          2.10.6.2-42
         haskell-persistent-template           2.8.2.3-18           2.8.2.3-20
             haskell-persistent-test           2.0.3.1-12           2.0.3.1-14
                  haskell-pipes-http            1.0.6-123            1.0.6-126
           haskell-postgresql-binary            0.12.2-37            0.12.2-38
               haskell-pretty-simple            3.2.2.0-4            3.2.2.0-5
              haskell-process-extras             0.7.4-89             0.7.4-90
                      haskell-rebase              1.6.1-5              1.6.1-6
                    haskell-rerebase              1.6.1-5              1.6.1-6
                       haskell-retry           0.8.1.0-36           0.8.1.0-37
                         haskell-rio           0.1.14.1-7           0.1.15.0-1
                 haskell-rio-orphans           0.1.1.0-97           0.1.1.0-99
             haskell-rio-prettyprint           0.1.0.0-49           0.1.0.0-51
                    haskell-safecopy            0.10.2-33            0.10.2-34
                         haskell-sbv               8.6-55               8.6-57
                   haskell-serialise           0.2.2.0-10           0.2.2.0-11
                     haskell-servant              0.17-18              0.17-21
              haskell-servant-server              0.17-19              0.17-22
             haskell-servant-swagger             1.1.8-20             1.1.8-23
                       haskell-shake            0.18.5-63            0.18.5-66
                 haskell-shakespeare            2.0.24-21            2.0.24-22
                      haskell-shelly            1.8.1-101            1.8.1-102
                  haskell-singletons               2.6-31               2.6-32
                 haskell-skylighting           0.8.3.2-52           0.8.3.2-55
            haskell-skylighting-core           0.8.3.2-52           0.8.3.2-55
                   haskell-snap-core           1.0.4.1-64           1.0.4.1-67
                 haskell-snap-server          1.1.1.1-180          1.1.1.1-184
                   haskell-sourcemap            0.1.6-174            0.1.6-175
               haskell-src-exts-util             0.2.5-47             0.2.5-48
                    haskell-src-meta              0.8.5-4              0.8.5-5
                  haskell-statistics          0.15.2.0-13          0.15.2.0-14
                       haskell-store             0.7.2-23             0.7.2-24
                    haskell-swagger2                2.5-7                2.5-8
           haskell-tagstream-conduit          0.5.5.3-348          0.5.5.3-349
         haskell-tamarin-prover-term             1.4.1-55             1.4.1-56
       haskell-tamarin-prover-theory             1.4.1-76             1.4.1-77
        haskell-tamarin-prover-utils             1.4.1-40             1.4.1-41
              haskell-tasty-discover              4.2.1-6              4.2.1-8
              haskell-tasty-hedgehog           1.0.0.2-25           1.0.0.2-26
                     haskell-texmath          0.12.0.1-44          0.12.0.1-47
                haskell-text-builder           0.6.6.1-31           0.6.6.1-32
                  haskell-th-desugar              1.10-14              1.10-15
              haskell-th-expand-syns            0.4.5.0-4            0.4.6.0-1
                  haskell-th-orphans            0.13.9-20            0.13.9-21
               haskell-th-reify-many              0.1.9-8              0.1.9-9
                haskell-th-utilities           0.2.3.1-21           0.2.3.1-22
                haskell-time-manager             0.0.0-43             0.0.0-44
         haskell-tls-session-manager             0.0.4-33             0.0.4-34
                   haskell-tree-diff               0.1-78               0.1-79
                 haskell-type-errors           0.2.0.0-19           0.2.0.0-20
                          haskell-tz           0.1.3.3-25           0.1.3.3-26
                   haskell-unixutils           1.54.1-123           1.54.1-124
              haskell-uri-bytestring           0.3.2.2-42           0.3.2.2-43
                  haskell-uri-encode           1.5.0.5-64           1.5.0.5-67
              haskell-wai-app-static           3.1.7.1-66           3.1.7.1-69
                   haskell-wai-extra          3.0.29.1-33          3.0.29.1-36
          haskell-wai-handler-launch           3.0.3.1-34           3.0.3.1-37
                  haskell-wai-logger             2.3.6-62             2.3.6-65
                        haskell-warp             3.3.9-18             3.3.9-21
                    haskell-warp-tls            3.2.11-53            3.2.11-56
                        haskell-wreq          0.5.3.2-175          0.5.3.2-178
                         haskell-x11             1.9.1-17             1.9.1-18
                     haskell-x11-xft             0.3.1-71             0.3.1-72
                  haskell-xml-hamlet           0.5.0.1-72           0.5.0.1-73
                haskell-xss-sanitize            0.3.6-101            0.3.6-104
                        haskell-yaml          0.11.3.0-12          0.11.3.0-13
                       haskell-yesod           1.6.0.1-71           1.6.0.1-74
                  haskell-yesod-auth             1.6.10-9            1.6.10-12
                  haskell-yesod-core             1.6.18-2             1.6.18-5
               haskell-yesod-default            1.2.0-712            1.2.0-715
                  haskell-yesod-form            1.6.7-150            1.6.7-153
            haskell-yesod-persistent           1.6.0.4-95           1.6.0.4-98
                haskell-yesod-static          1.6.0.1-352          1.6.0.1-355
                  haskell-yesod-test            1.6.9-111            1.6.9-114
                             hledger           1.17.1.1-8           1.17.1.1-9
                          hledger-ui          1.17.1.1-11          1.17.1.1-13
                         hledger-web            1.17.1-14            1.17.1-17
                               hlint            2.2.11-36            2.2.11-38
                              hoogle         5.0.17.15-25         5.0.17.15-28
                      hopenpgp-tools            0.23.1-11            0.23.1-14
                               idris            1.3.2-112            1.3.2-115
                      iempluginsuite             1.11.0-2             1.11.1-1
               intel-compute-runtime        20.12.16259-1        20.13.16352-1
                        intel-gmmlib             19.4.1-1             20.1.1-1
             intel-graphics-compiler         1:1.0.3586-1         1:1.0.3627-1
                             jenkins              2.228-1              2.229-1
                          kcm-fcitx5     0.0.0.20200402-1     0.0.0.20200403-1
                            libfm-qt             0.14.1-3             0.14.1-4
                            libqtxdg              3.4.0-3              3.4.0-4
                            minikube              1.8.2-1              1.9.0-1
                nextcloud-app-spreed            1:8.0.6-1            1:8.0.7-1
                              pandoc            2.9.2.1-4            2.9.2.1-8
                     pandoc-citeproc              0.17-63              0.17-67
                     pandoc-crossref           0.3.6.2-60           0.3.6.2-64
                       pantheon-code              3.3.0-1              3.4.0-1
                   pantheon-terminal              5.5.1-1              5.5.2-1
                           postgrest            6.0.2-115            6.0.2-119
                               pyenv             1.2.17-1             1.2.18-1
                     python-cfn-lint             0.29.2-1             0.29.4-1
               python-configargparse                1.1-1                1.2-1
         python-cryptography-vectors                2.8-4                2.9-1
                     python-httplib2             0.17.0-2             0.17.1-1
                     python-identify             1.4.13-1             1.4.14-1
                python-keystoneauth1             3.18.0-4              4.0.0-1
             python-os-client-config              2.0.0-1              2.1.0-1
                     python-oslotest              4.1.0-1              4.2.0-1
                       python-scramp              1.1.0-3              1.1.1-1
                     python-zeroconf             0.24.4-1             0.24.5-1
                    python2-httplib2             0.17.0-2             0.17.1-1
                    qt5-styleplugins    5.0.0.20170311-19    5.0.0.20170311-20
              qt5-ukui-platformtheme              1.0.1-1              1.0.2-1
                             redkite              0.6.3-1              0.8.0-1
                              rspamd                2.4-1                2.5-1
                         ruby-tzinfo              2.0.1-1              2.0.2-1
                               sfizz              0.3.1-1              0.3.2-1
                          shellcheck            0.7.0-209            0.7.0-213
                             skrooge             2.21.1-3             2.21.1-4
                               stack    2.1.3.20200310-38    2.1.3.20200310-43
                     stylish-haskell          0.11.0.0-15          0.11.0.0-16
               switchboard-plug-a11y              2.1.3-1              2.2.0-1
           switchboard-plug-keyboard              2.3.5-1              2.3.6-1
             switchboard-plug-locale              2.5.0-2              2.5.1-1
      switchboard-plug-notifications              2.1.5-1              2.1.6-1
              switchboard-plug-power              2.4.0-1              2.4.1-2
            switchboard-plug-sharing              2.1.3-1              2.1.4-1
                      tamarin-prover            1.4.1-316            1.4.1-319
                             taskell           1.9.2.0-69           1.9.2.0-72
                  ukui-power-manager              2.0.0-1              2.0.1-1
                  ukui-window-switch              2.0.1-1              2.0.1-2
                            watchman              4.9.0-3              4.9.0-4
        wingpanel-indicator-keyboard              2.2.0-1              2.2.1-1
   wingpanel-indicator-notifications              2.1.3-1              2.1.4-1
         wingpanel-indicator-session              2.2.7-1              2.2.8-1
                              xmobar              0.33-26              0.33-29
                              xmonad              0.15-38              0.15-39
                      xmonad-contrib              0.16-18              0.16-19
                        xmonad-utils           0.1.3.3-44           0.1.3.3-45
                 libretro-beetle-pce                    -               1019-1
            libretro-beetle-pce-fast                    -                971-1
          libretro-beetle-supergrafx                    -                808-1
                              maxcso                    -             1.11.0-3
             pantheon-geoclue2-agent                    -              1.0.3-1
                                wofi                    -              1.1.2-2


:: Different sync package(s) in repository core x86_64

-------------------------------------------------------------------------------
                             PACKAGE           2020-04-03           2020-04-04
-------------------------------------------------------------------------------
                           amd-ucode   20200224.efcfa03-1   20200316.8eb0b28-1
                      linux-firmware   20200224.efcfa03-1   20200316.8eb0b28-1
                              netctl               1.20-2               1.21-2


:: Different overlay package(s) in repository extra x86_64

-------------------------------------------------------------------------------
                             PACKAGE           2020-04-03           2020-04-04
-------------------------------------------------------------------------------
                   libva-mesa-driver           20.0.4-0.1                    -
                   manjaro-arm-tools              2.8.1-1              2.8.2-1
                                mesa           20.0.4-0.1                    -
                          mesa-vdpau           20.0.4-0.1                    -
                         opencl-mesa           20.0.4-0.1                    -
                           pamac-cli              9.4.0-6              9.4.0-7
                       pamac-cli-dev              9.4.0-6              9.4.0-7
                        pamac-common              9.4.0-6              9.4.0-7
                    pamac-common-dev              9.4.0-6              9.4.0-7
                pamac-flatpak-plugin              9.4.0-6              9.4.0-7
            pamac-flatpak-plugin-dev              9.4.0-6              9.4.0-7
                           pamac-gtk              9.4.0-6              9.4.0-7
                       pamac-gtk-dev              9.4.0-6              9.4.0-7
                   pamac-snap-plugin              9.4.0-6              9.4.0-7
               pamac-snap-plugin-dev              9.4.0-6              9.4.0-7
             pamac-tray-appindicator              9.4.0-6              9.4.0-7
         pamac-tray-appindicator-dev              9.4.0-6              9.4.0-7
                            qt5-base             5.14.1-3             5.14.2-1
             qt5-xcb-private-headers             5.14.1-3             5.14.2-1
                        vulkan-intel           20.0.4-0.1                    -
                   vulkan-mesa-layer           20.0.4-0.1                    -
                       vulkan-radeon           20.0.4-0.1                    -
         pamac-gnome-integration-dev                    -              9.4.0-7


:: Different sync package(s) in repository extra x86_64

-------------------------------------------------------------------------------
                             PACKAGE           2020-04-03           2020-04-04
-------------------------------------------------------------------------------
                             akonadi            19.12.3-1            19.12.3-2
                            chromium      80.0.3987.162-1      80.0.3987.163-1
                             firefox               74.0-2             74.0.1-1
                    firefox-i18n-ach               74.0-1             74.0.1-1
                     firefox-i18n-af               74.0-1             74.0.1-1
                     firefox-i18n-an               74.0-1             74.0.1-1
                     firefox-i18n-ar               74.0-1             74.0.1-1
                    firefox-i18n-ast               74.0-1             74.0.1-1
                     firefox-i18n-az               74.0-1             74.0.1-1
                     firefox-i18n-be               74.0-1             74.0.1-1
                     firefox-i18n-bg               74.0-1             74.0.1-1
                     firefox-i18n-bn               74.0-1             74.0.1-1
                     firefox-i18n-br               74.0-1             74.0.1-1
                     firefox-i18n-bs               74.0-1             74.0.1-1
                     firefox-i18n-ca               74.0-1             74.0.1-1
            firefox-i18n-ca-valencia               74.0-1             74.0.1-1
                    firefox-i18n-cak               74.0-1             74.0.1-1
                     firefox-i18n-cs               74.0-1             74.0.1-1
                     firefox-i18n-cy               74.0-1             74.0.1-1
                     firefox-i18n-da               74.0-1             74.0.1-1
                     firefox-i18n-de               74.0-1             74.0.1-1
                    firefox-i18n-dsb               74.0-1             74.0.1-1
                     firefox-i18n-el               74.0-1             74.0.1-1
                  firefox-i18n-en-ca               74.0-1             74.0.1-1
                  firefox-i18n-en-gb               74.0-1             74.0.1-1
                  firefox-i18n-en-us               74.0-1             74.0.1-1
                     firefox-i18n-eo               74.0-1             74.0.1-1
                  firefox-i18n-es-ar               74.0-1             74.0.1-1
                  firefox-i18n-es-cl               74.0-1             74.0.1-1
                  firefox-i18n-es-es               74.0-1             74.0.1-1
                  firefox-i18n-es-mx               74.0-1             74.0.1-1
                     firefox-i18n-et               74.0-1             74.0.1-1
                     firefox-i18n-eu               74.0-1             74.0.1-1
                     firefox-i18n-fa               74.0-1             74.0.1-1
                     firefox-i18n-ff               74.0-1             74.0.1-1
                     firefox-i18n-fi               74.0-1             74.0.1-1
                     firefox-i18n-fr               74.0-1             74.0.1-1
                  firefox-i18n-fy-nl               74.0-1             74.0.1-1
                  firefox-i18n-ga-ie               74.0-1             74.0.1-1
                     firefox-i18n-gd               74.0-1             74.0.1-1
                     firefox-i18n-gl               74.0-1             74.0.1-1
                     firefox-i18n-gn               74.0-1             74.0.1-1
                  firefox-i18n-gu-in               74.0-1             74.0.1-1
                     firefox-i18n-he               74.0-1             74.0.1-1
                  firefox-i18n-hi-in               74.0-1             74.0.1-1
                     firefox-i18n-hr               74.0-1             74.0.1-1
                    firefox-i18n-hsb               74.0-1             74.0.1-1
                     firefox-i18n-hu               74.0-1             74.0.1-1
                  firefox-i18n-hy-am               74.0-1             74.0.1-1
                     firefox-i18n-ia               74.0-1             74.0.1-1
                     firefox-i18n-id               74.0-1             74.0.1-1
                     firefox-i18n-is               74.0-1             74.0.1-1
                     firefox-i18n-it               74.0-1             74.0.1-1
                     firefox-i18n-ja               74.0-1             74.0.1-1
                     firefox-i18n-ka               74.0-1             74.0.1-1
                    firefox-i18n-kab               74.0-1             74.0.1-1
                     firefox-i18n-kk               74.0-1             74.0.1-1
                     firefox-i18n-km               74.0-1             74.0.1-1
                     firefox-i18n-kn               74.0-1             74.0.1-1
                     firefox-i18n-ko               74.0-1             74.0.1-1
                    firefox-i18n-lij               74.0-1             74.0.1-1
                     firefox-i18n-lt               74.0-1             74.0.1-1
                     firefox-i18n-lv               74.0-1             74.0.1-1
                     firefox-i18n-mk               74.0-1             74.0.1-1
                     firefox-i18n-mr               74.0-1             74.0.1-1
                     firefox-i18n-ms               74.0-1             74.0.1-1
                     firefox-i18n-my               74.0-1             74.0.1-1
                  firefox-i18n-nb-no               74.0-1             74.0.1-1
                  firefox-i18n-ne-np               74.0-1             74.0.1-1
                     firefox-i18n-nl               74.0-1             74.0.1-1
                  firefox-i18n-nn-no               74.0-1             74.0.1-1
                     firefox-i18n-oc               74.0-1             74.0.1-1
                  firefox-i18n-pa-in               74.0-1             74.0.1-1
                     firefox-i18n-pl               74.0-1             74.0.1-1
                  firefox-i18n-pt-br               74.0-1             74.0.1-1
                  firefox-i18n-pt-pt               74.0-1             74.0.1-1
                     firefox-i18n-rm               74.0-1             74.0.1-1
                     firefox-i18n-ro               74.0-1             74.0.1-1
                     firefox-i18n-ru               74.0-1             74.0.1-1
                     firefox-i18n-si               74.0-1             74.0.1-1
                     firefox-i18n-sk               74.0-1             74.0.1-1
                     firefox-i18n-sl               74.0-1             74.0.1-1
                    firefox-i18n-son               74.0-1             74.0.1-1
                     firefox-i18n-sq               74.0-1             74.0.1-1
                     firefox-i18n-sr               74.0-1             74.0.1-1
                  firefox-i18n-sv-se               74.0-1             74.0.1-1
                     firefox-i18n-ta               74.0-1             74.0.1-1
                     firefox-i18n-te               74.0-1             74.0.1-1
                     firefox-i18n-th               74.0-1             74.0.1-1
                     firefox-i18n-tl               74.0-1             74.0.1-1
                     firefox-i18n-tr               74.0-1             74.0.1-1
                    firefox-i18n-trs               74.0-1             74.0.1-1
                     firefox-i18n-uk               74.0-1             74.0.1-1
                     firefox-i18n-ur               74.0-1             74.0.1-1
                     firefox-i18n-uz               74.0-1             74.0.1-1
                     firefox-i18n-vi               74.0-1             74.0.1-1
                     firefox-i18n-xh               74.0-1             74.0.1-1
                  firefox-i18n-zh-cn               74.0-1             74.0.1-1
                  firefox-i18n-zh-tw               74.0-1             74.0.1-1
                       gnome-weather             3.34.0-1             3.34.1-1
               gtk-update-icon-cache          1:3.24.16-1          1:3.24.17-2
                                gtk3          1:3.24.16-1          1:3.24.17-2
                                kwin           5.18.4.1-1           5.18.4.1-2
                          libakonadi            19.12.3-1            19.12.3-2
                               libva              2.6.1-1              2.7.0-1
                   libva-mesa-driver             20.0.3-1             20.0.4-1
                                loki              1.3.0-3              1.4.0-1
                                mesa             20.0.3-1             20.0.4-1
                          mesa-vdpau             20.0.3-1             20.0.4-1
                                 mpd            0.21.21-1            0.21.22-1
                         opencl-mesa             20.0.3-1             20.0.4-1
                        pyqt-builder              1.2.0-1              1.3.0-1
                             pyside2             5.14.1-1             5.14.2-1
                       pyside2-tools             5.14.1-1             5.14.2-1
                       python-django              3.0.4-1              3.0.5-1
                    python-pyqt5-sip             12.7.1-1             12.7.2-1
                    python-shiboken2             5.14.1-1             5.14.2-1
                          python-sip            4.19.21-1            4.19.22-1
                   python2-sip-pyqt5            4.19.21-1            4.19.22-1
                              qt5-3d             5.14.1-2             5.14.2-1
                            qt5-base             5.14.1-4             5.14.2-1
                          qt5-charts             5.14.1-1             5.14.2-1
                    qt5-connectivity             5.14.1-1             5.14.2-1
                       qt5-datavis3d             5.14.1-1             5.14.2-1
                     qt5-declarative             5.14.1-1             5.14.2-1
                             qt5-doc             5.14.1-1             5.14.2-1
                        qt5-examples             5.14.1-1             5.14.2-1
                         qt5-gamepad             5.14.1-1             5.14.2-1
                qt5-graphicaleffects             5.14.1-1             5.14.2-1
                    qt5-imageformats             5.14.1-1             5.14.2-1
                        qt5-location             5.14.1-1             5.14.2-1
                          qt5-lottie             5.14.1-1             5.14.2-1
                            qt5-mqtt             5.14.1-1             5.14.2-1
                      qt5-multimedia             5.14.1-1             5.14.2-1
                     qt5-networkauth             5.14.1-1             5.14.2-1
                      qt5-purchasing             5.14.1-1             5.14.2-1
                         qt5-quick3d             5.14.1-1             5.14.2-1
                   qt5-quickcontrols             5.14.1-1             5.14.2-1
                  qt5-quickcontrols2             5.14.1-1             5.14.2-1
                   qt5-remoteobjects             5.14.1-1             5.14.2-1
                          qt5-script             5.14.1-1             5.14.2-1
                           qt5-scxml             5.14.1-1             5.14.2-1
                         qt5-sensors             5.14.1-1             5.14.2-1
                       qt5-serialbus             5.14.1-1             5.14.2-1
                      qt5-serialport             5.14.1-1             5.14.2-1
                          qt5-speech             5.14.1-1             5.14.2-1
                             qt5-svg             5.14.1-1             5.14.2-1
                           qt5-tools             5.14.1-1             5.14.2-1
                    qt5-translations             5.14.1-1             5.14.2-1
                 qt5-virtualkeyboard             5.14.1-1             5.14.2-1
                         qt5-wayland             5.14.1-1             5.14.2-1
                      qt5-webchannel             5.14.1-1             5.14.2-1
                       qt5-webengine             5.14.1-2             5.14.2-1
                     qt5-webglplugin             5.14.1-1             5.14.2-1
                          qt5-webkit      5.212.0alpha4-1      5.212.0alpha4-3
                      qt5-websockets             5.14.1-1             5.14.2-1
                         qt5-webview             5.14.1-1             5.14.2-1
                       qt5-x11extras             5.14.1-1             5.14.2-1
             qt5-xcb-private-headers             5.14.1-4             5.14.2-1
                     qt5-xmlpatterns             5.14.1-1             5.14.2-1
                           qtcreator             4.11.1-1             4.11.2-2
                           shiboken2             5.14.1-1             5.14.2-1
                                 sip            4.19.21-1            4.19.22-1
                                sip5              5.1.1-1              5.1.2-1
                        vulkan-intel             20.0.3-1             20.0.4-1
                   vulkan-mesa-layer             20.0.3-1             20.0.4-1
                       vulkan-radeon             20.0.3-1             20.0.4-1


:: Different overlay package(s) in repository multilib x86_64

-------------------------------------------------------------------------------
                             PACKAGE           2020-04-03           2020-04-04
-------------------------------------------------------------------------------
             lib32-libva-mesa-driver           20.0.4-0.1                    -
                          lib32-mesa           20.0.4-0.1                    -
                    lib32-mesa-vdpau           20.0.4-0.1                    -
                   lib32-opencl-mesa           20.0.4-0.1                    -
                  lib32-vulkan-intel           20.0.4-0.1                    -
                 lib32-vulkan-radeon           20.0.4-0.1                    -


:: Different sync package(s) in repository multilib x86_64

-------------------------------------------------------------------------------
                             PACKAGE           2020-04-03           2020-04-04
-------------------------------------------------------------------------------
             lib32-libva-mesa-driver             20.0.3-1             20.0.4-1
                          lib32-mesa             20.0.3-1             20.0.4-1
                    lib32-mesa-vdpau             20.0.3-1             20.0.4-1
                   lib32-opencl-mesa             20.0.3-1             20.0.4-1
                  lib32-vulkan-intel             20.0.3-1             20.0.4-1
                 lib32-vulkan-radeon             20.0.3-1             20.0.4-1


No issue, everything went smoothly
Yes there was an issue. I was able to resolve it myself.(Please post your solution)
Yes i am currently experiencing an issue due to the update. (Please post about it)
Check if your mirror has already synced: