Hello community,
here is another Testing Update for you: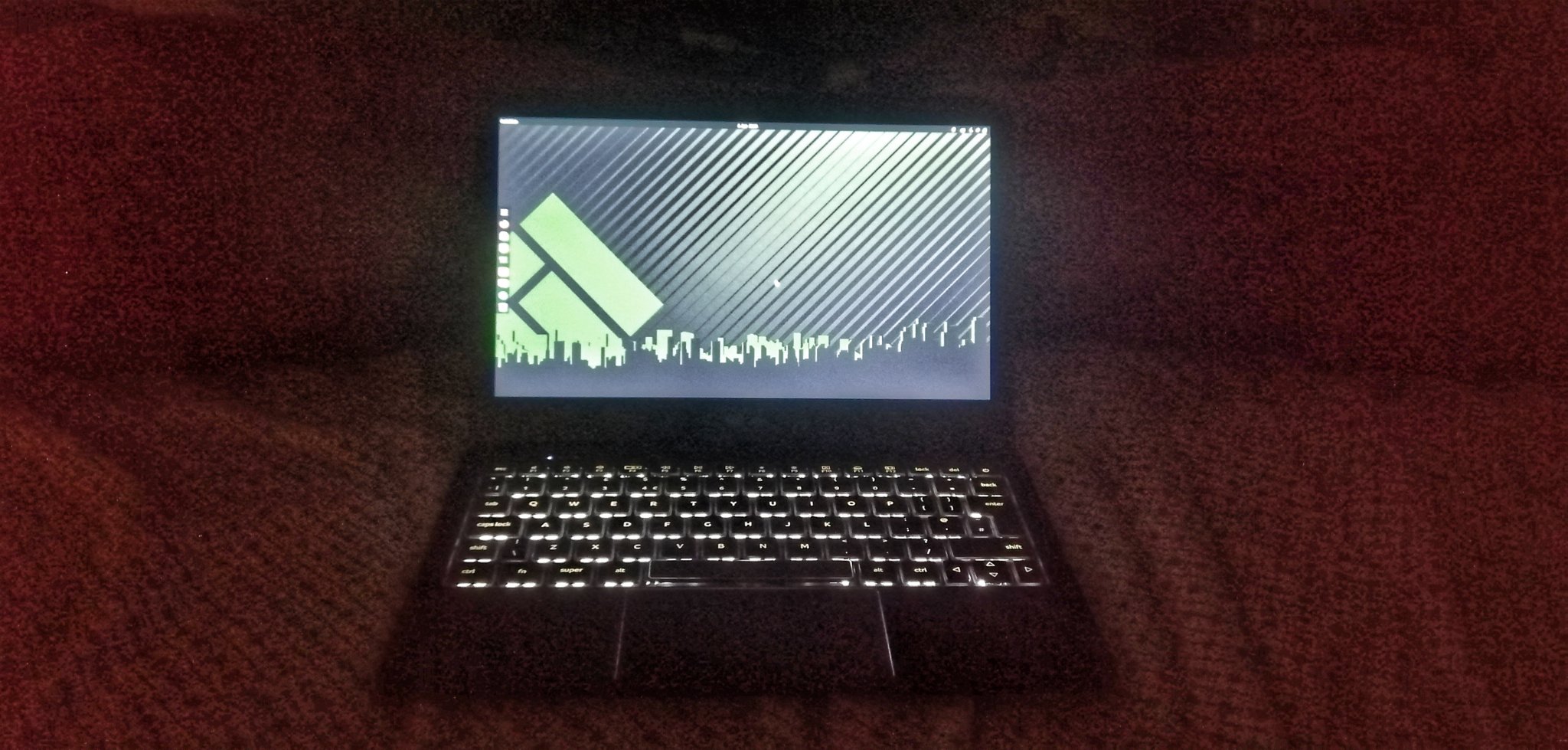 We are working on a new 11" UltraBook ...
Some feature-updates:
We added Gnome-Integration to Pamac
KDE-git packages got updated
Nvidia got updated to 440.82
Firefox got renewed to 75.0
The usual upstream updates including Haskell and Python
If you like following latest Plasma development you may also like to check out our current version of manjaro-kde-dev, which we build on a regular basis against kde-git master packages. Also check out our current 19.0.2 ISOs and give us the needed feedback. You might also want to give our latest spin with NX-Desktop a try ...
As always we appreciate your input and feedback for the updates.
---
Upstream notice
Arch updated their default compression to zstd. We adopted to the same standard. More and more packages will have the zst extension from now on. If you get for what ever reason an error with ZSTD not supported as archive format you can do this:
sudo pacman -Syy
sudo pacman -S pacman-static
sudo pacman-static -Syyu

---
Our current supported kernels
linux316 3.16.82
linux44 4.4.218
linux49 4.9.218
linux414 4.14.175
linux419 4.19.114
linux54 5.4.30
linux55 5.5.15
linux56 5.6.2
linux419-rt 4.19.106_rt45
linux54-rt 5.4.28_rt19
Package Changes (Tue Apr 7 18:58:38 CEST 2020)
testing community x86_64: 264 new and 260 removed package(s)
testing core x86_64: 2 new and 2 removed package(s)
testing extra x86_64: 159 new and 157 removed package(s)
testing multilib x86_64: 8 new and 8 removed package(s)
:: Different overlay package(s) in repository community x86_64

-------------------------------------------------------------------------------
                             PACKAGE           2020-04-05           2020-04-07
-------------------------------------------------------------------------------
                          attica-git5.69.0.r748.gd2e5e5b-15.69.0.r749.gc7fdfb7-1
                           baloo-git5.69.0.r2742.g74c17af6-15.69.0.r2749.gd4494ee4-1
                        bluez-qt-git5.69.0.r589.g09ae2c2-15.69.0.r590.gd84fee7-1
                          breeze-git5.18.80.r1977.g885c7783-15.18.80.r1979.ga1e1a53f-1
                    breeze-icons-git5.69.0.r1530.g4cdcd11c-15.69.0.r1538.gb8b972a5-1
             extra-cmake-modules-git5.69.0.r3143.g6136a97-15.69.0.r3144.g907d46e-1
            frameworkintegration-git5.69.0.r513.g5db6722-15.69.0.r514.g6d7f83e-1
                     kactivities-git5.69.0.r1281.g63be46e5-15.69.0.r1282.g998ae955-1
               kactivities-stats-git5.69.0.r275.g21445ba-15.69.0.r276.g710eb44-1
                        karchive-git5.69.0.r416.g0474bae-15.69.0.r417.gfa78327-1
                           kauth-git5.69.0.r350.g420c607-15.69.0.r351.g4903e94-1
                      kbookmarks-git5.69.0.r325.gd49b079-15.69.0.r326.g8f5ef69-1
                        kcmutils-git5.69.0.r379.gfc639ac-15.69.0.r381.gd16f10e-1
                         kcodecs-git5.69.0.r301.g2536577-15.69.0.r302.g66e4d1c-1
                     kcompletion-git5.69.0.r355.ga636f5f-15.69.0.r356.gd903a98-1
                         kconfig-git5.69.0.r678.g066c2bd-15.69.0.r679.g0d113fb-1
                  kconfigwidgets-git5.69.0.r450.gb8d79ca-15.69.0.r451.gfe8a5de-1
                     kcoreaddons-git5.69.0.r964.g0ee6512-15.69.0.r965.g13ecffa-1
                          kcrash-git5.69.0.r298.g4297a0a-15.69.0.r299.g29c23f2-1
                     kdbusaddons-git5.69.0.r304.g7f8d778-15.69.0.r305.gfc4b9b7-1
                    kdeclarative-git5.69.0.r761.gcb18820-15.69.0.r762.ga09398e-1
                            kded-git5.69.0.r305.ge72c85b-15.69.0.r306.gfb9fd81-1
                 kdelibs4support-git5.69.0.r928.gfc7fa518-15.69.0.r929.g1e8ce683-1
                kdeplasma-addons-git5.18.80.r8327.gdaf8142d5-15.18.80.r8328.g02c3233d8-1
                 kdesignerplugin-git5.69.0.r275.g5494006-15.69.0.r276.g86892eb-1
                           kdesu-git5.69.0.r392.g6c56e93-15.69.0.r393.g9e8b424-1
                       kdewebkit-git5.69.0.r225.g0f0b4bf-15.69.0.r226.gb9c6c29-1
                          kdnssd-git5.69.0.r252.gca62329-15.69.0.r253.g24f4fa5-1
                       kdoctools-git5.69.0.r534.gc2e0be3-15.69.0.r535.gc975990-1
                      kemoticons-git5.69.0.r313.gcf9cfe8-15.69.0.r314.g0791ec5-1
                   kfilemetadata-git5.69.0.r686.g78b95b2-15.69.0.r687.g0b64697-1
                    kglobalaccel-git5.69.0.r354.gc14934d-15.69.0.r355.g2e5f278-1
                      kguiaddons-git5.69.0.r271.gb764f9c-15.69.0.r272.gd4d0d3b-1
                       kholidays-git5.69.0.r851.g3e51a0d-15.69.0.r852.g44a33a9-1
                        khotkeys-git5.18.80.r1984.g8b502fe-15.18.80.r1986.g0000a8a-1
                           khtml-git5.69.0.r491.gba10e1e-15.69.0.r492.g6d94b42-1
                           ki18n-git5.69.0.r389.g1097127-15.69.0.r390.g8c97058-1
                     kiconthemes-git5.69.0.r417.gd9cb221-15.69.0.r418.g931cd93-1
                       kidletime-git5.69.0.r244.gabb8f91-15.69.0.r245.gee6b119-1
                   kimageformats-git5.57.0.r266.g551e7d4-15.57.0.r267.gf089e86-1
                           kinit-git5.69.0.r338.g0cccf02-15.69.0.r339.g965fd09-1
                             kio-git5.69.0.r3873.ga624e074-15.69.0.r3884.gd025ed9b-1
                       kirigami2-git5.69.0.r2135.g1d777eef-15.69.0.r2139.g4c7780ea-1
                     kitemmodels-git5.69.0.r421.g8696ae5-15.69.0.r422.gbe17828-1
                      kitemviews-git5.69.0.r264.ge0f581e-15.69.0.r265.g9a19456-1
                     kjobwidgets-git5.69.0.r289.g2f14890-15.69.0.r290.g6959d16-1
                             kjs-git5.69.0.r277.gec8003d-15.69.0.r278.g0b565a9-1
                        kjsembed-git5.69.0.r239.g97aa443-15.69.0.r240.g9985484-1
                    kmediaplayer-git5.69.0.r233.geee919f-15.69.0.r234.g61eb03f-1
                      knetattach-git5.18.80.r7528.gd7213a192-15.18.80.r7532.g1f0cf38db-1
                       knewstuff-git5.69.0.r796.gd63e8bf4-15.69.0.r802.g37452d02-1
                  knotifications-git5.69.0.r518.g3dafde9-15.69.0.r519.g420344f-1
                   knotifyconfig-git5.69.0.r277.g8e0f19f-15.69.0.r278.ge693e20-1
                        kpackage-git5.69.0.r570.g3bd2dab-15.69.0.r571.gebe8855-1
                          kparts-git5.69.0.r392.gc56b490-15.69.0.r394.gd0b5675-1
                         kpeople-git5.69.0.r1248.gaea6d71-15.69.0.r1249.g3a9c80b-1
                       kplotting-git5.69.0.r228.g7d2d543-15.69.0.r229.g0660c6b-1
                            kpty-git5.69.0.r252.g705decf-15.69.0.r253.g107800d-1
                           kross-git5.69.0.r275.ge79889c-15.69.0.r276.g5931dda-1
                        kservice-git5.69.0.r754.gce83ae5-15.69.0.r757.g0ba6476-1
                    ktextwidgets-git5.69.0.r305.ga9f219c-15.69.0.r307.gd7ec040-1
                 kunitconversion-git5.69.0.r300.gb7bab9d-15.69.0.r301.g3f0bbf2-1
                         kwallet-git5.69.0.r952.g1a22e6b-15.69.0.r953.gbc9713e-1
                        kwayland-git5.69.0.r990.gff9cadf-15.69.0.r1000.g51870cb-2
                  kwidgetsaddons-git5.69.0.r647.g8262488-15.69.0.r649.g0c94871-1
                            kwin-git5.18.80.r17827.gbb04ab390-15.18.80.r17866.g6dc938907-2
                   kwindowsystem-git5.69.0.r506.gd3bc79d-15.69.0.r507.ge94116d-1
                         kxmlgui-git5.69.0.r610.g9404efe-15.69.0.r612.g8968101-1
                   kxmlrpcclient-git5.69.0.r389.g9bb8a54ad-15.69.0.r390.ga14270903-1
                    matcha-gtk-theme           20200330-1           20200403-1
                 modemmanager-qt-git5.69.0.r452.g4ad1209-15.69.0.r453.gadc7f1b-1
               networkmanager-qt-git5.69.0.r1041.gdcf88d7-15.69.0.r1042.gf5fa7ae-1
                    oxygen-icons-git5.69.0.r221.g90bab0d-15.69.0.r222.gc0471f0-1
                oxygen-icons-svg-git5.69.0.r221.g90bab0d-15.69.0.r222.gc0471f0-1
      plasma-browser-integration-git5.18.80.r1021.g928f320d-15.18.80.r1023.gb26ddbe9-1
                  plasma-desktop-git5.18.80.r7528.gd7213a192-15.18.80.r7532.g1f0cf38db-1
                plasma-framework-git5.69.0.r15397.g26eb57c53-15.69.0.r15407.gd6f3a52d8-1
                       plasma-nm-git5.18.80.r2841.gd72ff6e1-15.18.80.r2842.g285b5593-1
          plasma-wayland-session-git5.18.80.r8864.g6dc04ef0a-15.18.80.r8871.g96ad51cde-1
                plasma-workspace-git5.18.80.r8864.g6dc04ef0a-15.18.80.r8871.g96ad51cde-1
                          prison-git5.69.0.r250.ge0dec83-15.69.0.r251.ge06242c-1
                         purpose-git5.69.0.r750.g00e456f-15.69.0.r751.g0b07034-1
              qqc2-desktop-style-git5.69.0.r346.gd2f44e4-15.69.0.r347.gb25d915-1
                           solid-git5.69.0.r551.ge468daf-15.69.0.r552.g2ce25d2-1
                          sonnet-git5.69.0.r524.g2ce07be-15.69.0.r525.ga359393-1
                     syndication-git5.69.0.r760.g1cd8312-15.69.0.r761.g3697545-1
             syntax-highlighting-git5.69.0.r1100.g213d4bb-15.69.0.r1101.gdd7ac18-1
                    threadweaver-git5.69.0.r438.g5274821-15.69.0.r439.g9bf422c-1
                      gnome-firmware                    - 3.34.0+36+g4147a76-1


:: Different sync package(s) in repository community x86_64

-------------------------------------------------------------------------------
                             PACKAGE           2020-04-05           2020-04-07
-------------------------------------------------------------------------------
                                agda             2.6.1-20             2.6.1-21
                auto-multiple-choice              1.4.0-6              1.4.0-7
                            autopep8              1:1.5-1            1:1.5.1-1
                             aws-cli            1.18.36-1            1.18.37-1
                                axel             2.17.7-1             2.17.8-1
                           bandwhich             0.12.0-1             0.13.0-1
                       cabal-install           3.0.0.0-72           3.0.0.0-73
                               cacti             1.2.10-1             1.2.11-1
                          cargo-edit              0.5.0-2              0.6.0-1
                             chezmoi             1.7.18-1             1.7.19-1
                             cockpit                216-1                216-3
                   cockpit-dashboard                216-1                216-3
                         cockpit-pcp                216-1                216-3
                         coin-or-cbc             2.10.5-2             2.10.5-3
                                croc              8.0.2-1              8.0.5-1
                                cuda            10.2.89-3            10.2.89-5
                               darcs           2.14.2-207           2.14.2-208
                             dbeaver              7.0.1-1              7.0.2-1
                               dhall             1.31.1-2             1.31.1-3
                          dhall-bash             1.0.29-6             1.0.29-7
                          dhall-json              1.6.3-6              1.6.3-7
                          diffoscope                138-1                139-1
                      dnscrypt-proxy             2.0.42-1             2.0.42-2
                              drupal              8.8.4-1              8.8.5-1
                           dvdauthor              0.7.2-7              0.7.2-8
                           dvdbackup              0.4.2-5              0.4.2-6
                            earlyoom                1.5-1                1.5-2
                            electron              8.2.0-3              8.2.1-1
               firefox-ublock-origin             1.25.2-1             1.26.0-1
               freepats-general-midi           20200216-1           20200405-1
                    gimp-plugin-gmic              2.9.0-1              2.9.0-2
                           git-annex         8.20200330-6         8.20200330-7
                          git-repair        1.20200102-63        1.20200102-64
                                gmic              2.9.0-1              2.9.0-2
                             haproxy              2.1.3-1              2.1.4-1
                haskell-authenticate             1.3.5-94             1.3.5-95
          haskell-authenticate-oauth           1.6.0.1-73           1.6.0.1-74
                         haskell-aws              0.22-26              0.22-27
                 haskell-casa-client             0.0.1-15             0.0.1-16
                  haskell-cheapskate           0.1.1.2-63           0.1.1.2-64
                   haskell-criterion           1.5.6.2-28           1.5.6.2-29
                         haskell-dav             1.3.4-75             1.3.4-76
                haskell-generic-data            0.8.2.0-5            0.8.3.0-1
                     haskell-githash            0.1.4.0-1            0.1.4.0-2
            haskell-hackage-security           0.6.0.0-62           0.6.0.0-63
                      haskell-hakyll          4.13.2.0-45          4.13.2.0-46
                    haskell-hopenpgp             2.9.4-54             2.9.4-56
                       haskell-hpack           0.33.0-103           0.33.0-104
                   haskell-hspec-wai            0.10.1-17            0.10.1-18
              haskell-hspec-wai-json            0.10.1-18            0.10.1-19
                        haskell-http        4000.3.14-162        4000.3.14-163
                 haskell-http-client           0.6.4.1-31           0.6.4.1-32
             haskell-http-client-tls          0.3.5.3-214          0.3.5.3-215
                haskell-http-conduit          2.3.7.3-106          2.3.7.3-107
               haskell-http-download           0.2.0.0-30           0.2.0.0-31
                haskell-http-streams           0.8.7.1-77           0.8.7.1-78
                  haskell-httpd-shed           0.4.1.1-91           0.4.1.1-92
                         haskell-hxt          9.3.1.18-56          9.3.1.18-57
                 haskell-ixset-typed                0.5-8                0.5-9
                        haskell-jose           0.8.2.0-75           0.8.2.0-76
                   haskell-js-jquery            3.3.1-401            3.3.1-402
                    haskell-mustache             2.3.1-78             2.3.1-79
                 haskell-network-uri           2.6.3.0-58           2.6.3.0-59
             haskell-optparse-simple          0.1.1.2-168          0.1.1.2-169
                      haskell-pantry           0.4.0.1-21           0.4.0.1-22
                  haskell-pipes-http            1.0.6-126            1.0.6-127
                    haskell-safecopy            0.10.2-34            0.10.2-35
                     haskell-servant              0.17-21              0.17-22
              haskell-servant-server              0.17-22              0.17-23
             haskell-servant-swagger             1.1.8-24             1.1.8-25
                       haskell-shake            0.18.5-66            0.18.5-67
                 haskell-skylighting            0.8.3.4-1            0.8.3.4-2
            haskell-skylighting-core            0.8.3.4-1            0.8.3.4-2
                   haskell-snap-core           1.0.4.1-67           1.0.4.1-68
                 haskell-snap-server          1.1.1.1-184          1.1.1.1-186
                     haskell-texmath          0.12.0.1-47          0.12.0.1-48
                  haskell-uri-encode           1.5.0.5-67           1.5.0.5-68
                       haskell-vault           0.3.1.3-24            0.3.1.4-1
                         haskell-wai           3.2.2.1-47           3.2.2.1-49
              haskell-wai-app-static           3.1.7.1-69           3.1.7.1-70
                 haskell-wai-conduit          3.0.0.4-193          3.0.0.4-194
                    haskell-wai-cors             0.2.7-42             0.2.7-43
                   haskell-wai-extra          3.0.29.1-36          3.0.29.1-37
          haskell-wai-handler-launch           3.0.3.1-37           3.0.3.1-38
                  haskell-wai-logger             2.3.6-65             2.3.6-66
       haskell-wai-middleware-static             0.8.3-27             0.8.3-28
              haskell-wai-websockets          3.0.1.2-132          3.0.1.2-133
                        haskell-warp             3.3.9-21             3.3.9-22
                    haskell-warp-tls            3.2.11-56            3.2.11-57
                        haskell-wreq          0.5.3.2-178          0.5.3.2-179
                haskell-xss-sanitize            0.3.6-104            0.3.6-105
                       haskell-yesod           1.6.0.1-74           1.6.0.1-75
                  haskell-yesod-auth            1.6.10-12            1.6.10-13
                  haskell-yesod-core             1.6.18-5             1.6.18-6
               haskell-yesod-default            1.2.0-715            1.2.0-716
                  haskell-yesod-form            1.6.7-153            1.6.7-154
            haskell-yesod-persistent           1.6.0.4-98           1.6.0.4-99
                haskell-yesod-static          1.6.0.1-355          1.6.0.1-356
                  haskell-yesod-test            1.6.9-114            1.6.9-115
                         hledger-web            1.17.1-17            1.17.1-18
                              hoogle         5.0.17.15-28         5.0.17.15-29
                      hopenpgp-tools            0.23.1-14            0.23.1-16
                               idris            1.3.2-115            1.3.2-116
                         jami-daemon           20190813-3           20190813-4
                          jupyterlab              2.0.1-2              2.1.0-1
                   krita-plugin-gmic              2.9.0-1              2.9.0-2
                         libopenshot              0.2.5-1              0.2.5-2
                            librsync            1:2.2.1-1            1:2.3.0-1
                               lsdvd               0.17-3               0.17-4
                           lttng-ust             2.11.0-3             2.11.1-1
                        matterbridge             1.16.5-2             1.17.1-1
                          monero-gui           0.15.0.4-1           0.15.0.5-1
                                 mpv           1:0.32.0-2           1:0.32.0-3
                             netdata             1.20.0-4             1.21.0-1
                              nomacs             3.14.2-1             3.14.2-2
                          obs-studio             25.0.3-1             25.0.4-1
                            ogmtools                1.5-8                1.5-9
                             opendht           1:1.10.1-4           1:1.10.1-5
                              pandoc           2.9.2.1-10           2.9.2.1-11
                     pandoc-citeproc              0.17-69              0.17-70
                     pandoc-crossref           0.3.6.2-66           0.3.6.2-67
                  papirus-icon-theme           20200301-1           20200405-1
                            paraview              5.8.0-1              5.8.0-2
                               peony              2.1.1-1              2.1.2-1
                          performous               1.1-23               1.1-24
                            polymake             4.0.r1-1             4.0.r1-3
                           postgrest              7.0.0-1              7.0.0-2
                            prettier              2.0.2-1              2.0.4-1
                               pynac             0.7.26-2             0.7.26-3
                  python-aiobotocore              1.0.1-1              1.0.2-1
                python-aiohttp-socks              0.3.6-1              0.3.7-1
                        python-boto3            1.12.36-1            1.12.37-1
                     python-botocore            1.15.36-1            1.15.37-1
                         python-cmd2              1.0.1-1              1.0.2-1
                   python-deprecated              1.2.7-2              1.2.8-1
                         python-dkim              1.0.3-1              1.0.4-1
                 python-jsbeautifier             1.10.3-1             1.11.0-1
                     python-lttngust             2.11.0-3             2.11.1-1
                      python-pytorch              1.4.1-1              1.4.1-2
                 python-pytorch-cuda              1.4.1-1              1.4.1-2
                  python-pytorch-opt              1.4.1-1              1.4.1-2
             python-pytorch-opt-cuda              1.4.1-1              1.4.1-2
               python-sphinx-autoapi              1.2.1-1              1.3.0-1
                    python2-autopep8              1:1.5-1            1:1.5.1-1
                 python2-qpid-proton             0.30.0-1             0.30.0-2
                         qbittorrent              4.2.2-1              4.2.3-1
                     qbittorrent-nox              4.2.2-1              4.2.3-1
                         qpid-proton             0.30.0-1             0.30.0-2
                      rime-cantonese     0.0.0.20200331-2     0.0.0.20200406-1
                            sagemath               9.0-12               9.0-13
                    sagemath-jupyter               9.0-12               9.0-13
                          shellcheck            0.7.0-215            0.7.0-216
                            singular           4.1.2.p5-3              4.1.3-1
                            sonic-pi              3.2.1-2              3.2.2-1
                               stack    2.1.3.20200310-44    2.1.3.20200310-45
                              stella                6.1-1              6.1.1-1
                              sysdig             0.26.6-1             0.26.6-2
                      tamarin-prover            1.4.1-319            1.4.1-320
                             taskell           1.9.2.0-72           1.9.2.0-73
                           transcode             1.1.7-32             1.1.7-33
                             ts-node              8.8.1-1              8.8.2-1
                 ukui-control-center              2.0.2-1              2.0.3-1
                          ukui-media              2.0.2-1              2.0.3-1
                          ukui-panel              2.0.4-1              2.0.5-1
                        ukui-sidebar              1.1.1-1              1.1.2-1
         v2ray-domain-list-community       202004041314-1       202004061300-1
                               vamps            0.99.2-13            0.99.2-14
                                 vtk              8.2.0-9             8.2.0-10
                              waybar              0.9.1-1              0.9.1-3
                              xmobar              0.33-30              0.33-31
                                zart              2.9.0-1              2.9.0-2
                       zita-ajbridge              0.8.2-1              0.8.4-1
                      cockpit-docker                    -                216-3
                    cockpit-machines                    -                216-3
                        libvirt-dbus                    -              1.3.0-2


:: Different overlay package(s) in repository core x86_64

-------------------------------------------------------------------------------
                             PACKAGE           2020-04-05           2020-04-07
-------------------------------------------------------------------------------
                   mhwd-nvidia-440xx             440.64-1             440.82-1


:: Different sync package(s) in repository core x86_64

-------------------------------------------------------------------------------
                             PACKAGE           2020-04-05           2020-04-07
-------------------------------------------------------------------------------
                         btrfs-progs              5.4.1-1                5.6-1


:: Different overlay package(s) in repository extra x86_64

-------------------------------------------------------------------------------
                             PACKAGE           2020-04-05           2020-04-07
-------------------------------------------------------------------------------
               calamares-git 3.2.22.r7624.e3816fa13-1 3.2.22.r7648.8b6d605d5-1
               linux316-nvidia-440xx             440.64-1             440.82-1
               linux414-nvidia-440xx             440.64-4             440.82-1
               linux419-nvidia-440xx             440.64-8             440.82-1
                linux44-nvidia-440xx             440.64-5             440.82-1
                linux49-nvidia-440xx             440.64-5             440.82-1
                linux54-nvidia-440xx             440.64-9             440.82-1
                linux55-nvidia-440xx            440.64-11             440.82-1
                linux56-nvidia-440xx             440.64-3             440.82-1
              manjaro-tools-base-git      r2887.dee5a38-1      r2895.3806b31-1
               manjaro-tools-iso-git      r2887.dee5a38-1      r2895.3806b31-1
               manjaro-tools-pkg-git      r2887.dee5a38-1      r2895.3806b31-1
              manjaro-tools-yaml-git      r2887.dee5a38-1      r2895.3806b31-1
                  nvidia-440xx-utils             440.64-1             440.82-1
                 opencl-nvidia-440xx             440.64-1             440.82-1
                           pamac-cli              9.4.1-1              9.4.1-3
                       pamac-cli-dev              9.4.1-1              9.4.1-2
                        pamac-common              9.4.1-1              9.4.1-3
                    pamac-common-dev              9.4.1-1              9.4.1-2
                pamac-flatpak-plugin              9.4.1-1              9.4.1-3
            pamac-flatpak-plugin-dev              9.4.1-1              9.4.1-2
         pamac-gnome-integration-dev              9.4.1-1              9.4.1-2
                           pamac-gtk              9.4.1-1              9.4.1-3
                       pamac-gtk-dev              9.4.1-1              9.4.1-2
                   pamac-snap-plugin              9.4.1-1              9.4.1-3
               pamac-snap-plugin-dev              9.4.1-1              9.4.1-2
             pamac-tray-appindicator              9.4.1-1              9.4.1-3
         pamac-tray-appindicator-dev              9.4.1-1              9.4.1-2
             pamac-gnome-integration                    -              9.4.1-3


:: Different sync package(s) in repository extra x86_64

-------------------------------------------------------------------------------
                             PACKAGE           2020-04-05           2020-04-07
-------------------------------------------------------------------------------
                           audacious             3.10.1-2              4.0.1-1
                   audacious-plugins             3.10.1-4              4.0.1-1
                            cbindgen             0.14.0-1             0.14.0-2
                               cmake             3.17.0-1             3.17.0-2
                             digikam              6.4.0-8              6.4.0-9
                             firefox             74.0.1-1               75.0-1
                    firefox-i18n-ach             74.0.1-1               75.0-1
                     firefox-i18n-af             74.0.1-1               75.0-1
                     firefox-i18n-an             74.0.1-1               75.0-1
                     firefox-i18n-ar             74.0.1-1               75.0-1
                    firefox-i18n-ast             74.0.1-1               75.0-1
                     firefox-i18n-az             74.0.1-1               75.0-1
                     firefox-i18n-be             74.0.1-1               75.0-1
                     firefox-i18n-bg             74.0.1-1               75.0-1
                     firefox-i18n-bn             74.0.1-1               75.0-1
                     firefox-i18n-br             74.0.1-1               75.0-1
                     firefox-i18n-bs             74.0.1-1               75.0-1
                     firefox-i18n-ca             74.0.1-1               75.0-1
            firefox-i18n-ca-valencia             74.0.1-1               75.0-1
                    firefox-i18n-cak             74.0.1-1               75.0-1
                     firefox-i18n-cs             74.0.1-1               75.0-1
                     firefox-i18n-cy             74.0.1-1               75.0-1
                     firefox-i18n-da             74.0.1-1               75.0-1
                     firefox-i18n-de             74.0.1-1               75.0-1
                    firefox-i18n-dsb             74.0.1-1               75.0-1
                     firefox-i18n-el             74.0.1-1               75.0-1
                  firefox-i18n-en-ca             74.0.1-1               75.0-1
                  firefox-i18n-en-gb             74.0.1-1               75.0-1
                  firefox-i18n-en-us             74.0.1-1               75.0-1
                     firefox-i18n-eo             74.0.1-1               75.0-1
                  firefox-i18n-es-ar             74.0.1-1               75.0-1
                  firefox-i18n-es-cl             74.0.1-1               75.0-1
                  firefox-i18n-es-es             74.0.1-1               75.0-1
                  firefox-i18n-es-mx             74.0.1-1               75.0-1
                     firefox-i18n-et             74.0.1-1               75.0-1
                     firefox-i18n-eu             74.0.1-1               75.0-1
                     firefox-i18n-fa             74.0.1-1               75.0-1
                     firefox-i18n-ff             74.0.1-1               75.0-1
                     firefox-i18n-fi             74.0.1-1               75.0-1
                     firefox-i18n-fr             74.0.1-1               75.0-1
                  firefox-i18n-fy-nl             74.0.1-1               75.0-1
                  firefox-i18n-ga-ie             74.0.1-1               75.0-1
                     firefox-i18n-gd             74.0.1-1               75.0-1
                     firefox-i18n-gl             74.0.1-1               75.0-1
                     firefox-i18n-gn             74.0.1-1               75.0-1
                  firefox-i18n-gu-in             74.0.1-1               75.0-1
                     firefox-i18n-he             74.0.1-1               75.0-1
                  firefox-i18n-hi-in             74.0.1-1               75.0-1
                     firefox-i18n-hr             74.0.1-1               75.0-1
                    firefox-i18n-hsb             74.0.1-1               75.0-1
                     firefox-i18n-hu             74.0.1-1               75.0-1
                  firefox-i18n-hy-am             74.0.1-1               75.0-1
                     firefox-i18n-ia             74.0.1-1               75.0-1
                     firefox-i18n-id             74.0.1-1               75.0-1
                     firefox-i18n-is             74.0.1-1               75.0-1
                     firefox-i18n-it             74.0.1-1               75.0-1
                     firefox-i18n-ja             74.0.1-1               75.0-1
                     firefox-i18n-ka             74.0.1-1               75.0-1
                    firefox-i18n-kab             74.0.1-1               75.0-1
                     firefox-i18n-kk             74.0.1-1               75.0-1
                     firefox-i18n-km             74.0.1-1               75.0-1
                     firefox-i18n-kn             74.0.1-1               75.0-1
                     firefox-i18n-ko             74.0.1-1               75.0-1
                    firefox-i18n-lij             74.0.1-1               75.0-1
                     firefox-i18n-lt             74.0.1-1               75.0-1
                     firefox-i18n-lv             74.0.1-1               75.0-1
                     firefox-i18n-mk             74.0.1-1               75.0-1
                     firefox-i18n-mr             74.0.1-1               75.0-1
                     firefox-i18n-ms             74.0.1-1               75.0-1
                     firefox-i18n-my             74.0.1-1               75.0-1
                  firefox-i18n-nb-no             74.0.1-1               75.0-1
                  firefox-i18n-ne-np             74.0.1-1               75.0-1
                     firefox-i18n-nl             74.0.1-1               75.0-1
                  firefox-i18n-nn-no             74.0.1-1               75.0-1
                     firefox-i18n-oc             74.0.1-1               75.0-1
                  firefox-i18n-pa-in             74.0.1-1               75.0-1
                     firefox-i18n-pl             74.0.1-1               75.0-1
                  firefox-i18n-pt-br             74.0.1-1               75.0-1
                  firefox-i18n-pt-pt             74.0.1-1               75.0-1
                     firefox-i18n-rm             74.0.1-1               75.0-1
                     firefox-i18n-ro             74.0.1-1               75.0-1
                     firefox-i18n-ru             74.0.1-1               75.0-1
                     firefox-i18n-si             74.0.1-1               75.0-1
                     firefox-i18n-sk             74.0.1-1               75.0-1
                     firefox-i18n-sl             74.0.1-1               75.0-1
                    firefox-i18n-son             74.0.1-1               75.0-1
                     firefox-i18n-sq             74.0.1-1               75.0-1
                     firefox-i18n-sr             74.0.1-1               75.0-1
                  firefox-i18n-sv-se             74.0.1-1               75.0-1
                     firefox-i18n-ta             74.0.1-1               75.0-1
                     firefox-i18n-te             74.0.1-1               75.0-1
                     firefox-i18n-th             74.0.1-1               75.0-1
                     firefox-i18n-tl             74.0.1-1               75.0-1
                     firefox-i18n-tr             74.0.1-1               75.0-1
                    firefox-i18n-trs             74.0.1-1               75.0-1
                     firefox-i18n-uk             74.0.1-1               75.0-1
                     firefox-i18n-ur             74.0.1-1               75.0-1
                     firefox-i18n-uz             74.0.1-1               75.0-1
                     firefox-i18n-vi             74.0.1-1               75.0-1
                     firefox-i18n-xh             74.0.1-1               75.0-1
                  firefox-i18n-zh-cn             74.0.1-1               75.0-1
                  firefox-i18n-zh-tw             74.0.1-1               75.0-1
                          fluidsynth              2.1.1-1              2.1.2-1
                  gnome-disk-utility             3.36.1-1             3.36.1-2
                       gnome-weather             3.34.1-1             3.36.0-1
                     gst-plugins-bad             1.16.2-6             1.16.2-7
                gst-plugins-bad-libs             1.16.2-6             1.16.2-7
                    gst-plugins-ugly             1.16.2-2             1.16.2-3
    gtk-update-icon-cache 1:3.24.17+4+g8c97702a07-2 1:3.24.17+18+gcdd4349bfe-1
                     gtk3 1:3.24.17+4+g8c97702a07-2 1:3.24.17+18+gcdd4349bfe-1
                         imagemagick           7.0.10.4-1           7.0.10.6-1
                     imagemagick-doc           7.0.10.4-1           7.0.10.6-1
                             jsoncpp              1.9.1-1              1.9.2-1
                         jsoncpp-doc              1.9.1-1              1.9.2-1
                                 k3b          1:19.12.3-1          1:19.12.3-2
                           libdvdnav              6.1.0-1              6.1.0-2
                          libdvdread              6.1.0-1              6.1.1-1
                        libinstpatch              1.1.3-1              1.1.4-1
                            mencoder              38157-1              38157-2
                                 mlt             6.20.0-2             6.20.0-3
                             mplayer              38157-1              38157-2
                              opencv              4.2.0-2              4.3.0-1
                      opencv-samples              4.2.0-2              4.3.0-1
                    python-pyparsing              2.4.6-1              2.4.7-1
                   python2-pyparsing              2.4.6-1              2.4.7-1
                               rtkit               0.12-1               0.13-1
                                vala             0.48.2-1             0.48.3-1
                                 vlc             3.0.8-12             3.0.8-13
                            xine-lib             1.2.10-2             1.2.10-3
                               rav1e                    -              0.3.1-4


:: Different overlay package(s) in repository multilib x86_64

-------------------------------------------------------------------------------
                             PACKAGE           2020-04-05           2020-04-07
-------------------------------------------------------------------------------
            lib32-nvidia-440xx-utils             440.64-1             440.82-1
           lib32-opencl-nvidia-440xx             440.64-1             440.82-1


:: Different sync package(s) in repository multilib x86_64

-------------------------------------------------------------------------------
                             PACKAGE           2020-04-05           2020-04-07
-------------------------------------------------------------------------------
                    lib32-fluidsynth              2.1.1-1              2.1.2-1
                          lib32-jack            0.125.0-2            0.125.0-3
                         lib32-jack2             1.9.14-1             1.9.14-2
                  lib32-libinstpatch              1.1.3-1              1.1.4-1
                 lib32-libsamplerate              0.1.9-2              0.1.9-3
                     lib32-portaudio    190600_20161030-2           1:19.6.0-4


No issue, everything went smoothly
Yes there was an issue. I was able to resolve it myself.(Please post your solution)
Yes i am currently experiencing an issue due to the update. (Please post about it)
Check if your mirror has already synced: