Hello community,
here is another Testing Update for you: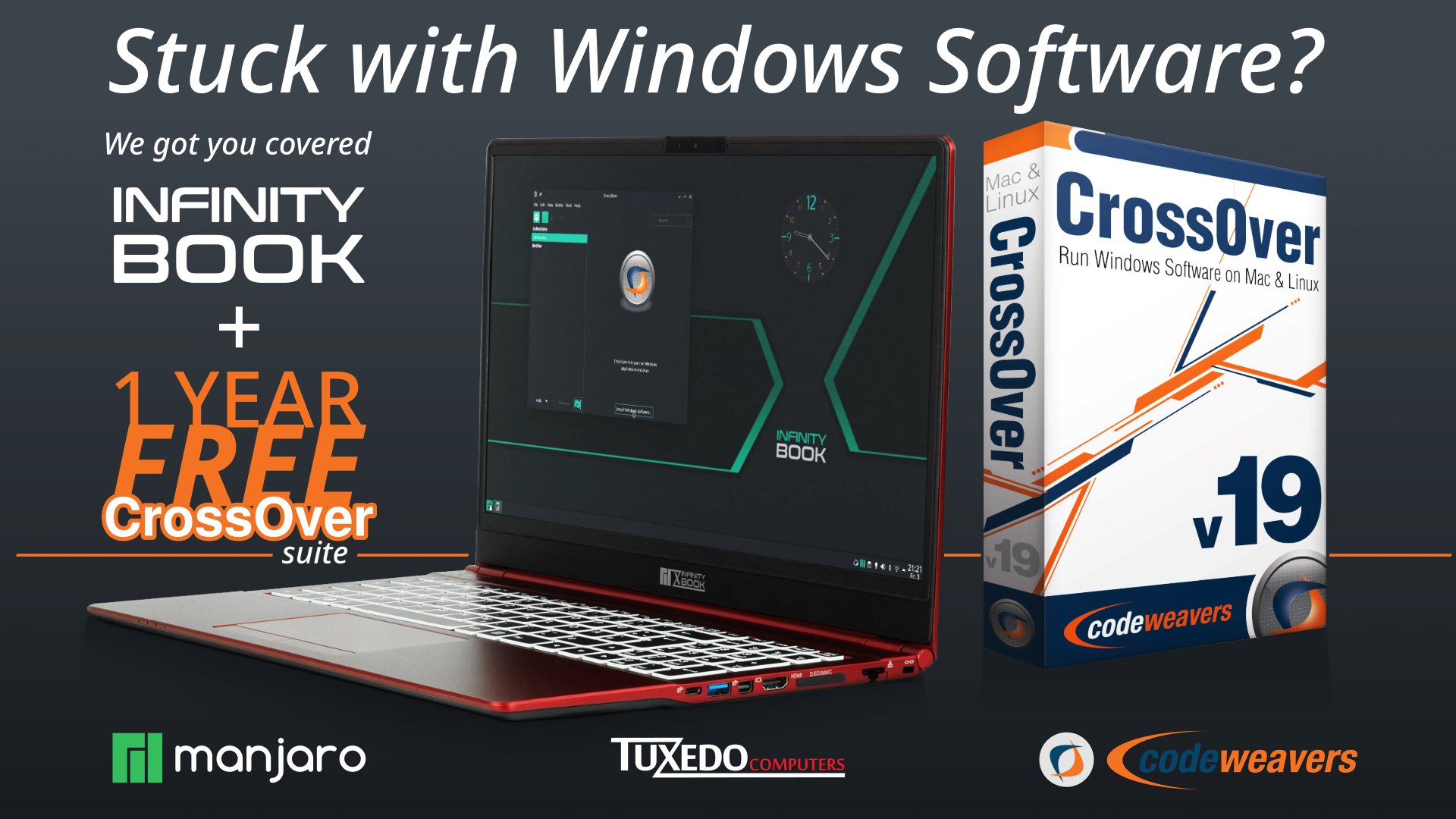 Still stuck with Windows software? We got you covered! Get your InfinityBook with CrossOver!
Some feature-updates:
Some of our Kernels got updated
Brave browser got renewed
Calamares is now at 3.2.22
Octopi got some fixes added
Flatpak is at 1.7.2
The usual upstream updates including Python
If you like following latest Plasma development you may also like to check out our current version of manjaro-kde-dev, which we build on a regular basis against kde-git master packages. Also check out our current 19.0.2 ISOs and give us the needed feedback. You might also want to give our latest spin with NX-Desktop a try ...
As always we appreciate your input and feedback for the updates.
---
Upstream notice
Arch updated their default compression to zstd. We adopted to the same standard. More and more packages will have the zst extension from now on. If you get for what ever reason an error with ZSTD not supported as archive format you can do this:
sudo pacman -Syy
sudo pacman -S pacman-static
sudo pacman-static -Syyu

---
Our current supported kernels
linux316 3.16.82
linux44 4.4.218
linux49 4.9.218
linux414 4.14.175
linux419 4.19.114
linux54 5.4.31
linux55 5.5.16
linux56 5.6.3
linux57 5.7-rc0
linux419-rt 4.19.106_rt45
linux54-rt 5.4.28_rt19
Package Changes (Thu Apr 9 09:51:28 CEST 2020)
testing community x86_64: 119 new and 116 removed package(s)
testing core x86_64: 9 new and 7 removed package(s)
testing extra x86_64: 103 new and 91 removed package(s)
testing multilib x86_64: 2 new and 2 removed package(s)
:: Different overlay package(s) in repository community x86_64

-------------------------------------------------------------------------------
                             PACKAGE           2020-04-07           2020-04-09
-------------------------------------------------------------------------------
                   baloo-git 5.69.0.r2749.gd4494ee4-1 5.69.0.r2750.g927ce4c7-1
                               brave            1.5.115-1             1.7.90-1
                          brave-beta             1.7.72-1             1.8.66-1
                               cpu-x3.2.4.r195.gec43fb0-13.2.4.r199.gffe29f8-1
                          kcrash-git5.69.0.r299.g29c23f2-15.69.0.r300.gd8e41e6-1
                             kio-git5.69.0.r3884.gd025ed9b-15.69.0.r3885.g1fa2f5b4-1
                      knetattach-git5.18.80.r7532.g1f0cf38db-15.18.80.r7534.g3e8c7dada-1
                       knewstuff-git5.69.0.r802.g37452d02-15.69.0.r804.gda5d3931-1
              manjaro-openbox-config             1.23.1-1             1.23.2-1
    manjaro-openbox-desktop-settings             1.23.1-1             1.23.2-1
                    matcha-gtk-theme           20200403-1           20200408-1
                              octopi             0.9.0-22             0.9.0-23
          octopi-notifier-frameworks             0.9.0-22             0.9.0-23
                 octopi-notifier-qt5             0.9.0-22             0.9.0-23
      plasma-browser-integration-git5.18.80.r1023.gb26ddbe9-15.18.80.r1025.g8d1716f1-1
                  plasma-desktop-git5.18.80.r7532.g1f0cf38db-15.18.80.r7534.g3e8c7dada-1
          plasma-wayland-session-git5.18.80.r8871.g96ad51cde-15.18.80.r8874.g5ea6a05eb-1
                plasma-workspace-git5.18.80.r8871.g96ad51cde-15.18.80.r8874.g5ea6a05eb-1
                         purpose-git5.69.0.r751.g0b07034-15.69.0.r752.g4a9a356-1
                         gnome-boxes                    -3.36.2+10+g50f94105-1


:: Different sync package(s) in repository community x86_64

-------------------------------------------------------------------------------
                             PACKAGE           2020-04-07           2020-04-09
-------------------------------------------------------------------------------
                              acpica           20200214-1           20200326-1
                               botan             2.13.0-1             2.14.0-1
                               broot             0.13.4-2             0.13.6-1
                             caprine             2.44.0-1             2.45.0-1
                      cargo-outdated              0.9.8-1              0.9.9-1
                                cgns              4.0.0-1              4.1.1-1
                                code             1.43.2-2             1.44.0-1
                         coin-or-cbc             2.10.5-3             2.10.5-4
                               dhall             1.31.1-3             1.31.1-4
                          dhall-bash             1.0.29-7             1.0.29-8
                          dhall-json              1.6.3-7              1.6.3-8
               dolphin-emu 1:5.0.r11617.0491831483-1 1:5.0.r11830.960ba4fe5e-1
                              embree              3.8.0-1              3.9.0-1
               fcitx5-chinese-addons     0.0.0.20200404-1     0.0.0.20200406-1
                             fractal              4.2.2-1              4.2.2-2
                             gnucash                3.8-6                3.9-1
                        gnucash-docs                3.8-1                3.9-1
                         grammalecte              1.7.0-1              1.8.0-1
             haskell-configurator-pg              0.2.1-2              0.2.2-1
                    haskell-data-fix              0.2.0-1              0.2.1-1
                  intel-media-driver           19.4.0.r-1             20.1.1-1
                                josm              15937-1              16239-1
                              jython              2.7.1-2              2.7.2-1
                               khard             0.16.0-1             0.16.1-1
                         kvantum-qt5             0.14.1-1             0.15.2-1
               kvantum-theme-materia           20200214-1           20200312-1
           libretro-mupen64plus-next              1:194-1              1:228-1
                libsignal-protocol-c              2.3.2-2              2.3.3-1
                            libslirp              4.1.0-1              4.2.0-1
                         libva-utils              2.6.0-1              2.7.0-1
                             libxmlb             0.1.14-1             0.1.15-1
            lightdm-pantheon-greeter              5.0.2-2              5.0.3-1
                            lollypop             1.2.33-1             1.2.34-1
                         materia-kde           20200214-1           20200312-1
                             mathjax              3.0.1-1              3.0.4-1
                            mathjax2              2.7.7-1              2.7.8-1
                              nebula              1.1.0-2              1.2.0-0
                  nextcloud-app-deck            1:0.8.0-1            1:0.8.2-1
                  nodejs-lts-dubnium            10.19.0-2            10.20.0-1
                   npm-check-updates              4.1.1-1              4.1.2-1
                        openfortivpn             1.11.0-1             1.13.3-1
                               opera      67.0.3575.115-1      67.0.3575.137-1
                 opera-ffmpeg-codecs      80.0.3987.149-1      80.0.3987.163-1
               pantheon-polkit-agent              1.0.0-2              1.0.1-1
                            paraview              5.8.0-2              5.8.0-3
                          pdfmixtool                0.5-1                0.5-2
                              pdfsam              4.1.1-1              4.1.2-1
                            pianobar         2019.02.14-1         2020.04.05-1
                           postgrest              7.0.0-2              7.0.0-3
                        prusa-slicer              2.1.1-2              2.2.0-2
                       python-btrees              4.7.1-1              4.7.2-1
                       python-cftime              1.1.0-1            1.1.1.2-1
                 python-cinderclient              6.0.0-1              7.0.0-1
                        python-curio                1.1-1                1.2-1
                python-debtcollector              2.0.0-3              2.0.1-1
                 python-glanceclient              3.0.0-1              3.1.0-1
             python-oslo-concurrency              4.0.1-1              4.0.2-1
                  python-oslo-config              8.0.1-1              8.0.2-1
                 python-oslo-context              3.0.1-1              3.0.2-1
                      python-oslo-db              8.0.0-1              8.1.0-1
                    python-oslo-i18n              4.0.0-1              4.0.1-1
                     python-oslo-log              4.1.0-1              4.1.1-1
           python-oslo-serialization              3.1.0-1              3.1.1-1
                   python-oslo-utils              4.1.0-1              4.1.1-1
                        python-param              1.9.2-3              1.9.3-1
                     python-pdfminer           20200124-1           20200402-1
                      python-pikepdf             1.10.4-1             1.10.4-2
                   python-qdarkstyle                2.8-1              2.8.1-1
                       python-xarray             0.15.0-1             0.15.1-1
                           qmapshack             1.14.1-1             1.14.1-2
                              qt5pas         2.6.r62764-1         2.6.r62883-1
               react-native-debugger             0.10.7-1             0.11.1-1
                            restinio              0.6.4-1              0.6.5-1
                        riot-desktop             1.5.12-1             1.5.15-1
                            riot-web             1.5.12-1             1.5.15-1
                            sagemath               9.0-13               9.0-14
                    sagemath-jupyter               9.0-13               9.0-14
                      signal-desktop             1.32.3-1             1.33.0-1
                            solidity              0.6.4-1              0.6.5-1
                           syncthing              1.4.0-1              1.4.2-1
                  syncthing-relaysrv              1.4.0-1              1.4.2-1
                              sysdig             0.26.6-2             0.26.6-3
                 ukui-control-center              2.0.3-1              2.0.4-1
                        ukui-greeter              1.2.4-1              1.2.5-1
                           ukui-menu              2.0.4-1              2.0.5-1
         v2ray-domain-list-community       202004061300-1       202004080001-1
                     vim-grammalecte        r21.a93ee1b-1        r31.09d4b24-1
                          virtualbox              6.1.4-5              6.1.4-6
                  virtualbox-ext-vnc              6.1.4-5              6.1.4-6
               virtualbox-guest-dkms              6.1.4-5              6.1.4-6
              virtualbox-guest-utils              6.1.4-5              6.1.4-6
          virtualbox-guest-utils-nox              6.1.4-5              6.1.4-6
                virtualbox-host-dkms              6.1.4-5              6.1.4-6
                      virtualbox-sdk              6.1.4-5              6.1.4-6
                           wingpanel   2.3.0.r3.88305e0-1              2.3.1-1
                       wireshark-cli              3.2.2-1              3.2.3-1
                        wireshark-qt              3.2.2-1              3.2.3-1
                         coin-or-asl                    -              1.4.3-1
               netfilter-fullconenat                    -        r73.0cf3b48-6


:: Different overlay package(s) in repository core x86_64

-------------------------------------------------------------------------------
                             PACKAGE           2020-04-07           2020-04-09
-------------------------------------------------------------------------------
                             linux54             5.4.30-1             5.4.31-1
                     linux54-headers             5.4.30-1             5.4.31-1
                             linux55             5.5.15-1             5.5.16-1
                     linux55-headers             5.5.15-1             5.5.16-1
                             linux56              5.6.2-1              5.6.3-2
                     linux56-headers              5.6.2-1              5.6.3-2
                             linux57                 - 5.7rc0.d0408.gae46d2a-1
                     linux57-headers                 - 5.7rc0.d0408.gae46d2a-1


:: Different sync package(s) in repository core x86_64

-------------------------------------------------------------------------------
                             PACKAGE           2020-04-07           2020-04-09
-------------------------------------------------------------------------------
                                nano              4.9.1-1              4.9.2-1


:: Different overlay package(s) in repository extra x86_64

-------------------------------------------------------------------------------
                             PACKAGE           2020-04-07           2020-04-09
-------------------------------------------------------------------------------
                           calamares             3.2.21-1             3.2.22-1
               calamares-git 3.2.22.r7648.8b6d605d5-1 3.2.22.r7667.a063390de-1
                   linux54-acpi_call             1.1.0-35             1.1.0-36
                    linux54-bbswitch               0.8-35               0.8-36
                 linux54-broadcom-wl      6.30.223.271-35      6.30.223.271-36
                 linux54-ndiswrapper              1.62-35              1.62-36
                linux54-nvidia-340xx           340.108-27           340.108-28
                linux54-nvidia-390xx           390.132-35           390.132-36
                linux54-nvidia-418xx           418.113-35           418.113-36
                linux54-nvidia-430xx            430.64-35            430.64-36
                linux54-nvidia-435xx            435.21-35            435.21-36
                linux54-nvidia-440xx             440.82-1             440.82-3
                    linux54-nvidiabl              0.88-35              0.88-36
                       linux54-r8168          8.048.00-20          8.048.00-21
                    linux54-tp_smapi              0.43-35              0.43-36
                 linux54-vhba-module          20200106-20          20200106-21
    linux54-virtualbox-guest-modules             6.1.4-11             6.1.4-12
     linux54-virtualbox-host-modules             6.1.4-11             6.1.4-12
                         linux54-zfs             0.8.3-19             0.8.3-20
                   linux55-acpi_call             1.1.0-18             1.1.0-19
                    linux55-bbswitch               0.8-18               0.8-19
                 linux55-broadcom-wl      6.30.223.271-18      6.30.223.271-19
                 linux55-ndiswrapper              1.62-18              1.62-19
                linux55-nvidia-340xx           340.108-12           340.108-13
                linux55-nvidia-390xx           390.132-18           390.132-19
                linux55-nvidia-418xx           418.113-19           418.113-20
                linux55-nvidia-430xx            430.64-19            430.64-20
                linux55-nvidia-435xx            435.21-19            435.21-20
                linux55-nvidia-440xx             440.82-1             440.82-2
                    linux55-nvidiabl              0.88-19              0.88-20
                       linux55-r8168          8.048.00-19          8.048.00-20
                   linux55-rtl8723bu          20200126-19          20200126-20
                    linux55-tp_smapi              0.43-19              0.43-20
                 linux55-vhba-module          20200106-19          20200106-20
    linux55-virtualbox-guest-modules             6.1.4-13             6.1.4-14
     linux55-virtualbox-host-modules             6.1.4-13             6.1.4-14
                         linux55-zfs             0.8.3-16             0.8.3-17
                   linux56-acpi_call              1.1.0-3              1.1.0-4
                    linux56-bbswitch                0.8-3                0.8-4
                 linux56-broadcom-wl       6.30.223.271-3       6.30.223.271-4
                 linux56-ndiswrapper               1.62-3               1.62-4
                linux56-nvidia-340xx            340.108-3            340.108-4
                linux56-nvidia-390xx            390.132-3            390.132-4
                linux56-nvidia-418xx            418.113-3            418.113-4
                linux56-nvidia-430xx             430.64-3             430.64-4
                linux56-nvidia-435xx             435.21-3             435.21-4
                linux56-nvidia-440xx             440.82-1             440.82-2
                       linux56-r8168           8.048.00-3           8.048.00-4
                    linux56-tp_smapi               0.43-3               0.43-4
                 linux56-vhba-module           20200106-3           20200106-4
    linux56-virtualbox-guest-modules              6.1.4-3              6.1.4-4
     linux56-virtualbox-host-modules              6.1.4-3              6.1.4-4
                         linux56-zfs              0.8.3-3              0.8.3-4
                           pamac-cli              9.4.1-3              9.4.2-1
                       pamac-cli-dev              9.4.1-2              9.4.2-2
                        pamac-common              9.4.1-3              9.4.2-1
                    pamac-common-dev              9.4.1-2              9.4.2-2
                pamac-flatpak-plugin              9.4.1-3              9.4.2-1
            pamac-flatpak-plugin-dev              9.4.1-2              9.4.2-2
             pamac-gnome-integration              9.4.1-3              9.4.2-1
         pamac-gnome-integration-dev              9.4.1-2              9.4.2-2
                           pamac-gtk              9.4.1-3              9.4.2-1
                       pamac-gtk-dev              9.4.1-2              9.4.2-2
                   pamac-snap-plugin              9.4.1-3              9.4.2-1
               pamac-snap-plugin-dev              9.4.1-2              9.4.2-2
             pamac-tray-appindicator              9.4.1-3              9.4.2-1
         pamac-tray-appindicator-dev              9.4.1-2              9.4.2-2
              xdg-desktop-portal-kde           5.18.3-1.3                    -
                   linux57-acpi_call                    -              1.1.0-0
                 linux57-broadcom-wl                    -       6.30.223.271-0
                 linux57-ndiswrapper                    -               1.62-0
                linux57-nvidia-390xx                    -            390.132-0
                linux57-nvidia-418xx                    -            418.113-0
                linux57-nvidia-430xx                    -             430.64-0
                linux57-nvidia-435xx                    -             435.21-0
                linux57-nvidia-440xx                    -             440.82-0
                       linux57-r8168                    -           8.048.00-0
                    linux57-tp_smapi                    -               0.43-0
                 linux57-vhba-module                    -           20200106-0
    linux57-virtualbox-guest-modules                    -              6.1.4-0
     linux57-virtualbox-host-modules                    -              6.1.4-0


:: Different sync package(s) in repository extra x86_64

-------------------------------------------------------------------------------
                             PACKAGE           2020-04-07           2020-04-09
-------------------------------------------------------------------------------
                            chromium      80.0.3987.163-1       81.0.4044.92-1
                        cups-filters             1.27.3-1             1.27.3-2
                             flatpak              1.6.2-1              1.7.2-1
                     flatpak-builder              1.0.9-1             1.0.10-1
                                 fmt              6.1.2-1              6.2.0-1
   gtk-update-icon-cache 1:3.24.17+18+gcdd4349bfe-1 1:3.24.17+29+g85389c4bcf-1
                    gtk3 1:3.24.17+18+gcdd4349bfe-1 1:3.24.17+29+g85389c4bcf-1
                                kwin           5.18.4.1-2           5.18.4.1-4
                              libdrm            2.4.100-1            2.4.101-1
                       libstaroffice              0.0.6-1              0.0.7-1
                                loki              1.4.0-1              1.4.1-1
                             numactl             2.0.13-2             2.0.13-3
                              ostree             2019.6-1             2020.3-1
                       python-pysmbc             1.0.18-1             1.0.20-1
                                qpdf              9.1.1-1             10.0.0-1
                        rpcsvc-proto                1.4-1              1.4.1-1
                         suitesparse              5.7.1-1              5.7.2-1
                      vulkan-headers          1:1.2.136-1          1:1.2.137-1
            vulkan-validation-layers            1.2.133-1            1.2.135-1
                            wxmaxima            19.09.0-1            20.03.1-1
                  xdg-desktop-portal              1.6.0-2              1.7.2-1
              xdg-desktop-portal-gtk              1.6.0-4              1.7.1-1
                       xfce4-notifyd              0.4.4-2              0.6.0-1


:: Different sync package(s) in repository multilib x86_64

-------------------------------------------------------------------------------
                             PACKAGE           2020-04-07           2020-04-09
-------------------------------------------------------------------------------
                         lib32-jack2             1.9.14-2             1.9.14-3
                        lib32-libdrm            2.4.100-1            2.4.101-1



No issue, everything went smoothly
Yes there was an issue. I was able to resolve it myself.(Please post your solution)
Yes i am currently experiencing an issue due to the update. (Please post about it)
Check if your mirror has already synced: