Hello community,
here is another Testing Update for you: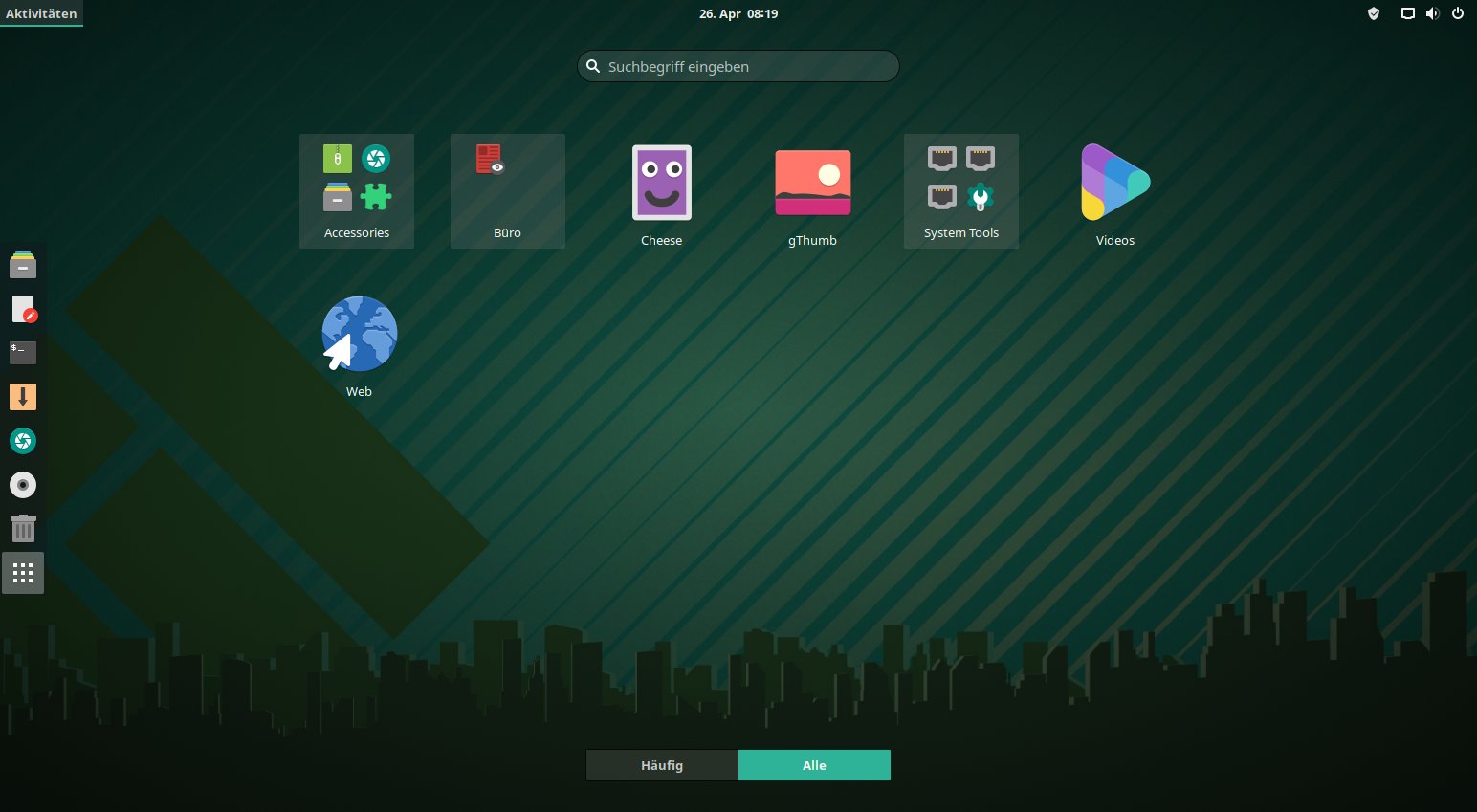 ... get our minimal ISOs if you want to have no bullsh
t shipped withit ...*
Some feature-updates:
Most of our Kernels got updated
We updated some Gnome Extensions
LibreOffice is at 6.3.6
ICU rebuilds
The usual upstream updates including Haskell and Python
If you like following latest Plasma development you may also like to check out our current version of manjaro-kde-dev, which we build on a regular basis against kde-git master packages. Also check out stable release of Manjaro Lysia 20.0! XFCE, KDE and Gnome You might also want to give our latest spin with NX-Desktop a try ...
As always we appreciate your input and feedback for the updates.
---
Upstream notice
Arch updated their default compression to zstd. We adopted to the same standard. More and more packages will have the zst extension from now on. If you get for what ever reason an error with ZSTD not supported as archive format you can do this:
sudo pacman -Syy
sudo pacman -S pacman-static
sudo pacman-static -Syyu

---
Our current supported kernels
linux316 3.16.83
linux44 4.4.220
linux49 4.9.220
linux414 4.14.177
linux419 4.19.119
linux54 5.4.37
linux55 5.5.19 EOL
linux56 5.6.9
linux57 5.7-rc3
linux54-rt 5.4.28_rt19
linux56-rt 5.6.4_rt3
Package Changes (Sat May 2 13:10:26 CEST 2020)
testing community x86_64: 413 new and 463 removed package(s)
testing core x86_64: 10 new and 11 removed package(s)
testing extra x86_64: 253 new and 252 removed package(s)
testing multilib x86_64: 9 new and 9 removed package(s)
:: Different overlay package(s) in repository community x86_64

-------------------------------------------------------------------------------
                             PACKAGE           2020-05-01           2020-05-02
-------------------------------------------------------------------------------
                               cpu-x3.2.4.r229.g5d77dd4-13.2.4.r233.g8030be7-1
 gnome-shell-extension-dash-to-panel     v31+5+g769a484-1     v37+7+g595a083-1
gnome-shell-extension-desktop-icons-ng           0.10.0-1             0.11.0-1
     gnome-shell-extension-gsconnect                 36-1                 37-1
gnome-shell-extension-nightshellswitcher 17.r1.g6cd0fd2-1     20.r1.ge08d19a-1
gnome-shell-extension-nightthemeswitcher 21.r0.ge29cd0d-1     25.r0.gcd423c2-1
         gnome-shell-extension-unite     37.r5.g2948e5f-1     41.r2.g490dbc1-1
               manjaro-arm-installer             1.2.16-1             1.2.17-1
                        mycroft-core             20.2.1-1             20.2.2-1
                           seamonkey             2.53.1-0           2.53.1-0.1
             vte-notification-common             0.60.2-1             0.60.2-2
                   vte3-notification             0.60.2-1             0.60.2-2
                                 yay              9.4.6-1              9.4.7-2
                 pop-shell-shortcuts                    -                0.1-1


:: Different sync package(s) in repository community x86_64

-------------------------------------------------------------------------------
                             PACKAGE           2020-05-01           2020-05-02
-------------------------------------------------------------------------------
                                 0ad              a23.1-8              a23.1-9
                          adapta-kde           20180828-1                    -
                             aegisub             3.2.2-38             3.2.2-39
                                agda             2.6.1-32             2.6.1-33
                                 agg                2.5-9                    -
                                aide             0.16.2-2                    -
                                anki             2.1.15-1             2.1.23-1
                             arc-kde           20180614-3                    -
                                arch             1.3.5-12                    -
                                avfs              1.1.1-1              1.1.2-1
                                 bar                1.4-6                    -
                         bluegriffon               3.1-10               3.1-11
                 bluegriffon-i18n-cs               3.1-10               3.1-11
                 bluegriffon-i18n-de               3.1-10               3.1-11
              bluegriffon-i18n-es-es               3.1-10               3.1-11
                 bluegriffon-i18n-fi               3.1-10               3.1-11
                 bluegriffon-i18n-fr               3.1-10               3.1-11
                 bluegriffon-i18n-gl               3.1-10               3.1-11
                 bluegriffon-i18n-he               3.1-10               3.1-11
                 bluegriffon-i18n-hu               3.1-10               3.1-11
                 bluegriffon-i18n-it               3.1-10               3.1-11
                 bluegriffon-i18n-ja               3.1-10               3.1-11
                 bluegriffon-i18n-ko               3.1-10               3.1-11
                 bluegriffon-i18n-nl               3.1-10               3.1-11
                 bluegriffon-i18n-pl               3.1-10               3.1-11
                 bluegriffon-i18n-ru               3.1-10               3.1-11
                 bluegriffon-i18n-sl               3.1-10               3.1-11
                 bluegriffon-i18n-sr               3.1-10               3.1-11
              bluegriffon-i18n-sv-se               3.1-10               3.1-11
              bluegriffon-i18n-zh-cn               3.1-10               3.1-11
              bluegriffon-i18n-zh-tw               3.1-10               3.1-11
                         bomberclone             0.11.9-7                    -
                                c2hs            0.28.6-85            0.28.6-86
                       cabal-install            3.2.0.0-3            3.2.0.0-5
                             calibre             4.14.0-1             4.14.0-2
                      calibre-common             4.14.0-1             4.14.0-2
                     calibre-python3             4.14.0-1             4.14.0-2
                              ccfits                2.5-4                2.5-5
                          cellwriter              1.3.6-1                    -
                               cgrep            6.6.32-22            6.6.32-23
                             couchdb              2.3.1-3              2.3.1-4
                                croc              8.0.7-1              8.0.9-1
                             cryptol            2.8.0-103            2.8.0-105
                               darcs           2.14.2-218             2.14.3-1
                              dcfldd                1.7-1                    -
                                 dee              1.2.7-7              1.2.7-8
                        deepin-music              5.0.1-2              5.0.1-3
                               dhall            1.31.1-17            1.31.1-18
                          dhall-bash            1.0.29-21            1.0.29-22
                          dhall-json             1.6.3-21             1.6.3-22
                                dino              0.1.0-3              0.1.0-4
                             dovecot             2.3.10-1             2.3.10-2
                             dumb-a4              2.0.3-1                    -
                                dune              2.3.0-1              2.3.1-1
                              dwdiff              2.1.2-3              2.1.2-4
                          easystroke             0.6.0-22                    -
                      eclipse-common               4.15-1                    -
                         eclipse-cpp               4.15-1                    -
                        eclipse-java               4.15-1                    -
                  eclipse-javascript               4.15-1                    -
                         eclipse-jee               4.15-1                    -
                         eclipse-php               4.15-1                    -
                        eclipse-rust               4.15-1                    -
                            electron              8.2.3-1              8.2.5-1
                           electron4             4.2.12-4             4.2.12-5
                           electron5             5.0.13-3             5.0.13-4
                           electron6              6.1.9-3              6.1.9-4
                           electron7             7.1.14-3             7.1.14-4
                               esmtp                1.2-7                    -
                         fcitx5-rime     0.0.0.20200402-1     0.0.0.20200501-1
                              firrtl              1.2.5-1              1.3.0-1
                           flickcurl               1.26-8               1.26-9
                           fwbuilder              5.3.7-5              5.3.7-6
                       gambas3-devel            3.14.3-10            3.14.3-13
                     gambas3-gb-args            3.14.3-10            3.14.3-13
                    gambas3-gb-cairo            3.14.3-10            3.14.3-13
                    gambas3-gb-chart            3.14.3-10            3.14.3-13
                  gambas3-gb-clipper            3.14.3-10            3.14.3-13
                  gambas3-gb-complex            3.14.3-10            3.14.3-13
                 gambas3-gb-compress            3.14.3-10            3.14.3-13
                    gambas3-gb-crypt            3.14.3-10            3.14.3-13
                     gambas3-gb-data            3.14.3-10            3.14.3-13
                       gambas3-gb-db            3.14.3-10            3.14.3-13
                  gambas3-gb-db-form            3.14.3-10            3.14.3-13
                 gambas3-gb-db-mysql            3.14.3-10            3.14.3-13
                  gambas3-gb-db-odbc            3.14.3-10            3.14.3-13
            gambas3-gb-db-postgresql            3.14.3-10            3.14.3-13
               gambas3-gb-db-sqlite3            3.14.3-10            3.14.3-13
                     gambas3-gb-dbus            3.14.3-10            3.14.3-13
                  gambas3-gb-desktop            3.14.3-10            3.14.3-13
            gambas3-gb-desktop-gnome            3.14.3-10            3.14.3-13
              gambas3-gb-desktop-x11            3.14.3-10            3.14.3-13
           gambas3-gb-eval-highlight            3.14.3-10            3.14.3-13
                     gambas3-gb-form            3.14.3-10            3.14.3-13
              gambas3-gb-form-dialog            3.14.3-10            3.14.3-13
              gambas3-gb-form-editor            3.14.3-10            3.14.3-13
                 gambas3-gb-form-mdi            3.14.3-10            3.14.3-13
               gambas3-gb-form-stock            3.14.3-10            3.14.3-13
            gambas3-gb-form-terminal            3.14.3-10            3.14.3-13
                      gambas3-gb-gmp            3.14.3-10            3.14.3-13
                      gambas3-gb-gsl            3.14.3-10            3.14.3-13
                      gambas3-gb-gtk            3.14.3-10            3.14.3-13
               gambas3-gb-gtk-opengl            3.14.3-10            3.14.3-13
                     gambas3-gb-gtk3            3.14.3-10            3.14.3-13
                    gambas3-gb-httpd            3.14.3-10            3.14.3-13
                    gambas3-gb-image            3.14.3-10            3.14.3-13
             gambas3-gb-image-effect            3.14.3-10            3.14.3-13
              gambas3-gb-image-imlib            3.14.3-10            3.14.3-13
                 gambas3-gb-image-io            3.14.3-10            3.14.3-13
                  gambas3-gb-inotify            3.14.3-10            3.14.3-13
                   gambas3-gb-libxml            3.14.3-10            3.14.3-13
                  gambas3-gb-logging            3.14.3-10            3.14.3-13
                      gambas3-gb-map            3.14.3-10            3.14.3-13
                 gambas3-gb-markdown            3.14.3-10            3.14.3-13
                    gambas3-gb-media            3.14.3-10            3.14.3-13
               gambas3-gb-media-form            3.14.3-10            3.14.3-13
                gambas3-gb-memcached            3.14.3-10            3.14.3-13
                     gambas3-gb-mime            3.14.3-10            3.14.3-13
                    gambas3-gb-mysql            3.14.3-10            3.14.3-13
                  gambas3-gb-ncurses            3.14.3-10            3.14.3-13
                      gambas3-gb-net            3.14.3-10            3.14.3-13
                 gambas3-gb-net-curl            3.14.3-10            3.14.3-13
                 gambas3-gb-net-pop3            3.14.3-10            3.14.3-13
                 gambas3-gb-net-smtp            3.14.3-10            3.14.3-13
                   gambas3-gb-openal            3.14.3-10            3.14.3-13
                   gambas3-gb-opengl            3.14.3-10            3.14.3-13
              gambas3-gb-opengl-glsl            3.14.3-10            3.14.3-13
               gambas3-gb-opengl-glu            3.14.3-10            3.14.3-13
               gambas3-gb-opengl-sge            3.14.3-10            3.14.3-13
                  gambas3-gb-openssl            3.14.3-10            3.14.3-13
                   gambas3-gb-option            3.14.3-10            3.14.3-13
                     gambas3-gb-pcre            3.14.3-10            3.14.3-13
                      gambas3-gb-pdf            3.14.3-10            3.14.3-13
                      gambas3-gb-qt5            3.14.3-10            3.14.3-13
               gambas3-gb-qt5-opengl            3.14.3-10            3.14.3-13
               gambas3-gb-qt5-webkit            3.14.3-10            3.14.3-13
                   gambas3-gb-report            3.14.3-10            3.14.3-13
                  gambas3-gb-scanner            3.14.3-10            3.14.3-13
                      gambas3-gb-sdl            3.14.3-10            3.14.3-13
                gambas3-gb-sdl-sound            3.14.3-10            3.14.3-13
                     gambas3-gb-sdl2            3.14.3-10            3.14.3-13
               gambas3-gb-sdl2-audio            3.14.3-10            3.14.3-13
                 gambas3-gb-settings            3.14.3-10            3.14.3-13
                   gambas3-gb-signal            3.14.3-10            3.14.3-13
                     gambas3-gb-term            3.14.3-10            3.14.3-13
                     gambas3-gb-util            3.14.3-10            3.14.3-13
                 gambas3-gb-util-web            3.14.3-10            3.14.3-13
                      gambas3-gb-v4l            3.14.3-10            3.14.3-13
                       gambas3-gb-vb            3.14.3-10            3.14.3-13
                      gambas3-gb-web            3.14.3-10            3.14.3-13
                 gambas3-gb-web-feed            3.14.3-10            3.14.3-13
                 gambas3-gb-web-form            3.14.3-10            3.14.3-13
                      gambas3-gb-xml            3.14.3-10            3.14.3-13
                 gambas3-gb-xml-html            3.14.3-10            3.14.3-13
                  gambas3-gb-xml-rpc            3.14.3-10            3.14.3-13
                 gambas3-gb-xml-xslt            3.14.3-10            3.14.3-13
                         gambas3-ide            3.14.3-10            3.14.3-13
                     gambas3-runtime            3.14.3-10            3.14.3-13
                      gambas3-script            3.14.3-10            3.14.3-13
                                gdal              3.0.4-7              3.0.4-9
                            gimp-dbp              1.1.9-6                    -
                         gimp-nufraw             0.43.3-1             0.43.3-2
                   gimp-plugin-fblur              3.2.6-6                    -
                     gimp-plugin-lqr              0.7.2-3                    -
         gimp-plugin-wavelet-denoise              0.3.1-5                    -
                        gimp-refocus              0.9.0-5                    -
                           git-annex        8.20200330-21         8.20200501-1
                          git-repair        1.20200102-74        1.20200102-75
                              gitlab            12.10.1-1            12.10.2-1
                       gitlab-gitaly            12.10.0-1            12.10.2-1
                               glide             0.13.3-1                    -
                               glitz              0.5.6-7                    -
                             gnucash                3.9-1                3.9-2
                          gnunet-gtk             0.12.0-1                    -
                        gnustep-base             1.26.0-4             1.27.0-1
                        gnustep-make              2.7.0-3              2.8.0-1
      golang-github-stretchr-testify              1.5.0-1              1.5.1-1
                              gopass              1.8.6-4              1.9.0-1
                   gtk-theme-switch2              2.1.0-5                    -
                           gvm-tools              1.4.1-3                    -
                                gvmd              8.0.1-1                    -
                       haskell-aeson            1.4.7.1-7            1.4.7.1-8
         haskell-aeson-better-errors          0.9.1.0-171          0.9.1.0-172
                haskell-aeson-compat             0.3.9-89             0.3.9-90
                  haskell-aeson-diff           1.1.0.8-92           1.1.0.8-94
                haskell-aeson-pretty             0.8.8-36             0.8.8-37
                    haskell-aeson-qq             0.8.3-49             0.8.3-50
                  haskell-aeson-yaml           1.0.6.0-23           1.0.6.0-24
                  haskell-alsa-mixer             0.3.0-31             0.3.0-32
                haskell-authenticate            1.3.5-105            1.3.5-106
          haskell-authenticate-oauth           1.6.0.1-83           1.6.0.1-84
                 haskell-auto-update             0.1.6-52             0.1.6-53
                         haskell-aws              0.22-37              0.22-38
            haskell-binary-instances            1.0.0.1-8            1.0.0.1-9
               haskell-binary-tagged               0.2-56               0.2-57
                  haskell-bower-json          1.0.0.1-169          1.0.0.1-170
                       haskell-■■■■■             0.52.1-9               0.53-1
            haskell-bsb-http-chunked           0.0.0.4-91           0.0.0.4-92
                         haskell-bz2           1.0.0.2-20           1.0.0.2-21
                 haskell-casa-client             0.0.1-26             0.0.1-27
                  haskell-casa-types             0.0.1-22             0.0.1-23
                       haskell-cborg           0.2.2.1-14           0.2.2.1-15
                  haskell-cborg-json           0.2.2.0-14           0.2.2.0-15
                  haskell-cheapskate           0.1.1.2-75           0.1.1.2-76
               haskell-clash-prelude              1.2.1-3              1.2.1-4
                  haskell-config-ini          0.2.4.0-103          0.2.4.0-104
                   haskell-criterion           1.5.6.2-41           1.5.6.2-43
       haskell-criterion-measurement           0.1.2.0-39           0.1.2.0-40
                         haskell-dav             1.3.4-88             1.3.4-89
                        haskell-dbus             1.2.13-8             1.2.14-1
               haskell-dbus-hslogger           0.1.0.1-31           0.1.0.1-32
                 haskell-descriptive            0.9.5-102            0.9.5-103
                         haskell-dns             4.0.1-20             4.0.1-21
                   haskell-doclayout                0.3-9               0.3-10
                haskell-doctemplates              0.8.2-3              0.8.2-4
                   haskell-esqueleto           3.3.3.0-12           3.3.3.0-13
                 haskell-fast-logger             3.0.1-27             3.0.1-28
                  haskell-fdo-notify            0.3.1-283            0.3.1-284
                    haskell-fsnotify           0.3.0.1-94           0.3.0.1-95
           haskell-ghc-lib-parser-ex           8.10.0.1-1           8.10.0.2-1
                     haskell-githash           0.1.4.0-14           0.1.4.0-15
                      haskell-gnuidn            0.2.2-159            0.2.2-160
            haskell-hackage-security           0.6.0.1-10           0.6.0.1-11
             haskell-haddock-library             1.8.0-52             1.8.0-53
                      haskell-hakyll           4.13.3.0-9          4.13.3.0-12
                       haskell-hasql             1.4.2-13             1.4.2-14
                  haskell-hasql-pool             0.5.1-87             0.5.1-88
           haskell-hasql-transaction           1.0.0.1-17           1.0.0.1-18
                    haskell-hedgehog             1.0.2-29             1.0.2-30
                        haskell-here           1.2.13-123           1.2.13-124
              haskell-hi-file-parser           0.1.0.0-34           0.1.0.0-35
                haskell-hjsonpointer             1.5.0-86             1.5.0-87
                 haskell-hledger-lib            1.17.1-11            1.17.1-12
                    haskell-hopenpgp             2.9.4-68             2.9.4-69
                       haskell-hpack           0.33.0-117           0.33.0-118
                   haskell-hspec-wai            0.10.1-24            0.10.1-25
              haskell-hspec-wai-json            0.10.1-28            0.10.1-29
                haskell-hsyaml-aeson           0.2.0.0-31           0.2.0.0-32
                        haskell-http        4000.3.14-174        4000.3.14-176
                 haskell-http-client           0.6.4.1-43           0.6.4.1-45
             haskell-http-client-tls          0.3.5.3-224          0.3.5.3-225
                haskell-http-conduit          2.3.7.3-116          2.3.7.3-117
               haskell-http-download           0.2.0.0-43           0.2.0.0-45
                haskell-http-streams           0.8.7.1-87           0.8.7.1-89
                       haskell-http2              2.0.4-6              2.0.4-7
                  haskell-httpd-shed          0.4.1.1-103          0.4.1.1-105
                         haskell-hxt          9.3.1.18-66          9.3.1.18-67
   haskell-insert-ordered-containers            0.2.3.1-3            0.2.3.1-4
                 haskell-interpolate            0.2.0-140            0.2.0-141
    haskell-interpolatedstring-perl6             1.0.2-38             1.0.2-39
                       haskell-ipynb              0.1-174              0.1-176
                        haskell-jose           0.8.2.0-86            0.8.2.1-1
                   haskell-js-jquery            3.3.1-413            3.3.1-415
                  haskell-lens-aeson               1.1-28               1.1-29
                haskell-lifted-async           0.10.0.6-3           0.10.0.6-4
             haskell-microlens-aeson           2.3.0.4-51           2.3.0.4-52
                 haskell-microstache          1.0.1.1-146          1.0.1.1-147
                haskell-monad-logger            0.3.32-24            0.3.32-25
                    haskell-mustache             2.3.1-88             2.3.1-89
                 haskell-network-uri           2.6.3.0-70           2.6.3.0-72
             haskell-optparse-simple          0.1.1.2-181          0.1.1.2-182
                haskell-pandoc-types              1.20-32              1.20-33
                      haskell-pantry           0.4.0.1-36           0.4.0.1-38
                        haskell-path             0.7.0-14             0.7.0-15
                     haskell-path-io             1.6.0-22             1.6.0-23
                  haskell-persistent          2.10.5.2-26          2.10.5.2-27
               haskell-persistent-qq           2.9.1.1-78           2.9.1.1-79
           haskell-persistent-sqlite          2.10.6.2-53          2.10.6.2-54
         haskell-persistent-template           2.8.2.3-30           2.8.2.3-31
             haskell-persistent-test           2.0.3.1-24           2.0.3.1-25
                  haskell-pipes-http            1.0.6-136            1.0.6-137
           haskell-postgresql-binary            0.12.2-43            0.12.2-44
                      haskell-resolv           0.1.1.3-13            0.1.2.0-1
                       haskell-retry            0.8.1.2-1            0.8.1.2-2
                         haskell-rio           0.1.15.0-3           0.1.15.1-1
                 haskell-rio-orphans          0.1.1.0-106          0.1.1.0-108
             haskell-rio-prettyprint           0.1.0.0-57           0.1.0.0-59
                       haskell-sandi              0.5-106              0.5-107
                         haskell-sbv               8.6-62               8.6-64
                   haskell-serialise           0.2.2.0-14           0.2.2.0-15
                     haskell-servant              0.17-31              0.17-32
              haskell-servant-server              0.17-34              0.17-35
             haskell-servant-swagger             1.1.8-37             1.1.8-39
                       haskell-shake            0.18.5-77            0.18.5-78
                 haskell-shakespeare            2.0.24-25            2.0.24-26
                      haskell-shelly            1.8.1-104            1.8.1-105
                  haskell-singletons                2.7-2                2.7-3
                 haskell-skylighting           0.8.3.4-12           0.8.3.4-13
            haskell-skylighting-core           0.8.3.4-13           0.8.3.4-14
                   haskell-snap-core           1.0.4.1-77           1.0.4.1-78
                 haskell-snap-server          1.1.1.1-197          1.1.1.1-198
                   haskell-sourcemap            0.1.6-177            0.1.6-178
                    haskell-src-exts             1.23.0-4             1.23.0-5
               haskell-src-exts-util             0.2.5-50             0.2.5-51
                    haskell-src-meta             0.8.5-10             0.8.5-11
                  haskell-statistics          0.15.2.0-16          0.15.2.0-17
                    haskell-swagger2               2.5-15                2.6-1
       haskell-tamarin-prover-theory             1.4.1-79             1.4.1-80
              haskell-tasty-discover             4.2.1-12             4.2.1-13
                haskell-tasty-golden            2.3.3.1-2            2.3.3.2-1
              haskell-tasty-hedgehog           1.0.0.2-29           1.0.0.2-30
                    haskell-tasty-th            0.1.7-100            0.1.7-101
           haskell-test-framework-th             0.2.4-25             0.2.4-26
                     haskell-texmath           0.12.0.2-5           0.12.0.2-6
                    haskell-text-icu           0.7.0.1-31           0.7.0.1-32
                haskell-time-manager             0.0.0-49             0.0.0-50
         haskell-tls-session-manager             0.0.4-39             0.0.4-40
                   haskell-tree-diff               0.1-84               0.1-85
                          haskell-tz           0.1.3.3-28           0.1.3.3-29
                      haskell-tzdata    0.1.20190911.0-23    0.1.20190911.0-24
              haskell-uri-bytestring           0.3.2.2-48           0.3.2.2-49
                  haskell-uri-encode           1.5.0.5-77           1.5.0.5-78
              haskell-wai-app-static           3.1.7.1-81           3.1.7.1-82
                   haskell-wai-extra          3.0.29.1-43          3.0.29.1-44
          haskell-wai-handler-launch           3.0.3.1-47           3.0.3.1-48
                  haskell-wai-logger             2.3.6-72             2.3.6-73
                        haskell-warp            3.3.10-10            3.3.10-12
                    haskell-warp-tls            3.2.11-66            3.2.11-67
                        haskell-wreq          0.5.3.2-188          0.5.3.2-189
                  haskell-xml-hamlet           0.5.0.1-79           0.5.0.1-80
                haskell-xss-sanitize            0.3.6-114            0.3.6-115
                        haskell-yaml          0.11.3.0-17          0.11.3.0-18
                       haskell-yesod           1.6.0.1-88           1.6.0.1-89
                  haskell-yesod-auth            1.6.10-26            1.6.10-27
                  haskell-yesod-core            1.6.18-16            1.6.18-17
               haskell-yesod-default            1.2.0-726            1.2.0-727
                  haskell-yesod-form            1.6.7-167            1.6.7-168
            haskell-yesod-persistent          1.6.0.4-112          1.6.0.4-113
                haskell-yesod-static          1.6.0.1-369          1.6.0.1-370
                  haskell-yesod-test            1.6.9-128            1.6.9-129
                           hedgewars             1.0.0-61             1.0.0-62
                             hledger          1.17.1.1-14          1.17.1.1-15
                          hledger-ui          1.17.1.1-20          1.17.1.1-22
                         hledger-web            1.17.1-32            1.17.1-33
                               hlint            2.2.11-44            2.2.11-46
                              hoogle         5.0.17.15-41         5.0.17.15-42
                      hopenpgp-tools            0.23.1-29            0.23.1-30
                               idris            1.3.2-127            1.3.2-128
                               ifuse              1.1.3-6                    -
                              igraph              0.8.2-1              0.8.2-2
                                 imv              4.1.0-1              4.1.0-2
                          javasqlite           20150419-2                    -
                             kbibtex            1:0.9.2-1            1:0.9.2-2
                            keycloak              9.0.3-1              9.0.3-2
                              keynav       0.20110708.0-3       0.20180821.0-1
                              kstars            1:3.4.2-1            1:3.4.2-2
                             kubectx              0.8.0-1              0.9.0-1
                             labplot              2.7.0-3              2.7.0-4
                              ledger              3.1.3-5              3.2.0-1
                      libcurl-compat             7.69.1-1             7.70.0-1
                      libcurl-gnutls             7.69.1-1             7.70.0-1
                             libindi              1.8.5-1              1.8.5-2
                      libmodsecurity            1:3.0.4-1            1:3.0.4-2
                             libsass              3.6.3-1              3.6.4-1
                             libvips              8.9.0-2              8.9.0-3
                                lshw            B.02.18-3          B.02.19.2-1
                        luminancehdr              2.6.0-5              2.6.0-6
                                maim              5.6.3-1              5.6.3-2
                              mapnik             3.0.23-1             3.0.23-2
               matrix-appservice-irc             0.16.0-5             0.17.0-1
                              minbif              1.0.5-8                    -
                            mod_wsgi              4.6.8-1                    -
                      mongo-c-driver             1.16.2-1             1.16.2-2
                              monica                3.7-6                    -
                     mysql-workbench             8.0.20-2             8.0.20-3
                             ncmpcpp             0.8.2-11             0.8.2-12
                             neomutt           20200424-1           20200501-1
                             netplan               0.98-1               0.99-1
                              nodejs             14.1.0-1             14.1.0-2
                  nodejs-lts-dubnium            10.20.1-1            10.20.1-2
                   nodejs-lts-erbium            12.16.2-1            12.16.3-1
                        oath-toolkit              2.6.2-7              2.6.2-8
                              octave              5.2.0-2              5.2.0-3
                             openttd             1.10.1-1             1.10.1-2
                             openvas              6.0.1-2                    -
                              packer              1.5.5-1              1.5.6-1
                              pandoc           2.9.2.1-25           2.9.2.1-27
                     pandoc-citeproc              0.17-85              0.17-88
                     pandoc-crossref           0.3.6.2-81           0.3.6.2-83
                  papirus-icon-theme           20200405-1           20200430-1
                            pdf2djvu             0.9.17-2             0.9.17-3
                               pdftk              3.1.0-1              3.1.1-1
                               peony              2.1.2-1              2.1.2-2
                         php-mongodb              1.7.4-1              1.7.4-2
                               pinta                1.6-4                    -
                              podman              1.9.0-2              1.9.1-1
                       podman-docker              1.9.0-2              1.9.1-1
                              poedit              1:2.3-1              1:2.3-2
                           postgrest             7.0.0-21             7.0.0-24
                          processing              3.5.4-1                    -
                         python-gdal              3.0.4-7              3.0.4-9
           python-importlib-metadata              1.5.1-1              1.5.2-1
                       python-orjson              2.6.6-1              3.0.0-1
                  python-progressbar             3.51.1-1             3.51.2-1
                       python-pyglet              1.5.4-1              1.5.4-2
                        python-pyicu              2.4.3-1              2.4.3-2
                     python-pyinsane             2.0.13-2                    -
                        python-sword              1.8.1-8              1.8.1-9
                     python-tenacity              6.1.0-1              6.2.0-1
          python2-importlib-metadata              1.5.1-1              1.5.2-1
                              qtspim             9.1.21-1                    -
                              recoll             1.26.6-1             1.26.6-2
                              remacs              1:0.1-1                    -
                      rime-cantonese     0.0.0.20200430-1     0.0.0.20200501-1
                                root            6.20.04-3            6.20.04-5
                           root-cuda            6.20.04-3            6.20.04-5
                           ropgadget                6.2-1                6.3-1
                              rspamd                2.5-1                2.5-2
                             scribus              1.5.5-9             1.5.5-11
                          shellcheck              0.7.1-4              0.7.1-6
                             shotgun              2.2.0-1              2.2.0-2
                simplescreenrecorder              0.4.0-1              0.4.1-1
                                slop                7.5-2                7.5-3
                               stack            2.3.0.1-8           2.3.0.1-11
                            steghide              0.5.1-9                    -
                          strawberry              0.6.9-1             0.6.10-1
                     stylish-haskell          0.11.0.0-19          0.11.0.0-20
                                surf                2.0-2                    -
                         sweethome3d                6.2-1                6.3-1
                               sword              1.8.1-8              1.8.1-9
                              tabbed                0.6-3                    -
                      tamarin-prover            1.4.1-331            1.4.1-332
                           tarantool              2.4.0-1              2.4.0-2
                             taskell           1.9.2.0-85           1.9.2.0-87
                    telegram-desktop              2.1.0-1              2.1.1-1
         terraform-provider-keycloak             1.16.0-1             1.18.0-1
                           tesseract              4.1.1-1              4.1.1-2
                             traefik              2.2.0-1              2.2.1-1
                         transset-df                  6-6                    -
                            tuxpaint             0.9.23-2                    -
                     tuxpaint-config             0.0.14-1                    -
                     tuxpaint-stamps         2018.09.01-1                    -
                          unarchiver             1.10.1-8            1.10.1-10
         v2ray-domain-list-community       202004300409-1       202005010407-1
                               vault              1.3.4-1              1.4.1-1
                      vim-jellybeans                1.7-1                    -
                        vim-nerdtree              6.4.6-1              6.5.0-1
                              waybar              0.9.2-1              0.9.2-2
                              wcslib                7.2-1                7.2-2
                           widelands                 20-8                 20-9
                                wren              0.1.0-2                    -
                           xbindkeys              1.8.6-3                    -
                                 xca              2.2.1-1              2.3.0-1
                            xcircuit            3.10.12-1            3.10.24-1
                              xmobar              0.33-42              0.33-44
                                 yaz             5.30.2-1             5.30.2-2
                               zapcc         7.0.325000-3                    -
                                zeal            1:0.6.1-1                    -
                                 znc              1.7.5-4              1.7.5-5
             zsh-theme-powerlevel10k              1.6.0-1              1.7.0-1
                             hacksaw                    -              1.0.4-1
                    python-typeguard                    -              2.7.1-1


:: Different overlay package(s) in repository core x86_64

-------------------------------------------------------------------------------
                             PACKAGE           2020-05-01           2020-05-02
-------------------------------------------------------------------------------
                             linux54             5.4.36-1             5.4.37-1
                     linux54-headers             5.4.36-1             5.4.37-1
                             linux56              5.6.8-1              5.6.9-1
                     linux56-headers              5.6.8-1              5.6.9-1


:: Different sync package(s) in repository core x86_64

-------------------------------------------------------------------------------
                             PACKAGE           2020-05-01           2020-05-02
-------------------------------------------------------------------------------
                          cryptsetup              2.3.1-3              2.3.2-1
                                curl             7.69.1-1             7.70.0-1
                            iana-etc           20200401-1           20200428-1
                                 icu               65.1-3               67.1-1
                              netctl               1.21-2               1.22-1
                              s-nail            14.9.18-1            14.9.19-1
                            xfsprogs              5.6.0-1              5.6.0-2


:: Different overlay package(s) in repository extra x86_64

-------------------------------------------------------------------------------
                             PACKAGE           2020-05-01           2020-05-02
-------------------------------------------------------------------------------
                               boxit              2.1.3-5              2.1.3-6
                            boxit-32              2.1.3-1              2.1.3-2
                     boxit-32-server              2.1.3-1              2.1.3-2
                           boxit-arm              2.1.3-3              2.1.3-4
                        boxit-server              2.1.3-3              2.1.3-6
                gnome-control-center           3.36.1-1.1           3.36.2-1.1
                   linux54-acpi_call             1.1.0-42             1.1.0-43
                    linux54-bbswitch               0.8-42               0.8-43
                 linux54-broadcom-wl      6.30.223.271-42      6.30.223.271-43
                 linux54-ndiswrapper              1.62-42              1.62-43
                linux54-nvidia-340xx           340.108-34           340.108-35
                linux54-nvidia-390xx           390.132-42           390.132-43
                linux54-nvidia-418xx           418.113-42           418.113-43
                linux54-nvidia-430xx            430.64-42            430.64-43
                linux54-nvidia-435xx            435.21-42            435.21-43
                linux54-nvidia-440xx             440.82-9            440.82-10
                    linux54-nvidiabl              0.88-42              0.88-43
                       linux54-r8168           8.048.02-2           8.048.02-3
                   linux54-rtl8723bu           20200405-6           20200405-7
                    linux54-tp_smapi              0.43-42              0.43-43
                 linux54-vhba-module          20200106-27          20200106-28
    linux54-virtualbox-guest-modules              6.1.6-6              6.1.6-7
     linux54-virtualbox-host-modules              6.1.6-6              6.1.6-7
                         linux54-zfs             0.8.3-26             0.8.3-27
                   linux56-acpi_call             1.1.0-10             1.1.0-11
                    linux56-bbswitch               0.8-10               0.8-11
                 linux56-broadcom-wl      6.30.223.271-10      6.30.223.271-11
                 linux56-ndiswrapper              1.62-10              1.62-11
                linux56-nvidia-340xx           340.108-10           340.108-11
                linux56-nvidia-390xx           390.132-10           390.132-11
                linux56-nvidia-418xx           418.113-10           418.113-11
                linux56-nvidia-430xx            430.64-10            430.64-11
                linux56-nvidia-435xx            435.21-10            435.21-11
                linux56-nvidia-440xx             440.82-8             440.82-9
                       linux56-r8168           8.048.02-2           8.048.02-3
                   linux56-rtl8723bu          20200405-10          20200405-11
                    linux56-tp_smapi              0.43-10              0.43-11
                 linux56-vhba-module          20200106-10          20200106-11
    linux56-virtualbox-guest-modules              6.1.6-6              6.1.6-7
     linux56-virtualbox-host-modules              6.1.6-6              6.1.6-7
                         linux56-zfs             0.8.3-10             0.8.3-11
            manjaro-settings-manager              0.5.6-7              0.5.6-8
        manjaro-settings-manager-kcm              0.5.6-7              0.5.6-8
  manjaro-settings-manager-knotifier              0.5.6-7              0.5.6-8
   manjaro-settings-manager-notifier              0.5.6-7              0.5.6-8
                            qt5-base             5.14.2-1             5.14.2-2
             qt5-xcb-private-headers             5.14.2-1             5.14.2-2
                               xfwm4           4.14.1-1.1           4.14.2-1.1
                    boxit-arm-server                    -              2.1.3-4


:: Different sync package(s) in repository extra x86_64

-------------------------------------------------------------------------------
                             PACKAGE           2020-05-01           2020-05-02
-------------------------------------------------------------------------------
                         389-ds-base            1.4.3.4-2            1.4.3.4-3
                     accountsservice             0.6.55-1             0.6.55-2
                               boost             1.72.0-1             1.72.0-2
                          boost-libs             1.72.0-1             1.72.0-2
                              brltty                6.0-8                6.0-9
                            calligra              3.2.0-1              3.2.0-2
                            cbindgen             0.14.1-1             0.14.2-1
                             cfitsio             1:3.47-1             1:3.48-1
                            chromium      81.0.4044.129-1      81.0.4044.129-2
               evolution-data-server             3.36.2-1             3.36.2-2
                               gl2ps              1.4.0-1              1.4.1-1
                gnome-control-center             3.36.1-1             3.36.2-1
                            gtkglext             1.2.0-11             1.2.0-12
                            gwenview            20.04.0-1            20.04.0-2
                            harfbuzz              2.6.5-1              2.6.5-2
                        harfbuzz-icu              2.6.5-1              2.6.5-2
                            inkscape             0.92.5-1                1.0-2
                          kbookmarks             5.69.0-1             5.69.0-2
                                 kdb              3.2.0-2              3.2.0-4
                          kitinerary            20.04.0-1            20.04.0-2
                                 ldb            1:2.1.1-1            1:2.1.2-1
                              libcdr              0.1.6-1              0.1.6-2
                           libe-book              0.1.3-6              0.1.3-7
                             libical              3.0.8-1              3.0.8-2
                            libmspub              0.1.4-6              0.1.4-7
                      libphonenumber             8.11.5-1             8.11.5-2
                        libqalculate            3.9.0.a-1            3.9.0.a-2
                              libqxp              0.0.2-3              0.0.2-4
                   libreoffice-fresh              6.4.3-1              6.4.3-3
               libreoffice-fresh-sdk              6.4.3-1              6.4.3-3
                   libreoffice-still              6.3.5-4              6.3.6-1
                libreoffice-still-af              6.3.5-1              6.3.6-1
                libreoffice-still-am              6.3.5-1              6.3.6-1
                libreoffice-still-ar              6.3.5-1              6.3.6-1
                libreoffice-still-as              6.3.5-1              6.3.6-1
               libreoffice-still-ast              6.3.5-1              6.3.6-1
                libreoffice-still-be              6.3.5-1              6.3.6-1
                libreoffice-still-bg              6.3.5-1              6.3.6-1
                libreoffice-still-bn              6.3.5-1              6.3.6-1
             libreoffice-still-bn-in              6.3.5-1              6.3.6-1
                libreoffice-still-bo              6.3.5-1              6.3.6-1
                libreoffice-still-br              6.3.5-1              6.3.6-1
               libreoffice-still-brx              6.3.5-1              6.3.6-1
                libreoffice-still-bs              6.3.5-1              6.3.6-1
                libreoffice-still-ca              6.3.5-1              6.3.6-1
       libreoffice-still-ca-valencia              6.3.5-1              6.3.6-1
                libreoffice-still-cs              6.3.5-1              6.3.6-1
                libreoffice-still-cy              6.3.5-1              6.3.6-1
                libreoffice-still-da              6.3.5-1              6.3.6-1
                libreoffice-still-de              6.3.5-1              6.3.6-1
               libreoffice-still-dgo              6.3.5-1              6.3.6-1
                libreoffice-still-dz              6.3.5-1              6.3.6-1
                libreoffice-still-el              6.3.5-1              6.3.6-1
             libreoffice-still-en-gb              6.3.5-1              6.3.6-1
             libreoffice-still-en-za              6.3.5-1              6.3.6-1
                libreoffice-still-eo              6.3.5-1              6.3.6-1
                libreoffice-still-es              6.3.5-1              6.3.6-1
                libreoffice-still-et              6.3.5-1              6.3.6-1
                libreoffice-still-eu              6.3.5-1              6.3.6-1
                libreoffice-still-fa              6.3.5-1              6.3.6-1
                libreoffice-still-fi              6.3.5-1              6.3.6-1
                libreoffice-still-fr              6.3.5-1              6.3.6-1
                libreoffice-still-ga              6.3.5-1              6.3.6-1
                libreoffice-still-gd              6.3.5-1              6.3.6-1
                libreoffice-still-gl              6.3.5-1              6.3.6-1
                libreoffice-still-gu              6.3.5-1              6.3.6-1
                libreoffice-still-he              6.3.5-1              6.3.6-1
                libreoffice-still-hi              6.3.5-1              6.3.6-1
                libreoffice-still-hr              6.3.5-1              6.3.6-1
                libreoffice-still-hu              6.3.5-1              6.3.6-1
                libreoffice-still-id              6.3.5-1              6.3.6-1
                libreoffice-still-is              6.3.5-1              6.3.6-1
                libreoffice-still-it              6.3.5-1              6.3.6-1
                libreoffice-still-ja              6.3.5-1              6.3.6-1
                libreoffice-still-ka              6.3.5-1              6.3.6-1
                libreoffice-still-kk              6.3.5-1              6.3.6-1
                libreoffice-still-km              6.3.5-1              6.3.6-1
          libreoffice-still-kmr-latn              6.3.5-1              6.3.6-1
                libreoffice-still-kn              6.3.5-1              6.3.6-1
                libreoffice-still-ko              6.3.5-1              6.3.6-1
               libreoffice-still-kok              6.3.5-1              6.3.6-1
                libreoffice-still-ks              6.3.5-1              6.3.6-1
                libreoffice-still-lb              6.3.5-1              6.3.6-1
                libreoffice-still-lo              6.3.5-1              6.3.6-1
                libreoffice-still-lt              6.3.5-1              6.3.6-1
                libreoffice-still-lv              6.3.5-1              6.3.6-1
               libreoffice-still-mai              6.3.5-1              6.3.6-1
                libreoffice-still-mk              6.3.5-1              6.3.6-1
                libreoffice-still-ml              6.3.5-1              6.3.6-1
                libreoffice-still-mn              6.3.5-1              6.3.6-1
               libreoffice-still-mni              6.3.5-1              6.3.6-1
                libreoffice-still-mr              6.3.5-1              6.3.6-1
                libreoffice-still-my              6.3.5-1              6.3.6-1
                libreoffice-still-nb              6.3.5-1              6.3.6-1
                libreoffice-still-ne              6.3.5-1              6.3.6-1
                libreoffice-still-nl              6.3.5-1              6.3.6-1
                libreoffice-still-nn              6.3.5-1              6.3.6-1
                libreoffice-still-nr              6.3.5-1              6.3.6-1
               libreoffice-still-nso              6.3.5-1              6.3.6-1
                libreoffice-still-oc              6.3.5-1              6.3.6-1
                libreoffice-still-om              6.3.5-1              6.3.6-1
                libreoffice-still-or              6.3.5-1              6.3.6-1
             libreoffice-still-pa-in              6.3.5-1              6.3.6-1
                libreoffice-still-pl              6.3.5-1              6.3.6-1
                libreoffice-still-pt              6.3.5-1              6.3.6-1
             libreoffice-still-pt-br              6.3.5-1              6.3.6-1
                libreoffice-still-ro              6.3.5-1              6.3.6-1
                libreoffice-still-ru              6.3.5-1              6.3.6-1
                libreoffice-still-rw              6.3.5-1              6.3.6-1
             libreoffice-still-sa-in              6.3.5-1              6.3.6-1
               libreoffice-still-sat              6.3.5-1              6.3.6-1
                libreoffice-still-sd              6.3.5-1              6.3.6-1
               libreoffice-still-sdk              6.3.5-4              6.3.6-1
                libreoffice-still-si              6.3.5-1              6.3.6-1
               libreoffice-still-sid              6.3.5-1              6.3.6-1
                libreoffice-still-sk              6.3.5-1              6.3.6-1
                libreoffice-still-sl              6.3.5-1              6.3.6-1
                libreoffice-still-sq              6.3.5-1              6.3.6-1
                libreoffice-still-sr              6.3.5-1              6.3.6-1
           libreoffice-still-sr-latn              6.3.5-1              6.3.6-1
                libreoffice-still-ss              6.3.5-1              6.3.6-1
                libreoffice-still-st              6.3.5-1              6.3.6-1
                libreoffice-still-sv              6.3.5-1              6.3.6-1
             libreoffice-still-sw-tz              6.3.5-1              6.3.6-1
                libreoffice-still-ta              6.3.5-1              6.3.6-1
                libreoffice-still-te              6.3.5-1              6.3.6-1
                libreoffice-still-tg              6.3.5-1              6.3.6-1
                libreoffice-still-th              6.3.5-1              6.3.6-1
                libreoffice-still-tn              6.3.5-1              6.3.6-1
                libreoffice-still-tr              6.3.5-1              6.3.6-1
                libreoffice-still-ts              6.3.5-1              6.3.6-1
                libreoffice-still-tt              6.3.5-1              6.3.6-1
                libreoffice-still-ug              6.3.5-1              6.3.6-1
                libreoffice-still-uk              6.3.5-1              6.3.6-1
                libreoffice-still-uz              6.3.5-1              6.3.6-1
                libreoffice-still-ve              6.3.5-1              6.3.6-1
                libreoffice-still-vi              6.3.5-1              6.3.6-1
                libreoffice-still-xh              6.3.5-1              6.3.6-1
             libreoffice-still-zh-cn              6.3.5-1              6.3.6-1
             libreoffice-still-zh-tw              6.3.5-1              6.3.6-1
                libreoffice-still-zu              6.3.5-1              6.3.6-1
                          libsynctex         2019.51075-8        2019.51075-10
                            libvisio              0.1.7-2              0.1.7-3
                             libxml2             2.9.10-1             2.9.10-2
                              libzmf              0.0.2-7              0.0.2-8
                            m17n-lib              1.8.0-6              1.8.0-7
                                 mpd            0.21.23-3            0.21.23-4
                                ovmf           1:202002-1                    -
                       pangox-compat   0.0.2+2+gedb9e09-3                    -
                perl-async-interrupt               1.25-3               1.26-1
                          perl-clone               0.44-1               0.45-1
                                 php              7.4.5-1              7.4.5-2
                          php-apache              7.4.5-1              7.4.5-2
                             php-cgi              7.4.5-1              7.4.5-2
                           php-dblib              7.4.5-1              7.4.5-2
                           php-embed              7.4.5-1              7.4.5-2
                         php-enchant              7.4.5-1              7.4.5-2
                             php-fpm              7.4.5-1              7.4.5-2
                              php-gd              7.4.5-1              7.4.5-2
                            php-imap              7.4.5-1              7.4.5-2
                            php-intl              7.4.5-1              7.4.5-2
                            php-odbc              7.4.5-1              7.4.5-2
                           php-pgsql              7.4.5-1              7.4.5-2
                          php-phpdbg              7.4.5-1              7.4.5-2
                          php-pspell              7.4.5-1              7.4.5-2
                            php-snmp              7.4.5-1              7.4.5-2
                          php-sodium              7.4.5-1              7.4.5-2
                          php-sqlite              7.4.5-1              7.4.5-2
                            php-tidy              7.4.5-1              7.4.5-2
                             php-xsl              7.4.5-1              7.4.5-2
                            pipewire              0.3.2-1              0.3.4-1
                       pipewire-docs              0.3.2-1              0.3.4-1
                       pipewire-jack              0.3.2-1              0.3.4-1
                      pipewire-pulse              0.3.2-1              0.3.4-1
                             poppler             0.87.0-1             0.88.0-1
                        poppler-glib             0.87.0-1             0.88.0-1
                         poppler-qt5             0.87.0-1             0.88.0-1
                             postfix              3.5.1-1              3.5.1-2
                          postgresql               12.2-2               12.2-3
                     postgresql-docs               12.2-2               12.2-3
                     postgresql-libs               12.2-2               12.2-3
              postgresql-old-upgrade               11.7-1               11.7-2
                      python-wstools              0.4.8-4              0.4.9-1
                     python2-wstools              0.4.8-4              0.4.9-1
                            qt5-base             5.14.2-1             5.14.2-2
                        qt5-location             5.14.2-1             5.14.2-2
                       qt5-webengine             5.14.2-1             5.14.2-2
                          qt5-webkit      5.212.0alpha4-3      5.212.0alpha4-4
             qt5-xcb-private-headers             5.14.2-1             5.14.2-2
                                   r              4.0.0-1              4.0.0-2
                              raptor            2.0.15-12            2.0.15-13
                               samba             4.12.1-1             4.12.2-3
                           smbclient             4.12.1-1             4.12.2-3
                         texlive-bin         2019.51075-8        2019.51075-10
                         thunderbird             68.7.0-1             68.7.0-2
                             tracker              2.3.4-1              2.3.4-2
                      tracker-miners              2.3.3-1              2.3.3-2
                          vte-common             0.60.2-1             0.60.2-2
                                vte3             0.60.2-1             0.60.2-2
                          webkit2gtk             2.28.2-1             2.28.2-2
                        wxgtk-common              3.0.4-2              3.0.5-1
                              wxgtk2              3.0.4-2              3.0.5-1
                              wxgtk3              3.0.4-2              3.0.5-1
                               xfwm4             4.14.1-1             4.14.2-1
                              xmlsec             1.2.30-1             1.2.30-2
                               xterm                354-1                355-1
                           edk2-ovmf                    -             202002-7
                          edk2-shell                    -             202002-7


:: Different sync package(s) in repository multilib x86_64

-------------------------------------------------------------------------------
                             PACKAGE           2020-05-01           2020-05-02
-------------------------------------------------------------------------------
                          lib32-curl             7.69.1-1             7.70.0-1
                      lib32-harfbuzz              2.6.5-1              2.6.5-2
                  lib32-harfbuzz-icu              2.6.5-1              2.6.5-2
                           lib32-icu               65.1-3               67.1-1
                       lib32-libcups              2.3.1-1              2.3.3-1
                lib32-libcurl-compat             7.69.1-1             7.70.0-1
                lib32-libcurl-gnutls             7.69.1-1             7.70.0-1
                       lib32-libxml2             2.9.10-1             2.9.10-2
          lib32-simplescreenrecorder              0.4.0-1              0.4.1-1


No issue, everything went smoothly
Yes there was an issue. I was able to resolve it myself.(Please post your solution)
Yes i am currently experiencing an issue due to the update. (Please post about it)
Check if your mirror has already synced: