Hello community,
I am happy to announce another Unstable Update. Mostly we have Systemd 243.0, Firefox and warzone2100 updates with this one.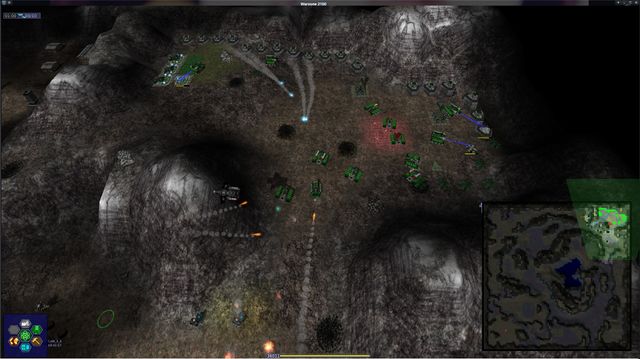 Update news
This update holds the following changes:
Manjaro 18.1-rc9 (rev2) got released. Please test and give us feedback, as we hope to have fixed the mhwd issues.
systemd is now at 243.0
warzone2100 is now at 3.3
Firefox got updated to 69.0
Latest efforts by KDE can be reviewed via our current KDE-Dev ISO or current KDE-Vanilla ISO
Give us the usual feedback and let us know what you think about this update.
---
Current supported Kernels
linux316 3.16.73
linux44 4.4.190 (no legacy nvidia-340 module!)
linux49 4.9.190
linux414 4.14.141
linux419 4.19.69
linux51 5.1.21 [EOL]
linux52 5.2.11 (no catalyst module!)
linux53 5.3-rc7 (not all modules build yet!)
linux419-rt 4.19.50_rt22
linux52-rt 5.2.10_rt5-1
Package Updates (Tue Sep 3 12:57:31 CEST 2019)
:: Different sync package(s) in repository community x86_64

-------------------------------------------------------------------------------
                             PACKAGE              testing             unstable
-------------------------------------------------------------------------------
                              faudio              19.08-1              19.09-1
               firefox-ublock-origin             1.21.2-1             1.22.0-1
                                kube              0.7.0-4              0.7.0-5
                             kubectx              0.6.3-2              0.7.0-1
                              puppet              6.4.2-2              6.4.2-3
           python-importlib-metadata               0.19-1               0.20-1
          python2-importlib-metadata               0.19-1               0.20-1
                        python2-rply              0.7.7-1                    -
                                sink              0.7.0-4              0.7.0-5
                         warzone2100              3.2.3-2              3.3.0-1


:: Different overlay package(s) in repository core x86_64

-------------------------------------------------------------------------------
                             PACKAGE              testing             unstable
-------------------------------------------------------------------------------
                             systemd             242.85-2              243.0-1
                        systemd-libs             242.85-2              243.0-1
                  systemd-resolvconf             242.85-2              243.0-1
                  systemd-sysvcompat             242.85-2              243.0-1


:: Different sync package(s) in repository core x86_64

-------------------------------------------------------------------------------
                             PACKAGE              testing             unstable
-------------------------------------------------------------------------------
                            usbutils                010-1                012-1


:: Different overlay package(s) in repository extra x86_64

-------------------------------------------------------------------------------
                             PACKAGE              testing             unstable
-------------------------------------------------------------------------------
                             firefox             69.0-0.1                    -
                    firefox-i18n-ach               69.0-0                    -
                     firefox-i18n-af               69.0-0                    -
                     firefox-i18n-an               69.0-0                    -
                     firefox-i18n-ar               69.0-0                    -
                    firefox-i18n-ast               69.0-0                    -
                     firefox-i18n-az               69.0-0                    -
                     firefox-i18n-be               69.0-0                    -
                     firefox-i18n-bg               69.0-0                    -
                     firefox-i18n-bn               69.0-0                    -
                     firefox-i18n-br               69.0-0                    -
                     firefox-i18n-bs               69.0-0                    -
                     firefox-i18n-ca               69.0-0                    -
                    firefox-i18n-cak               69.0-0                    -
                     firefox-i18n-cs               69.0-0                    -
                     firefox-i18n-cy               69.0-0                    -
                     firefox-i18n-da               69.0-0                    -
                     firefox-i18n-de               69.0-0                    -
                    firefox-i18n-dsb               69.0-0                    -
                     firefox-i18n-el               69.0-0                    -
                  firefox-i18n-en-ca               69.0-0                    -
                  firefox-i18n-en-gb               69.0-0                    -
                  firefox-i18n-en-us               69.0-0                    -
                     firefox-i18n-eo               69.0-0                    -
                  firefox-i18n-es-ar               69.0-0                    -
                  firefox-i18n-es-cl               69.0-0                    -
                  firefox-i18n-es-es               69.0-0                    -
                  firefox-i18n-es-mx               69.0-0                    -
                     firefox-i18n-et               69.0-0                    -
                     firefox-i18n-eu               69.0-0                    -
                     firefox-i18n-fa               69.0-0                    -
                     firefox-i18n-ff               69.0-0                    -
                     firefox-i18n-fi               69.0-0                    -
                     firefox-i18n-fr               69.0-0                    -
                  firefox-i18n-fy-nl               69.0-0                    -
                  firefox-i18n-ga-ie               69.0-0                    -
                     firefox-i18n-gd               69.0-0                    -
                     firefox-i18n-gl               69.0-0                    -
                     firefox-i18n-gn               69.0-0                    -
                  firefox-i18n-gu-in               69.0-0                    -
                     firefox-i18n-he               69.0-0                    -
                  firefox-i18n-hi-in               69.0-0                    -
                     firefox-i18n-hr               69.0-0                    -
                    firefox-i18n-hsb               69.0-0                    -
                     firefox-i18n-hu               69.0-0                    -
                  firefox-i18n-hy-am               69.0-0                    -
                     firefox-i18n-ia               69.0-0                    -
                     firefox-i18n-id               69.0-0                    -
                     firefox-i18n-is               69.0-0                    -
                     firefox-i18n-it               69.0-0                    -
                     firefox-i18n-ja               69.0-0                    -
                     firefox-i18n-ka               69.0-0                    -
                    firefox-i18n-kab               69.0-0                    -
                     firefox-i18n-kk               69.0-0                    -
                     firefox-i18n-km               69.0-0                    -
                     firefox-i18n-kn               69.0-0                    -
                     firefox-i18n-ko               69.0-0                    -
                    firefox-i18n-lij               69.0-0                    -
                     firefox-i18n-lt               69.0-0                    -
                     firefox-i18n-lv               69.0-0                    -
                     firefox-i18n-mk               69.0-0                    -
                     firefox-i18n-mr               69.0-0                    -
                     firefox-i18n-ms               69.0-0                    -
                     firefox-i18n-my               69.0-0                    -
                  firefox-i18n-nb-no               69.0-0                    -
                  firefox-i18n-ne-np               69.0-0                    -
                     firefox-i18n-nl               69.0-0                    -
                  firefox-i18n-nn-no               69.0-0                    -
                     firefox-i18n-oc               69.0-0                    -
                  firefox-i18n-pa-in               69.0-0                    -
                     firefox-i18n-pl               69.0-0                    -
                  firefox-i18n-pt-br               69.0-0                    -
                  firefox-i18n-pt-pt               69.0-0                    -
                     firefox-i18n-rm               69.0-0                    -
                     firefox-i18n-ro               69.0-0                    -
                     firefox-i18n-ru               69.0-0                    -
                     firefox-i18n-si               69.0-0                    -
                     firefox-i18n-sk               69.0-0                    -
                     firefox-i18n-sl               69.0-0                    -
                    firefox-i18n-son               69.0-0                    -
                     firefox-i18n-sq               69.0-0                    -
                     firefox-i18n-sr               69.0-0                    -
                  firefox-i18n-sv-se               69.0-0                    -
                     firefox-i18n-ta               69.0-0                    -
                     firefox-i18n-te               69.0-0                    -
                     firefox-i18n-th               69.0-0                    -
                     firefox-i18n-tr               69.0-0                    -
                     firefox-i18n-uk               69.0-0                    -
                     firefox-i18n-ur               69.0-0                    -
                     firefox-i18n-uz               69.0-0                    -
                     firefox-i18n-vi               69.0-0                    -
                     firefox-i18n-xh               69.0-0                    -
                  firefox-i18n-zh-cn               69.0-0                    -
                  firefox-i18n-zh-tw               69.0-0                    -


:: Different sync package(s) in repository extra x86_64

-------------------------------------------------------------------------------
                             PACKAGE              testing             unstable
-------------------------------------------------------------------------------
                            ddrescue               1.24-1               1.24-2
                             firefox             68.0.2-1               69.0-1
                    firefox-i18n-ach             68.0.2-1               69.0-1
                     firefox-i18n-af             68.0.2-1               69.0-1
                     firefox-i18n-an             68.0.2-1               69.0-1
                     firefox-i18n-ar             68.0.2-1               69.0-1
                    firefox-i18n-ast             68.0.2-1               69.0-1
                     firefox-i18n-az             68.0.2-1               69.0-1
                     firefox-i18n-be             68.0.2-1               69.0-1
                     firefox-i18n-bg             68.0.2-1               69.0-1
                     firefox-i18n-bn             68.0.2-1               69.0-1
                     firefox-i18n-br             68.0.2-1               69.0-1
                     firefox-i18n-bs             68.0.2-1               69.0-1
                     firefox-i18n-ca             68.0.2-1               69.0-1
                    firefox-i18n-cak             68.0.2-1               69.0-1
                     firefox-i18n-cs             68.0.2-1               69.0-1
                     firefox-i18n-cy             68.0.2-1               69.0-1
                     firefox-i18n-da             68.0.2-1               69.0-1
                     firefox-i18n-de             68.0.2-1               69.0-1
                    firefox-i18n-dsb             68.0.2-1               69.0-1
                     firefox-i18n-el             68.0.2-1               69.0-1
                  firefox-i18n-en-ca             68.0.2-1               69.0-1
                  firefox-i18n-en-gb             68.0.2-1               69.0-1
                  firefox-i18n-en-us             68.0.2-1               69.0-1
                     firefox-i18n-eo             68.0.2-1               69.0-1
                  firefox-i18n-es-ar             68.0.2-1               69.0-1
                  firefox-i18n-es-cl             68.0.2-1               69.0-1
                  firefox-i18n-es-es             68.0.2-1               69.0-1
                  firefox-i18n-es-mx             68.0.2-1               69.0-1
                     firefox-i18n-et             68.0.2-1               69.0-1
                     firefox-i18n-eu             68.0.2-1               69.0-1
                     firefox-i18n-fa             68.0.2-1               69.0-1
                     firefox-i18n-ff             68.0.2-1               69.0-1
                     firefox-i18n-fi             68.0.2-1               69.0-1
                     firefox-i18n-fr             68.0.2-1               69.0-1
                  firefox-i18n-fy-nl             68.0.2-1               69.0-1
                  firefox-i18n-ga-ie             68.0.2-1               69.0-1
                     firefox-i18n-gd             68.0.2-1               69.0-1
                     firefox-i18n-gl             68.0.2-1               69.0-1
                     firefox-i18n-gn             68.0.2-1               69.0-1
                  firefox-i18n-gu-in             68.0.2-1               69.0-1
                     firefox-i18n-he             68.0.2-1               69.0-1
                  firefox-i18n-hi-in             68.0.2-1               69.0-1
                     firefox-i18n-hr             68.0.2-1               69.0-1
                    firefox-i18n-hsb             68.0.2-1               69.0-1
                     firefox-i18n-hu             68.0.2-1               69.0-1
                  firefox-i18n-hy-am             68.0.2-1               69.0-1
                     firefox-i18n-ia             68.0.2-1               69.0-1
                     firefox-i18n-id             68.0.2-1               69.0-1
                     firefox-i18n-is             68.0.2-1               69.0-1
                     firefox-i18n-it             68.0.2-1               69.0-1
                     firefox-i18n-ja             68.0.2-1               69.0-1
                     firefox-i18n-ka             68.0.2-1               69.0-1
                    firefox-i18n-kab             68.0.2-1               69.0-1
                     firefox-i18n-kk             68.0.2-1               69.0-1
                     firefox-i18n-km             68.0.2-1               69.0-1
                     firefox-i18n-kn             68.0.2-1               69.0-1
                     firefox-i18n-ko             68.0.2-1               69.0-1
                    firefox-i18n-lij             68.0.2-1               69.0-1
                     firefox-i18n-lt             68.0.2-1               69.0-1
                     firefox-i18n-lv             68.0.2-1               69.0-1
                     firefox-i18n-mk             68.0.2-1               69.0-1
                     firefox-i18n-mr             68.0.2-1               69.0-1
                     firefox-i18n-ms             68.0.2-1               69.0-1
                     firefox-i18n-my             68.0.2-1               69.0-1
                  firefox-i18n-nb-no             68.0.2-1               69.0-1
                  firefox-i18n-ne-np             68.0.2-1               69.0-1
                     firefox-i18n-nl             68.0.2-1               69.0-1
                  firefox-i18n-nn-no             68.0.2-1               69.0-1
                     firefox-i18n-oc             68.0.2-1               69.0-1
                  firefox-i18n-pa-in             68.0.2-1               69.0-1
                     firefox-i18n-pl             68.0.2-1               69.0-1
                  firefox-i18n-pt-br             68.0.2-1               69.0-1
                  firefox-i18n-pt-pt             68.0.2-1               69.0-1
                     firefox-i18n-rm             68.0.2-1               69.0-1
                     firefox-i18n-ro             68.0.2-1               69.0-1
                     firefox-i18n-ru             68.0.2-1               69.0-1
                     firefox-i18n-si             68.0.2-1               69.0-1
                     firefox-i18n-sk             68.0.2-1               69.0-1
                     firefox-i18n-sl             68.0.2-1               69.0-1
                    firefox-i18n-son             68.0.2-1               69.0-1
                     firefox-i18n-sq             68.0.2-1               69.0-1
                     firefox-i18n-sr             68.0.2-1               69.0-1
                  firefox-i18n-sv-se             68.0.2-1               69.0-1
                     firefox-i18n-ta             68.0.2-1               69.0-1
                     firefox-i18n-te             68.0.2-1               69.0-1
                     firefox-i18n-th             68.0.2-1               69.0-1
                     firefox-i18n-tr             68.0.2-1               69.0-1
                     firefox-i18n-uk             68.0.2-1               69.0-1
                     firefox-i18n-ur             68.0.2-1               69.0-1
                     firefox-i18n-uz             68.0.2-1               69.0-1
                     firefox-i18n-vi             68.0.2-1               69.0-1
                     firefox-i18n-xh             68.0.2-1               69.0-1
                  firefox-i18n-zh-cn             68.0.2-1               69.0-1
                  firefox-i18n-zh-tw             68.0.2-1               69.0-1
                            libwacom               0.33-1                1.0-1
                              recode              3.7.2-1              3.7.4-1


:: Different overlay package(s) in repository multilib x86_64

-------------------------------------------------------------------------------
                             PACKAGE              testing             unstable
-------------------------------------------------------------------------------
                       lib32-systemd             242.85-1              243.0-1


:: Different sync package(s) in repository multilib x86_64

-------------------------------------------------------------------------------
                             PACKAGE              testing             unstable
-------------------------------------------------------------------------------
                        lib32-faudio              19.08-1              19.09-1


No issue, everything went smoothly
Yes there was an issue. I was able to resolve it myself.(Please post your solution)
Yes i am currently experiencing an issue due to the update. (Please post about it)
Check if your mirror has already synced: