Hello community,
here is another Unstable Update for you: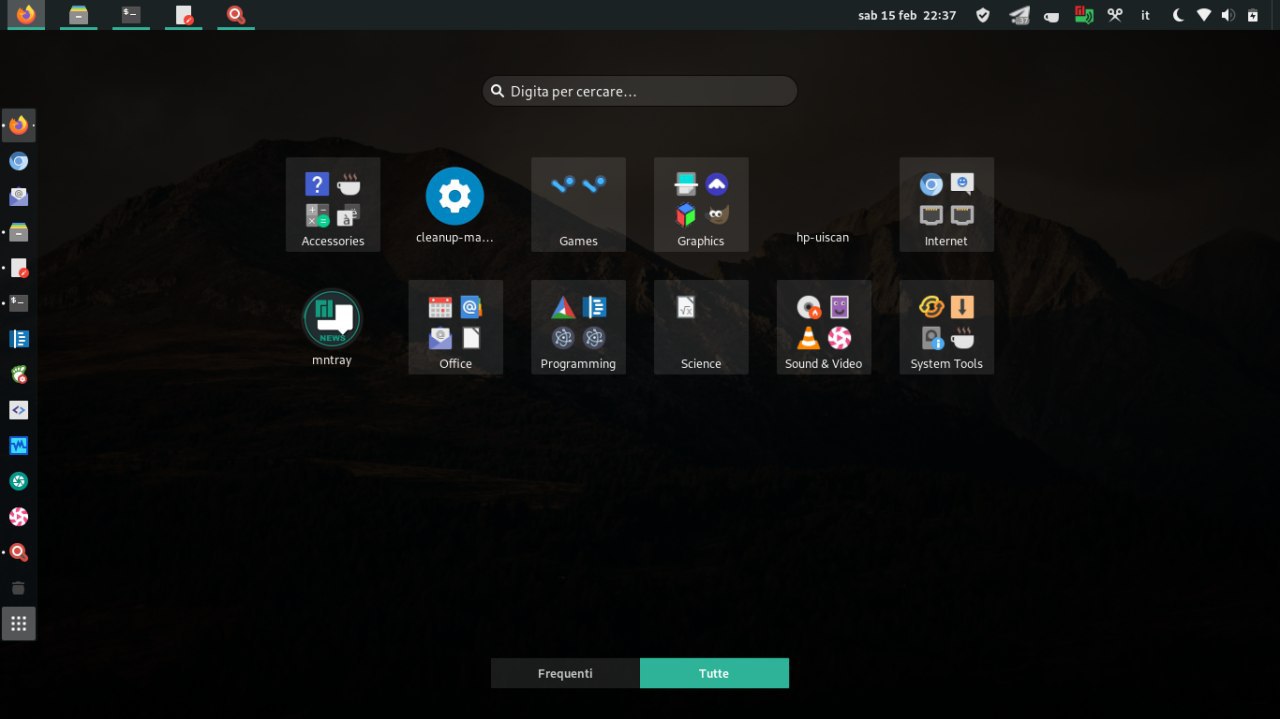 Looking for grouping applications in one of our next release. What do you think about it?
Some feature-updates:
poppler packages got updated
systemd is now at v245. Please report any regressions!
If you like following latest Plasma development you may also like to check out our current version of manjaro-kde-dev, which we build on a regular basis against kde-git master packages. Also check out our current 19.0.2 ISOs and give us the needed feedback. You might also want to give our latest spin with NX-Desktop a try ...
As always we appreciate your input and feedback for the updates.
---
Upstream notice
Arch updated their default compression to zstd. We adopted to the same standard. More and more packages will have the zst extension from now on. If you get for what ever reason an error with ZSTD not supported as archive format you can do this:
wget https://pkgbuild.com/~eschwartz/repo/x86_64-extracted/pacman-static
chmod +x pacman-static
sudo ./pacman-static -Syyu

---
Our current supported kernels
linux316 3.16.82
linux44 4.4.215
linux49 4.9.215
linux414 4.14.172
linux419 4.19.108
linux54 5.4.24
linux55 5.5.8
linux56 5.6-rc4
linux419-rt 4.19.106_rt44
linux54-rt 5.4.22_rt13
Package Changes (Sat Mar 7 16:03:47 CET 2020)
:: Different sync package(s) in repository community x86_64

-------------------------------------------------------------------------------
                             PACKAGE              testing             unstable
-------------------------------------------------------------------------------
                             buildah             1.14.1-1             1.14.2-1
                                croc              8.0.1-1              8.0.2-1
                                crun           0.12.2.1-1               0.13-1
                            electron              8.1.0-1              8.1.0-2
                           electron2             2.0.18-2             2.0.18-3
                           electron4             4.2.12-2             4.2.12-3
                           electron5             5.0.13-1             5.0.13-2
                           electron6              6.1.9-1              6.1.9-2
                       gambas3-devel             3.14.3-5             3.14.3-7
                     gambas3-gb-args             3.14.3-5             3.14.3-7
                    gambas3-gb-cairo             3.14.3-5             3.14.3-7
                    gambas3-gb-chart             3.14.3-5             3.14.3-7
                  gambas3-gb-clipper             3.14.3-5             3.14.3-7
                  gambas3-gb-complex             3.14.3-5             3.14.3-7
                 gambas3-gb-compress             3.14.3-5             3.14.3-7
                    gambas3-gb-crypt             3.14.3-5             3.14.3-7
                     gambas3-gb-data             3.14.3-5             3.14.3-7
                       gambas3-gb-db             3.14.3-5             3.14.3-7
                  gambas3-gb-db-form             3.14.3-5             3.14.3-7
                 gambas3-gb-db-mysql             3.14.3-5             3.14.3-7
                  gambas3-gb-db-odbc             3.14.3-5             3.14.3-7
            gambas3-gb-db-postgresql             3.14.3-5             3.14.3-7
               gambas3-gb-db-sqlite3             3.14.3-5             3.14.3-7
                     gambas3-gb-dbus             3.14.3-5             3.14.3-7
                  gambas3-gb-desktop             3.14.3-5             3.14.3-7
            gambas3-gb-desktop-gnome             3.14.3-5             3.14.3-7
              gambas3-gb-desktop-x11             3.14.3-5             3.14.3-7
           gambas3-gb-eval-highlight             3.14.3-5             3.14.3-7
                     gambas3-gb-form             3.14.3-5             3.14.3-7
              gambas3-gb-form-dialog             3.14.3-5             3.14.3-7
              gambas3-gb-form-editor             3.14.3-5             3.14.3-7
                 gambas3-gb-form-mdi             3.14.3-5             3.14.3-7
               gambas3-gb-form-stock             3.14.3-5             3.14.3-7
            gambas3-gb-form-terminal             3.14.3-5             3.14.3-7
                      gambas3-gb-gmp             3.14.3-5             3.14.3-7
                      gambas3-gb-gsl             3.14.3-5             3.14.3-7
                      gambas3-gb-gtk             3.14.3-5             3.14.3-7
               gambas3-gb-gtk-opengl             3.14.3-5             3.14.3-7
                     gambas3-gb-gtk3             3.14.3-5             3.14.3-7
                    gambas3-gb-httpd             3.14.3-5             3.14.3-7
                    gambas3-gb-image             3.14.3-5             3.14.3-7
             gambas3-gb-image-effect             3.14.3-5             3.14.3-7
              gambas3-gb-image-imlib             3.14.3-5             3.14.3-7
                 gambas3-gb-image-io             3.14.3-5             3.14.3-7
                  gambas3-gb-inotify             3.14.3-5             3.14.3-7
                   gambas3-gb-libxml             3.14.3-5             3.14.3-7
                  gambas3-gb-logging             3.14.3-5             3.14.3-7
                      gambas3-gb-map             3.14.3-5             3.14.3-7
                 gambas3-gb-markdown             3.14.3-5             3.14.3-7
                    gambas3-gb-media             3.14.3-5             3.14.3-7
               gambas3-gb-media-form             3.14.3-5             3.14.3-7
                gambas3-gb-memcached             3.14.3-5             3.14.3-7
                     gambas3-gb-mime             3.14.3-5             3.14.3-7
                    gambas3-gb-mysql             3.14.3-5             3.14.3-7
                  gambas3-gb-ncurses             3.14.3-5             3.14.3-7
                      gambas3-gb-net             3.14.3-5             3.14.3-7
                 gambas3-gb-net-curl             3.14.3-5             3.14.3-7
                 gambas3-gb-net-pop3             3.14.3-5             3.14.3-7
                 gambas3-gb-net-smtp             3.14.3-5             3.14.3-7
                   gambas3-gb-openal             3.14.3-5             3.14.3-7
                   gambas3-gb-opengl             3.14.3-5             3.14.3-7
              gambas3-gb-opengl-glsl             3.14.3-5             3.14.3-7
               gambas3-gb-opengl-glu             3.14.3-5             3.14.3-7
               gambas3-gb-opengl-sge             3.14.3-5             3.14.3-7
                  gambas3-gb-openssl             3.14.3-5             3.14.3-7
                   gambas3-gb-option             3.14.3-5             3.14.3-7
                     gambas3-gb-pcre             3.14.3-5             3.14.3-7
                      gambas3-gb-pdf             3.14.3-5             3.14.3-7
                      gambas3-gb-qt5             3.14.3-5             3.14.3-7
               gambas3-gb-qt5-opengl             3.14.3-5             3.14.3-7
               gambas3-gb-qt5-webkit             3.14.3-5             3.14.3-7
                   gambas3-gb-report             3.14.3-5             3.14.3-7
                  gambas3-gb-scanner             3.14.3-5             3.14.3-7
                      gambas3-gb-sdl             3.14.3-5             3.14.3-7
                gambas3-gb-sdl-sound             3.14.3-5             3.14.3-7
                     gambas3-gb-sdl2             3.14.3-5             3.14.3-7
               gambas3-gb-sdl2-audio             3.14.3-5             3.14.3-7
                 gambas3-gb-settings             3.14.3-5             3.14.3-7
                   gambas3-gb-signal             3.14.3-5             3.14.3-7
                     gambas3-gb-term             3.14.3-5             3.14.3-7
                     gambas3-gb-util             3.14.3-5             3.14.3-7
                 gambas3-gb-util-web             3.14.3-5             3.14.3-7
                      gambas3-gb-v4l             3.14.3-5             3.14.3-7
                       gambas3-gb-vb             3.14.3-5             3.14.3-7
                      gambas3-gb-web             3.14.3-5             3.14.3-7
                 gambas3-gb-web-feed             3.14.3-5             3.14.3-7
                 gambas3-gb-web-form             3.14.3-5             3.14.3-7
                      gambas3-gb-xml             3.14.3-5             3.14.3-7
                 gambas3-gb-xml-html             3.14.3-5             3.14.3-7
                  gambas3-gb-xml-rpc             3.14.3-5             3.14.3-7
                 gambas3-gb-xml-xslt             3.14.3-5             3.14.3-7
                         gambas3-ide             3.14.3-5             3.14.3-7
                     gambas3-runtime             3.14.3-5             3.14.3-7
                      gambas3-script             3.14.3-5             3.14.3-7
                                gdal              3.0.4-2              3.0.4-4
                      go-tools 2:1.13+3523+65e3620a7-3 2:1.14+3922+575de4798-1
                                 k9s             0.17.4-1             0.17.5-1
                                 lxd               3.21-2               3.22-1
                                 min             1.12.0-1             1.13.0-1
                            pdf2djvu             0.9.16-1             0.9.17-1
                         python-gdal              3.0.4-2              3.0.4-4
                  python-lark-parser              0.8.1-1              0.8.2-1
               python-prompt_toolkit              3.0.3-1              3.0.4-1
                             scribus              1.5.5-6              1.5.5-7
                      signal-desktop             1.32.0-2             1.32.1-1
         v2ray-domain-list-community       202003051416-1       202003070918-1
                       vim-ultisnips                3.1-4                3.2-1
              haskell-simple-reflect                    -              0.3.3-1


:: Different overlay package(s) in repository core x86_64

-------------------------------------------------------------------------------
                             PACKAGE              testing             unstable
-------------------------------------------------------------------------------
                             systemd              244.3-2              245-1.0
                        systemd-libs              244.3-2              245-1.0
                  systemd-resolvconf              244.3-2              245-1.0
                  systemd-sysvcompat              244.3-2              245-1.0
                              libcap                    -               2.33-1


:: Different sync package(s) in repository extra x86_64

-------------------------------------------------------------------------------
                             PACKAGE              testing             unstable
-------------------------------------------------------------------------------
                            calligra             3.1.0-27             3.1.0-29
                            chromium      80.0.3987.132-1      80.0.3987.132-2
                         imagemagick           7.0.9.27-1           7.0.10.0-1
                     imagemagick-doc           7.0.9.27-1           7.0.10.0-1
                            inkscape            0.92.4-12            0.92.4-14
                          kitinerary            19.12.3-1            19.12.3-2
                   libreoffice-fresh              6.4.1-1              6.4.1-3
               libreoffice-fresh-sdk              6.4.1-1              6.4.1-3
                   libreoffice-still              6.3.5-1              6.3.5-3
               libreoffice-still-sdk              6.3.5-1              6.3.5-3
                          libsynctex         2019.51075-6         2019.51075-7
                             poppler             0.85.0-1             0.86.1-1
                        poppler-glib             0.85.0-1             0.86.1-1
                         poppler-qt5             0.85.0-1             0.86.1-1
                       qt5-webengine             5.14.1-1             5.14.1-2
                                 re2         1:20200101-1         1:20200303-1
                         texlive-bin         2019.51075-6         2019.51075-7


:: Different overlay package(s) in repository multilib x86_64

-------------------------------------------------------------------------------
                             PACKAGE              testing             unstable
-------------------------------------------------------------------------------
                       lib32-systemd              244.3-1                245-1
                        lib32-libcap                    -               2.33-1

No issue, everything went smoothly
Yes there was an issue. I was able to resolve it myself.(Please post your solution)
Yes i am currently experiencing an issue due to the update. (Please post about it)
Check if your mirror has already synced: