Hello community,
here is another Unstable Update for you: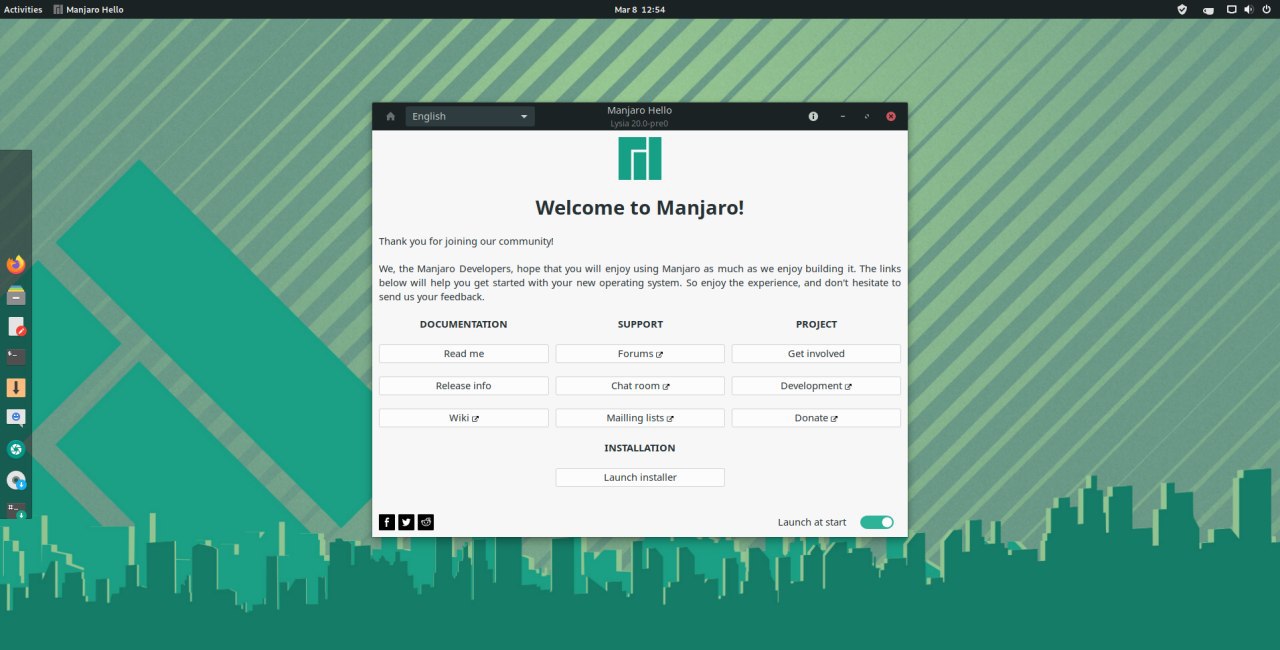 Looking forward to push the lastest Gnome 3.36 to all our branches ...
Some feature-updates:
Gnome got updated to 3.36. As usual report your issues!
poppler packages got updated
gamemode is updated to 1.5.1
systemd is now at v245. Please report any regressions!
If you like following latest Plasma development you may also like to check out our current version of manjaro-kde-dev, which we build on a regular basis against kde-git master packages. Also check out our current 19.0.2 ISOs and give us the needed feedback. You might also want to give our latest spin with NX-Desktop a try ...
As always we appreciate your input and feedback for the updates.
---
Upstream notice
Arch updated their default compression to zstd. We adopted to the same standard. More and more packages will have the zst extension from now on. If you get for what ever reason an error with ZSTD not supported as archive format you can do this:
wget https://pkgbuild.com/~eschwartz/repo/x86_64-extracted/pacman-static
chmod +x pacman-static
sudo ./pacman-static -Syyu

---
Our current supported kernels
linux316 3.16.82
linux44 4.4.215
linux49 4.9.215
linux414 4.14.172
linux419 4.19.108
linux54 5.4.24
linux55 5.5.8
linux56 5.6-rc4
linux419-rt 4.19.106_rt44
linux54-rt 5.4.22_rt13
Package Changes (Sat Mar 7 16:03:47 CET 2020)
:: Different overlay package(s) in repository community x86_64

-------------------------------------------------------------------------------
                             PACKAGE              testing             unstable
-------------------------------------------------------------------------------
                               cpu-x3.2.4.r191.ga1b1e74-13.2.4.r193.g73fe01e-1
                            gamemode                1.5-1              1.5.1-1
      gnome-shell-extension-arc-menu        1:41+Stable-1        1:43+Stable-1
  gnome-shell-extension-dash-to-dock                 67-3                 67-4
 gnome-shell-extension-dash-to-panel    v26+33+gba75e61-1                v29-1
     gnome-shell-extension-gsconnect                 31-1                 34-1
                 manjaro-check-repos   0.9.5+1+gbf0784f-1              0.9.6-1
              manjaro-gdm-theme-19.0           20200207-1           20200308-1
         manjaro-gnome-settings-19.0           20200207-1           20200307-1
              manjaro-openbox-config             1.20.1-5             1.20.1-6
    manjaro-openbox-desktop-settings             1.20.1-5             1.20.1-6


:: Different sync package(s) in repository community x86_64

-------------------------------------------------------------------------------
                             PACKAGE              testing             unstable
-------------------------------------------------------------------------------
                              adrdox              1.0.0-5              2.0.0-1
                            adriconf              1.5.1-2              1.6.1-1
                                agda  2.6.0.1.20191219-34  2.6.0.1.20191219-36
                             almanah             0.12.0-1             0.12.0-2
                 appstream-generator              0.8.1-1              0.8.1-2
                            blackbox               0.75-1               0.76-1
                           blueberry              1.3.4-2              1.3.5-1
                      budgie-desktop             10.5.1-110.5.1+12+g10b814fa-1
                             buildah             1.14.1-1             1.14.2-1
                       cabal-install           3.0.0.0-43           3.0.0.0-45
                               cgrep            6.6.30-46            6.6.30-47
                              conmon            1:2.0.9-1           1:2.0.11-1
                                croc              8.0.1-1              8.0.2-1
                                crun           0.12.2.1-1               0.13-1
                             cryptol             2.8.0-70             2.8.0-71
                        d-containers      0.8.0alpha.19-2      0.8.0alpha.19-3
                          d-mir-core              1.0.2-2              1.1.0-1
                    d-stdx-allocator              3.0.2-8              3.0.2-9
                               darcs           2.14.2-178           2.14.2-180
                         debootstrap            1.0.119-1            1.0.120-1
                          deepin-api              5.0.0-3              5.0.0-4
                       deepin-daemon              5.0.0-2              5.0.0-3
                       deepin-mutter            3.20.38-2            3.20.38-3
                           deepin-wm             1.9.38-3             1.9.38-4
                             diet-ng              1.6.0-3              1.6.1-1
                      dns-over-https              2.2.1-1              2.2.1-2
                      dnscrypt-proxy             2.0.39-2             2.0.39-3
                             drawing             0.4.10-1             0.4.13-1
                            electron              8.1.0-1              8.1.0-2
                           electron2             2.0.18-2             2.0.18-3
                           electron4             4.2.12-2             4.2.12-3
                           electron5             5.0.13-1             5.0.13-2
                           electron6              6.1.9-1              6.1.9-2
                        emptyepsilon         2020.01.15-1         2020.02.18-1
                               eolie             0.9.98-1           0.9.98.1-1
                       evolution-rss             0.3.95-7             0.3.96-1
                       gambas3-devel             3.14.3-5             3.14.3-7
                     gambas3-gb-args             3.14.3-5             3.14.3-7
                    gambas3-gb-cairo             3.14.3-5             3.14.3-7
                    gambas3-gb-chart             3.14.3-5             3.14.3-7
                  gambas3-gb-clipper             3.14.3-5             3.14.3-7
                  gambas3-gb-complex             3.14.3-5             3.14.3-7
                 gambas3-gb-compress             3.14.3-5             3.14.3-7
                    gambas3-gb-crypt             3.14.3-5             3.14.3-7
                     gambas3-gb-data             3.14.3-5             3.14.3-7
                       gambas3-gb-db             3.14.3-5             3.14.3-7
                  gambas3-gb-db-form             3.14.3-5             3.14.3-7
                 gambas3-gb-db-mysql             3.14.3-5             3.14.3-7
                  gambas3-gb-db-odbc             3.14.3-5             3.14.3-7
            gambas3-gb-db-postgresql             3.14.3-5             3.14.3-7
               gambas3-gb-db-sqlite3             3.14.3-5             3.14.3-7
                     gambas3-gb-dbus             3.14.3-5             3.14.3-7
                  gambas3-gb-desktop             3.14.3-5             3.14.3-7
            gambas3-gb-desktop-gnome             3.14.3-5             3.14.3-7
              gambas3-gb-desktop-x11             3.14.3-5             3.14.3-7
           gambas3-gb-eval-highlight             3.14.3-5             3.14.3-7
                     gambas3-gb-form             3.14.3-5             3.14.3-7
              gambas3-gb-form-dialog             3.14.3-5             3.14.3-7
              gambas3-gb-form-editor             3.14.3-5             3.14.3-7
                 gambas3-gb-form-mdi             3.14.3-5             3.14.3-7
               gambas3-gb-form-stock             3.14.3-5             3.14.3-7
            gambas3-gb-form-terminal             3.14.3-5             3.14.3-7
                      gambas3-gb-gmp             3.14.3-5             3.14.3-7
                      gambas3-gb-gsl             3.14.3-5             3.14.3-7
                      gambas3-gb-gtk             3.14.3-5             3.14.3-7
               gambas3-gb-gtk-opengl             3.14.3-5             3.14.3-7
                     gambas3-gb-gtk3             3.14.3-5             3.14.3-7
                    gambas3-gb-httpd             3.14.3-5             3.14.3-7
                    gambas3-gb-image             3.14.3-5             3.14.3-7
             gambas3-gb-image-effect             3.14.3-5             3.14.3-7
              gambas3-gb-image-imlib             3.14.3-5             3.14.3-7
                 gambas3-gb-image-io             3.14.3-5             3.14.3-7
                  gambas3-gb-inotify             3.14.3-5             3.14.3-7
                   gambas3-gb-libxml             3.14.3-5             3.14.3-7
                  gambas3-gb-logging             3.14.3-5             3.14.3-7
                      gambas3-gb-map             3.14.3-5             3.14.3-7
                 gambas3-gb-markdown             3.14.3-5             3.14.3-7
                    gambas3-gb-media             3.14.3-5             3.14.3-7
               gambas3-gb-media-form             3.14.3-5             3.14.3-7
                gambas3-gb-memcached             3.14.3-5             3.14.3-7
                     gambas3-gb-mime             3.14.3-5             3.14.3-7
                    gambas3-gb-mysql             3.14.3-5             3.14.3-7
                  gambas3-gb-ncurses             3.14.3-5             3.14.3-7
                      gambas3-gb-net             3.14.3-5             3.14.3-7
                 gambas3-gb-net-curl             3.14.3-5             3.14.3-7
                 gambas3-gb-net-pop3             3.14.3-5             3.14.3-7
                 gambas3-gb-net-smtp             3.14.3-5             3.14.3-7
                   gambas3-gb-openal             3.14.3-5             3.14.3-7
                   gambas3-gb-opengl             3.14.3-5             3.14.3-7
              gambas3-gb-opengl-glsl             3.14.3-5             3.14.3-7
               gambas3-gb-opengl-glu             3.14.3-5             3.14.3-7
               gambas3-gb-opengl-sge             3.14.3-5             3.14.3-7
                  gambas3-gb-openssl             3.14.3-5             3.14.3-7
                   gambas3-gb-option             3.14.3-5             3.14.3-7
                     gambas3-gb-pcre             3.14.3-5             3.14.3-7
                      gambas3-gb-pdf             3.14.3-5             3.14.3-7
                      gambas3-gb-qt5             3.14.3-5             3.14.3-7
               gambas3-gb-qt5-opengl             3.14.3-5             3.14.3-7
               gambas3-gb-qt5-webkit             3.14.3-5             3.14.3-7
                   gambas3-gb-report             3.14.3-5             3.14.3-7
                  gambas3-gb-scanner             3.14.3-5             3.14.3-7
                      gambas3-gb-sdl             3.14.3-5             3.14.3-7
                gambas3-gb-sdl-sound             3.14.3-5             3.14.3-7
                     gambas3-gb-sdl2             3.14.3-5             3.14.3-7
               gambas3-gb-sdl2-audio             3.14.3-5             3.14.3-7
                 gambas3-gb-settings             3.14.3-5             3.14.3-7
                   gambas3-gb-signal             3.14.3-5             3.14.3-7
                     gambas3-gb-term             3.14.3-5             3.14.3-7
                     gambas3-gb-util             3.14.3-5             3.14.3-7
                 gambas3-gb-util-web             3.14.3-5             3.14.3-7
                      gambas3-gb-v4l             3.14.3-5             3.14.3-7
                       gambas3-gb-vb             3.14.3-5             3.14.3-7
                      gambas3-gb-web             3.14.3-5             3.14.3-7
                 gambas3-gb-web-feed             3.14.3-5             3.14.3-7
                 gambas3-gb-web-form             3.14.3-5             3.14.3-7
                      gambas3-gb-xml             3.14.3-5             3.14.3-7
                 gambas3-gb-xml-html             3.14.3-5             3.14.3-7
                  gambas3-gb-xml-rpc             3.14.3-5             3.14.3-7
                 gambas3-gb-xml-xslt             3.14.3-5             3.14.3-7
                         gambas3-ide             3.14.3-5             3.14.3-7
                     gambas3-runtime             3.14.3-5             3.14.3-7
                      gambas3-script             3.14.3-5             3.14.3-7
                                gdal              3.0.4-2              3.0.4-4
                            gir-to-d             0.20.0-3             0.20.0-4
                           git-annex        8.20200226-10        8.20200226-14
                          git-repair        1.20200102-35        1.20200102-37
                              gitlab             12.8.2-1             12.8.2-2
                             glabels              3.4.1-5              3.4.1-6
                               glibd              2.1.0-6              2.1.0-7
                       gnome-applets             3.34.0-1             3.34.0-2
                     gnome-flashback             3.34.2-1             3.35.2-1
                         gnome-games             3.34.2-1             3.36.0-1
                 gnome-initial-setup             3.34.3-1             3.34.3-2
                         gnome-panel             3.34.1-1             3.35.2-1
                  gnome-passwordsafe             3.32.0-2             3.99.2-1
                 gnome-phone-manager              0.69-13              0.69-14
                       gnome-recipes              2.0.2-4              2.0.4-1
                   gnome-screensaver             3.6.1-16             3.6.1-17
                      gnome-software             3.34.2-1             3.34.2-2
    gnome-software-packagekit-plugin             3.34.2-1             3.34.2-2
                      go-tools 2:1.13+3523+65e3620a7-3 2:1.14+3922+575de4798-1
              golang-golang-x-crypto       0.0.20191228-1       0.0.20200303-1
                             gpodder            3.10.11-2            3.10.13-1
                              gpxsee               7.22-1               7.25-1
                              gradle              6.2.1-1              6.2.2-1
                          gradle-doc              6.2.1-1              6.2.2-1
                          gradle-src              6.2.1-1              6.2.2-1
                              grails              4.0.1-1              4.0.2-1
                         grails-docs              4.0.1-1              4.0.2-1
                                gtkd              3.9.0-5              3.9.0-6
                               guake              3.6.3-2              3.7.0-1
                  haskell-aeson-diff           1.1.0.8-61           1.1.0.8-62
                    haskell-aeson-qq             0.8.3-31             0.8.3-32
                haskell-authenticate             1.3.5-64             1.3.5-66
          haskell-authenticate-oauth           1.6.0.1-45           1.6.0.1-47
                 haskell-auto-update             0.1.6-40             0.1.6-41
                         haskell-aws           0.21.1-186           0.21.1-188
              haskell-binary-conduit             1.3.1-96             1.3.1-97
                       haskell-■■■■■              0.52-13              0.52-14
              haskell-broadcast-chan              0.2.1-4              0.2.1-5
            haskell-bsb-http-chunked           0.0.0.4-79           0.0.0.4-80
                 haskell-casa-client    0.0.0.20191219-36    0.0.0.20191219-38
                  haskell-casa-types    0.0.0.20191219-26    0.0.0.20191219-27
                  haskell-cheapskate           0.1.1.2-34           0.1.1.2-36
               haskell-clash-prelude             1.0.1-25             1.0.1-27
              haskell-classy-prelude             1.5.0-22             1.5.0-23
                     haskell-concise          0.1.0.1-155          0.1.0.1-156
                     haskell-conduit           1.3.1.2-29           1.3.1.2-30
               haskell-conduit-extra             1.3.4-56             1.3.4-57
                  haskell-config-ini           0.2.4.0-89           0.2.4.0-90
                   haskell-criterion            1.5.6.1-4            1.5.6.1-6
          haskell-cryptohash-conduit            0.1.1-346            0.1.1-347
          haskell-cryptonite-conduit            0.2.2-240            0.2.2-241
                         haskell-dav             1.3.4-43             1.3.4-46
                        haskell-dbus             1.2.7-89             1.2.7-91
                         haskell-dns              4.0.1-3              4.0.1-4
                   haskell-esqueleto           3.3.1.1-20           3.3.1.1-21
                 haskell-fast-logger             3.0.1-14             3.0.1-15
                  haskell-fdo-notify            0.3.1-249            0.3.1-251
                        haskell-feed            1.3.0.0-6            1.3.0.0-7
                haskell-generic-data            0.8.1.0-4            0.8.1.0-5
                haskell-generic-lens            2.0.0.0-4            2.0.0.0-5
          haskell-ghc-typelits-extra              0.3.2-1              0.3.2-2
       haskell-ghc-typelits-knownnat             0.7.1-11             0.7.1-12
   haskell-ghc-typelits-natnormalise               0.7-10              0.7.1-1
                     haskell-githash           0.1.3.3-59           0.1.3.3-62
            haskell-hackage-security           0.6.0.0-33           0.6.0.0-35
             haskell-haddock-library             1.8.0-28             1.8.0-30
                      haskell-hakyll          4.13.0.1-31          4.13.0.1-36
                    haskell-hedgehog             1.0.2-19             1.0.2-20
                        haskell-here           1.2.13-113           1.2.13-114
              haskell-hi-file-parser           0.1.0.0-26           0.1.0.0-27
                 haskell-hledger-lib               1.17-2           1.17.0.1-1
                    haskell-hopenpgp             2.9.4-13             2.9.4-18
                       haskell-hpack            0.33.0-72            0.33.0-75
                   haskell-hspec-wai            0.9.2-121             0.10.0-3
              haskell-hspec-wai-json            0.9.2-135             0.10.0-4
                haskell-html-conduit           1.3.2.1-46           1.3.2.1-47
                        haskell-http        4000.3.14-125        4000.3.14-127
                 haskell-http-client             0.6.4-75             0.6.4-77
             haskell-http-client-tls          0.3.5.3-186          0.3.5.3-188
                haskell-http-conduit           2.3.7.3-78           2.3.7.3-80
               haskell-http-download           0.1.0.1-58           0.1.0.1-60
                haskell-http-streams           0.8.7.1-31           0.8.7.1-35
                       haskell-http2             2.0.3-51             2.0.3-53
                  haskell-httpd-shed           0.4.1.1-56           0.4.1.1-58
                         haskell-hxt          9.3.1.18-28          9.3.1.18-30
          haskell-incremental-parser                0.4-4                0.4-5
   haskell-insert-ordered-containers              0.2.3-9             0.2.3-10
                 haskell-interpolate            0.2.0-128            0.2.0-129
    haskell-interpolatedstring-perl6             1.0.2-28             1.0.2-29
                       haskell-ipynb              0.1-143              0.1-144
                 haskell-ixset-typed           0.4.0.1-60           0.4.0.1-61
                        haskell-jose           0.8.2.0-45           0.8.2.0-48
                   haskell-js-jquery            3.3.1-366            3.3.1-368
                 haskell-juicypixels             3.3.4-17              3.3.5-1
                        haskell-lens            4.18.1-16               4.19-1
                 haskell-lens-action             0.2.4-18             0.2.4-19
                  haskell-lens-aeson                1.1-9               1.1-10
                     haskell-libyaml             0.1.2-13             0.1.2-14
                haskell-monad-logger             0.3.32-3             0.3.32-4
                    haskell-mustache             2.3.1-45             2.3.1-48
          haskell-network-byte-order            0.1.2.0-4            0.1.3.0-1
           haskell-network-multicast             0.2.0-87              0.3.2-1
                 haskell-network-uri           2.6.3.0-24           2.6.3.0-26
                       haskell-nonce             1.0.7-84             1.0.7-85
             haskell-optparse-simple          0.1.1.2-136          0.1.1.2-139
                      haskell-pantry            0.3.0.0-3            0.3.0.0-6
                  haskell-persistent          2.10.5.1-16          2.10.5.1-17
               haskell-persistent-qq           2.9.1.1-38           2.9.1.1-40
           haskell-persistent-sqlite          2.10.6.2-16          2.10.6.2-17
         haskell-persistent-template            2.8.2.1-1            2.8.2.1-2
             haskell-persistent-test           2.0.3.0-94           2.0.3.0-95
                  haskell-pipes-http             1.0.6-98            1.0.6-100
               haskell-prettyprinter              1.4.0-4              1.5.0-1
 haskell-prettyprinter-ansi-terminal           1.1.1.2-79           1.1.1.2-80
haskell-prettyprinter-convert-ansi-wl-pprint       1.1-76               1.1-77
            haskell-project-template          0.2.0.1-210          0.2.0.1-211
                haskell-rank2classes            1.3.2.1-4                1.4-1
                   haskell-resourcet              1.2.3-1              1.2.3-2
                       haskell-retry           0.8.1.0-30           0.8.1.0-31
                         haskell-rio           0.1.14.1-2           0.1.14.1-3
                 haskell-rio-orphans           0.1.1.0-84           0.1.1.0-85
             haskell-rio-prettyprint           0.1.0.0-35           0.1.0.0-36
                    haskell-safecopy            0.10.2-20            0.10.2-21
                       haskell-sandi               0.5-93               0.5-94
                         haskell-say           0.1.0.1-14           0.1.0.1-15
                         haskell-sbv               8.6-32               8.6-33
                     haskell-servant            0.16.2-55            0.16.2-57
              haskell-servant-server           0.16.2-110           0.16.2-113
             haskell-servant-swagger           1.1.7.1-82           1.1.7.1-85
                       haskell-shake            0.18.5-36            0.18.5-38
             haskell-simple-sendfile            0.2.30-39            0.2.30-40
                 haskell-skylighting           0.8.3.2-26           0.8.3.2-28
            haskell-skylighting-core           0.8.3.2-26           0.8.3.2-28
                   haskell-snap-core           1.0.4.1-39           1.0.4.1-41
                 haskell-snap-server          1.1.1.1-145          1.1.1.1-147
                    haskell-src-meta              0.8.4-5              0.8.5-1
                       haskell-store             0.7.2-15             0.7.2-16
                    haskell-swagger2                2.4-8                2.4-9
           haskell-tagstream-conduit          0.5.5.3-335          0.5.5.3-336
                 haskell-tar-conduit             0.3.2-57             0.3.2-58
              haskell-tasty-hedgehog           1.0.0.2-19           1.0.0.2-20
                     haskell-texmath          0.12.0.1-19          0.12.0.1-21
                haskell-time-manager             0.0.0-37             0.0.0-38
         haskell-tls-session-manager             0.0.4-24             0.0.4-25
                   haskell-tree-diff               0.1-60               0.1-62
                    haskell-trifecta               2.1-19               2.1-21
               haskell-typed-process           0.2.6.0-23           0.2.6.0-24
                    haskell-unliftio           0.2.12.1-1           0.2.12.1-2
               haskell-unliftio-core            0.1.2.0-9            0.2.0.0-1
              haskell-uri-bytestring           0.3.2.2-35           0.3.2.2-36
                  haskell-uri-encode           1.5.0.5-39           1.5.0.5-41
              haskell-wai-app-static           3.1.7.1-40           3.1.7.1-42
                 haskell-wai-conduit          3.0.0.4-183          3.0.0.4-184
                   haskell-wai-extra          3.0.29.1-15          3.0.29.1-17
          haskell-wai-handler-launch            3.0.3.1-9           3.0.3.1-11
                  haskell-wai-logger             2.3.6-44             2.3.6-46
                        haskell-warp             3.3.8-39             3.3.8-41
                    haskell-warp-tls            3.2.11-28            3.2.11-30
                        haskell-wreq          0.5.3.2-146          0.5.3.2-149
                 haskell-xml-conduit          1.8.0.1-128          1.8.0.1-129
                  haskell-xml-hamlet           0.5.0.1-54           0.5.0.1-55
                haskell-xss-sanitize             0.3.6-76             0.3.6-78
                        haskell-yaml          0.11.2.0-42          0.11.2.0-43
                       haskell-yesod           1.6.0.1-38           1.6.0.1-40
                  haskell-yesod-auth             1.6.9-32             1.6.9-34
                  haskell-yesod-core           1.6.17.3-2           1.6.17.3-4
               haskell-yesod-default            1.2.0-685            1.2.0-687
                  haskell-yesod-form            1.6.7-118            1.6.7-120
            haskell-yesod-persistent           1.6.0.4-63           1.6.0.4-65
                haskell-yesod-static          1.6.0.1-318          1.6.0.1-320
                  haskell-yesod-test             1.6.9-78             1.6.9-80
                           hedgewars             1.0.0-46             1.0.0-47
                             hledger               1.17-2               1.17-3
                          hledger-ui               1.17-2               1.17-4
                         hledger-web               1.17-4               1.17-7
                               hlint            2.2.11-13            2.2.11-14
                              hoogle          5.0.17.13-4          5.0.17.14-3
                      hopenpgp-tools              0.23-69              0.23-74
                      ibus-libpinyin             1.11.1-2             1.11.1-3
                               idris             1.3.2-83             1.3.2-85
                             jenkins              2.222-1              2.223-1
                                jp2a              1.0.7-2              1.0.9-1
                                 k9s             0.17.4-1             0.17.5-1
                                 ldc           2:1.19.0-1           2:1.20.1-1
                           libad9361                0.2-1                0.2-2
                              libiio               0.18-3               0.19-1
                          liblphobos           2:1.19.0-1           2:1.20.1-1
                                 lxd               3.21-2               3.22-1
                           lxsession            1:0.5.4-1            1:0.5.5-1
                      lxsession-gtk3            1:0.5.4-1            1:0.5.5-1
                            metacity             3.34.1-1             3.36.0-1
                                 min             1.12.0-1             1.13.0-1
                               minio         2019.12.17-1         2019.12.17-2
                        minio-client         2019.12.17-1         2019.12.17-2
                           mosquitto              1.6.8-1              1.6.9-1
                          mustache-d              0.1.4-2              0.1.4-3
                            neofetch              6.1.0-1              7.0.0-1
                   npm-check-updates              4.0.4-1              4.0.4-2
                             openbve            1.7.1.1-1            1.7.1.3-1
                           osinfo-db           20191125-1           20200214-1
                              pandoc             2.9.2-35             2.9.2-40
                     pandoc-citeproc              0.17-15              0.17-20
                     pandoc-crossref           0.3.6.2-12           0.3.6.2-17
                   pantheon-calendar              5.0.3-1              5.0.3-2
                                pari             2.11.3-1             2.11.3-2
                            pdf2djvu             0.9.16-1             0.9.17-1
                              phodav                2.3-1                2.4-1
                          photoflare              1.6.2-1              1.6.3-1
                         php-imagick              3.4.4-5              3.4.4-6
                           postgrest             6.0.2-74             6.0.2-79
                             pysolfc              2.8.0-1              2.8.0-2
                         python-boto             2.49.0-3    2.49.0.20190327-1
                        python-bsddb              6.2.6-4              6.2.7-1
                         python-cmd2             0.10.0-1             0.10.1-1
                     python-dominate              2.4.0-3              2.5.1-1
                python-elasticsearch              7.5.0-1              7.5.1-1
                         python-gdal              3.0.4-2              3.0.4-4
                 python-glanceclient             2.17.0-3              3.0.0-1
                   python-hypothesis             4.57.1-1              5.0.1-1
          python-importlib_resources              1.2.0-1              1.3.1-1
                         python-ipdb             0.12.3-1             0.13.1-1
                        python-js2py               0.67-2               0.68-1
                  python-lark-parser              0.8.1-1              0.8.2-1
                        python-odfpy              1.4.0-4              1.4.1-1
                       python-owslib             0.19.0-1             0.19.1-1
                     python-pendulum              2.0.5-1              2.1.0-1
               python-prompt_toolkit              3.0.3-1              3.0.4-1
                       python-pygit2              1.0.3-2              1.0.3-3
                   python-pyjsparser              2.7.1-3              2.7.1-4
                    python-pykeepass              3.1.2-1              3.2.0-1
                      python-pymysql              0.9.3-2              0.9.3-3
                  python-pysol_cards              0.8.7-1              0.8.8-1
                python-requests-hawk              1.0.0-4              1.0.1-1
                       python-ropper             1.13.4-1             1.13.5-1
                  python-zope-schema              4.9.3-4              5.0.1-1
                        python2-boto             2.49.0-3    2.49.0.20190327-1
               python2-elasticsearch              7.5.0-1              7.5.1-1
                              qtspim             9.1.20-2             9.1.21-1
                            quiterss             0.19.2-1             0.19.3-1
                           retro-gtk             0.18.0-1             0.18.1-1
                              ropper             1.13.4-1             1.13.5-1
                             scribus              1.5.5-6              1.5.5-7
                          shellcheck            0.7.0-162            0.7.0-167
                      signal-desktop             1.32.0-2             1.32.1-1
                         simple-scan             3.34.4-1             3.36.0-1
                              sn0int             0.17.1-1             0.18.0-1
                       soapyplutosdr              0.2.0-1              0.2.0-2
                               stack    2.1.3.20200209-62    2.1.3.20200209-66
                            startdde              5.0.1-2              5.0.1-3
            switchboard-plug-desktop              2.8.2-1              2.8.2-2
             switchboard-plug-locale              2.5.0-1              2.5.0-2
      switchboard-plug-user-accounts              2.3.0-1              2.3.0-2
                      tamarin-prover            1.4.1-281            1.4.1-283
                             taskell           1.9.2.0-37           1.9.2.0-40
                                tepl              4.2.1-1              4.4.0-1
         terraform-provider-keycloak             1.14.0-1             1.14.0-2
                               tilix              1.9.3-6              1.9.3-7
                               v2ray             4.22.1-1             4.22.1-2
         v2ray-domain-list-community       202003051416-1       202003080651-1
                              vibe-d              0.8.6-2              0.8.6-3
                       vim-ultisnips                3.1-4                3.2-1
                               vocal              2.4.2-1              2.4.2-2
                              weston              8.0.0-1              8.0.0-2
                              xmobar              0.32-53              0.32-56
                                yarn             1.22.0-1             1.22.2-1
                                 yaz             5.28.0-1             5.29.0-1
                          youtube-dl         2020.03.06-1         2020.03.08-1
                                zint              2.7.0-1              2.7.1-1
                             zint-qt              2.7.0-1              2.7.1-1
                               clash                    -             0.18.0-2
                haskell-atomic-write                    -            0.2.0.7-1
                       haskell-cborg                    -            0.2.2.1-1
                  haskell-cborg-json                    -            0.2.2.0-1
                    haskell-data-fix                    -              0.2.0-1
                      haskell-dotgen                    -              0.4.2-1
              haskell-generic-random                    -            1.3.0.0-1
            haskell-lens-family-core                    -              2.1.0-1
               haskell-pretty-simple                    -            3.2.2.0-1
                     haskell-repline                    -            0.2.2.0-1
                   haskell-serialise                    -            0.2.2.0-1
                haskell-shell-escape                    -              0.2.0-1
              haskell-simple-reflect                    -              0.3.3-1
              haskell-special-values                    -            0.1.0.0-1
                       haskell-spoon                    -              0.3.1-1
                               nvtop                    -              1.0.0-2


:: Different overlay package(s) in repository core x86_64

-------------------------------------------------------------------------------
                             PACKAGE              testing             unstable
-------------------------------------------------------------------------------
                             systemd              244.3-2              245-1.0
                        systemd-libs              244.3-2              245-1.0
                  systemd-resolvconf              244.3-2              245-1.0
                  systemd-sysvcompat              244.3-2              245-1.0
                              libcap                    -               2.33-1


:: Different sync package(s) in repository core x86_64

-------------------------------------------------------------------------------
                             PACKAGE              testing             unstable
-------------------------------------------------------------------------------
             ca-certificates-mozilla               3.50-1               3.51-1
                                curl             7.69.0-1             7.69.0-3
                              libcap               2.32-1               2.33-1
                                 nss               3.50-1               3.51-1
                                 ppp              2.4.7-6              2.4.7-7


:: Different overlay package(s) in repository extra x86_64

-------------------------------------------------------------------------------
                             PACKAGE              testing             unstable
-------------------------------------------------------------------------------
                         file-roller             3.32.4-1                    -
                gnome-control-center             3.34.4-1                    -


:: Different sync package(s) in repository extra x86_64

-------------------------------------------------------------------------------
                             PACKAGE              testing             unstable
-------------------------------------------------------------------------------
                          accerciser             3.34.4-1             3.36.0-1
                  adwaita-icon-theme             3.34.3-1             3.36.0-1
                            alacarte3.11.91+12+g1bb265f-3  3.36.0+0+g7b5fc64-1
                        at-spi2-core             2.34.0-1             2.36.0-1
                             autogen            5.18.12-3            5.18.14-1
                            calligra             3.1.0-27             3.1.0-29
                              cheese             3.34.0-23.34.0+23+gcac6d3a1-1
                            chromium      80.0.3987.132-1      80.0.3987.132-2
                             devhelp             3.34.0-1             3.36.0-1
                                 eog             3.34.2-1             3.36.0-1
                            epiphany             3.34.4-1             3.36.0-1
                              evince             3.34.2-1             3.36.0-1
                           evolution             3.34.4-1             3.36.0-1
                evolution-bogofilter             3.34.4-1             3.36.0-1
               evolution-data-server             3.34.4-1             3.36.0-1
                       evolution-ews             3.34.4-1             3.36.0-1
              evolution-spamassassin             3.34.4-1             3.36.0-1
                         file-roller             3.32.4-1             3.36.0-1
                               folks             0.13.1-2             0.13.2-1
                       four-in-a-row             3.34.4-1 3.35.92+4+g8d136a7-1
                                 gcr             3.34.0-13.35.91+13+g9986760-1
                               gedit             3.34.1-1             3.36.0-1
                       gedit-plugins             3.34.1-1             3.36.0-1
                                 gjs           2:1.58.5-1           2:1.64.0-1
                     glib-networking             2.62.3-1             2.64.0-1
                   gnome-backgrounds             3.34.0-1             3.36.0-1
                         gnome-books             3.34.0-13.34.0+21+g4d34d109-1
                       gnome-builder 3.34.1+11+gbf485934b-3           3.36.0-1
                    gnome-calculator             3.34.1-1             3.36.0-1
                      gnome-calendar             3.34.2-1             3.36.0-1
                         gnome-chess             3.34.0-1             3.36.0-1
                        gnome-clocks             3.34.0-1             3.36.0-1
                 gnome-color-manager             3.32.0-23.35.90+1+g98904208-1
                      gnome-contacts             3.34.1-13.35.90+48+g4776726-1
                gnome-control-center             3.34.4-1             3.36.0-1
                       gnome-desktop        1:3.34.4-1 1:3.35.91+2+g36a8f2e2-1
                    gnome-devel-docs 3.32.1+7+g67da0507-13.32.1+30+gf3ad0fe5-1
                  gnome-disk-utility             3.34.4-1             3.36.0-1
                     gnome-documents             3.34.0-1 3.34.0+6+g966b04ec-1
                   gnome-font-viewer             3.34.0-1 3.34.0+27+g5ffd1ba-1
          gnome-getting-started-docs             3.34.1-1 3.35.92+1+g635b61d-1
                      gnome-mahjongg             3.34.0-1             3.36.1-1
                          gnome-maps             3.34.3-1             3.36.0-1
                         gnome-menus             3.32.0-1  3.35.3+1+g4954819-1
                         gnome-mines             3.34.0-1             3.36.0-1
                         gnome-music           1:3.34.4-1           1:3.36.0-1
                       gnome-nibbles             3.34.2-1             3.36.0-1
                         gnome-notes             3.34.2-1             3.36.0-1
               gnome-online-accounts            3.34.1-1 3.35.90+2+g72028173-1
                gnome-remote-desktop              0.1.7-1              0.1.7-2
                        gnome-robots             3.34.1-1             3.36.0-1
                       gnome-session             3.34.2-1 3.35.3+9+g86d4132c-1
               gnome-settings-daemon             3.34.2-13.35.92+5+g6cb14714-1
                         gnome-shell           1:3.34.4-1           1:3.36.0-1
              gnome-shell-extensions             3.34.2-1             3.36.0-1
                        gnome-sudoku             3.34.1-1             3.36.0-1
                gnome-system-monitor             3.32.1-1             3.36.0-1
                      gnome-terminal             3.34.2-1           3.36.0.1-1
                      gnome-tetravex             3.34.4-1 3.35.92+6+g65f0423-1
                     gnome-user-docs           3.34.1-1 3.35.92+15+g682e41b2-1
               gobject-introspection             1.62.0-3             1.64.0-1
       gobject-introspection-runtime             1.62.0-3             1.64.0-1
           gsettings-desktop-schemas             3.34.0-1 3.35.91+8+gc7427c9-1
                              gthumb              3.8.3-1              3.9.1-1
                      gtksourceview4              4.4.0-1              4.6.0-1
                                gvfs             1.42.2-2             1.44.0-1
                            gvfs-afc             1.42.2-2             1.44.0-1
                            gvfs-goa             1.42.2-2             1.44.0-1
                         gvfs-google             1.42.2-2             1.44.0-1
                        gvfs-gphoto2             1.42.2-2             1.44.0-1
                            gvfs-mtp             1.42.2-2             1.44.0-1
                            gvfs-nfs             1.42.2-2             1.44.0-1
                            gvfs-smb             1.42.2-2             1.44.0-1
                         imagemagick           7.0.9.27-1           7.0.10.0-1
                     imagemagick-doc           7.0.9.27-1           7.0.10.0-1
                            inkscape            0.92.4-12            0.92.4-14
                          kitinerary            19.12.3-1            19.12.3-2
                                krfb            19.12.3-1            19.12.3-3
                          libcryptui3.12.2+41+gf29d1d37-23.12.2+55+ged3b12af-1
                           libdazzle             3.34.1-1             3.36.0-1
                            libfido2              1.3.0-5              1.3.1-1
                            libinput             1.15.2-1             1.15.3-1
                       libkeybinder3              0.3.2-2              0.3.2-3
                          libmagick6          6.9.10.97-1           6.9.11.0-1
               libnautilus-extension             3.34.2-1             3.36.0-1
                              libnma             1.8.24-1             1.8.28-1
                             libpeas             1.24.1-2             1.26.0-1
                      libphonenumber             8.11.0-2             8.11.5-1
                            libproxy            0.4.15-13 0.4.15+33+g454a499-1
                   libreoffice-fresh              6.4.1-1              6.4.1-3
               libreoffice-fresh-sdk              6.4.1-1              6.4.1-3
                   libreoffice-still              6.3.5-1              6.3.5-3
               libreoffice-still-sdk              6.3.5-1              6.3.5-3
                             librsvg           2:2.46.4-1           2:2.48.0-1
                             libsoup             2.68.4-1             2.70.0-1
                          libsynctex         2019.51075-6         2019.51075-7
                           lightsoff             3.34.0-1             3.36.0-1
                           mercurial                5.3-1              5.3.1-1
                                 moc            1:2.5.2-2            1:2.5.2-3
                              mutter             3.34.4-1             3.36.0-1
                            nautilus             3.34.2-1             3.36.0-1
              network-manager-applet             1.8.24-1             1.16.0-1
                nm-connection-editor             1.8.24-1             1.16.0-1
                             openmpi              4.0.2-3              4.0.3-1
                            pipewire              0.2.7-2              0.3.1-1
                       pipewire-docs              0.2.7-2              0.3.1-1
                              polari             3.34.1-1             3.36.0-1
                             poppler             0.85.0-1             0.86.1-1
                        poppler-glib             0.85.0-1             0.86.1-1
                         poppler-qt5             0.85.0-1             0.86.1-1
                     pygobject-devel             3.34.0-3             3.36.0-1
                              python              3.8.1-4              3.8.2-1
                        python-atspi             2.34.0-3             2.36.0-1
                       python-django              3.0.3-1              3.0.4-1
                      python-gobject             3.34.0-3             3.36.0-1
                    python-packaging               20.2-1               20.3-1
                   python-setuptools           1:45.2.0-1           1:45.3.0-1
                        python-tests              3.8.1-4              3.8.2-1
                     python2-gobject             3.34.0-3             3.36.0-1
                   python2-packaging               20.2-1               20.3-1
                       qt5-webengine             5.14.1-1             5.14.1-2
                        quadrapassel             3.34.1-1 3.35.92+5+g78685da-1
                                 re2         1:20200101-1         1:20200303-1
                             sysprof             3.34.1-1             3.36.0-1
                                tali             3.32.1-1             3.36.0-1
                         texlive-bin         2019.51075-6         2019.51075-7
                               totem             3.34.1-1             3.34.1-2
                          vte-common             0.58.3-1             0.60.0-1
                                vte3             0.58.3-1             0.60.0-1
                          webkit2gtk             2.26.4-1            2.27.91-1
                  xdg-desktop-portal              1.6.0-1              1.6.0-2
              xdg-desktop-portal-kde             5.18.2-1             5.18.2-3
                              xfburn              0.6.1-1              0.6.2-1
                                yelp             3.34.0-1             3.36.0-1
                            yelp-xsl             3.34.2-1             3.36.0-1
                       libpipewire02                    -              0.2.7-1
                      libproxy-mozjs                    - 0.4.15+33+g454a499-1
                     libproxy-webkit                    - 0.4.15+33+g454a499-1
                       pipewire-jack                    -              0.3.1-1
                      pipewire-pulse                    -              0.3.1-1


:: Different overlay package(s) in repository multilib x86_64

-------------------------------------------------------------------------------
                             PACKAGE              testing             unstable
-------------------------------------------------------------------------------
                      lib32-gamemode                1.5-1              1.5.1-1
                       lib32-systemd              244.3-1                245-1
                        lib32-libcap                    -               2.33-1


:: Different sync package(s) in repository multilib x86_64

-------------------------------------------------------------------------------
                             PACKAGE              testing             unstable
-------------------------------------------------------------------------------
                        lib32-libcap               2.32-1               2.33-1
                       lib32-librsvg             2.46.4-1             2.48.0-1
                           lib32-nss               3.50-1               3.51-1


No issue, everything went smoothly
Yes there was an issue. I was able to resolve it myself.(Please post your solution)
Yes i am currently experiencing an issue due to the update. (Please post about it)
Check if your mirror has already synced: